Alameda's 'Round the Island Cruise Makes a Comeback
A new year means another 'Round the Island cruise — and a return to Alameda's tradition of open yacht club hospitality on New Year's Day.
Rounding
On January 1, 2022, dozens of boats launched into the Oakland-Alameda Estuary in the early hours, keen to ride the tide under Alameda's four bridges, into Aeolian Yacht Club for a Bloody Mary, then out the San Leandro Channel to complete the circumnavigation. No 'Round the Island is complete without visits to as many of Alameda's boating venues as you can handle. In 2022, Aeolian, Ballena Bay and Encinal YCs welcomed us.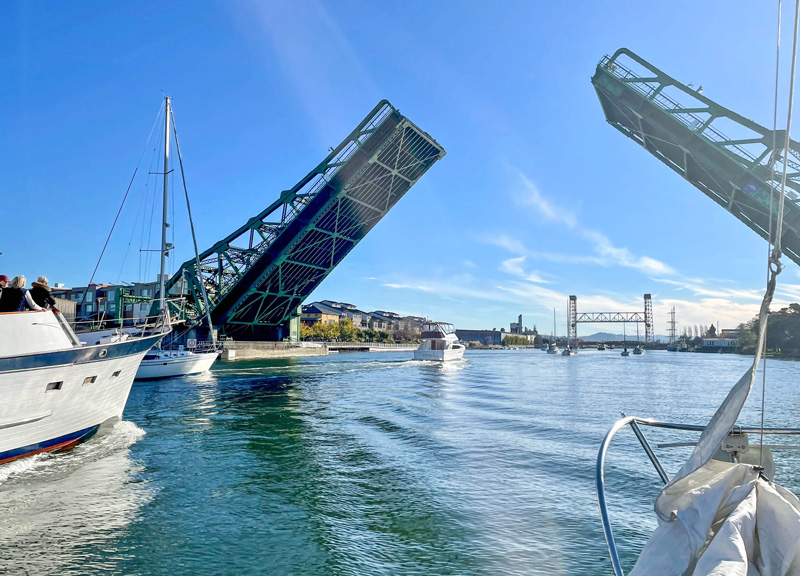 While the opening of the bridges is the highlight for many cruisers, it was evident that after 2021's pandemic-related club closures, both clubs and boaters were thrilled to return to some kind of normal. This year's 'Round the Island dining included chili, hot dogs and cocktails at Aeolian Yacht Club, gumbo soup with cornbread at Encinal Yacht Club, and open doors and libations at Ballena Yacht Club, which hosted boaters for the first time after closure throughout most of 2021. Island Yacht Club presented boaters with commemorative certificates, "suitable for framing and surely a family heirloom,​​" as described jokingly by IYC vice commodore Eric Korbas.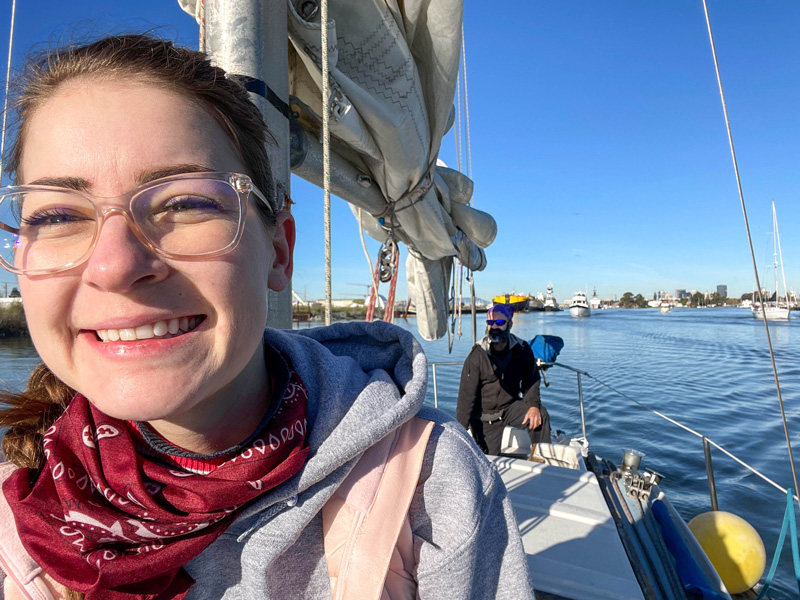 Each participating yacht club coordinates its own flotilla, as do class fleets such as the Islander 36 Association, to ensure their contingents stick together for the bridge openings, club cruise-ins, and the perilous transit of San Leandro Bay. Island YC's flotilla had a riot of a time, with Eric Korbas sharing the following account:
"I can't personally think of a way that the 2022 'Round the Island could have gone any better. In the first outbound flotilla at 9:30, I counted 13 boats. Numerous other boats made it out a bit later — perhaps delayed by a little too much New Year's fun! It was a bit of dodgeball with logs in the water, but we had great weather, hardly a cloud in the sky. Although initially cold (there was actual ice on the docks), the glorious sun came out. It warmed us up nicely.
"This reminds me of just how pretty a place we are lucky enough to live in. Every one of the yacht clubs was so welcoming and fantastic hosts for the fun. Be it helping with coordinating docking and a friendly welcome and lay of the land, to the great food and drinks, we want to say a big thank you to Aeolian, Ballena Bay and Encinal Yacht Clubs for the wonderful hospitality."
From Kathie Boothby, vice commodore of Aeolian YC, who did a fabulous job coordinating the clubs: "What a fun event! We had more than 50 boats come into our harbor during the day. Folks were smiling and happy as the gin fizzes flowed."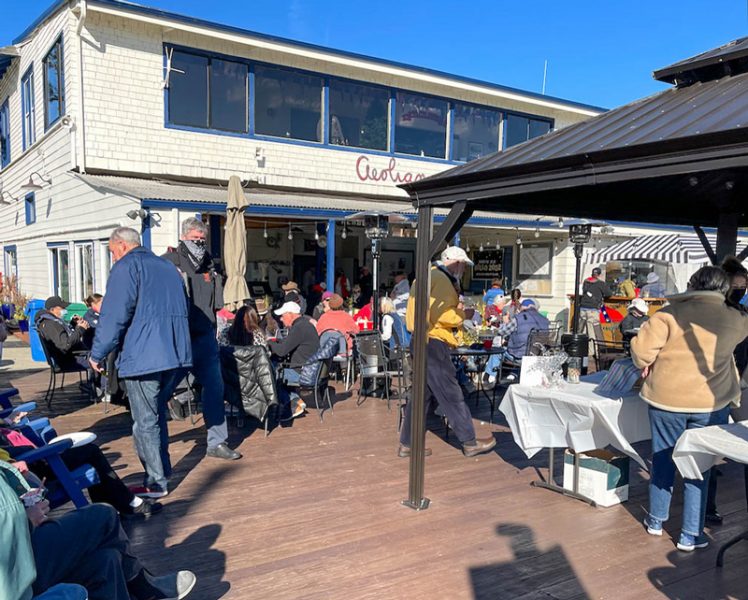 Sadly, not every boat made it around Alameda Island in a timely fashion. Just south of the Bay Farm Bridge, the San Leandro channel is a challenging leg, even for experienced boaters. With the channel's mean low being 2 feet and navigation markers that consist of PVC tubing stuck into the mud, many a keelboat has found itself trapped under Oakland Airport's flight path, waiting for the tide to rise.
Grounding
Peter Wolfe's Olson 25 Out of Control found itself in channel peril this year. Thankfully, mutual aid was close at hand. Santana 22 owner Hank Lindemann offered assistance in rescuing both boat and crew. Peter shared:
"Thank you to Hank for his help in getting the ladies off the boat and home yesterday, and for words of wisdom and actions to try and get Out of Control out of the mud. I got lifted at 10:55 p.m., set a course, and got back to Fortman Marina at 3 a.m. The motor kept jiggling off its mounts, which had a lock on, for which I didn't have the key with me. So I half-throttled home with one foot on the motor mounts, to keep them from flying free. Happy New Year! It's got to get better than Day 1."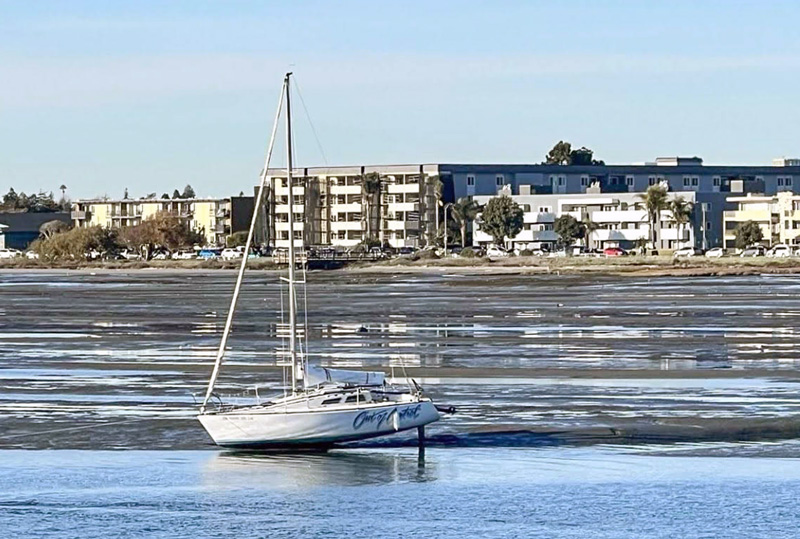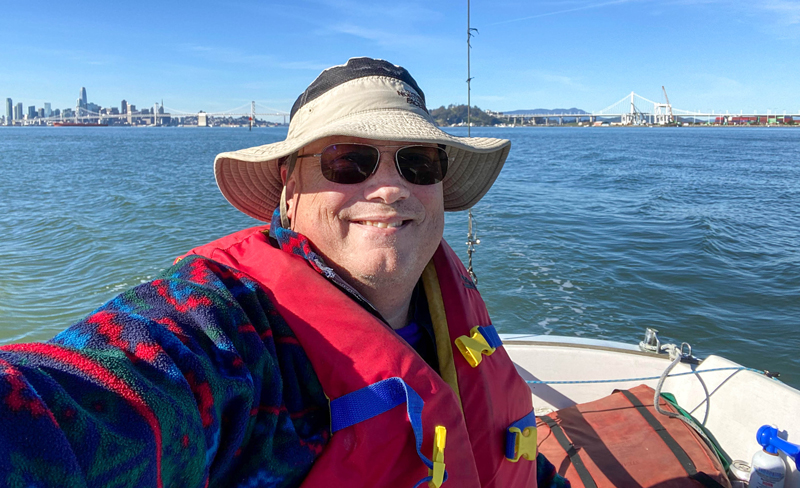 The clubs have already started discussing another circumnavigation cruise, likely in the summer, when the weather is warm and Alameda Estuary boating activity is at its peak. Until then, may Peter Wolfe's greeting ring true for all San Francisco Bay Area boaters in 2022: We all hope it only gets better from here!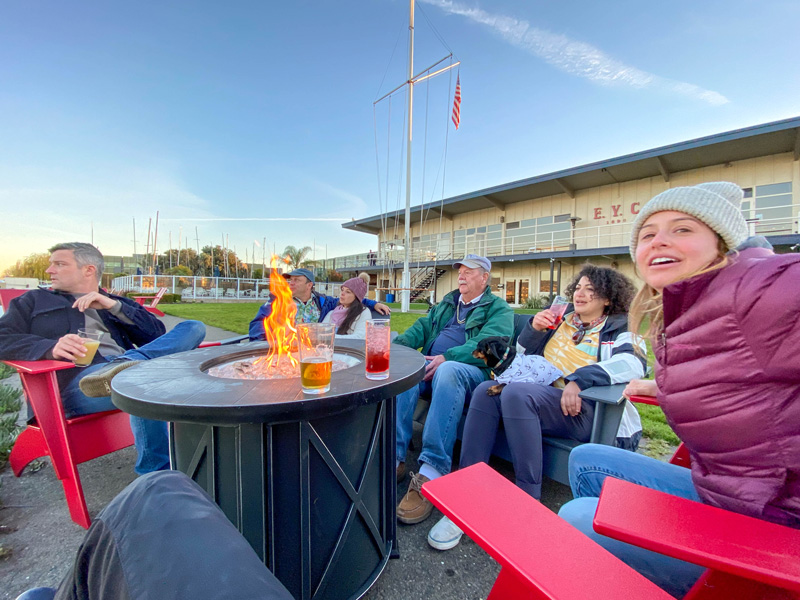 Receive emails when 'Lectronic Latitude is updated.
SUBSCRIBE