Air-Evacuated Crewman on the Mend
The human brain has some remarkable ways of dealing with extreme situations. In instances of severe trauma, for example, it seems to shut down certain body and brain functions — such as memory — and switch into survival mode.
For Mike Kalahar that was probably a very good thing. As reported earlier, he was badly injured last month in the middle of the South Pacific while sailing to French Polynesia as crew aboard the Washington-based Beneteau 36s7 Wind Child. When we spoke with Mike recently he explained, "My first real awareness of what had happened was when the pararescuemen came aboard." That was 12 hours after he'd gotten lashed across the throat by the mainsheet assembly during an accidental jibe, which simultaneously slammed the back of his head into a winch. In the process, he was knocked unconscious, got a concussion and nearly bit off his tongue. He says memories of the first two weeks after the mishap are still hazy and surreal.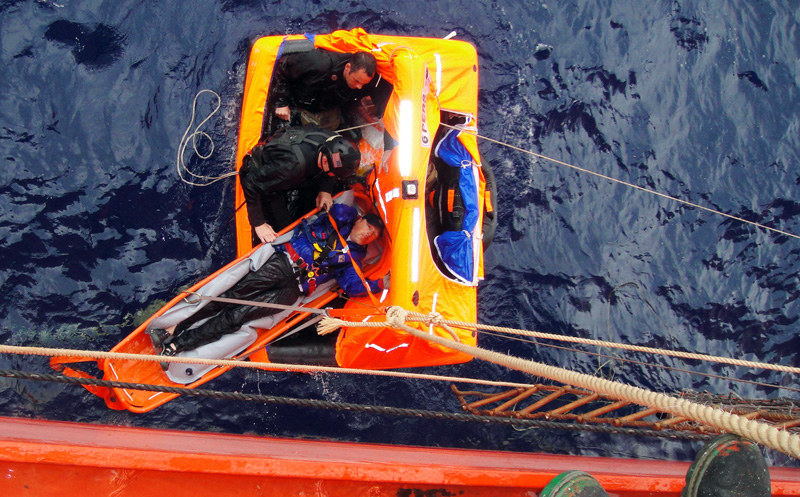 If you read our full report on Kalahar's air evacuation in the May edition of Latitude 38, you can appreciate what a phenomenal effort was made to rescue the Washington-based sailor. No one is more in awe of that effort than Kalahar himself: "The PJs (pararescuemen) seemed so humble at the time, yet their skill level was phenomenal, and they all had a really good bedside manner. . . I have worked for the government for 35 years and have never seen an operation of that size come together so fast and efficiently." We're happy to report that Kalahar's recovery continues to improve. And while he is not yet 100%, his wounds have healed and he is able to walk five miles a day — the 56-year-old sailor works for the National Parks in Washington State.
We would love to acknowledge the names of the four heroic PJs who risked their lives to save Kalahar's — parachuting into rough seas 1,400 miles offshore in the darkness. Unfortunately, we've had no luck obtaining their names from their Air National Guard unit at Moffett Field. But then, guys like that are obviously not in it for glory in the press. Theirs is a much higher calling.
Receive emails when 'Lectronic Latitude is updated.
SUBSCRIBE