A Slow Story About a Fast Boat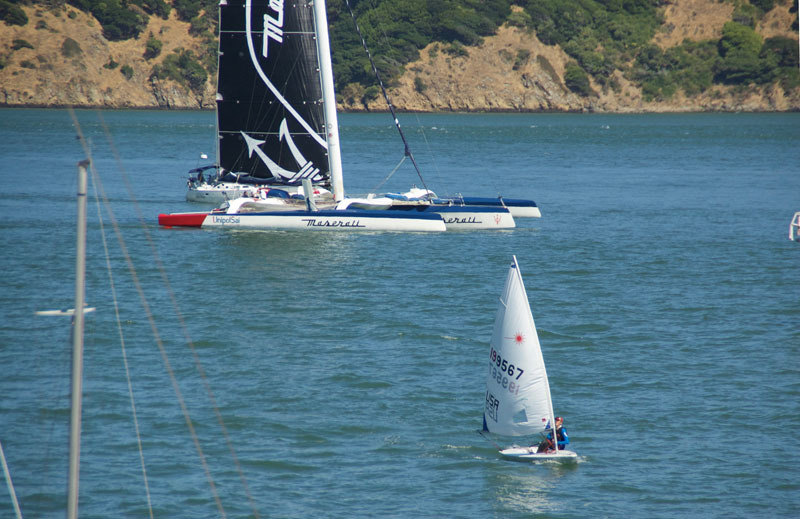 You may have noticed a handful of young Italian men sporting Team Maserati shirts in Point Richmond over the past few months. Whether their espressos are pre-paid is a question for Giovanni Soldini, team leader, world-renowned skipper and owner of the Multi70 trimaran — or MOD70 — Maserati. Truth be told, they have been working full-time to prepare the boat for the start of the Transpacific Yacht Race on July 6.
And truth be told, Soldini and the Maserati team were nice enough to give us a ride on Sunday, along with a few other members of the media and a handful of other lucky souls.
The Maserati team arrived in Pt. Richmond in March following February's RORC Caribbean 600. Buoyed by a tight race with their closest competitor, Lloyd Thornburg's MOD70 Phaedo3, where Maserati lost by just 13 minutes of elapsed time, and are excited for a rematch in the Transpac, which will be no small feat — in May, Phaedo3 (narrowly) broke the Transpacific speed record from Los Angeles to Hawaii, making the trip in 3 days and 18 hours. The previous record was held by the 105-ft maxi-trimaran Lending Club 2.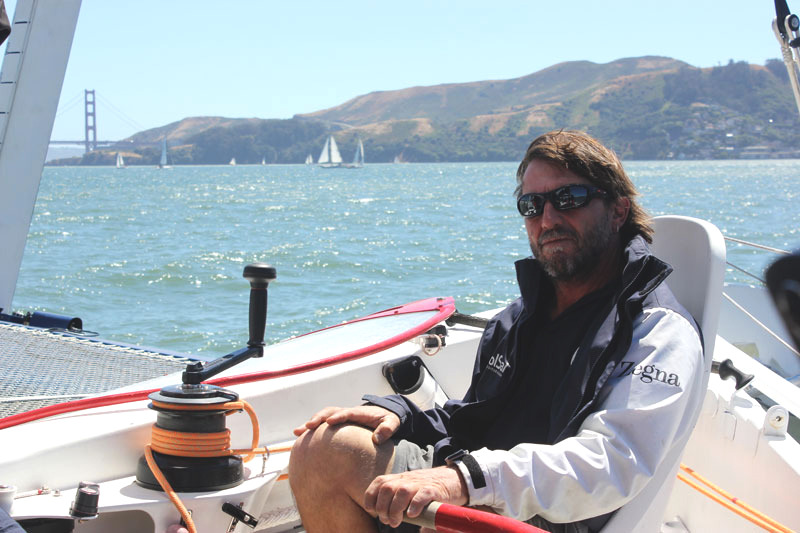 Soldini was sober about his team's chances: "I think it is very difficult to break the race record [to Hawaii]. Before we break a record, we have to beat Phaedo3. And even that really depends on the conditions. It will be close competition." The rematch comes as Maserati is fine-tuning their foiling systems, and Phaedo3 has been showing remarkable speed sans foils.
To say that Soldini has come to the Bay to prepare for the Transpac is a bit of a misconception. "It's not just preparing for the Transpac, it's more evolving the boat," said Soldini. The team has been experimenting with a combination of foils, daggerboard and rudder systems to eke out a little more horsepower. It's a tricky balance of creating phenomenal speed, but still maintaining stability in the open ocean.
"We are very happy with the shape of the foil," Soldini said. "It's just that we need to find a way to effectively control the boat at sea, when we are not in flat water. This is the big question." Testing their new boards on the ocean, Maserati found that the retracted foil sometimes touched the water, creating a shock so great that it damaged a variety of their systems. "Hitting waves like this at 35 knots . . . we have plenty of problems with this situation," Soldini said.
Latitude Goes for a Ride
In the America's Cup, we've grown accustomed to teams whose accents can differ wildly from the flag they sail under. The Maserati team, and the brand surrounding and promoting them, is unmistakably, undeniably Italian. On Sunday, a row of beautiful cars bearing the namesake sat in the Corinthian Yacht Club parking lot, while a crew of elegant, well-dressed people ushered guests onto a RIB, and out to the 70-ft, multihull yacht. Bottles of prosecco were chilled, and chic desserts were on display.
But don't be fooled by the polished sponsor. Stepping on to Maserati itself, there is nothing fancy or polished. Three burly Italians, some tattooed with gold hoops in their ears and knives on their belts, ushered us on board as Soldini watched. There was nowhere to sit, and once underway, we were shocked to find that there was little to hang on to. The luxury brand helps facilitate a pure, ultra-advanced sailing machine, and supports one of the world's great sailors.
Giovanni Soldini has been an accomplished racer for over two decades. He's competed in two singlehanded round-the-world races, and won in 1998-1999, while famously rescuing Isabelle Autissier, which earned him the Légion d'honneur, France's highest honor. Soldini finished second overall in the 1995 BOC Challenge, has competed in six Québec-Saint Malos, with one victory in the monohull category, competed in six OSTARs with two victories in the 50-ft and 40-ft classes and three Transat Jacques Vabres, with one victory in the 40-ft class.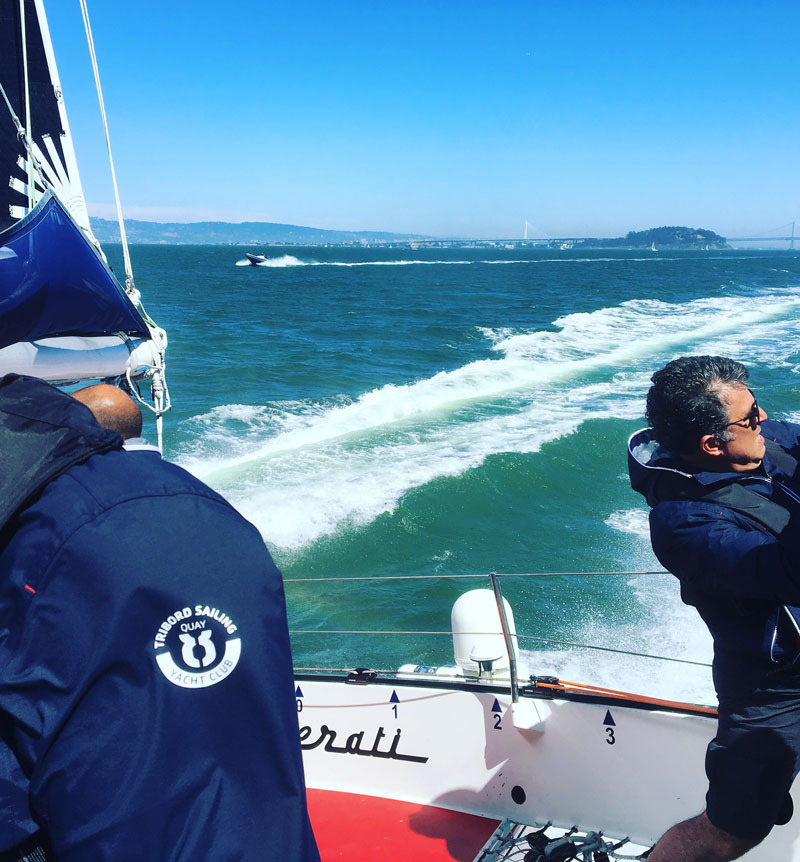 Soldini sat in a small chair on one of Maserati's amas, and took hold of an unremarkable tiller. The 51-year-old Soldini's face is dark and weathered, his hair long, his beard graying, and his hands thick and calloused. If you didn't know he was a legend, would you still have gotten a sense of the man's gravitas?
There wasn't much hint of Maserati's speed, until we hit the wind line just beyond Raccoon Strait, and aimed for the stern of a ferry going to Sausalito. You didn't notice the speed as much as the noise. Suddenly it was deafening, like sticking your head out the window while doing 65 down the freeway. As we hit the wake, Maserati lurched violently — several of us went tumbling, grabbed on to whatever we could, and assumed our widest stances.
We can only call it a little scary. All of us are sailors, some of us windsurf and would like to think we've gone 'fast' before. But there was little that could prepare you for the way and the force with which the boat moved — or the spray, which wasn't spray at all, but torrents of water blasting through the cockpit. In an instant, we were soaked (welcome refreshment on one of the hottest days of the year).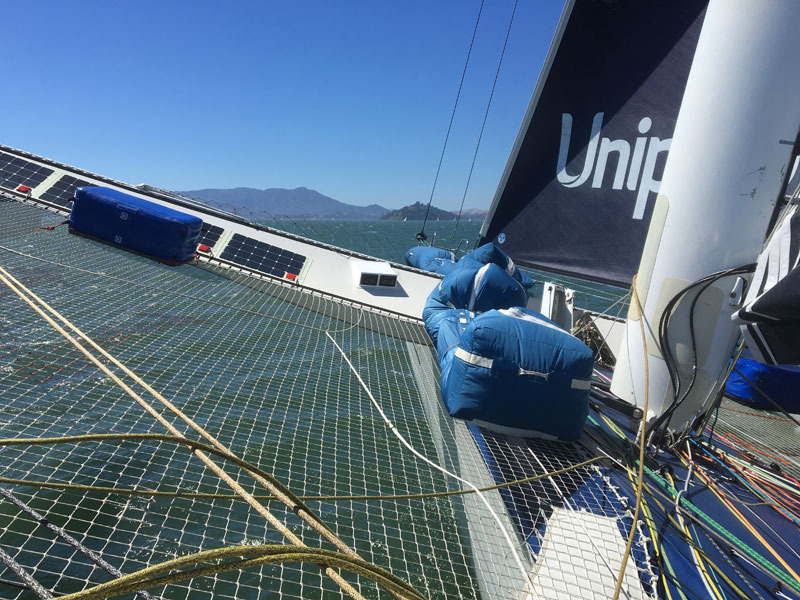 Sailing at about 30-35 knots and topping out about 40, we went from Marin to Pier 39 in what we'll guess was five to seven minutes, then did a slow tack, and were back in Tiburon in about 10 minutes. If you blinked, you missed it.
Soldini, in shorts, a polo shirt, light jacket and Topsiders, was also soaked head to toe, as he sat happily in his captain's chair, occasionally sliding a transparent spray guard in front of him, and generally looking like any sailor sailing their boat.
Receive emails when 'Lectronic Latitude is updated.
SUBSCRIBE