A Day in the Life of Cruising Mexico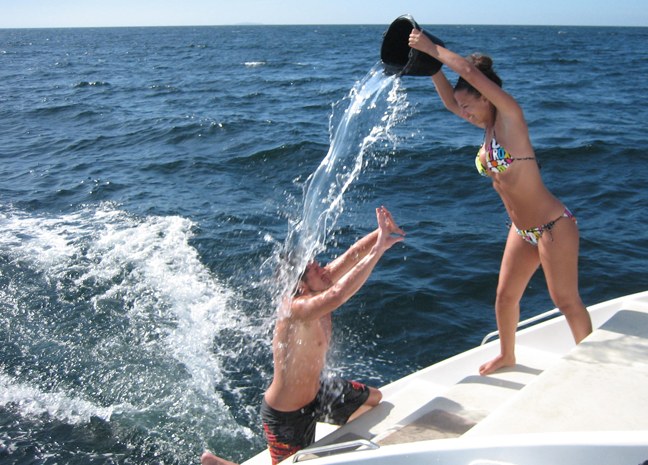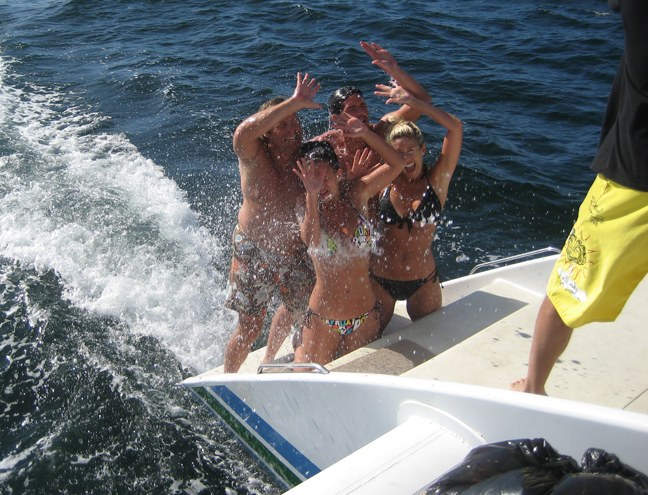 The Wanderer and de Mallorca, having cruised the length of Mexico's wonderful Gold Coast, are back up on Banderas Bay, where the cruising life is, you guessed it, simply wonderful.
We needed to move Profligate from the Punta Mita anchorage to the Marina Riviera Nayarit for a few days, so we decided to see if we could find some crew and make a spinnaker run of it. We started on Saturday night, when we asked Diego, a local guy who manages villas behind the Four Seasons gates and who loaned us his panga and driver for a quick run out to Profligate, to come along. "And bring some amigos and amigas," we said.
While at a Sunday morning beachfront yoga class, de Mallorca bumped into Richard, a guy from Telluride, and his wife, and invited them and everyone else in the class to join us.
Sunday morning, of course, is the cruisers' (and others') motorcycle ride from La Cruz to Sayulita, the creation of Philo Hayward, who cruised the Pacific on his Mendocino-based Cal 36 Cherokee before opening up his famous music studio and bar in La Cruz. Riding our little Honda dirt bike, which hasn't been registered in years which doesn't seem to bother any of the police in Mexico, on the warm jungle roads at 9 a.m. in shorts, a T-shirt, and flip-flops was, as you might imagine, lovely. When we got to Philo's, nobody was there because Dan, a cruiser-biker from Marina Iguana had gotten clipped and knocked down by a white Tacoma pick-up that was passing another car at a topes (speed bump) near the Oxxo (Mexico 7/11) in La Cruz. Before heading to the scene of the accident, we asked Karen and Dudley to bring friends and sail with us. It wouldn't be any problem for them to get to the boat in Punta Mita, as it's only about a 20-minute car ride — or just 15 minutes on one of the high-speed busses that come along every 15 minutes.
When we got to the accident scene, we found that Dan, suffering from a raspberried face, a busted-up finger, and mild shock, wasn't in too bad shape. Nonetheless, Philo was about to drive him to the San Javier Hospital while other friends tended to his motorcycle. With the ride to Sayulita called off, we decided to check out the new Sunday morning market in the plaza in La Cruz. Jason, who runs Lupe's Catana 47 Moon & Stars, was there. He's one of the honchos of the market, and was instrumental in making sure nobody is allowed to participate unless they make or grow the stuff they're selling.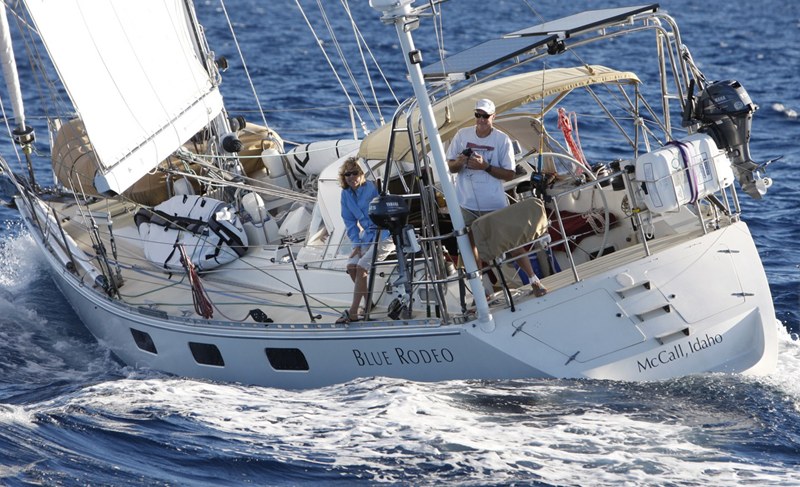 When you're in cruiser Mexico, you just keep running into friends and more friends and more friends. While strolling around the cool little market, for instance, we ran into about 20 people who had done the Ha-Ha. While this year's cruising class seemed to be slower than normal in reaching Banderas Bay, they are now down here in force. We counted something like 40 boats on the hook off the Marina Riviera Nayarit, which is the most we've ever seen. As for the marina itself, it also had more boats than we can ever remember. So we're walking around inviting people right and left to come sailing with us.
And hey, isn't that Gabriel from San Sebastian selling coffee at the table in the corner? It sure was. Located a gorgeous 90-minute drive outside of P.V., now-tiny San Sebastian was once, thanks to its magnificent silver ore, one of the biggest cities in Mexico. Anybody notice what's happened to the price of gold and silver lately? That's why there is big interest in reopening the mine — as well as some of the old gold mines in the mountains between Cabo and La Paz. Environmentalists are up in arms, as maybe they should be. By the way, San Sebastian is 5,000 feet up, so after the sun goes down everyone dresses like they are ski lift operators at Tahoe. Funny to see that in Mexico.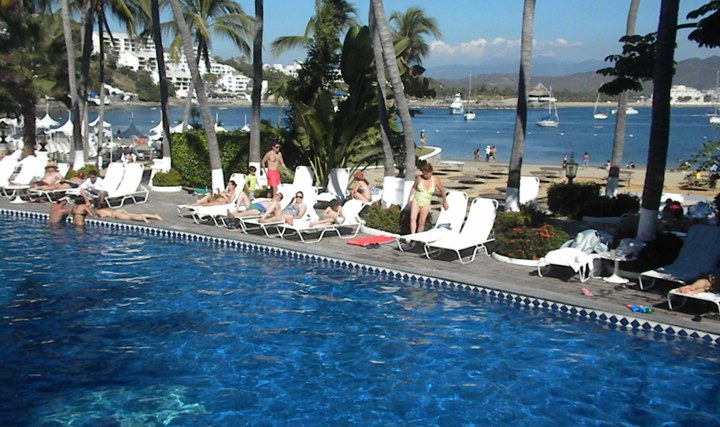 We didn't care if the official ride to Sayulita was called off, we decided to make the 15-mile ride up there ourselves. This involved more delightful riding on road being overrun by the jungle, road that in some places has 100 foot gaps caused by 24 inches of rain in 24 hours back in September. Sayulita has exploded in the last 10 years, so what was once a Bolinas-like town almost exclusively for surfers, dogs and hippies, is now the happening, semi artsy-fartsy hot place for the young and young-at-heart on the Vallarta coast. And you never know who you'll meet there.
While having a sit-down dinner — a complete fish taco plate for $5 — one night a year ago in Sayulita, we looked over at the next table and said to ourselves, "Isn't that the back of the head of Palo Alto's Jim Hill?" who we hadn't seen since sailing on his then-new Farr/Tompkins 55 Spellbound in New Zealand's Bay of Islands about 20 years ago. It was indeed Hill, who used to race Stars very successfully with Lowell North, and who was having dinner with his wife Robbie and the rest of their family. As it was still morning — we're back to the present now — we cruised by the artisanal bread place for some breakfast treats, a latte, and to watch all the all the surfer girls heading to the beach — 20 yards away — in their eyecatching outfits.
As we looked next door, we discovered there's a new eatery owned by a French woman named Natalie and her husband. The restaurant is totally hip in a St. Barth kind of way because her sister lives in St. Barth. Right now we can't remember the sister's name, but we do remember she has a knockout daughter named Africa, and that we've featured mom and Africa jumping off the spreaders of David Wegman's Afrigan Queen and into the waters at Columbie, St. Barths. Yeah, it's a small world. We asked a few more people to come sailing with us, but they looked too hung over or more interested in looking at the girls and the surf.
Back in Punta Mita, we bumped into Flavio, who sells his baked goods from a cart on the street. "I really want to sail with you, but how much will it cost?" He asked. When we said "Nada," his eyes bugged out.
When we drove past Debbos' — she's a retired schoolteacher from Texas who runs a little restaurant — we shouted for her to tell Ed, her ex-husband who is staying with her, to come sailing with us. Ed and Debo are so proud of their 30-year-old daughter who, after spending her 20s trying to figure out life, discovered her passion in cooking. "She and her husband opened up a restaurant called Merengue on Union Street in San Francisco about four months ago," says Ed, "and it's gotten rave reviews and is doing a gangbuster business."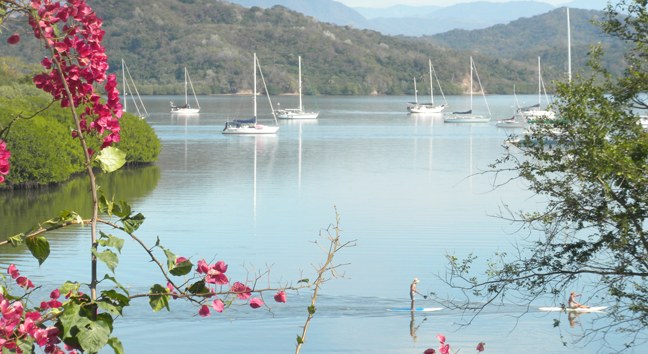 We returned to the condo (have we mentioned that de Mallorca's profession is renting three beachfront condos — a one-bedroom, a three-bedroom, and a two-story penthouse, all with an 80-ft infinity pool and surf right out front?) to discover we're about 20 minutes late to meet everyone for the sail. Assuming, of course, anyone is coming. Oh well, down here everyone runs on Mexican time, which isn't any more punctual than island time.
When we arrived on the beach, it was obvious we were going to have crew. It looked like about 23 of them, including a couple of gals who did the Ha-Ha on big cats 10 years ago, about eight Mexican sailors, an extended family of four from Salt Lake City that de Mallorca sold a condo to several years ago, and we can't remember who else. Twenty-five would actually make a nice round number, so we suggested that somebody ask the two lovely young ladies lying in the shade of a beach umbrella if they'd like to join us. It turns out they're from Santa Barbara, and sure, they'd like to come sailing.
It was another beautiful day on the bright blue waters of on Banderas Bay under an even brighter blue sky, with 8 to 12 knots of wind, seas about as big as they get in the Oakland Estuary, and everyone needing to slather on the sunblock. We got the asymmetrical chute up and, despite the dirty bottom and extra crew weight, got gliding along in excess of 10 knots. We heard a lot of yelling, and it turned out that there were whales to our port side. Then whales to starboard. Whales all over the place! On Banderas Bay, you don't go whale watching, you go whale avoiding. We jibed out into the middle of the bay to extend the sail and give as many people as possible a chance to drive. The Mexican guys were experienced sailors, and Doug, an American from Corpus Christi, told us he was about to fly to Key West for another Race Week. He and his wife have owned a bunch of big and small race boats out of windy Corpus Christi.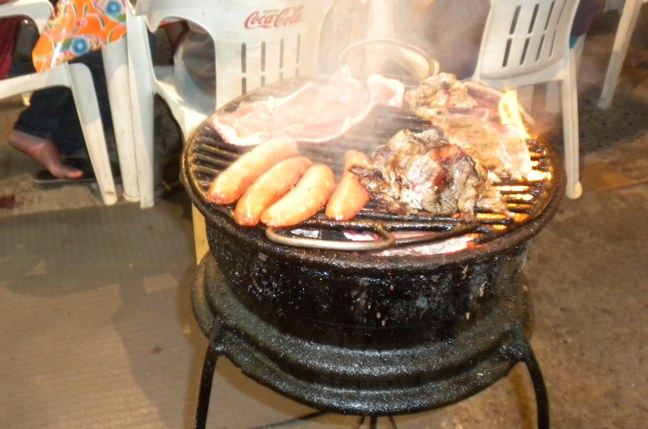 After a typical Banderas Bay pleasure cruise, we tied up Profligate in the lovely Marina Riveira Nayarit, at which point everybody headed to their boats, their homes, or their busses home. We hadn't gotten our key to the marina yet, so we tried to sneak around the gate, which required making our way through a patch of bougainvillaea. It was treacherous, and we stumbled ass first into the thorny bougainvillaea. Luckily Pam and her friend were still there to pick the thorns out of our butt.
We hadn't seen a football game in three months, so we walked through funky and fine La Cruz to the beautiful Las Cascades Restaurant, which is also the local sports bar. While we watched ex-Cal quarterback Aaron Rodgers lead Green Bay past ex-Cal great DeSean Jackson and the Eagles, Joe, the owner of Las Cascades, told us about himself. He's an IT guy from Seattle who retired about 10 years ago and has bought a number of properties in Mexico. The deal was go good on the Las Cascades building, he said, that he couldn't help but buy it about six months ago. And since it was already equipped with an excellent commercial kitchen, why not open up a restaurant, too? It's gotten excellent reviews, and he's got a separate bar with three televisions — one of them HD — and cable for every sporting event there is. It turns out that Joe still owns a home in Seattle, but only his wife uses it. Joe returns to the Pacific Northwest about two months a year, but when he's up there, he spends almost all of his time cruising on his Hunter 34. August and September, the worst times on mainland Mexico, are the best times in the Pacific Northwest, Joe tells us.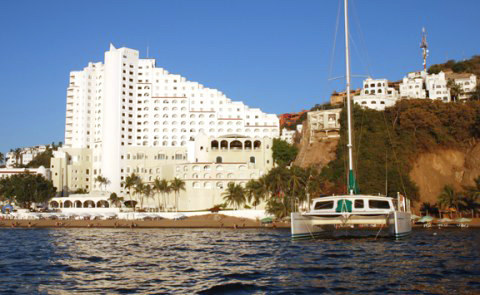 De Mallorca showed up, and after introductions all around, we walked up to the bus stop on the main road. Suddenly all these people were screaming at us from the pick-up truck stopped at a light across the street. It was Wayne and Lisa, owners of J/World Puerto Vallarta and J/World San Francisco, plus their PV crew. It turns out that they'd been having lunch at El Dorado on the beach at Punta Mita and had seen our big group head for Profligate. "We would have come with you," shouted Lisa, a Latitude cover girl from a few years ago, "but we sail all the time and needed a change of pace."
So we hopped onto the bus for the 10-mile-or-so ride to Punta Mita. As usual, the radio was blasting, the doors and windows were open, and it felt as free and un-American as can be. If there was a circuit for racing buses, our driver would be the champ. The way he threw the bus into the curves was something to behold. At the stop before ours, a group of people were about to get off when de Mallorca shouted, "Oh my God, it's Rosa and her family." De Mallorca rushed over to hug her housekeeper and clan. Rosa is hilarious. A very young grandmother, her cleaning outfits consist of low cut, bosum-hugging tops, skin tight short skirts, and high heels. The fact that most of the streets of Mexico are cobblestone doesn't stop the Mexican women from wearing high heels.
We got off in Punta Mita and walk down to the very stylish, sparking clean Como No restaurant, because it's pozole night. The two great guys who own and run the place had a number of retail businesses in Sacramento. Having bought the building 15 years ago, about six months ago they retired, moved to Mexico permanently, and opened Como No as a part-time kind of thing. You won't find a better burger in the States.
While seated at our table in the lovely garden area, five young guys walked in. We made them for American surfer dudes because of their dress and the fact the swell hitting Mita had been great for the last couple of days. Because de Mallorca talks to everyone, we soon learned that it was Bart Powers of Morro Bay and friends. Although in his mid-20s like his friends, Powers bought an Allied Seawind in San Diego, sailed it up to Morro Bay, fixed her up, and headed on a cruising surfing safari to Mexico. The seasonal firefighters, plus one engineer, didn't get out of Dodge until December, which meant they got slammed by all the nasty Southern California weather, including having to spend a full week at the dock in the pouring rain in Oceanside. They were also in Cabo for New Years Eve and — check this out, Ha-Ha folks — Squid Roe had a $100/person cover charge! And that was one of the least expensive cover charges in town. Anyway, they had a nice spinny run over from Cabo, and were delighted to be in tropical Mexico at last. We're hoping to cross paths with them later.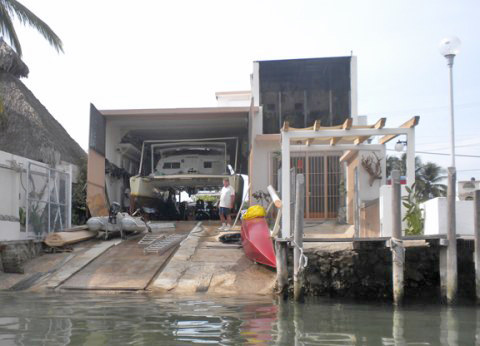 It had been a long day, and as we were walking back to our place, we saw two dark figures in the street. It turned out to be Richard and his wife, who had sailed with us that day. "We had such a great day," enthused Richard. "You absolutely must visit us in Telluride so we can reciprocate. And I really mean it." Sounds good to us. We really mean it, too.
Anyway, that's our report on one Sunday in Mexico. We know that a lot of people in the United States think it's crazy to cruise down here, but the truth is, it's a lot of fun, the weather is great, there are so many things to do, you're so close to nature, you make countless new friends, it's inexpensive, the Mexicans are wonderful — and we all feel as safe or safer down here than we do in the States. As a result, those of us who are down here in Mexico think people who have the opportunity to cruise Mexico but don't are out of their minds. After all, what did you do yesterday? But to each their own.
We've could go on, but there's so much to do today, too. Among other things, we've got to track down the young Mexican woman in La Cruz who sailed her Laser dinghy 270 open ocean miles from Cabo to Puerto Vallarta . . . .
Receive emails when 'Lectronic Latitude is updated.
SUBSCRIBE