76 miles of Scenic Coastal Racing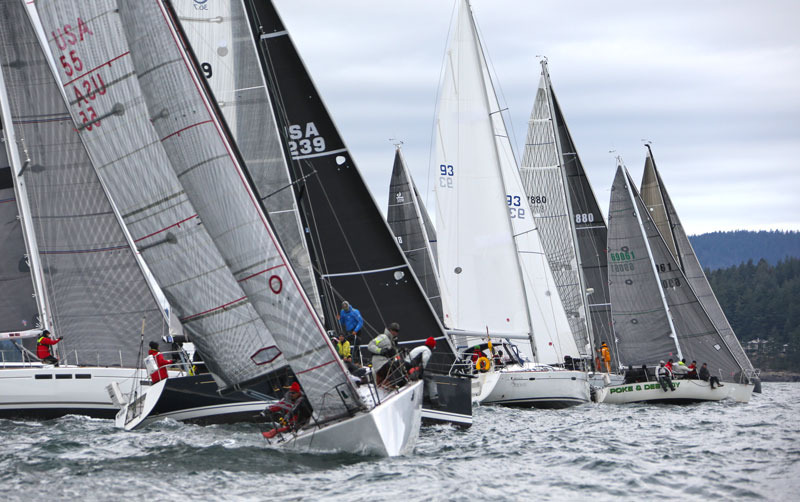 "The race is different every year," says race chair Betsy Wareham. "This time it was a mixed bag; no one was blown off the water nor beset by the doldrums. Most people finished, and we all had a great spinnaker run to the finish." The 30th annual Round the County was held November 11-12. Approximately 76 miles, with an overnight stop in Roche Harbor, San Juan Island, the course leads contenders alongside scenic landscapes and through the challenging waters of San Juan County, Washington. Sailors from the Puget Sound region on up to Canada compete.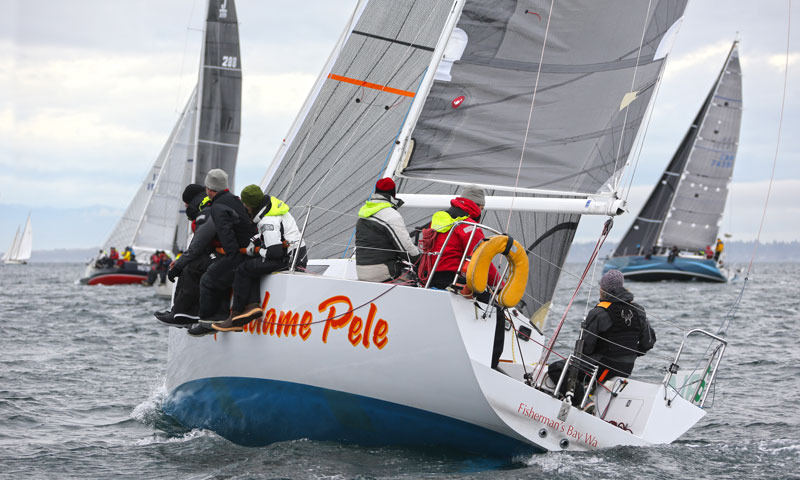 Activities launched Friday night with a rendezvous at the Orcas Island Yacht Club in West Sound, Orcas Island. On Saturday, officials timed the starts for 112 boats spread over eight divisions. Leg 2 commenced Sunday with starts in Mosquito Bay, south of Henry Island.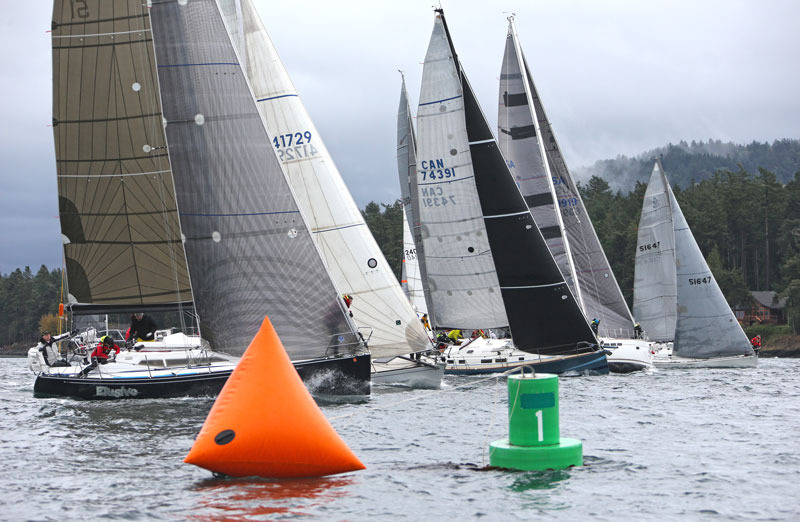 The 2017 counterclockwise circumnavigation saw fast vessels in Division M, such as Ackrill & Sailing's Formula 40 catamaran Dragonfly, on the water for a combined total (Saturday and Sunday) of 8 hours, while slower boats braved the elements for 17 or more hours. Dragonfly ran the course with an elapsed time of 8:33:38, to finish 3 hours ahead of Nigel Oswald and Ivan Reiff onboard the F-23c trimaran Makika. With a scant few moments between them at finish lines and elapsed time tallies, the ORC big boats saw John Buchan's TP52 Glory (elapsed time 8:44:52) besting Steve Travis's TP52 Smoke.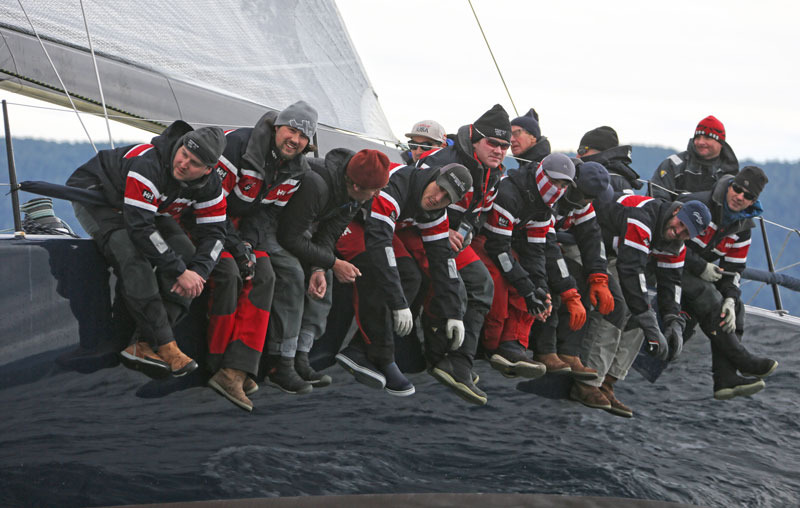 Elsewhere on the course, in Division 1 Bob Brunius on the J/120 Time Bandit (rating 54) fended off skippers Jim Hinz and Peter Dorcey aboard the J/120 Hinzite (rating 51). Brunius and crew crossed the finish line on Saturday and Sunday a minute-plus faster than Hinzite, but Time Bandit had indeed stolen the prize.
Another hot spot on the water was Division 5. "There was solid action among the Santa Cruz 27 and Moore 24 boats duking it out," says Wareham. Morgan Larson and Christa Scheer's Moore 24 Bruzer beat a sistership, Ben Braden's More Uff Da, to the win. The overall winner was Darrin Towe's Melges 32 Wicked Wahine from Seattle.
Robert Darcy's 84-ft 110-year-old schooner Martha, which California sailors may remember from races in venues ranging from San Francisco Bay to San Diego in 2015, plus the 2015 Transpac, was among the competitors in Division 4.
Round the County was started by Betsy's father, Mike Wareham, and Sunny Vynne. It remains a grassroots gathering with nearly all hands-on logistics handled by an army of volunteers from local yacht clubs and the community.
View more photos at https://janpix.smugmug.com/Events/Round-the-County-2017. For complete results and more, see www.roundthecounty.com.
Receive emails when 'Lectronic Latitude is updated.
SUBSCRIBE