40 Years of Mischief, Part 2
Back in the years BC — "before catamarans" — Latitude 38's publisher owned a series of monohull sailboats. The biggest was Big O, an Ocean 71. One year, he decided to do San Francisco Yacht Club's Midnight Moonlight Maritime Marathon, which starts in Raccoon Strait near the sponsoring SFYC in the afternoon, and finishes just outside the Strait whenever you get back from rounding the center tower of the Carquinez Bridge. The usual cast of thousands was aboard. Numerous beers later, we got to the bridge and there was such a hellacious ebb running that we couldn't get around the damn tower piers. Tack after tack, we sailed waaaaay upwind, only to turn and get swept past it before we could get the big boat around. After getting passed by several smaller boats, the Wanderer sailed what seems like halfway to Rio Vista, turned, and commited. Everyone onboard was on pins and needles. "We'll make it. No we won't. Yes we will. No. Yes. No. Yes. Maybe. Maybe not. No. No freaking way!" The helm spun down to tack again but it was too late. We went head-on into the wooden pilings. To add insult to injury, the current then swiveled the stern around and mashed the port side against the pier. Big O dragged and scraped the whole way down the gnarly pier until she clears the pilings. The collision mangled the bow pulpit and anchor rollers, bent a few stanchions, and etched an array of battle scars on the topsides, but no one was hurt. A bit the worse for wear, we finally made it around in a few more tacks, and finished back in Raccoon Strait around 1 a.m. The damages put the boat in the yard for almost a month.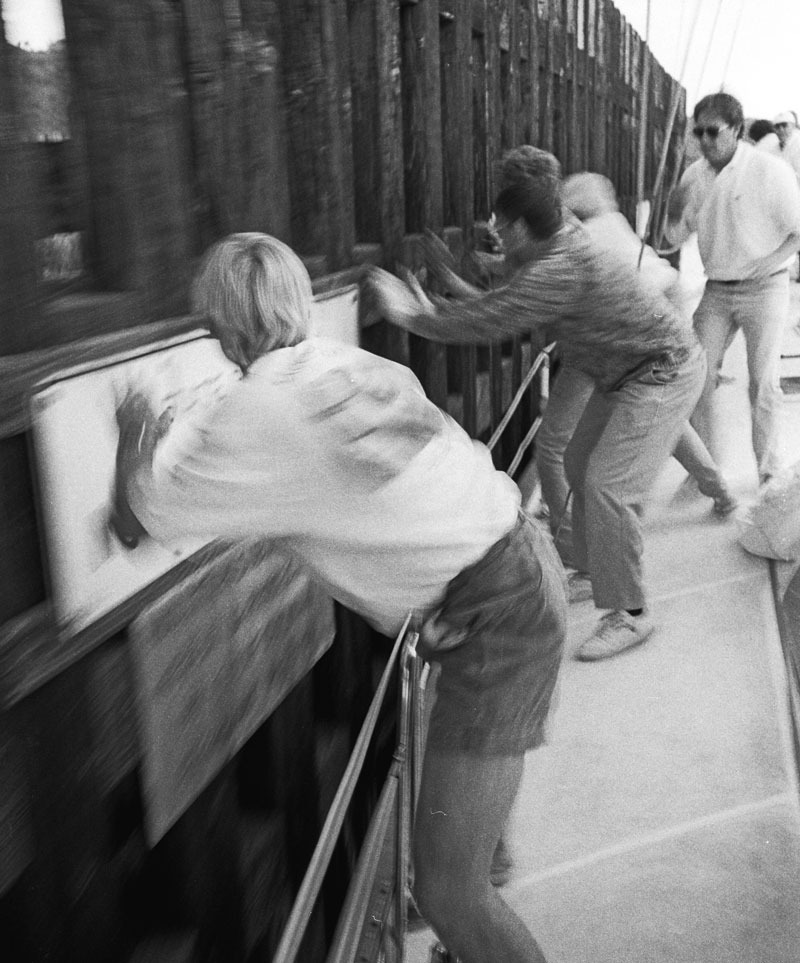 One Saturday back in 1991 sometime, one of the editors borrowed the photo boat to take his mom and sister to Angel Island for the day. When they got back after biking most of the way around the island, the boat wouldn't start. Apparently something had drained the batteries. (It wasn't the first time.) You're not supposed to leave a boat at the Angel Island dock overnight, but the rangers were accommodating in this instance. The editor promised to be back first thing in the morning to attend to the situation. Sunday morning, he returned on another boat, intending to tow the photo boat back to its berth and deal with it there. He later said, "As I was coming into the cove, I couldn't see the boat. All I could see was this little white triangle in the slip where it had been." The little white triangle turned out to be all that was showing of the bow, still tied to the dock. The rest of the boat had sunk. Oops.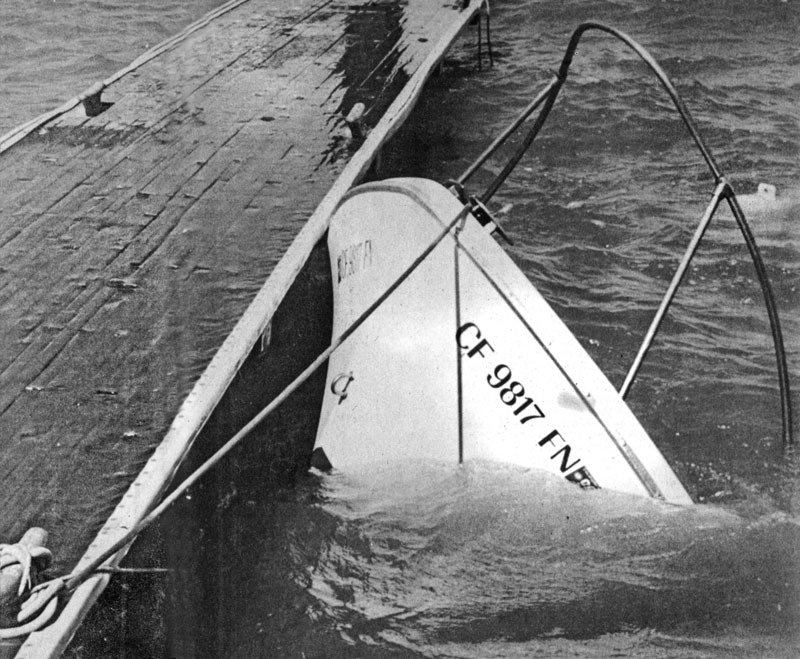 The story didn't stop there. After being refloated, towed home, and then hauled out, the boat was put out to bid for new engines. A low bid was accepted, and it disappeared into the wilds of the South Bay, never to be seen again — well, for several years, anyway. A friend finally spotted it down some remote slough in Alviso or somewhere with the half-apart engines full of rust and rain. Turns out the low-bidder fellow doing the 'restoration' was serving time in prison. No wonder he stopped returning our calls. 38 Special was eventually evacuated to a legitimate yard, where it got two new engines at, let's just say, a higher rate.
Among the many photo boats Latitude has murdered – uh, we mean utilized – over the years was an 18-ft Boston Whaler that we affectionately called the Boston Death Trap. It had some big old outboard on the back that worked fine until it didn't. It developed the irritating habit of dying at the most inopportune moments possible. One of those moments was at the 1987 or '88 Big Boat Series, one of the last attended by the maxi fleet. The photographer that day was looking for a nice bow shot, so he crossed in front — well in front — of the Holland 81 Condor, which was on a spinnaker run in fresh breeze. As soon as he got directly in front of Condor, that *&$# engine died. The maxis moved deceptively fast anyway, but Condor was on our editor so fast his life barely had time to flash before his eyes. "I dropped the camera and got ready to jump and hopefully grab the bow pulpit when they cut the Whaler in half," he recalls. Fortunately, an alert helmsman saw what was happening and swerved at the last possible second. Condor's bright red hull (and her pissed-off crew on the rail) passed within about two feet of the Death Trap. It was over as quickly as it had started and, as usual, the outboard started right up and ran fine again. Needless to say, our intrepid cameraman did not attempt any more bow-on shots that day.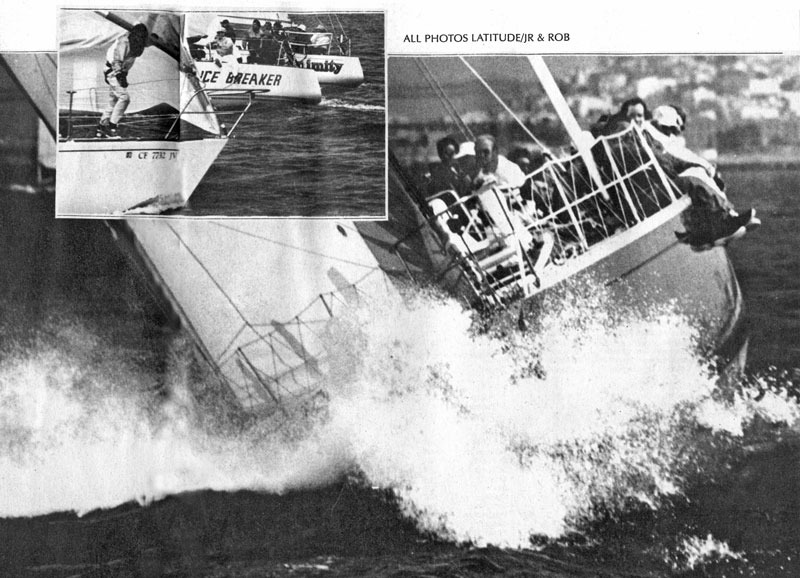 PCs were not in widespread use when Latitude first started out. Fortunately, electricity had been around for a while. For our first 10-15 years, all stories were created using IBM Selectric typewriters. Completed pages of copy were given to our in-house typesetter, Ellen, who typed every word into our big blue typesetting machine. Blue would make a series of R2D2-like grunts, whistles, whirrs and clicks — and out would come a continuous stream of column inches, which would then be cut apart, hot-waxed, and stuck onto a gridded piece of heavy paper the size of two facing pages, along with half-tone photos and captions. This is how articles (and ads) were put together — two sticky pages at a time. Everything from soup to nuts was done in-house except for the printing. Our first computers were Radio Shack TRS-80s, or 'trash 80s' as we called them. They were little more than glorified typewriters with a screen. But for the first time, we could go 'directly' from computer to typeset copy. This involved carrying one of those large, truly floppy discs upstairs, plugging it into another Trash 80 connected to the typesetter, going through a long, involved series of typed-in commands, sacrificing a chicken or other small animal, doing a modified war dance and selling our soul to the devil — again. If all went well and we didn't miss a keystroke, copy would spit out. If not, Ellen was right there to save our butts — again. Okay, we're kidding about the small animals.

Receive emails when 'Lectronic Latitude is updated.
SUBSCRIBE