The Baja Ha-Ha is the 750-mile cruisers' rally from San Diego to Cabo San Lucas with R&R stops at fun and funky Turtle Bay and spectacularly surreal Bahia Santa Maria. It is a cruising rally, so using engines is allowed for safety and or comfort.
There are eight major social events, starting with a Halloween Costume Kick-Off Party, to the world-famous Turtle Bay Baseball Game, to the live band rock 'n' roll party at remote Bahia Santa Maria, to the rolling-in-the-surf From Here to Eternity Kissing Contest. The fun rarely stops.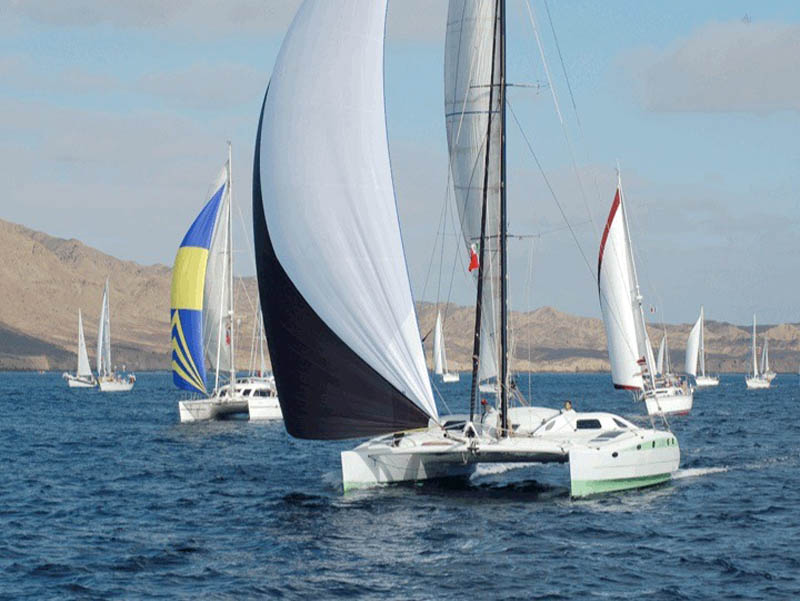 More than 12,000 sailors have done the event, so this could be your year to become part of Ha-Ha history. This year's honorary Entry #1 goes to Scott Stephens and his Catana 47 catamaran. Scott did the first of several Ha-Ha's as crew in 2009, and now, after producing 125 television episodes and several series and films, he's saying goodbye to Hollywood and hello to cruising.
There are two good reasons to sign up for the Ha-Ha as soon as possible. First, it commits you to a specific deadline for casting off. Numerous past participants have said that had they not committed to the specific Ha-Ha departure date, they wouldn't have left for months, years — or even at all.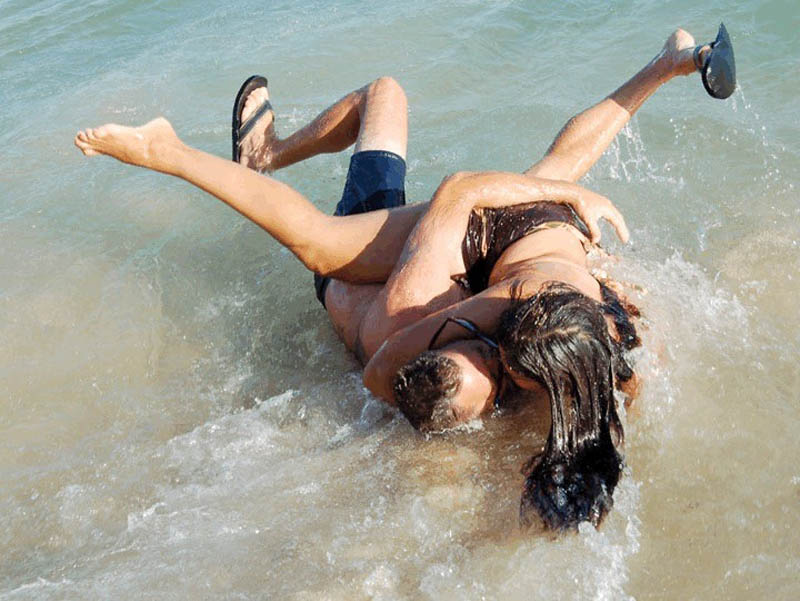 Second, what berths are available in Cabo San Lucas are assigned largely on the order in which boats have signed up. There is, of course, no guarantee of getting a berth in Cabo at all. If the US economy is cranking, berths are very hard to come by. But you never can tell, as last year berths went begging.
Currently, the Ha-Ha is in the process of setting up a system whereby boats can, for the first time, check into Mexico at Bahia Santa Maria. If you've worked with the Mexican government, you can appreciate the fact we're still hammering out details. We'll keep everyone posted.
This year's Ha-Ha will depart San Diego on October 30, two days after the Hunter's Full Moon. It's nice to have a lot of light on the first leg, so we ordered that just for you.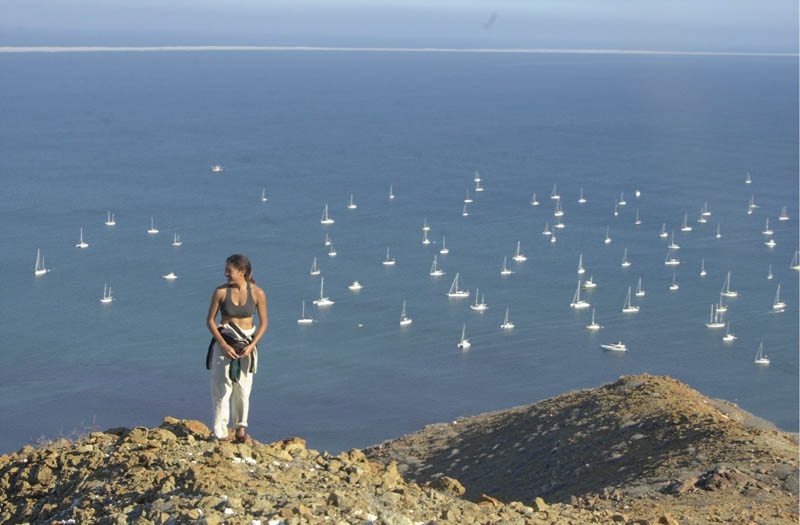 For the Notice of the Rally and other Ha-Ha information, visit www.baja-haha.com.
As a reminder to everyone that the cruising life doesn't end in Cabo, we have a couple more installments from the Grand Poobah on "Where Are they Now," with vets of the 2018 Ha-Ha letting us know where they are now, five years later.
Allan and Rina Alexopulos, Follow You, Hunter 466, San Diego:
"We are looking forward to Ha-Ha XXIX on our new-to-us 2016 Lagoon 450S. After our 2018 Ha-Ha we bashed back from Puerto Vallarta in March 2020, as COVID looked like it was going to close down ports and prevent cruisers from moving around Mexico. We went back to work, got a great job as managing director of a consulting company, and lived aboard at Pier 32 in San Diego.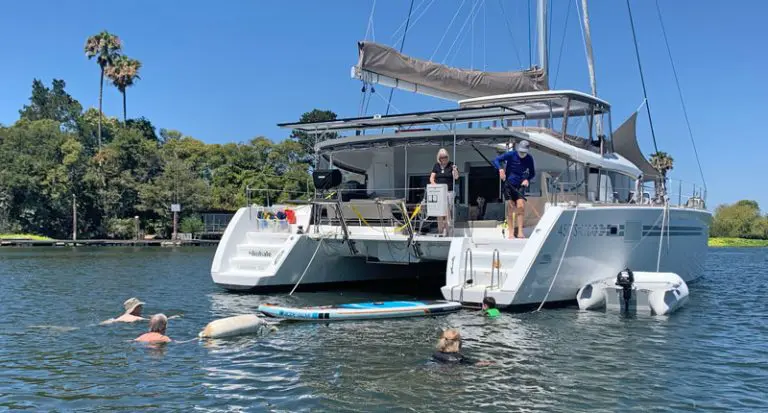 "As the market was hot for used boats, we decided to sell our boat in 2021 and started looking for a catamaran. We found 'iliohale in San Francisco in late 2021, then put her in a charter fleet for a year while we planned a 2023 Ha-Ha. We had been looking for a slip for over a year in San Diego, and as luck would have it, we walked into Chula Vista Marina the very day a boat gave notice for their end tie. We were already #1 on the waiting list.
"Rina and I just double-handed 'iliohale from San Francisco and have purchased a Cruise RO watermaker and life raft. We are shopping for a downwind sail and are otherwise counting the days to sign up for the Ha-Ha. At some point in the future I'll retire, we'll sail to Mexico for a season or two, then cross the Pacific and join our Ha-Ha vet daughter in New Zealand. She sailed there years ago and has become a permanent resident and thus can sponsor us into the country."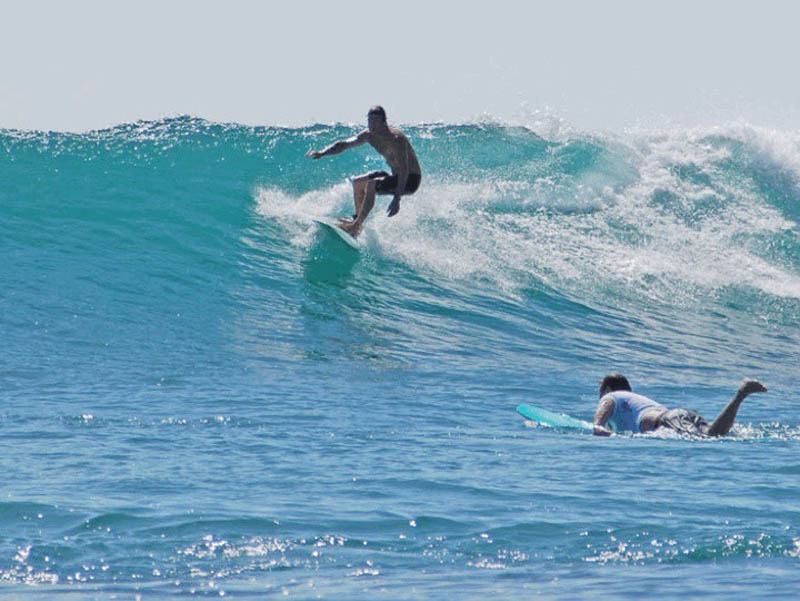 Chris Killian, Derive, Lagoon 410 S2, Newport Beach:
"I continued cruising with the hopes of making Australia, where I was going to sell my boat in 2022. We did the Puddle Jump in 2019, then hauled the cat out in August 2019 for cyclone season. The next steps in the plan didn't happen because of COVID. We had paid for a haulout in Tonga in 2020, and our 2021 goal had been Fiji, New Caledonia and Australia. But I didn't get to see my boat for 22 months.
"While extensions were being given to foreign boats in French Polynesia, I ended up on the first plane back into the country in 2021, and decided to sail up to Hawaii because all the other borders were still closed. I spent six months in Hawaii, and sold the boat on December 31, 2021, to close out the original plan.
"My wife had continued to work at home and was a fly-in cruising wife. But as this was always a five-year plan, I was very lucky she let me live out my dream.
"The biggest suggestion I have for people doing the Ha-Ha is to make sure all the big stuff is in working order and don't sweat the small stuff. In addition, do shakedown cruises with crew members before taking them on long term."
As we come up to the start of registrations for this year's Baja Ha-Ha on May 9, we'll share some more installments from the class of 2018.
Receive emails when 'Lectronic Latitude is updated.
SUBSCRIBE