Andy Schwenk Shares His Medevac Story
August was a trying month for Point Richmond sailor Andy Schwenk. Andy was returning to California aboard his Express 37 Spindrift V after completing the 2022 Pacific Cup, finishing first in his class. Little did he know that a small ankle-scrape sustained at the end of the race would turn into a life-threatening infection. Andy is now out of the hospital and continuing his recuperation at home. But we chatted with him during his stay at Stanford Medical Center, and heard about his injury and subsequent medevac firsthand.
"When we raced over, we were pushing pretty hard — especially the last three days — for the lead," Andy told us. "When a squall would roll through, we'd do spinnaker changes, and you'd bark your shin and foot on the nonskid." Most sailors, whether racers or cruisers, are used to scrapes and bruises, or "boat bites." Walking around Hawaii before the return trip to California, Schwenk said he must have contracted necrotizing fasciitis, also known as flesh-eating bacteria.
Though Spindrift carried an extensive medical kit, it was short on prescription meds, such as antibiotics. Adding to the difficulties, the rough weather on the return trip split Spindrift's delivery main and did other damage, so the otherwise-speedy Express 37 was reduced to a modest speed.
Via his Iridium GO!, Andy consulted with the experts at George Washington University, who had supported the Pac Cup fleet during the race. When he contacted race HQ to see if someone nearby could spare antibiotics, several boats raised their hands, and the Pac Cup asked Surprise, skippered by Robin Jeffers for the return, to divert and hand over a couple of their medications.
The custom Schumacher easily caught the Express 37, reaching down to cross their path, and giving up a fair bit of hard-won northward progress. The transfer was accomplished in big swells on a very dark night, trailing the package on a line for Spindrift to snag.
"A pro job," texted Andy.
But the oral antibiotics could not halt the progress of the infection, which had spread upward, and was causing Andy a good deal of pain and the beginning of a fever. The situation was becoming dire for Andy Schwenk.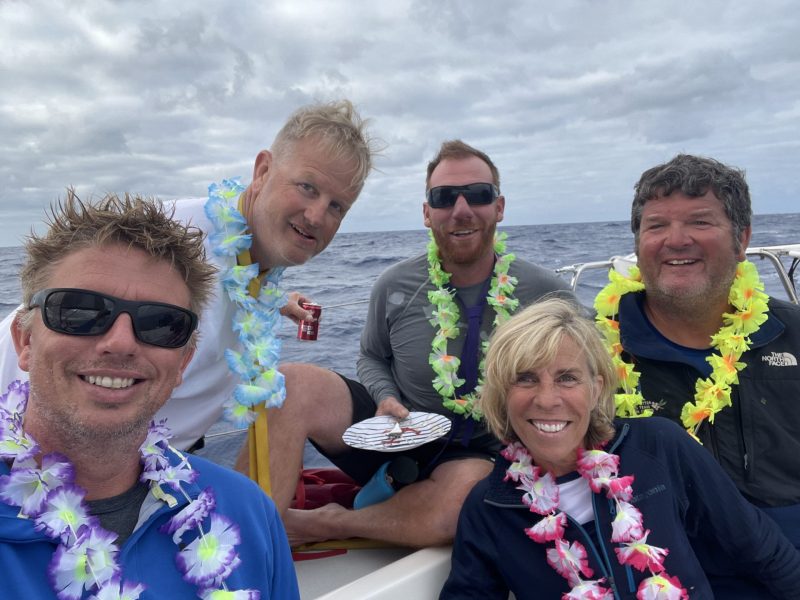 This morning we received the following update from Andy: He's out of the hospital on bed rest. A skin graft was done a week ago on Monday. He said the graft was performed "like building a boat or surfboard." They took a layer of skin from his upper thigh by peeling the outer layer of skin and then forming it to the shape of the wound by vacuum-bagging it with foam. He also noted that Spindrift V will be sailing in the Rolex Big Boat Series with Bart Hackworth skippering. Bart is happy because he just sold his Moore 24 Gruntled and is looking forward to sailing the Express 37.

Read the full rescue story (complete with gory photo) in September's Latitude 38.
Receive emails when 'Lectronic Latitude is updated.
SUBSCRIBE