Money can do a lot of things, but it can't change the weather. Sometimes, though, you have to wonder.
The New York SailGP event, held this past weekend on the Hudson off lower Manhattan, managed to find a perfect weather window after a week of heavy rain and fog in the Northeast. After the dust settled, Team Japan would take their first event victory of the inaugural SailGP season, with the Australians hot on their heels.
Our visit also reminded us why San Francisco remains one of the best places in the world to host a sailing event, despite what was a spectacular show in New York. When the foiling cats first arrived in Northern California at the end of April, their huge wings were visible from almost any stuck-in-traffic vantage point around the Bay, making the event feel truly local. San Francisco's relative consistency of the weather and optimal conditions also make it an incredibly reliable venue for any sailing championship.
Just sayin'.
Gearing toward shoreside "stadium" viewership, the SailGP New York event was run in a format similar to the San Francisco series, with the start and finish line just off a sea wall and close to the audience — though racing in New York was held from 5-6:30 on Friday and Saturday evenings. The rains that cleared not long before showtime on Friday brought in brisk but patchy northwesterly winds, creating exceptionally challenging conditions for the skittish, foiling cats. In fact, Friday's puffy playing field flipped Team GBR in a 30-plus-knot puff just before the start of the first race, knocking them out for the day.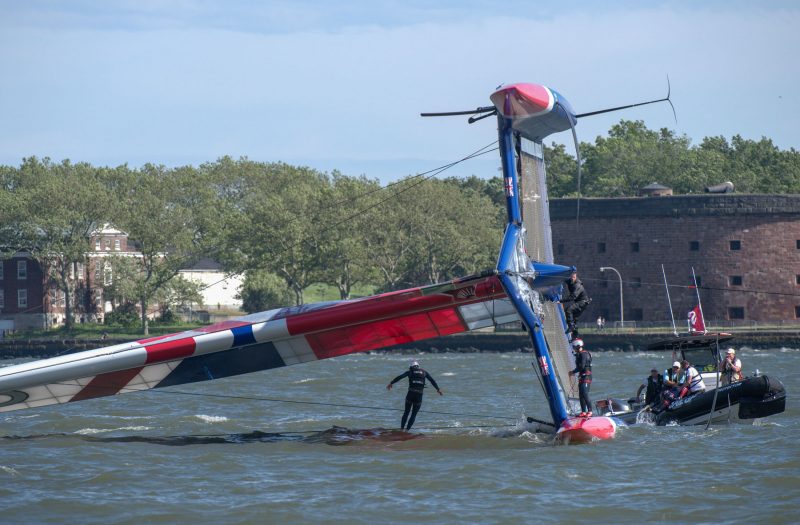 The Hudson is much narrower than the Bay and is surrounded by tall buildings, but also has a very strong, river-enhanced ebb current — not to mention all the ferries and commercial traffic. Despite the erratic conditions, the first day of racing still resulted in a familiar story with familiar players Team Australia, who took race one, and Team Japan, who took race two. Team USA had its own day-one carnage, as California wing-trimmer Riley Gibbs wrenched his back. The team's shore manager filled in as wing-trimmer, though he'd never sailed aboard an F-50 before.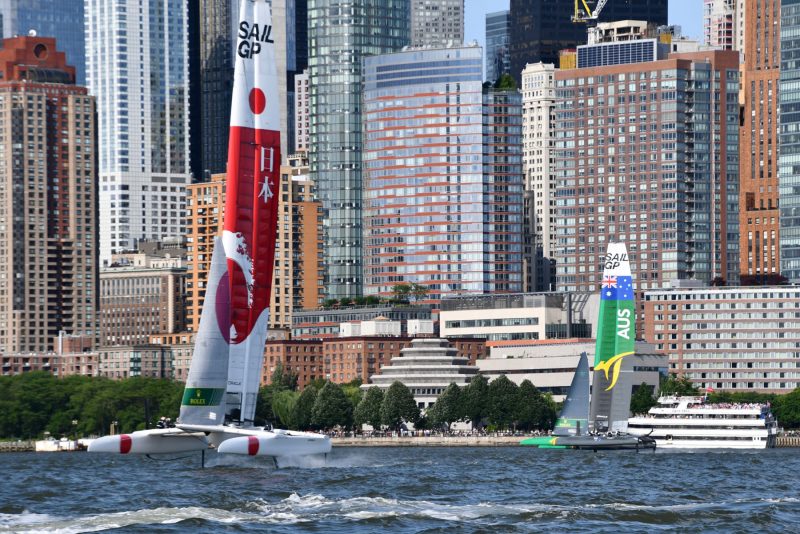 The conditions settled down a bit for Saturday's racing, with lower peak winds and somewhat more consistent breezes — though still plenty of wind holes, which spread out the strictly one-design fleet. Some boats were faster to jump up onto foils when the puffs hit, and others were not as adept at shifting gears between puffs and lulls. But the variability also meant you never counted anyone out, as the magic puff card could be dealt to any boat, surging them ahead or catching them up from behind.
Saturday's results had a familiar feeling with a couple of exceptions. Team USA flew in their wing-trimming coach Tom Johnson — who'd been competing in Moths in Europe — who landed just hours before the start. Johnson helped get the Americans back in the game and sail to their first-ever race victory. But the event was again dominated by Team Australia and their skipper Tom Slingsby, and Team Japan and skipper Nathan Outteridge, the latter of whom had two wins on Saturday and ended up in the final match race, which determines the weekend's overall winner.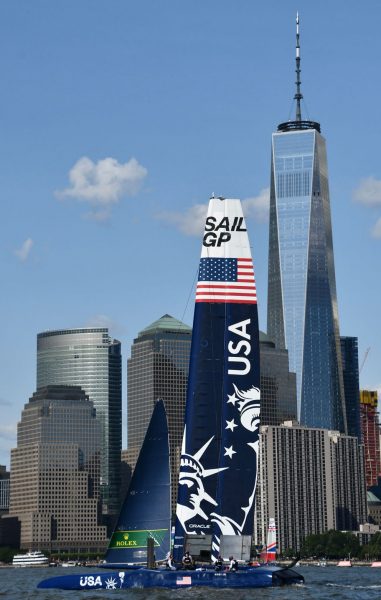 This weekend's racing also produced the first boat-to-boat contact of the series when Slingsby put the pre-start 'hook' onto Outteridge, who then turned up sharply, tapping his stern into Slingsby's hull. The umps called the contact a penalty on Slingsby for not leaving enough room to clear. The penalty allowed Team Japan to get ahead early.
Team Japan now sits atop the SailGP leaderboard with 140 points and the Aussies in a razor-close second with 139 points; Great Britain is in third place with 106 points; the Americans are in fourth with 105.
We asked Outteridge how he came out on top. He gave credit to his crew and also his early years learning to sail on a lake, where puffy, erratic conditions are the norm. It's clear that Slingsby and Outteridge's experience has them in another league, but the other boats continue to improve their game — so racing will continue to tighten up, especially in more consistent conditions.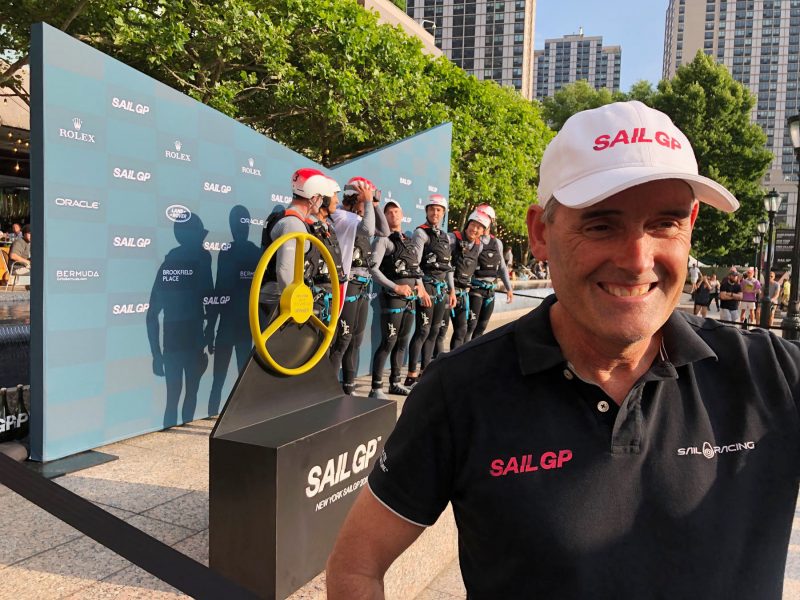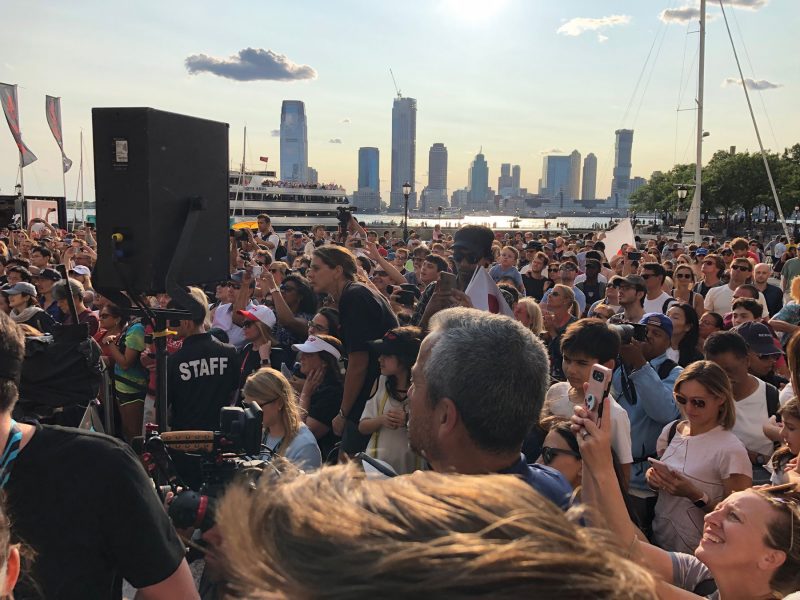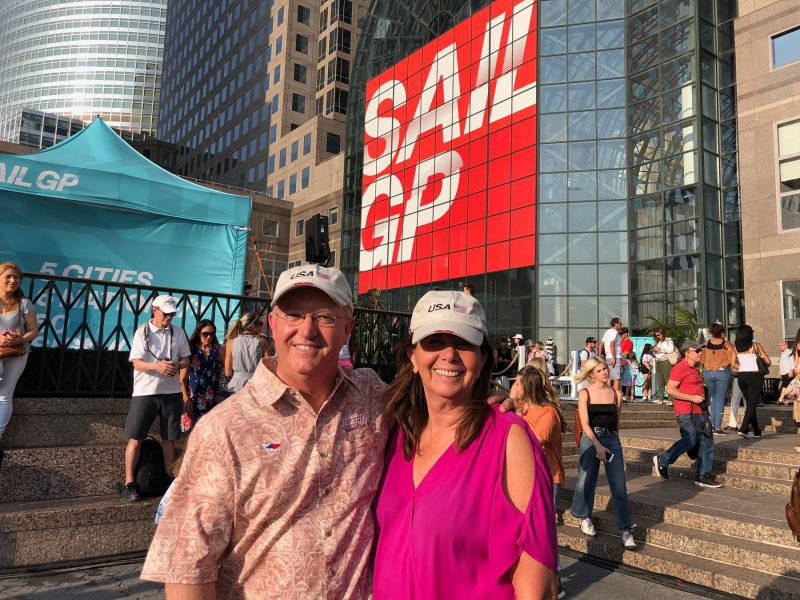 So what was it like to sail on the Hudson vs. San Francisco Bay? "It was the same as in San Francisco with jibing down the wall and the spectators yelling at us; it was pretty action packed," said Luke Parkinson, the flight controller and tactician for Japan team. "We had a fantastic time here, but it's been a completely different experience. San Francisco is a drag race, an all-out speed battle. Whereas here it's very tactical — it's about speed chess, you need to make very calculated decisions, and the quicker you can make them, the better it's going to be. The more I can fly the boat and keep it under control, the more [Outterridge] can play the game. So that's really what our focus was."
SailGP is an impressive event to pull off anywhere, given the infrastructure that has to be packed up and moved for each edition. Making arrangements in densely populated host cities while loading up six 50-ft foiling cats with wings, rudders, foils, tents and all the rest is a daunting proposition no matter how much money you have to spend. Regardless of the obstacles, the weather gods were once again smiling on SailGP as it held a very successful third edition of the event in New York.
SailGP's fourth event will take place starting August 10 in Cowes, England. The final event will be in late September in Marseille, France.
This story has been updated
Receive emails when 'Lectronic Latitude is updated.
SUBSCRIBE