"I don't know how to tell you this," my diver said after pulling himself up onto the dock. My stomach dropped at his nervous tone. It was two days until I planned to cast off for Ensenada, the first leg of my singlehanded "puddle jump" to the Marquesas.
"Just say it."
"There's a big crack in your keel. I can see the lead. I can see light through it; I can see completely through to the other side."
That's how my adventure down the California coast to Ensenada, Mexico, for a quick, planned, pre-jump bottom job led to two haulouts in two weeks (550 miles apart), and learning a lot more about my bolted-on keel than I had planned.
Windfola, a 1985 Sabre 34 MkI, has been a sturdy bluewater boat. She took my dog and me safely to Hawaii and back within the last 20 months. In fact, when I talk about our voyages together, I refer to the three of us as "we," further confusing the people who can hardly believe I singlehand anyway. I'm a first-time boat owner, and despite boating my whole life, I've only been sailing for less than six years, so learning to care for Windfola continues to humble me. I've quietly made her a commitment that I will take care of her physically if she will only take care of us, and I honor that commitment by studying, learning, and DIY-ing everything that I possibly can.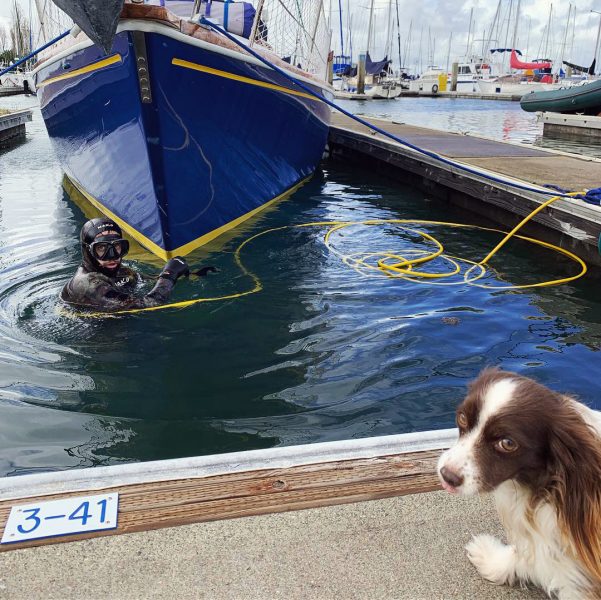 I hadn't had anyone dive on Windfola since before my return trip from Hawaii to San Francisco last October, and I'd delayed this until close to departure so as to have her as clean as possible for the trip south. I didn't anticipate any structural issues, and I'm certain that when I cleaned her hull last, there was no crack in the keel beyond the paint where her bolted-on fin keel flexes (also known as a "smile"). But after such a significant upwind voyage, I feared there was unknown damage. Did I hit something and not feel it in my delirious mid-ocean sleep? Did the rowdy winds that buried my toe rail in the water before I could get in another reef cause too much flexing?
The diver was concerned, and told me he'd never seen anything like it. I could tell he felt bad. I lent him my GoPro, and when he came back up, I looked over the pictures. They were worrisome. There was cracking both fore and aft on the keel, with the aft split at least an inch and a half long, the missing material illuminated by backlighting.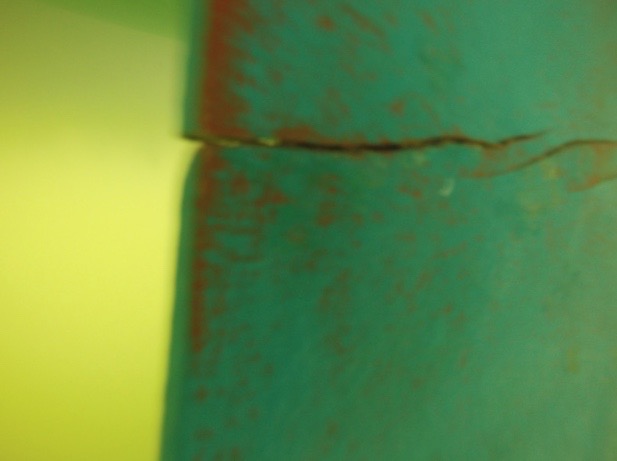 I've heard enough horror stories about bolted-on keels falling off that I wasn't going offshore like that. But the coming week had a good weather window to get down the coast and around Point Conception, and I'd already been waiting a couple of weeks for this break. I called Bob Hennessey at KKMI first thing the next morning and explained the situation. Could I haul out ASAP and relaunch if it was minor? Could we do this without killing my tiny remaining nest egg of savings? He welcomed me the very next day, and we did a "haul and hang" at the end of the afternoon.
Up close, the crack looked just like the "smile" I'd seen in the past, except it went much deeper than the paint. There were places where whatever putty had been under the paint was falling off in chunks, leaving holes behind. Scary.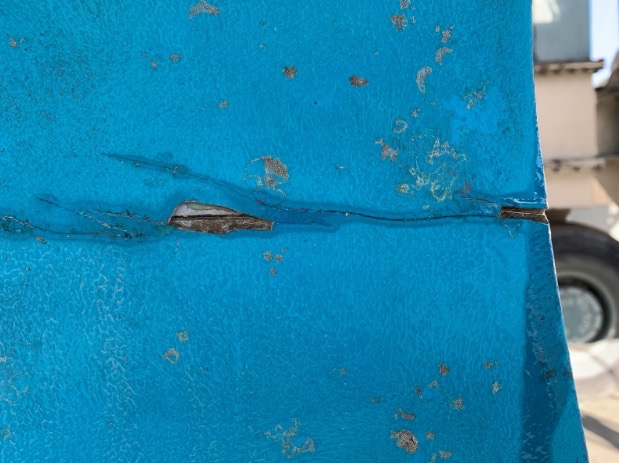 Bob took a look. "This is just cosmetic," he said with a relaxed tone. To my untrained eye this was difficult to believe. Pieces of my boat's bottom falling off at the seam between the hull and the keel didn't seem very "cosmetic" to me.
He explained that not only is the paint too rigid to flex with the keel, but there is putty under the paint that fairs out the seam between the bolted-on keel and the flange of the hull. This putty was old and too rigid to flex well, so it was falling out. If I wanted a smooth seam, I needed to rout it out and fill it anew with a more flexible putty.
I was also worried about the moisture weeping out of the seam, thinking it might be some horrific issue with a keel bolt. He recommended that I torque the bolts and confirm that none of them "spun," which is what they would do if they were compromised. I had done this two years before, when I purchased the boat, so I knew exactly where to find the socket wrench I reserved for the job. The boat was resting on its keel on a block, making this a good time to check them. I sponged out the bilge for a visual inspection of the nuts and washers. Everything looked clean. I went through all of the bolts, fore to aft, wrenching with all of my body weight. Every bolt was solid and tight.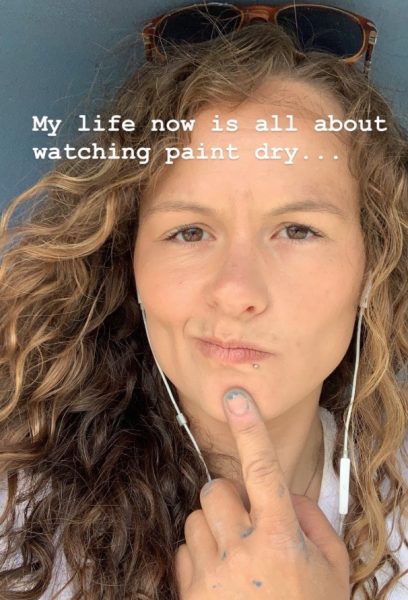 Before departing for the evening, Bob gave what may be the funniest and most relieving boat issue-advice I've ever received: "Just throw some paint on it and go, Elana."
We'll bring you part 2 of When the Keel Smiles later this week . . .
Receive emails when 'Lectronic Latitude is updated.
SUBSCRIBE