Well, it looks like it's going to rain for the rest of time here in the Bay Area. These last few storms have really packed a punch, so much so that we've felt the need to stand watch at home, and see if we need to take in sail or heavily reef the house. We joke — and always enjoy the chance to use sailing terms to describe our non-sailing lives — but two weeks ago outside our office in Mill Valley, Arroyo Corte Madera del Presidio creek overflowed, causing the street, and one of our cars, to flood. We literally had to bail six inches of water out of the passenger side, followed by some serious mold control. Joke's on us.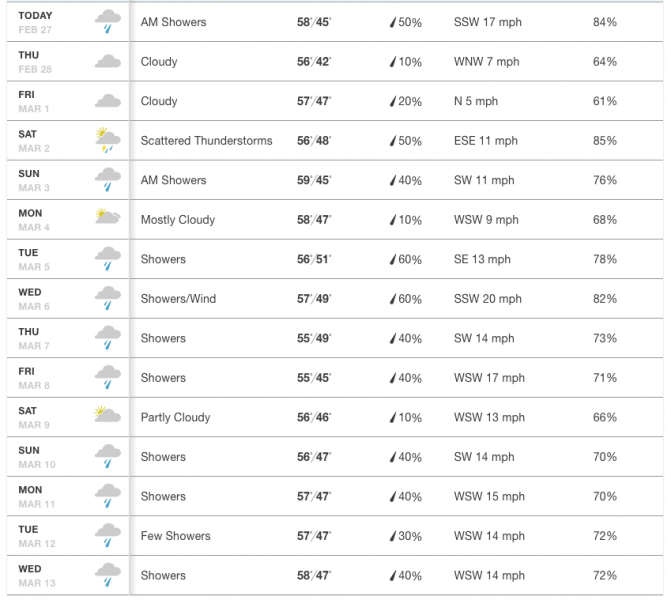 The weather has us wondering, Latitude Nation, how are your boats faring? Have you had any docklines snap, fenders explode, or other weather-related calamities? Or, given the biblical scale of this winter, have you seen (and taken pictures of) any bizarre, rain-induced phenomena? We'd like to know, and to see the pictures. Please comment below, or write us here.
And by the way, you don't have to be in the thick of a heavy winter to play this game. If your boat is snug in a warm, dry harbor and you want to lovingly rub it in our faces, we'd still like to hear from you.
Cyclone Wutip Gains Strength
As we reported on Monday, Typhoon Wutip is churning in the Pacific, an incredibly rare occurrence for the month of February. The storm recently "blew up into a Category 5 monster over the weekend," according to Gizmodo. "That makes Wutip the first Category 5 storm of any kind — typhoon, cyclone, or hurricane — ever recorded in the Northern Hemisphere in February."
Wutip is now a "super typhoon," with winds in excess of 150 mph. "Its sustained winds leaped from 125 mph to 160 mph in just 12 hours with gusts reaching up to 180 mph," Gizmodo said, citing the Joint Typhoon Warning Center.
Hungry Like the Wolf, Thirsty Like the Camel
Don't forget that the 50th anniversary Golden Globe Race is far from over. After 241 days, nine hours and 30 minutes of racing, three boats — skippered by Uku Randmaa, Istvan Kopar and Tapio Lehtinen — are still in the Atlantic.
"Third placed Estonian sailor Uku Randmaa is hungry," said a GGR press release today. "Hungry because he has caught no fish during the past week to supplement the last of his food stocks, hungry to finish, and hungry to see his young family after more than eight months alone at sea."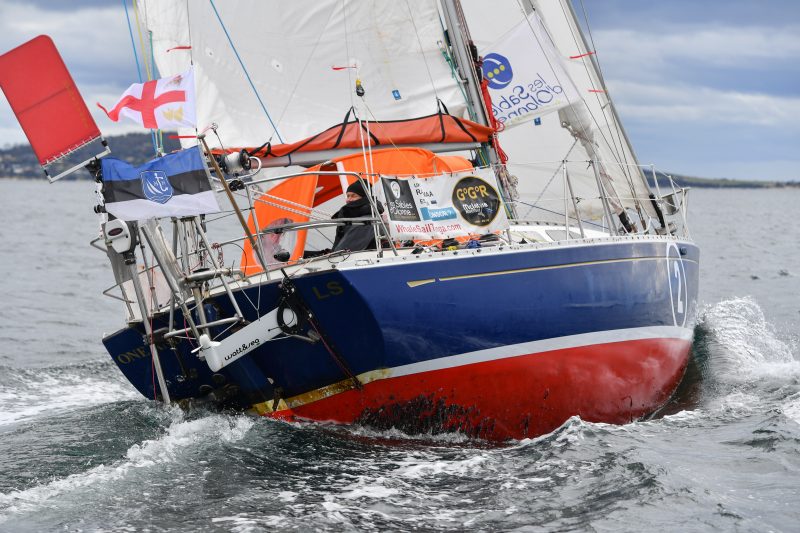 "Like a camel sensing water, he and his Rustler 36 One and All have put on a spurt over the past seven days, more than doubling his lead over fouth placed American/Hungarian Istvan Kopar. He needs, to because the 65-year- old solo circumnavigator told race organizers this week that he has lost more than 20kg [44 pounds] during the voyage so far, and if he can't catch fish, there is little left onboard to sustain him over the next two weeks."
Uku is about 1,200 miles from Les Sables-d'Olonne, and is expected to finish around March 11.
Winners Abound
As we approach the release date of the March issue of Latitude — coming to a newsstand near you on Friday — we wanted to remind you of your chance to be a winner.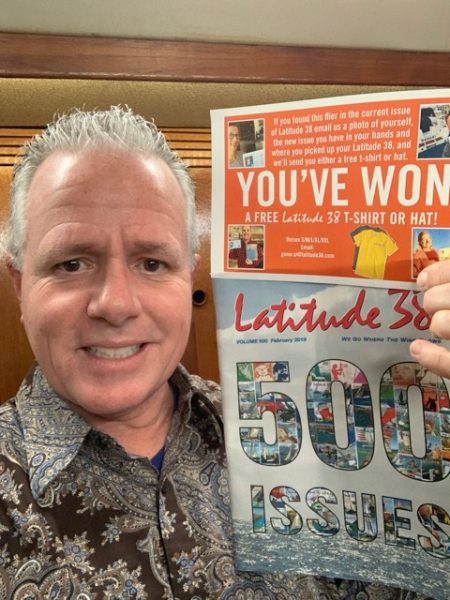 As you may know, we put a few "Golden Tickets" in the new issue of the mag. They are now worth $25 in credit for the Latitude store. Last month, Ken Leslie and Paul Lauher were the lucky winners.
Receive emails when 'Lectronic Latitude is updated.
SUBSCRIBE