Yesterday's press release from the RORC Caribbean 600 called the battle between two 70-ft trimarans "a Spaghetti Western." It was the Multi70 Maserati in a duel against the MOD70 Argo. The two combatants ripped up the 600-mile nonstop islands tour, hitting speeds of 30 knots. Maserati, skippered by Italian Giovanni Soldini, led at Guadeloupe by 12 miles. That was less than 30 minutes ahead of Jason Carroll's Argo.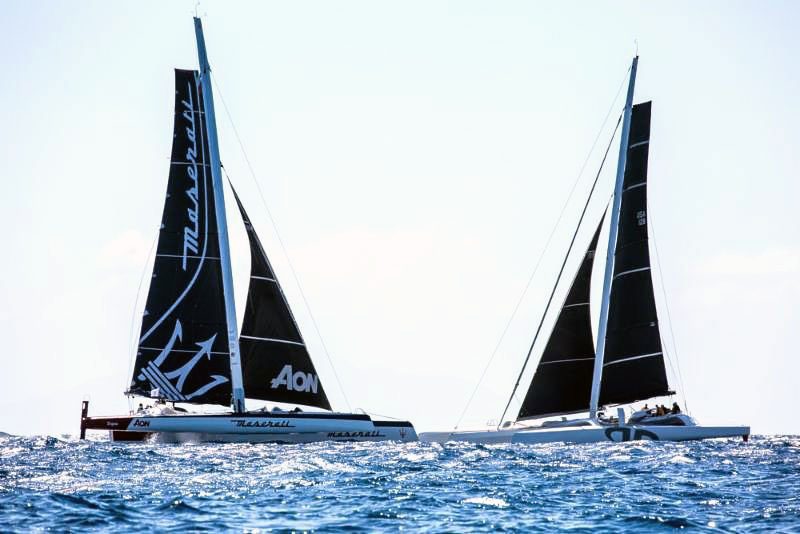 Last night, Maserati crossed the finish line at 20:49:00 AST for an elapsed time of 1 day, 6 hours, 49 minutes, taking line honors and setting a new record — beating the previous multihull record held by Lloyd Thornberg's Phaedo3 by just over one hour.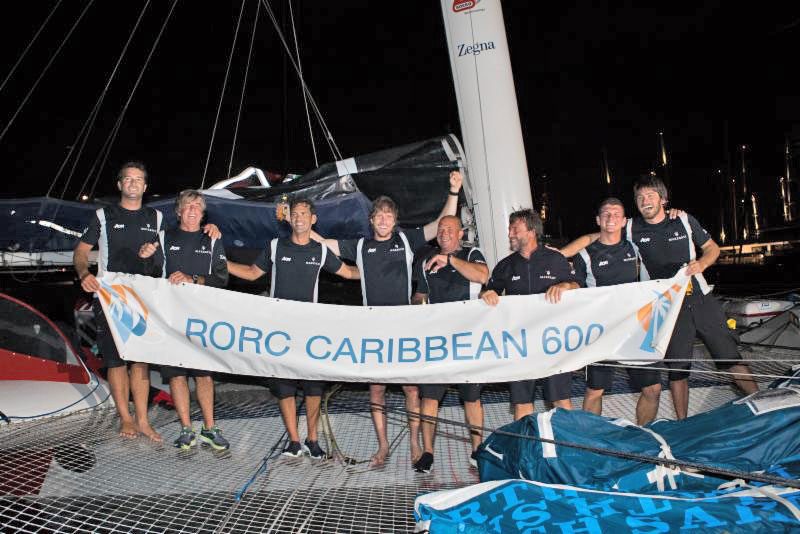 Just 48 hours before Monday's start, the US-flagged Argo capsized at high speed in training against Maserati. It seemed impossible that Argo would be racing, but after a monumental effort by the sailing community in Antigua and Argo's crew and shore team, Argo made the impossible a reality. On the day of the race start, Soldini agreed to a two-hour delay at Argo's request.
"It was amazing that this race even happened," said Soldini. "It was the first time in history that a multihull so big came back from a capsize like that — incredible. I was very happy to agree to delay that start, to race against one of the best teams in the world. We had a wonderful race, very windy, very fast, with very good maneuvers from both teams. We had some technical problems at Guadeloupe. We could not use our Solent for five hours, and we had a small problem with one rudder. After Guadeloupe we could see Argo all the time and they were getting bigger and bigger, but we kept calm and solved the problem. From Redonda to the finish we used classic match racing, trying to keep ourselves between Argo and the finish."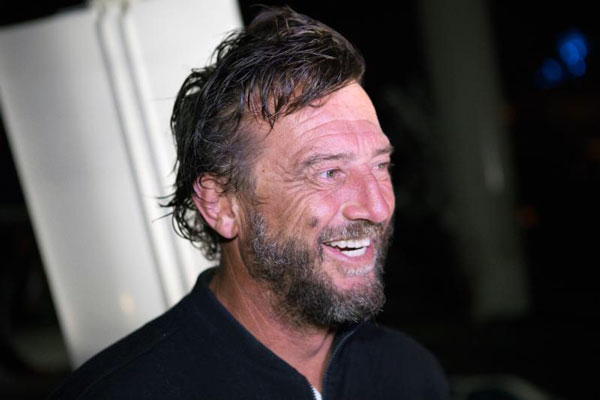 "It was a miracle that we managed to recover the boat without any major damage," said Carroll. "We had so many people help us out in Antigua and also from Newport, Rhode Island. And my team worked 24-7 to get the boat back together. We took it hour-by-hour to see if we could get to a situation that we could race responsibly, and when the sun came up on race day, we were ready to go." Among the crew racing on Argo was Frenchman François Gabart, current holder of the solo nonstop round-the-world record. We've covered Gabart's exploits extensively in 'Lectronic Latitude.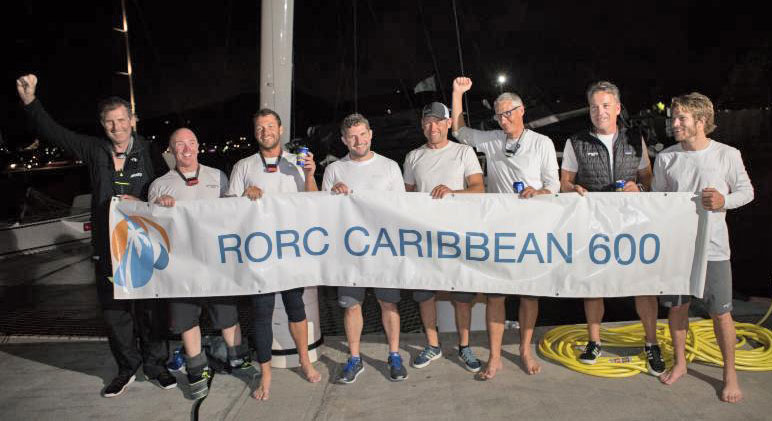 The Caribbean 600 continues. Just as we were about to post this story, we learned that Americans David and Peter Askew's Volvo 70 Wizard had taken monohull line honors. The media coverage is particularly good for this event. Check it out at http://caribbean600.rorc.org.
Whenever we see Maserati in a headline it grabs our attention. Some of the Latitude crew enjoyed meeting Soldini in 2013 when he was in San Francisco after setting a record for the New York to San Francisco run (via Cape Horn) with the VOR70. Others on our crew were especially thrilled to go for a ride on the current MOD70 when she was on the Bay in June, 2017, in preparation for the Transpac.
Receive emails when 'Lectronic Latitude is updated.
SUBSCRIBE