Hugo Boss Runs Aground
The 11th edition of the Route du Rhum solo transatlantic race has continued to deliver thrilling surprises and heartbreaking blown leads, this time in the premier IMOCA 60 monohull fleet. In a shocking development, Britain's Alex Thomson has grounded Hugo Boss near the finish of the 3,542-mile-long Route du Rhum after leading the division virtually the entire way. The mistake will cost him a 24-hour time penalty and almost any chance at winning the race.
Oversleeping an audible alarm and not being woken by his wristwatch that is supposed to 'shock' him awake — the battery was out of charge — Thomson's black monohull ran into the rocks on the northernmost tip of Grande-Terre Island, which makes up the northern half of Guadeloupe. After hitting the island, fortunately at a low-ish speed of just six knots due to light winds on approach to the finish, Thomson dropped the sails on Hugo Boss, started the engine and backed into deeper water where he could assess the situation and resume sailing. With the incident already reported to the Hugo Boss team and the race committee, Thomson resealed his engine and continued under sail, in hopes of still finishing the race.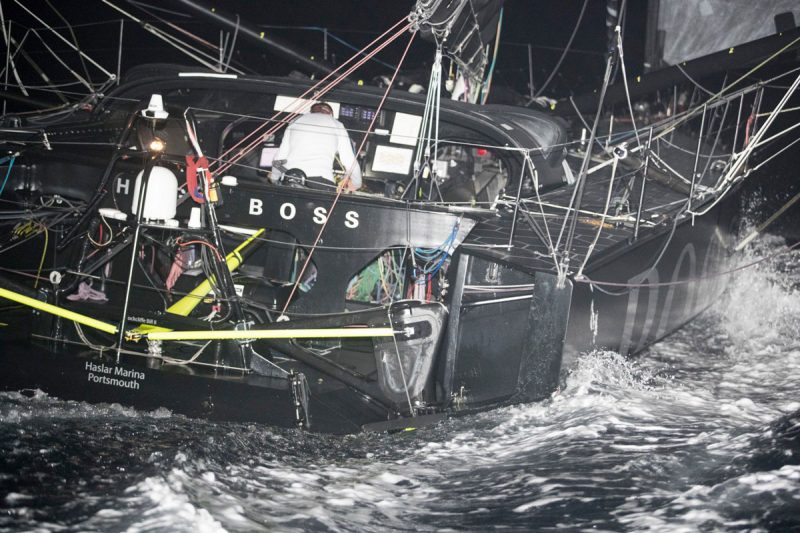 The incident occurred at night, and the extent of damage to the cutting-edge, foiling monohull was not certain, though the light of day has shown it to be mostly superficial and cosmetic. With light winds and moderate seas, Thomson still managed to be the first IMOCA-class racer out of 20 over the finish line. Before bumping the bricks, Thomson had sailed a remarkable race and had extended to a lead of more than 230 miles over second-placed Paul Meilhat on SMA. At nearly every check-in, Thomson showed some type of boatspeed advantage, often 2-4 knots faster than everyone. Yann Elies on Ucar – St. Michel is the only skipper who has been rivaling Thomson's high boatspeeds.
Once quayside, an emotional Thomson handled this challenging situation with courage, humility and grace. Alex was quoted as saying, "It's a real shame for me and the team to be in the position that we are in. The jury has decided that I have a 24-hour penalty which will mean I will not win the race. How do I feel about that? Well I think that is very fair because I don't think I should win the race after hitting Guadeloupe.This sport is about detail, and, in the final minutes, I didn't get the detail right. I just feel very lucky to be here with the boat with very little wrong with it — a few holes — but I sailed here under my own steam."
Behind Hugo Boss, Paul Meilhat is now entering the lee side of the island of Guadeloupe with a hard-charging Yann Elies just 12 miles behind and closing as the two boats are racing toward the light spot. Whoever reaches the finish line first will almost certainly be declared the winner, in light of Hugo Boss's 24-hour penalty, which will likely knock Thomson off the podium entirely.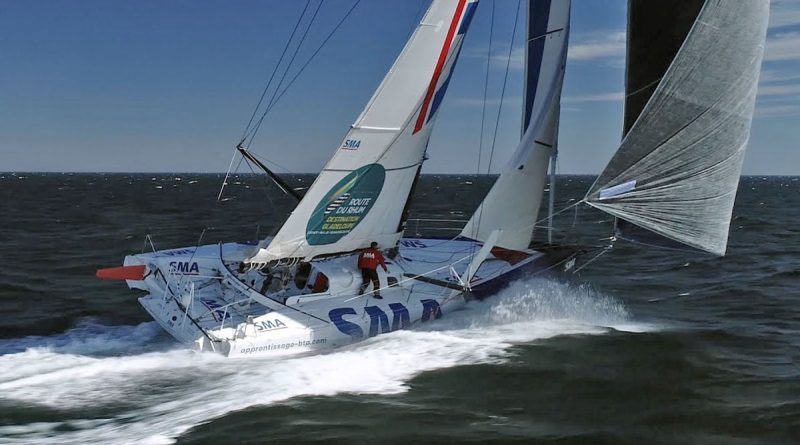 Capsize in Multi 50 Division
Armel Tripon on Réauté Chocolat has won the Multi 50 division, while Lalou Roucayrol's Arkema has capsized mid-Altantic. The skipper is fine and will be rescued by another racing yacht before hopefully meeting up with his boat captain and shore team on a tugboat to go retrieve the overturned trimaran. The 2014 Route du Rhum winner Erwan le Roux has claimed second place with Fenetrea-Mix Buffet.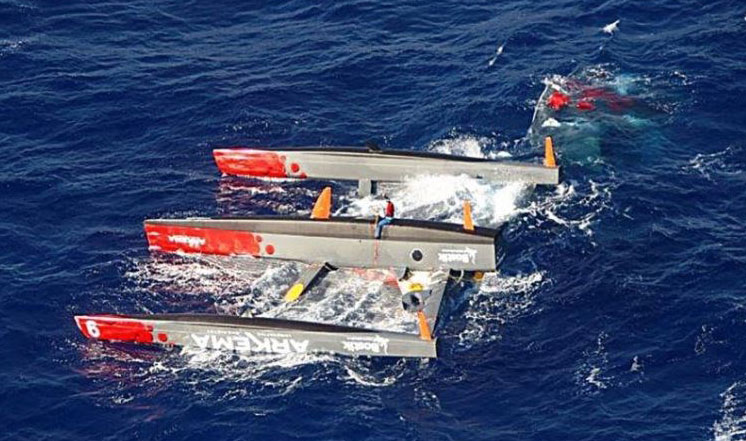 Coliision in Class 40 Division
Yoann Richomme still leads the massive Class 40 division over Briton Phil Sharp. American Michael Hennessy has sailed impressively well in a tough race and is in 11th place. French sailor Claire Pruvot collided with a cargo ship south of Portugal. She was rescued by the same ship, as her Class 40 yacht had substantial damage.
With triumph, carnage, grand repairs and great despair, there is so much to get excited about in this great race. Make sure to follow the race's website and social media feeds for more updates.
Receive emails when 'Lectronic Latitude is updated.
SUBSCRIBE