Readers — after having light wind and an even lighter Internet connection, the Grand Poobah has sent this 25th Anniversary Baja Ha-Ha postgame analysis:
A quarter century of Baja Ha-Ha's — the 750-mile cruisers' rally between San Diego and Cabo San Lucas with R&R stops at Turtle Bay and Bahia Santa Maria — is now part of sailing history. The record 551 mariners aboard the 149 boats that participated this year bring the event's cumulative totals to over 10,000 sailors on over 3,000 boats.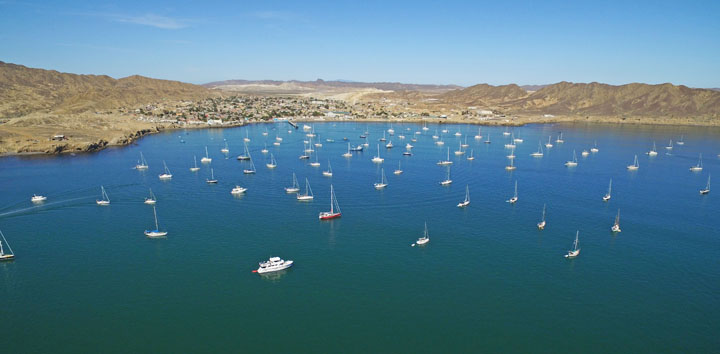 At 750 miles per participant, that's a total of 7.5 million ocean miles. Or the equivalent to about 288 times around the world. After the Atlantic Rally for Cruisers, the Ha-Ha is the biggest cruising rally in the world.
This year's fleet ranged in size from Richard Carr's Santa Cruz-based Mirror 19, which had received special dispensation for being less than the normally required 27-ft length, to Lowell and Julie Potiker's Port Townsend, WA-based Hylas 70 Runaway.
Of particular note this year was the explosion in multihull entries, as the previous record of 14 was crushed by this year's fleet of 24 multihulls. They ranged in size from Bryan Martin's Santa Cruz-based Corsair 31 trimaran Kailani to two 55-ft catamarans — Glenn Howell's Reno-based Atlantic 55 Rocketeer, and Erik Laakmann's Seattle-based Outremer 55 Light Zephyr.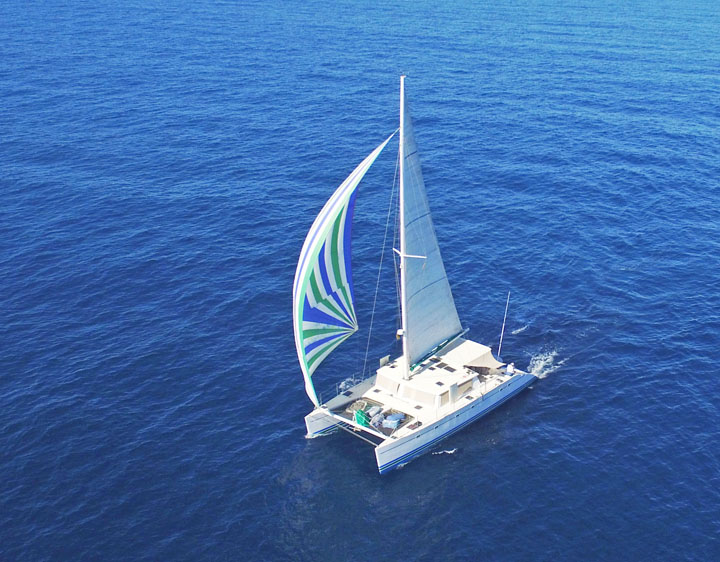 It's a good thing that the Ha-Ha is so much more than just sailing, because this year's event featured the least wind of any Ha-Ha to date. The 360-mile first leg and the previously always-reliable 240-mile second leg were bedeviled by the lack of good sailing breezes, and only the 175-mile final leg featured winds typical of or better than previous Ha-Ha's.
Were the Ha-Ha a race, we suspect most of the fleet would have retired for lack of wind. Thanks to the Ha-Ha's 'rolling' (aka motoring) starts and skipper's discretion to motor as much as desired, there was only one weather-related drop-out. That was Richard Carr, an illegal singlehander, who had engine problems and was running out of fuel. So he bailed at Punta Colnett.
What else is there to the Ha-Ha besides sailing? There's the Costume Kick-off party at West Marine Superstore in San Diego; the opening parade celebrated by three Port of San Diego fireboats squirting for all they are worth; the daily roll calls, either electronically or via SSB; the much longer in-port VHF nets; the epic 'everybody plays' cruisers and Mexican kids baseball game in Turtle Bay; a massive beach party in Turtle Bay; a rock 'n roll party at Bahia Santa Maria; a silly dancefest at Squid Roe in Cabo; and the From Here to Eternity Kissing Contest in the warm waters of Medano Beach.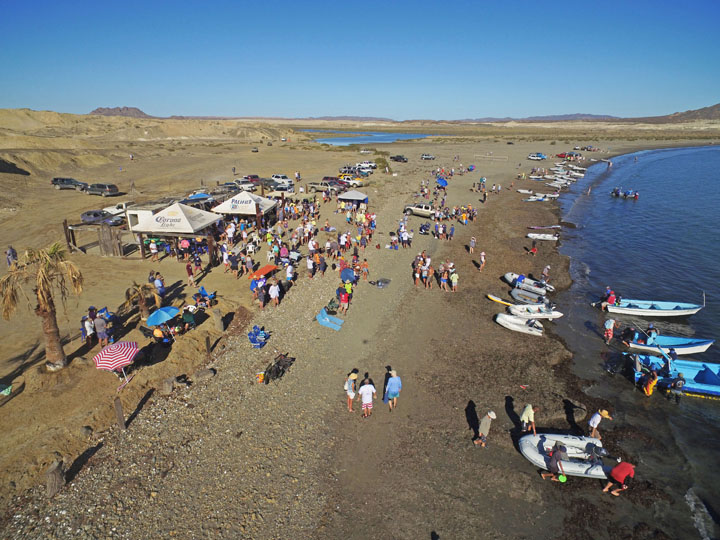 The nice thing about the Ha-Ha is that all the activities are optional. People could participate in as many or as few social events as possible. If, for example, someone wanted to dance and otherwise socialize intensely, there were plenty of opportunities for that. But if someone were an introvert, as several participants described themselves, there was every opportunity to be quiet and alone. Everyone could make the Ha-Ha into the kind of event they wanted it to be.
For most participants, the highlight of the Ha-Ha was the powerful sense of community that evolved. Playing a big part in the development of fleet cohesion was the help rendered to Ha-Ha participants in need by other Ha-Ha participants.
For example, once the fleet had arrived in Turtle Bay, the 'mechanical' part of the net was filled with requests for various types of assistance. Help was needed understanding SSB radios, sussing out alternator and other charging problems, fixing diesels, understanding autopilots, repairing sails, finding obscure plumbing parts, and much more. While not all problems were solved — or every part sourced — a majority were, giving folks a warm and fuzzy feeling that they weren't alone on the big ocean.
Even more important than mechanical help was medical assistance. When a crew member on Doug Erickson's Long Beach-based Ericson 39 Cat's Paw was reported experiencing heart attack symptoms, several doctors from Bob Bavasi's Everett, WA-based Echo Juliet rushed to the scene. Fortunately, the 'patient' was just suffering from dehydration.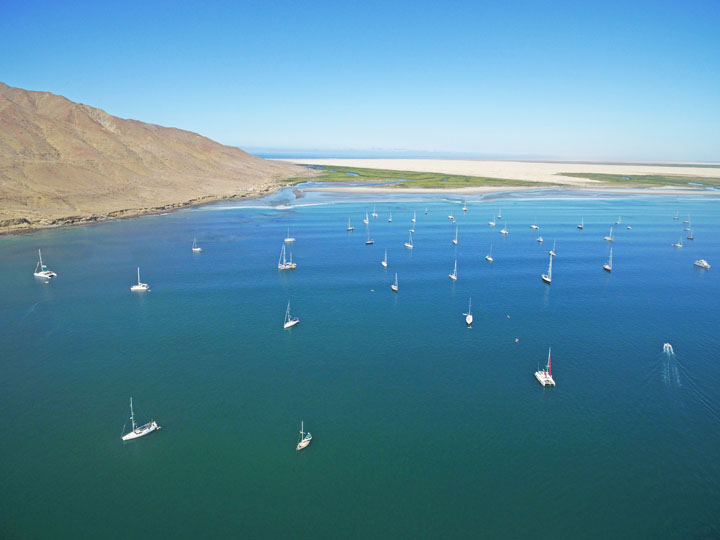 Later a young woman aboard the San Diego-based Hunter 466 Amelia Rose was suspected of having a urinary tract issue. Not only was a test kit found in the fleet, someone had the appropriate medicine. And after a bad bump to the head of a crewmember on Philip Jonckheer's Palm Beach, FL-based Jeanneau 45 Bow-Tied, a physician in the fleet glued the victim's eyelid back together.
Fleet assistance was also in evidence at sea. When Kenneth and Cheryl Cooper's Nanaimo-based Bavaria 42 Sedna got hung up on a fishing net about 30 miles north of Cabo San Lazaro in the middle of the night, Derick and Barb Sindell's Vancouver-based Lagoon 380 Stray Cat 2 came to the rescue, taking them in tow so they didn't have to dive on their prop at night or in the middle of the ocean. Cheryl later reported that her husband, a normally stoic retired police officer, shed a tear while thanking all Ha-Ha boats that had offered help.
If there was a good side of the unusually light conditions, it was that an unprecedented amount of sea life or other wildlife was observed. The fishing was great, with dorado and even ahi starting to be landed just a few hours south of San Diego. Various types of marlin were caught in surprising numbers. Most were released, but one boat kept theirs, cooked it, and declared it tasted like halibut. Marlin that tastes like halibut?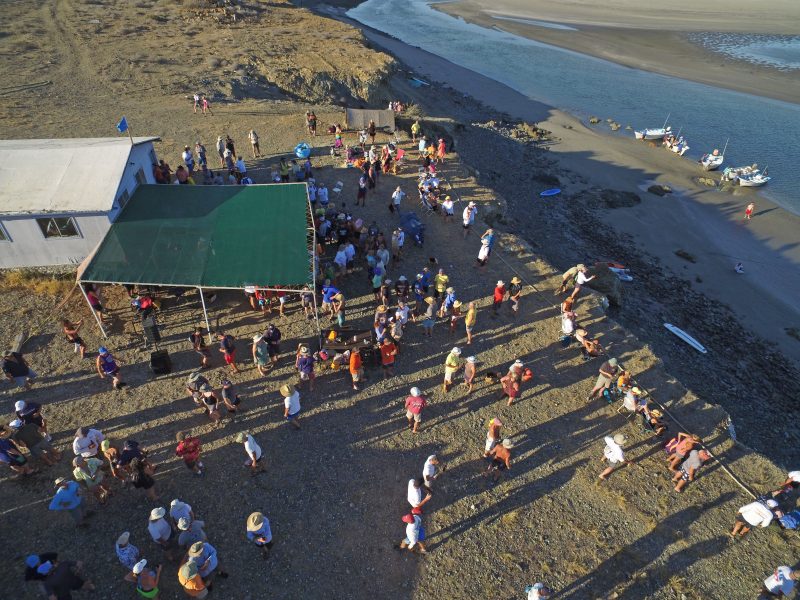 The 2018 Ha-Ha was the Year of the Turtle. It was a rare Ha-Ha boat that didn't spot more than a few of them. Kristie Home of the San Francisco-based Hallberg-Rassy 39 Rejoice counted something like 30 in less than an hour before giving up.
Even better than seeing a turtle was rescuing one. James Denmark and Eileen Daniel aboard the Pennsylvania-based Nonsuch 30 C.A.T. spotted a turtle that was distressed by the fact it had a fish hook embedded in its head. James jumped in and was successful in removing the fish hook.
Many first-time offshore sailors were thrilled by the antics of dolphins, particularly when they — or rays — took to the air at night.
Whales migrate south at the same time as the Ha-Ha fleet, and were spotted regularly. Sometimes too close for comfort, as one breached just a few yards from a boat during a change of watch. Another whale spun a boat 360 degrees! Yet another boat was visited by an owl, an animal species not related to the whale and not normally found at sea.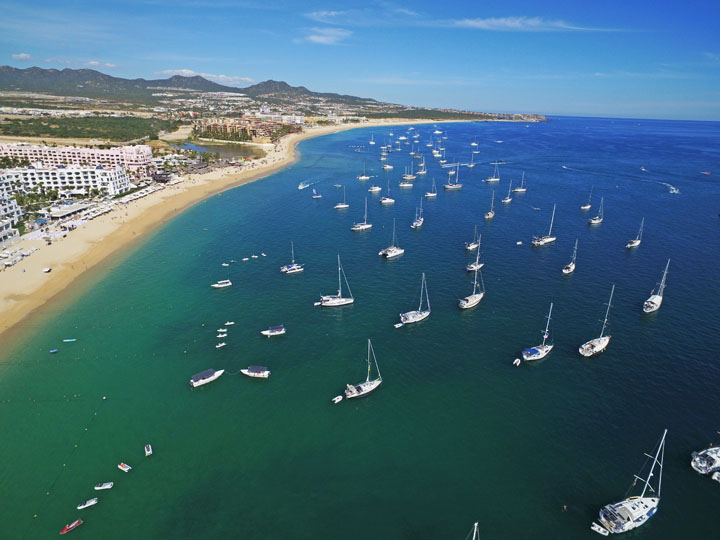 Nature put on a brilliant display, particularly south of Cedros where the skies were blue. Sunrises and sunsets were dramatic, and many sailors reported seeing the green flash — or at least a green dot. The evening celestial displays, starring the Milky Way, were fantastic. And never more so than during the tropical third leg.
By the middle of the second leg, the water temps were up to the mid- 70s, so more than a few crews took the opportunity for an always- exciting middle-of-the-ocean swim. Nobody enjoyed these more than the folks from the chilly waters of the Pacific Northwest.
No event is perfect, of course. Thanks to miscommunication between the Ha-Ha and longtime Ha-Ha friends at IGY Marina Cabo San Lucas, a conflict with a fishing tournament and the basing of a space-hogging 273-ft megayacht meant only a few Ha-Ha boats got into the marina. Fortunately, anchoring conditions out in the bay at Cabo were unusually good.
The Poobah, Assistant Poobah Patsy Verhoeven, and Chief of Security Doña Rosa Patricia Andre de Mallorca Spindler received countless compliments about the event. Many described the Ha-Ha as "absolutely fabulous," while others merely allowed that it was "the greatest adventure" of their lives.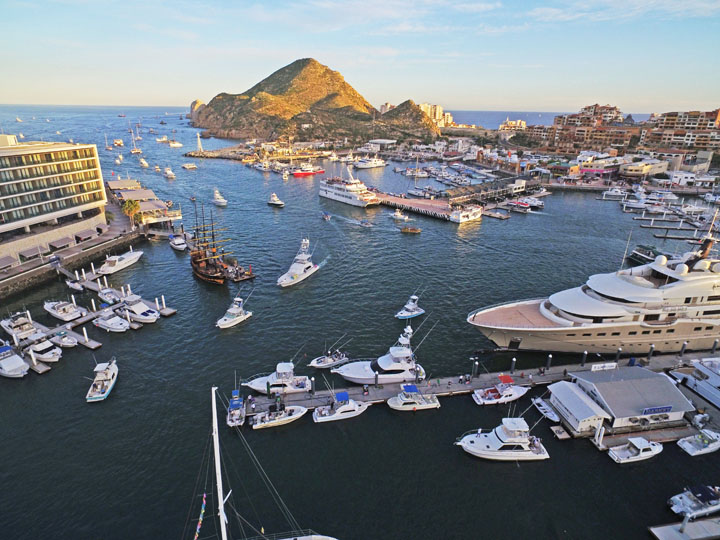 The Poobah thinks that Paul and Suzette Baker of Seattle, who crewed aboard Kent Powley's Seattle-based Jeanneau 45 Coquette, put the Ha-Ha in the best context. While the couple were only crew this year, they'd done the Ha-Ha in 2000 with their Cal 35 Altair prior to the start of a six-year circumnavigation. This was their verdict on the event:
"The Ha-Ha is the best warm-up and send-off for world cruisers. It gives new cruisers confidence to talk on the radio, catch fish, make repairs, be offshore — and they make 500 cruising friends right off the bat. We did Ha-Ha #7, we did Ha-Ha #25, and we'll be back to do another with our Sceptre 41 in a few years. If we lived in California, we'd do the Ha-Ha every year."
Receive emails when 'Lectronic Latitude is updated.
SUBSCRIBE