As we know, beyond exceptional success with Oracle, Larry Ellison has also conquered many aspects of sailing since he started in a Lido 14 at Cal Sailing Club in Berkeley in the 1970s. After decades of sailing — including the infamous 1999 Sydney Hobart aboard Sayonara (described in the book The Proving Ground), and winning two America's Cups before losing in 2017 in Bermuda — Mr. Ellison is back with a whole new concept spun off from the Bermuda America's Cup.
We think.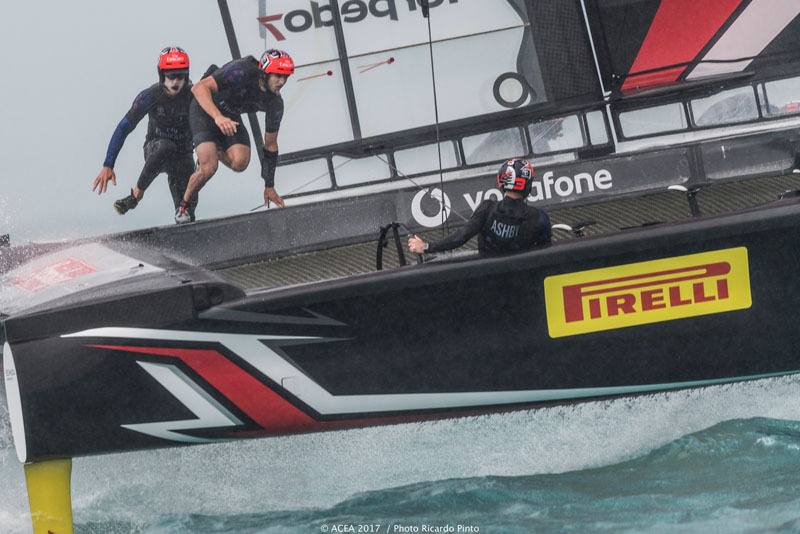 While rumors about the "Larry Cup" have been floating around for almost a year, the word on the street is that there'll be an official announcement made on October 3 in London, where Ellison and crew are expected to reveal yet another new grand prix racing circuit using, surprise, foiling catamarans. The boats will be the same AC45 foiling cats used in Bermuda, but reportedly modified to be completely one-design. We understand there will be an international tour, multiple teams, fleet racing and more helmeted foil jockeys and burly grinders pumping oil to entertain viewers.
One of Ellison's primary ambitions in winning the Cup was to create a financially sustainable pro sailing league that would attract the masses. The last two versions were financially sustainable, so long as they had the backing of one of the world's richest billionaires. But continuing pursuit of the concept was foiled by the Kiwis. We're not sure if this latest league attempt has a business plan that aims to succeed beyond the financial support of the uber wealthy, or if the world has room on the infinite-channel dial to carve out an audience for another entertainment option, but, either way, the attempt is being made.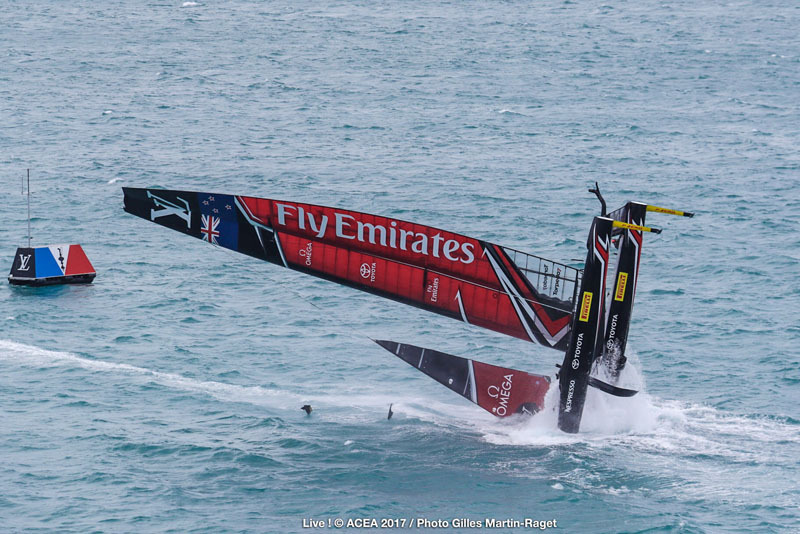 We know the boats will be fast and exciting. The technology will all be the same between boats, so much of the advancement may be how the pit crews keep these speedsters together through an annual, multi-city series. Think San Francisco Bay will be one of the venues? Doubtful*.
When we wrote about the possibility of this coming to fruition a year ago, we had many readers who were excited to see the Larry Cup emerge, as well as some doubters. One thing's for sure: Larry Ellison hasn't lost his desire to stir things up and doesn't seem ready to go off into the sunset cruising. And, of course, he has the means to give anything a try. Is this latest splinter group the reason there are only three challenges for the Kiwi Cup?
What are your other viewing options? Of course, the America's Cup. The Extreme Sailing Series will be in San Diego Oct 18-21. The Golden Globe is underway now. The Volvo Ocean race and Clipper Race just finished. On November 4, the Route du Rhum will have six 100-ft 'Ultime' trimarans, an IMOCA class, and over 50 Class 40 racers on the line. Don't forget that the Berkeley Midwinters are coming up. Then there's baseball, football, basketball, etc. It's hard to keep up.
*Surprise – at least to us. Since we posted this Bernie Wilson of the AP has written that San Francisco is scheduled to be on the 5-city 2019 tour. Fast and exciting foiling on the Bay again!
Once again the Grand Poobah of the Baja Ha-Ha is strongly urging people not to buy boats that have current Temporary Import Permits (TIPs) for Mexico, and/or didn't properly clear out of Mexico. If you have bought such a boat, as at least five people who have entered the Ha-Ha have done, you've saddled yourself with a potentially big and expensive problem. Indeed, the Poobah would make it a condition of any boat purchase that the owner 1) Certify that the boat does not have an active Temporary Import Permit, and 2) Have proof the boat properly cleared out of Mexico, assuming she was ever taken there. No boat can have two TIPs!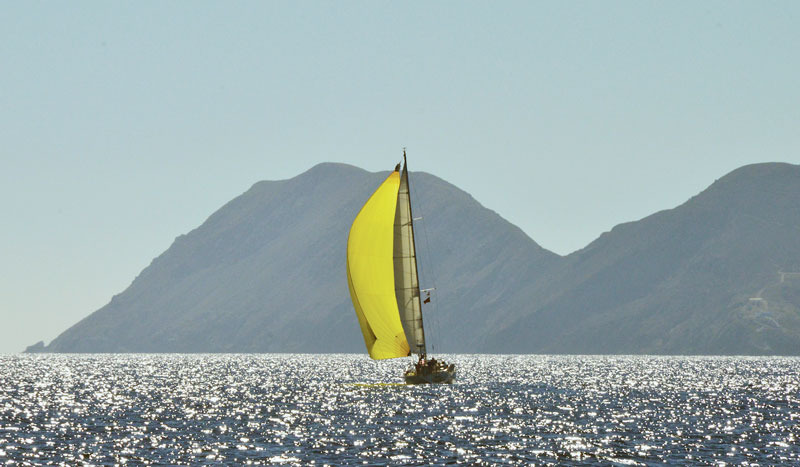 If you've already bought a boat with a TIP and no proper proof of leaving Mexico, the Poobah advises contacting Fito at Marina Coral in Ensenada. He's done a lot of work with Ensenada officials there on just these problems.
Last week, I went for a surf in one of my favorite (and unlikely) spots in the world: York, Maine. The waves were small but clean the day before, but there was a wicked sideshore wind that was making a mess of things — though there were some corners to be had. Sitting in the lineup, I was sweating in my made-for-the-Bay-Area wetsuit, a 4.2 mil that was way too much rubber for the Gulf Stream and a 70%-humidity East-Coast day.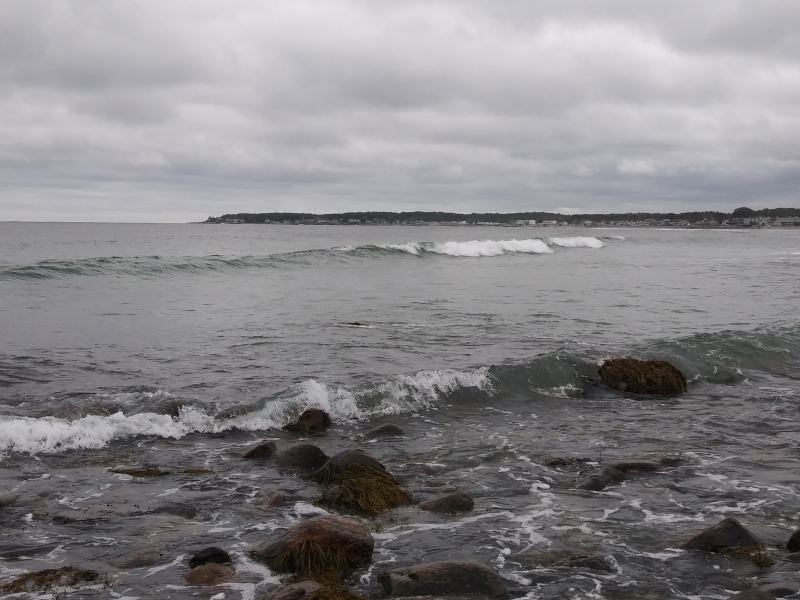 I don't know when I noticed the sailboat (sailboats not being known for sneaking up on you). It was a 40-something-ft cruiser, and they were plodding north up Long Sands Beach, taking advantage of the 10-ish knots of wind. After living here for roughly five years in the early 2000s, this was the first time I'd ever seen a sailboat sailing off the beach. Just a few days earlier, I had been blown away by the number of boats at anchor in the nooks and crannies between Maine and New Hampshire.
The boat off Long Sands made a lazy run, coming within a few hundred yards of shore before turning east and heading out to sea. They would eventually make a low U-turn and head south again, presumably heading back to one of those idyllic New England anchorages. It was obvious that the boat was out for a joyride — a sail for the sake of sailing. It made me smile. Even though New England was changing, it seemed that sailing was doing just fine.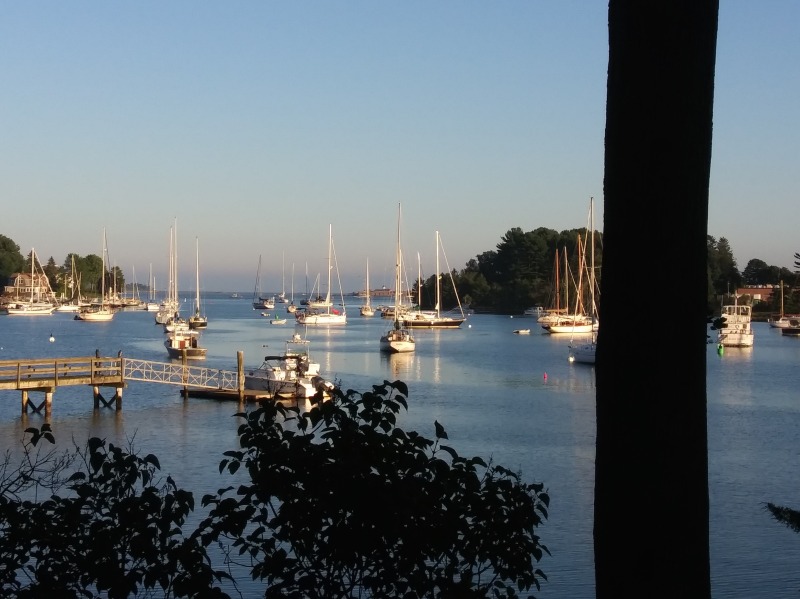 But not everyone thinks the New England sailing scene is 'fine'. "I sailed my boat from North Carolina up to Boston Harbor this spring and summer, and got harassed for having a 50-year-old boat and multiple ports of call," wrote John Retzlaff in response to part 1 on Monday, and speaking of his Pearson Triton Unbound, which hails from Newport, Rhode Island, and Boston, Marion and and Plymouth, Massachusetts. "They try to enforce their extortion ways of pushing you into a marina or mooring and not letting you drop the hook. All the good places to anchor are covered with moorings, which are mostly used by the weekend warriors. I have sailed over 30 years in 50 countries and want to avoid these ports."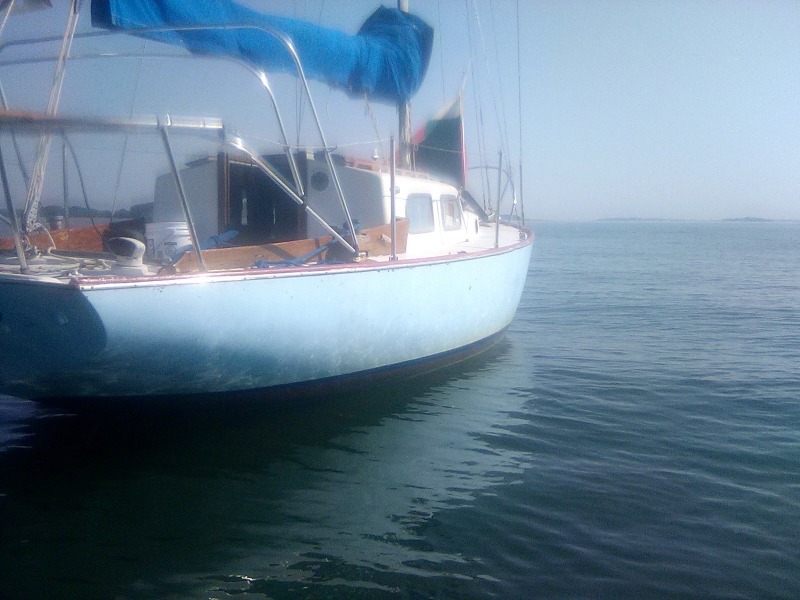 Putting aside for a moment the gentrification of harbors and ports, Maine has always felt strangely trapped in time, especially York, located about 20 minutes, as the crow drives, north of the New Hampshire border. The town of roughly 13,000 people has long been famous for shunning change; specifically alterations to its beachfront architecture, which is primarily composed of charming cottages lining the 1.3 miles of Long Sands Beach.
It's said that businesses along this super-popular shoreline cannot put up signs that are incongruous with the clapboard-and-shingle-rustic vibe that pervades the entire seacoast. Businesses must blend into the charm, and are prohibited from having more than one cash register. This is a deliberate and overwhelmingly successful effort to shun large chain operations (they're talking to you, Dunkin' Donuts and McDonalds), and keep the beach low-key and cozy.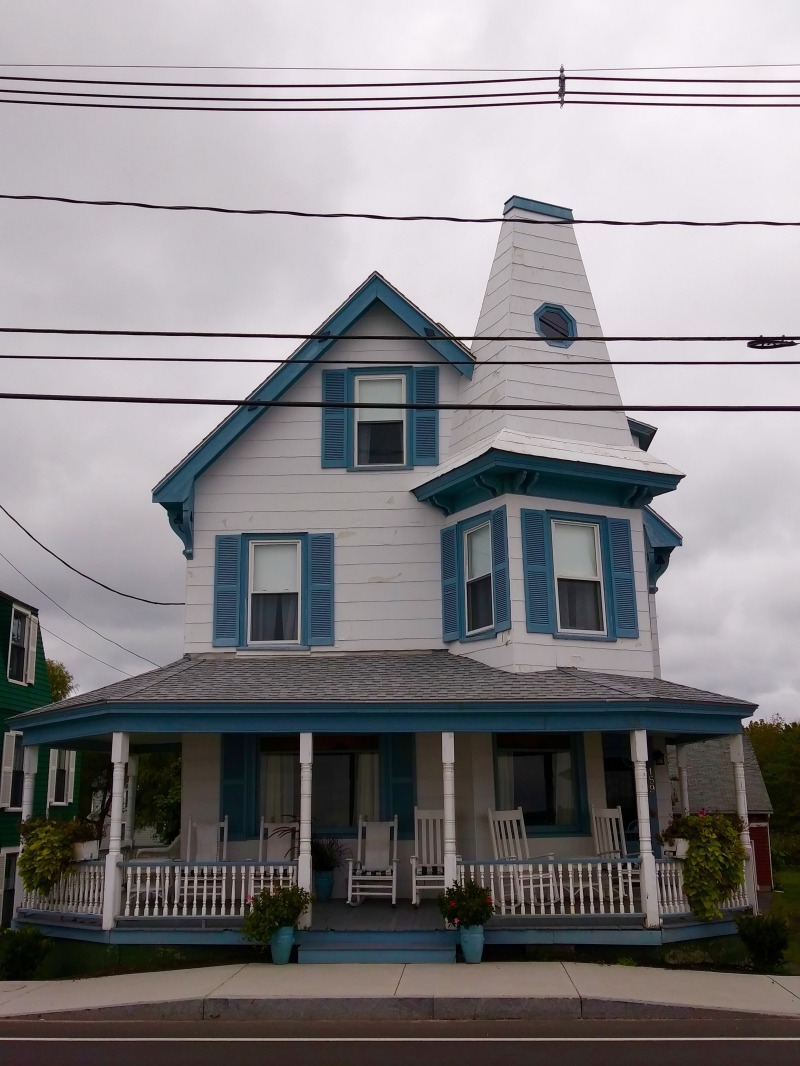 There is a surf shop on Long Sands Beach in York, but it was closed the day I wanted to rent (renting being cheaper and far less hassle than trying to bring a board on a plane). But there was another shop in Ogunquit, about 20 minutes north. If York is charming, then Ogunquit is York on steroids, full of quaint 300-year-old houses dotted with colorful flowers and perfectly trimmed hedges. Ogunquit's charm is almost aggressive and ensnaring. It feels like a theme park as much as it does a living, breathing town.
Change in such a well-protected place is hard to perceive, but it is there, if you look hard. The traffic and crowds have long been normal here, but there's no denying that they're swelling. And there are a few modern affectations on these ancient buildings: Airbnb plaques adorn many façades, while "No Vaping" signs hang on the abundant outdoor patios (recreational marijuana is now legal in Maine, while New Hampshire, which once had draconian anti-pot laws, has decriminalized cannabis). And, oh yeah, even though the signal is notoriously weak in Maine, everyone is constantly on their phones.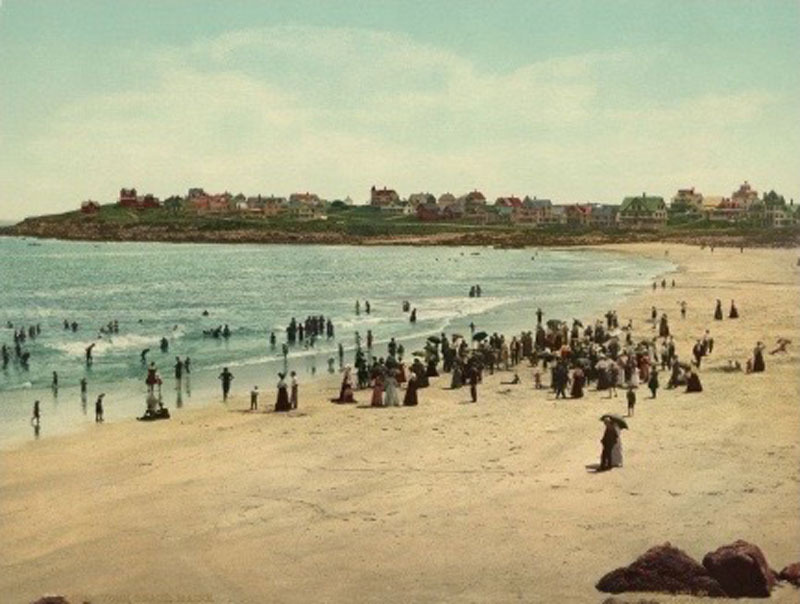 The sailboat was almost out of sight when I caught my "wave of the day," a crumbly five-footer that I somehow made the drop on, but immediately got caught behind the white water and missed the fleeting open face. Still, I was pleased to have made a difficult (for me) drop. It had up until that moment been a frustrating session — I was hot, the waves were crappy, and . . . it wasn't the way I remembered it. Long Sand's weak waves had become my favorite spot in the world to surf for reasons deeply personal. When I lived in York, I could walk to the beach, and watch its mood every single day.
After I left for the Bay Area, my visits and surfs here had been filled with nostalgia. But this trip was different. This place was changing. I was trying to remember and feel something that no longer existed. But I laughed at myself. "This place" was never mine, no matter how diligently I walked the beach and watched the waves. This place was always changing at a glacial, imperceptible speed.
Stay tuned for the last installment of the New New England next week. If you're from the East Coast, or have noticed dramatic change where you live, please let us know.
Receive emails when 'Lectronic Latitude is updated.
SUBSCRIBE