This story was updated at 3:27 p.m. on Friday afternoon.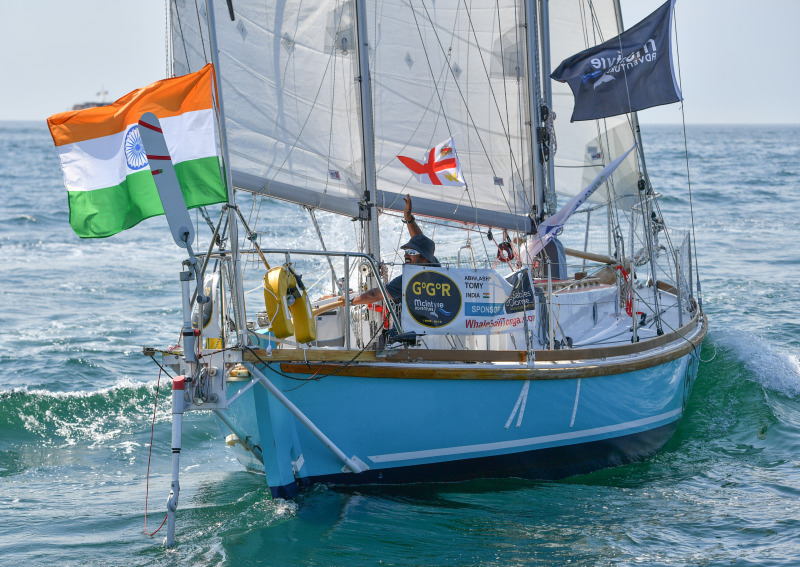 A massive Southern Ocean storm packing 70-knot gusts has hit the Golden Globe Race fleet and two boats have dismasted. Seas have built to 14 meters — that's meters, not feet! Abhilash Tomy of India and Gregor McGuckin of Ireland rolled and dismasted. Dutchman Mark Slats experienced two major knockdowns.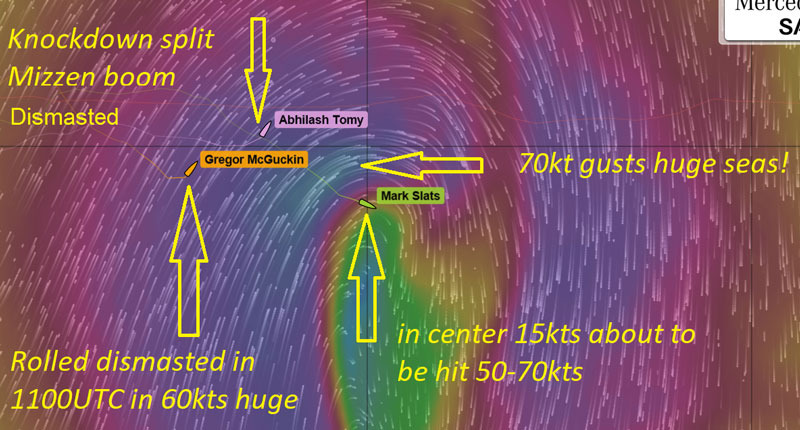 Both McGuchin and Slats report that they are OK, but Tomy, a commander in the Indian Navy making his second solo circumnavigation, has been injured. A Code Red Alert was issued after Race HQ received his eight-word message at 12:09 UTC today: "ROLLED. DISMASTED. SEVERE BACK INJURY. CANNOT GET UP."
Maritime Rescue authorities were also alerted. His position is reported as 39° 38.420 S 077° 22.565 E. GGR Control has asked him to confirm if he can turn his sat phone on, if the mast is still alongside the boat, and if he has turned on his EPIRB. They are awaiting response and had no further information at this time we posted this 'Lectronic. "Have advised other entrants to make towards his position if possible."
Update of 2100 UTC (3 p.m. PDT): There has been no further communication with Tomy. the Australian Maritime Rescue Co-ordination Center (MRCC) in Canberra, which has issued an all ships alert and is now coordinating rescue efforts led by Australian Defence Forces. French MRCC based on Reunion Island in the South Indian Ocean is attempting to source a vessel that might assist, including a French Fisheries Protection ship thought to be in the area.
The position of Thuriya, a replica of Sir Robin Knox-Johnston's yacht Suhaili, winner of the first GGR 50 years ago, is some 1,900 miles southwest of Perth, Western Australia, at the extreme limit of immediate rescue range.
The fact that Abhilash has been unable to make contact via text or sat phone, or set off his EPIRB suggests that he remains incapacitated. "The only link is the tracking signal we are receiving from the yacht, but the batteries have a limited life," state race organizers.
Ten solo sailors out of 18 starters are still racing in the retro-style nonstop circumnavigation. Frenchman Jean-Luc Van Den Heede is in the lead. The race started on July 1 from Les Sables d'Olonne, France. See www.goldengloberace.com.
Receive emails when 'Lectronic Latitude is updated.
SUBSCRIBE