This past Monday we posted a story about Karen Swezey who, after winning a T-shirt from Latitude 38, let us know she'd started her sailing life while young aboard a family Sunfish in the South Bay. Not surprisingly this was not an uncommon way to start. Several readers, including Bill Crowley of the Newport 30 Erewhon, wrote in to let us know about their small boat start.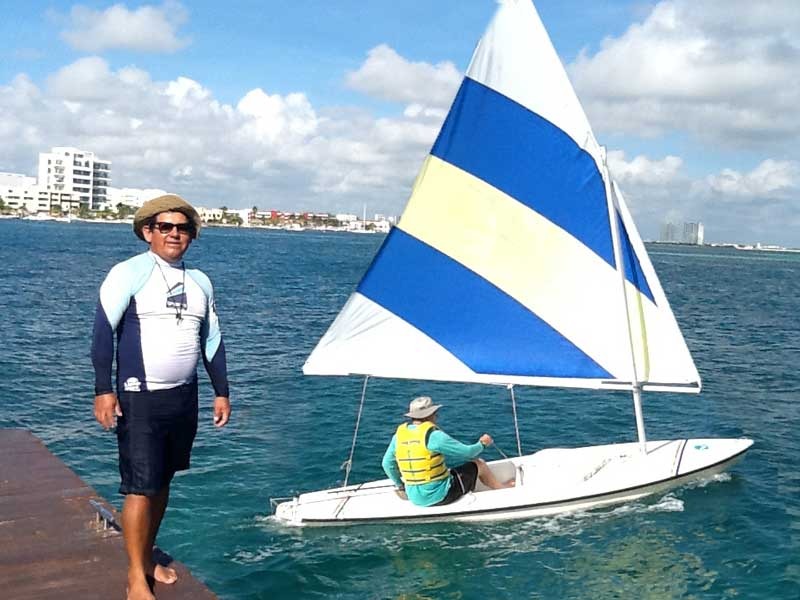 Bill wrote, "Do you consider 59 to be young? That's how old I was in 2003, when I took my first sailing class at Sailing Education Adventures, then in Sausalito, now in San Rafael, aboard their fleet of Catalina Capri 16.5 keelboats. In the fall of that same year, my wife Kathy and I began an annual ritual of spending two weeks each October at a Royal Resorts timeshare in Cancún, Mexico, where they maintain a fleet of Sunfish beach boats for the use of their members/guests. I've been sailing a lateen-rigged Sunfish every day for two weeks each fall ever since — except when the harbormaster prohibits use of recreational boats under 40-ft due to actual or expected high winds. In 2017, we had no Red Flag days!"
We never used to consider 59 young, but it's sounding younger all the time. A young start on a small boat is a good start, but a start anytime is still a step up in life. The Sunfish has probably started millions of people sailing. The ones we heard from are still sailing as racers or long-distance cruisers, and, like Karen Swezey, who now lives aboard an Islander 36, are still avid fans of sailing. Was there a Sunfish in your life?
Bill followed up his email to us with this quote, "The difference between a power boater and a sailor: When a power boater steps aboard, he is in a hurry to get somewhere; when a sailor steps aboard, he's already where he wants to be." (author unknown)
I jolted wide awake, just before dawn, and made my way on deck to heed nature's call. Crawling out of the forepeak was no easy task (this and 'the call' both sure signs I was getting older) — you had to grab onto to something, then wiggle your legs out until you could bring them underneath you, then shuffle past the inoperable head and into the salon. The boat had taken on a bit of a starboard list, but it wasn't anything too dramatic, or an impediment to getting deckside . . .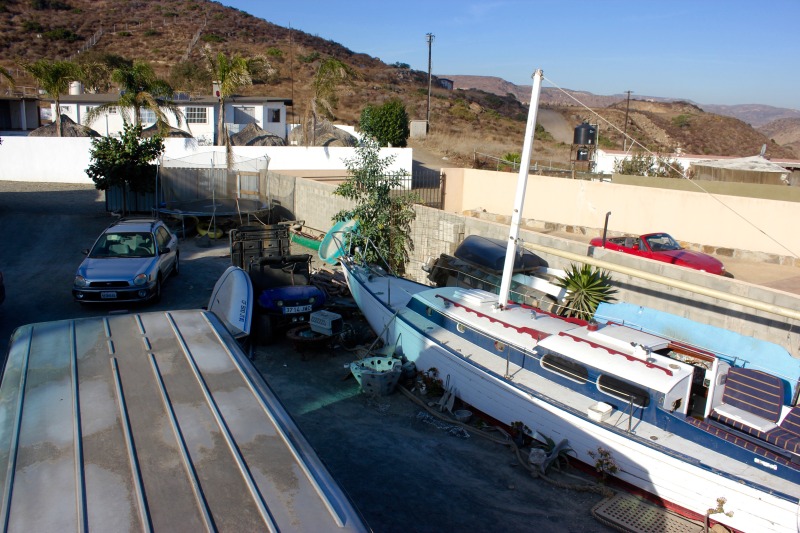 I was staying with my cousin in Ensenada 'aboard' Coquette, a Kettenburg 38 launched in 1952 from the now non-existent Kettenburg Marine in Shelter Island, San Diego, some 60 miles to the north of Ensenada (Coquette was #13 of the class). It was one of the most expertly finished and masterfully crafted boats I've ever been aboard, and one of the most antique residences I've ever resided in.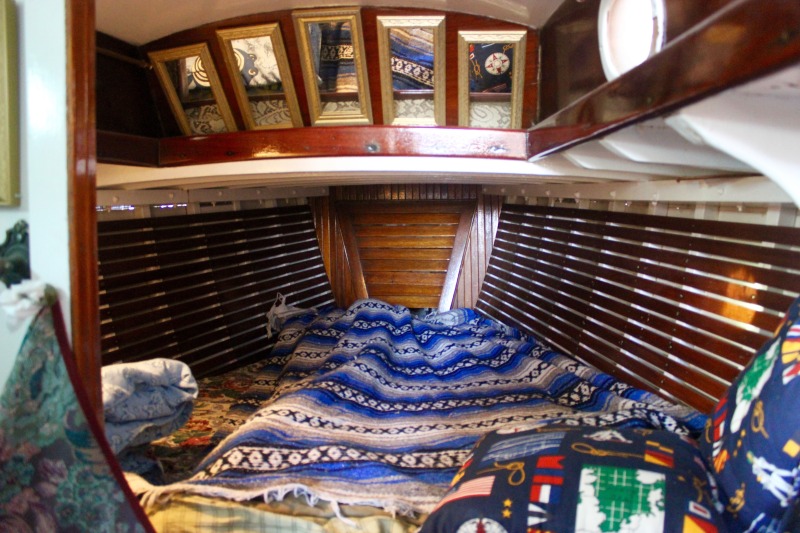 The dark reddish mahogany interior had flourishes and attention to detail that are hard (if not impossible) to find in modern boats. The forepeak was lined with thin mahogany slats, making it feel cozy. Each porthole had its own individual curtain, made from some print you'd expect to see covering your grandmother's couch. There were even small mirrors above the forepeak bunk, making the space feel bigger, and the attention to detail feel endless and exquisite.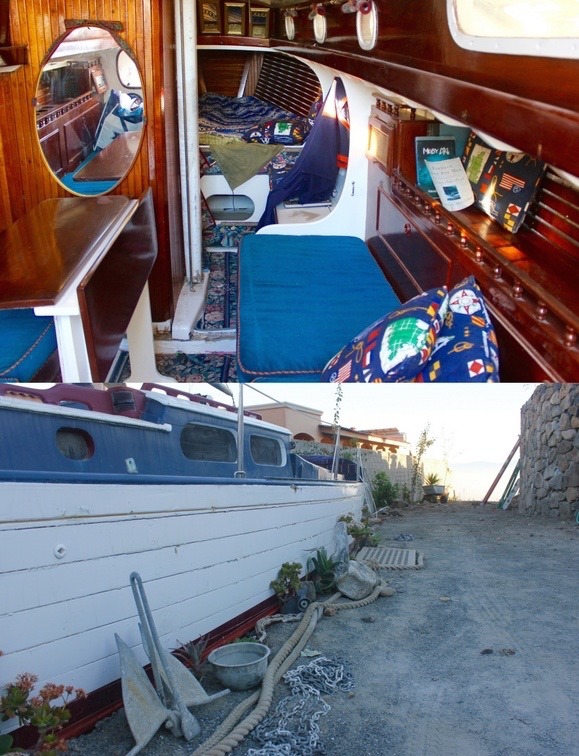 As a kid, my cousin was a champion fort builder. Every time I came over, he'd erected something in a tree, the rafters in the garage or some impossible nook in the backyard. Now in his early 40s and living with his wife and two sons in Baja, he'd taken his fort building to the next (completely logical) level. In addition to Coquette, he'd hauled an old motor yacht up the twisting, steep, rocky hill to his property, which overlooked San Miguel and All Saints Bay, as well as the Islas de Todos Santos — famous for its big waves which my primo occasionally surfed.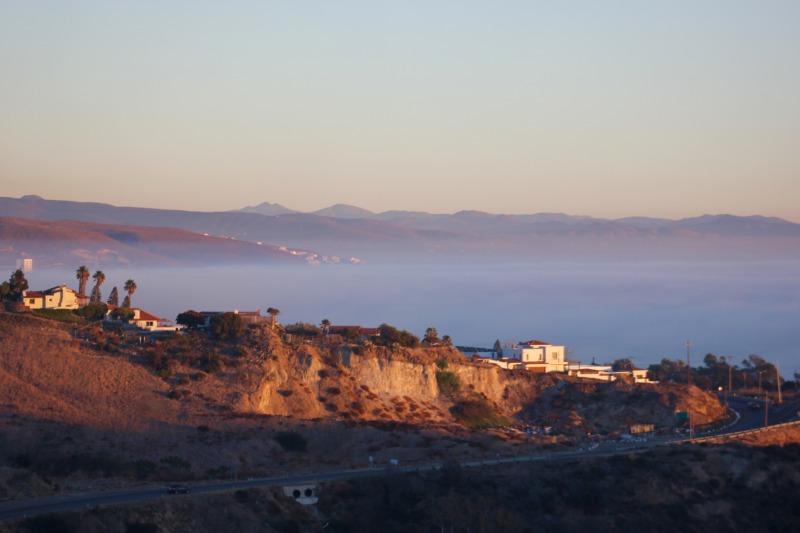 The motor boat had been cut down the middle so that her engines could be extricated. The bow and bulky stern section were connected by a center section that was in the process of being framed. This motorboat and Coquette were destined to become guest residences, maybe Airbnbs.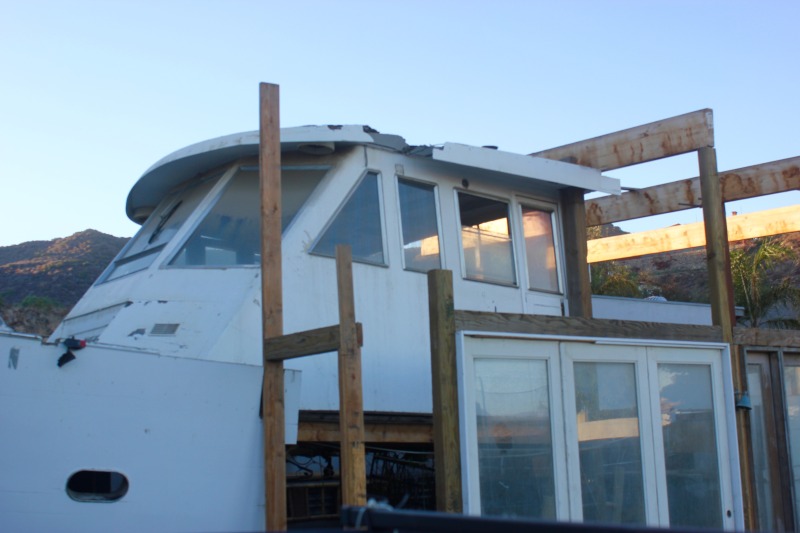 My home of four days between Christmas and New Year only added to the charm of being across the border. I ate 27 of the best tacos on the planet, drank 13 lime-soaked Tecates, and, one night, had a rich, complex, velvety mole "made by an old woman in the mountains of Oaxaca," my cousin's wife said. We also made several trips to my cousin's shop, where he builds Mexicats, his brand of custom-buit catamaran motorboat.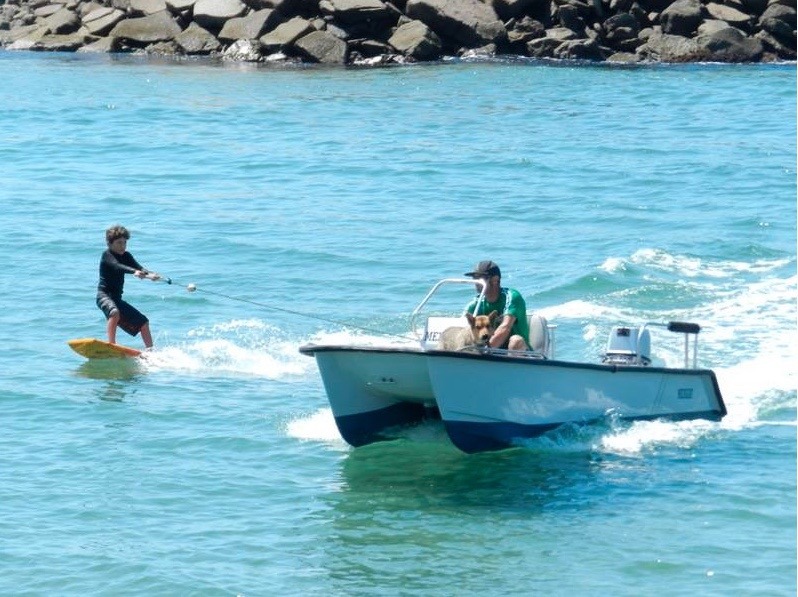 After growing up together, starting the junior program at Southwestern Yacht Club at the same time, and then going decades without seeing each other, there was something reassuring about the fact that my cousin and I were both more or less doing the same things we'd done all our lives: he was sailing surfing and building forts and boats; I was sailing, writing and making art about boats and the ocean. Even though so much had changed, everything still felt the same.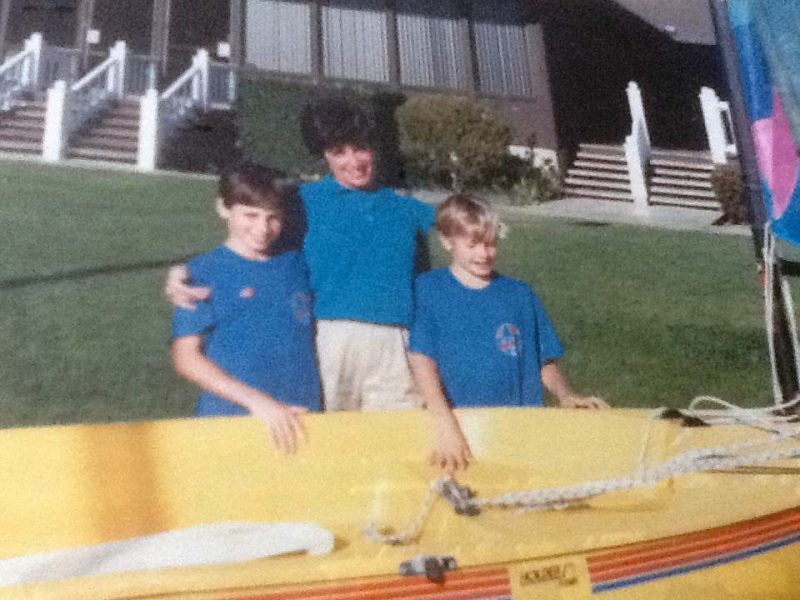 The winter months of January and February are so replete with seminars on virtually all aspects of sailing that we won't have room to list them all in one post. But we'll get a start with events this weekend.
When preparing for a Pacific Ocean crossing, prior planning makes all the difference. Pacific Offshore Academy #3 will be held tomorrow, January 13 (not on Sunday the 14th as previously announced). Richmond Yacht Club will host the full-day event. Topics and speakers will include:
Sails – Jeff Thorpe
Offshore gear – Nathalie Criou
VHF installation and use – Eric Steinberg
Navigation and tactics – Peter Isler
Optimizing your boat – Melinda and Bill Erkelens
Provisioning
Shipping your boat home – Mike Pasha
Break-out tables and tours of outfitted Pacific Cup boats showing typical installations will be available. $40 includes lunch. Register at https://pacificcup.org/18/poa/3. The seminar will be followed at 5 p.m. by a social hour.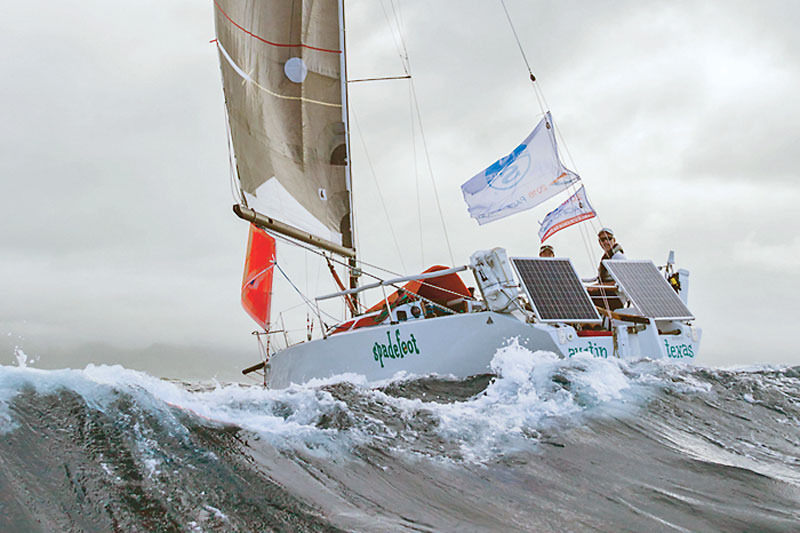 Meanwhile, in Marina del Rey, Del Rey YC will host a Coastal Safety at Sea Seminar. Register online for $75.
The Singlehanded TransPac Seminar Series will continue on Wednesday, January 17, 7 p.m., at Island YC in Alameda. This month's topics will be Rigging and Sails. It's free and everyone is welcome. For into on the complete series, see www.sfbaysss.org/main/shtp-2018.
On Thursday, January 18, at 7 p.m., the Corinthian Speaker Series at CYC in downtown Tiburon will feature America's Cup veteran Ron Young talking about the Cup. It's free, but RSVP to (415) 435-4771 or see www.cyc.org.
On Saturday, January 27, circumnavigator and ABYC-accredited electrician Clark Beek will conduct a Marine Electrical Seminar at Spaulding Marine Center in Sausalito. $50 includes morning coffee and lunch from Mollie Stone's. Register online at www.spauldingcenter.org/events.
Andy Turpin, Latitude 38's Editor at Large and instigator of the Pacific Puddle Jump, will present a 'Cruising Tahiti and the Pacific Puddle Jump' seminar at the Seattle Boat Show on Saturday, January 27, and Sunday, January 28, at 3 p.m. on both days, on Stage #6 Club Level.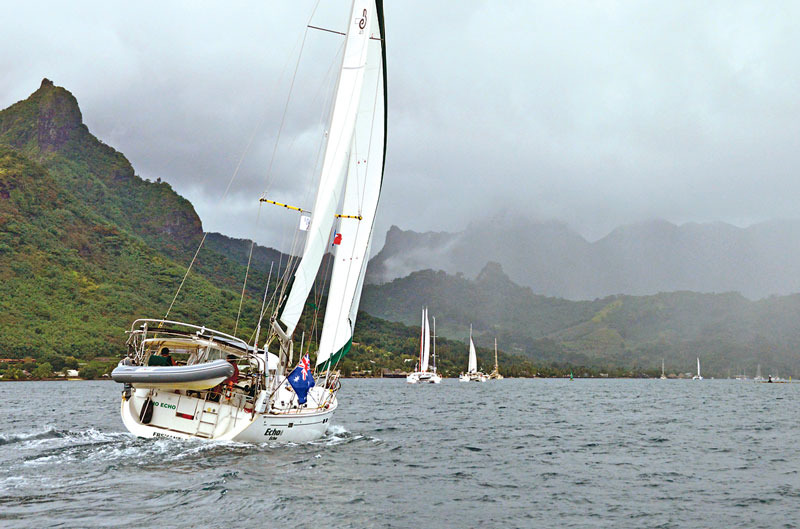 Andy's seminars will be followed by Latitude founder and Baja Ha-Ha Grand Poobah Richard Spindler speaking about 25 Years of Baja Ha-Ha, at 4 p.m. both days in the same location. The seminars are free with boat show admission. See www.seattleboatshow.com.
On that same weekend, San Diego YC will host a World Sailing Offshore Safety Course/US Sailing Safety at Sea with hands-on training. Pay $350 for the whole weekend or $250 for Sunday's hands-on training only. See www.sailaweighllc.com.
For much more, check out our monthly Calendar, and tune into 'Lectronic again next week.
Receive emails when 'Lectronic Latitude is updated.
SUBSCRIBE