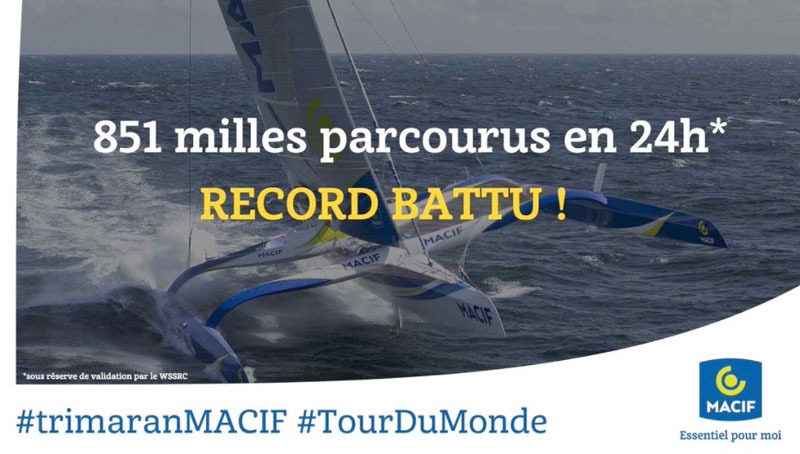 French sailor François Gabart has smashed his own 24-hour solo sailing speed record by covering an incredible 851 miles in just 24 hours, while chasing Thomas Coville's solo round-the-world record of 49 days, 3 hours and 4 minutes. After relinquishing his lead on the reference time while crossing the doldrums, Gabart has now jumped out to a 700-mile lead over Coville's reference time due to a well-timed low-pressure system that moved from west to east, coming off the coast of Argentina just as Gabart was sailing down the Atlantic. Able to jump on the weather system and head east with it, Gabart let his 99-ft VPLP trimaran Macif go hunting on a Southern Ocean low for the very first time, and was rewarded with the incredible 24-hour record run. With a high-pressure system in front of him smoothing out the seas, a perfect race track was created which allowed Gabart to sail at 35-37 knots all through the night on Monday and into the day Tuesday.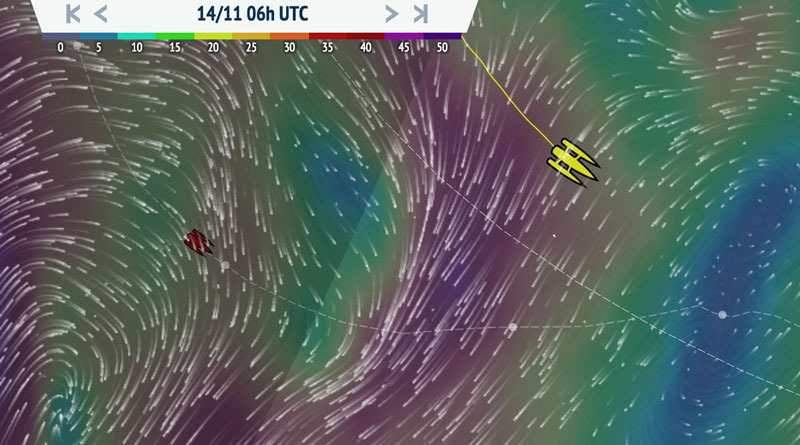 Gabart's previous record was 778 miles, set in the summer of 2016, just a day after blasting out of New York on an eventually unsuccessful record attempt back to Europe. In that record run — like his new record and so many others — Gabart's trimaran tucked into strong winds on the front edge of a low-pressure system on flat seas, allowing him to pile an extra 60 miles onto Thomas Coville's recently minted record of 718 miles. This back-and-forth battle between Thomas Coville and François Gabart continues, with Gabart currently closing in on the Cape of Good Hope, expecting to reach the milestone sometime later today. Now that he is properly in the Southern Ocean, one can only assume that Gabart will get the proper conditions to fully unleash Macif once again and potentially even improve on his new record of 851 miles.
Another couple of knots faster and even Banque Populaire V's fully crewed record of 907 miles sailed in 24 hours may not be safe. Stay tuned for more on this developing story and follow along at www.macifcourseaularge.com.
One great thing about college and college sailing is time on the water during the school year. Once out of college it's much harder to find the time.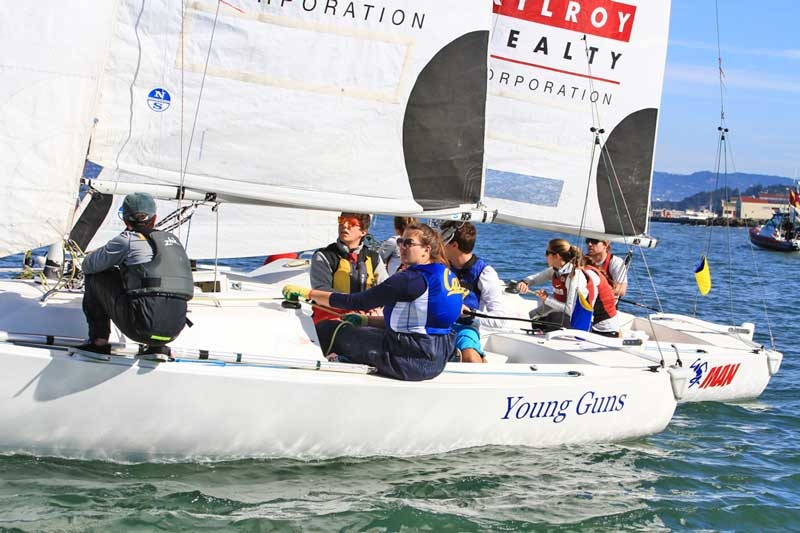 The annual Big Sail between Cal Berkeley and Stanford is held a Tuesday when both students and alumni get out of 'school' to race on San Francisco Bay aboard St. Francis Yacht Club's J/22s. Yesterday's light-air match-up between Cal and Stanford found Stanford on top in three out of four divisions.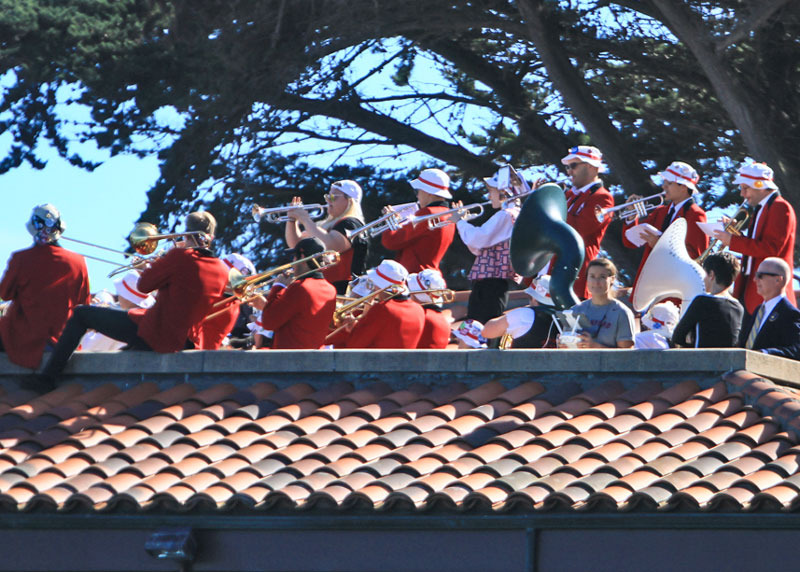 Meanwhile, this past weekend in Santa Barbara, the Stanford varsity sailing team continued its winning ways by coming out on top in the collegiate Pacific Coast Conference Championships, beating the UC Santa Barbara Gauchos by just one point. Stanford finished fifth out of ten at the collegiate match-racing championships in Charleston, SC, also last weekend.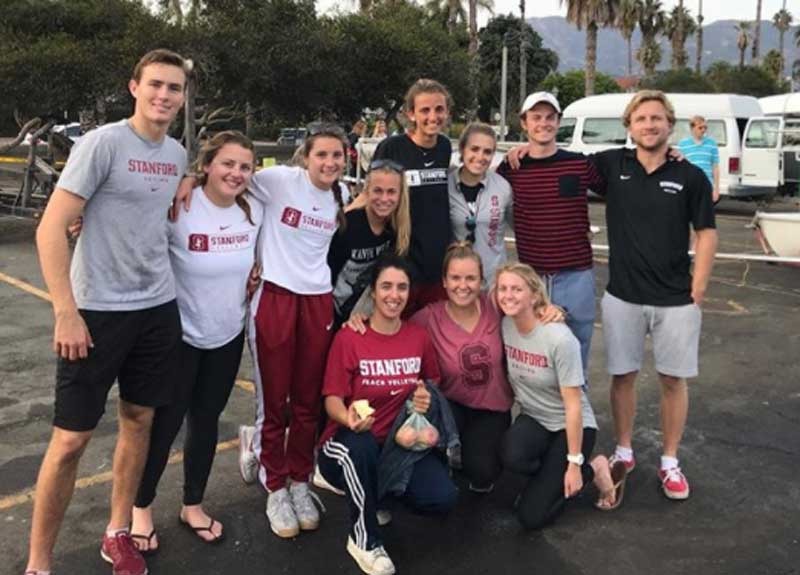 Hate to say it, but the semester is ending soon and it's probably time to hit the books.
We first started watching the Volvo Ocean Race in 1997/98. It was the last year it was called the Whitbread, and Bay Area sailor Paul Cayard — along with John Kostecki, Mark Rudiger and Kimo Worthington — would go on to win the 'regatta' on board the Swedish-flagged EF Language.
The last Whitbread was especially exciting because it was 'online', which was something of a revolutionary concept at the time. 'Online' meant that there were crude position updates and what we would now call blog posts every few days (as well as the occasional low-resolution photo or video). Prior to that, you usually had to wait for the hour-long, Gary Jobson-narrated wrap up to come out on VHS a few months after the event finished.
The 'blog' posts were like reading a few pages from a sea novel every few days. We waited eagerly for the next updates from EF Language, not unlike waiting for your favorite magazine to hit the newsstands . . .
How times have changed.
The current Volvo Ocean Race — which is about halfway, or 10 days into Leg 2 from Portugal to South Africa — can be viewed 24/7, and is complete with real-time wind conditions and countless video updates. Leg 2 traditionally weaves through the doldrums and has seen numerous lead changes, as well as the traditional 'King Neptune' hazing ceremonies at the equator. The boats are about to hit the trade winds off the coast of Brazil, and may start trickling into Cape Town as soon as next week. (The start of Leg 2 out of Lisbon featured some of the most spectacular sailing we've ever seen — the kind of footage that made you proud to be a sailor).
The video updates have slow motion, captions and music edited cleanly together. It's like the Gary Jobson VHS, but in real time and every few days. There are even interviews from the shore studios with sailors onboard the boats. Because it comes in tidy little high-production segments, the VOR feels (at least to us) far more punchy and exciting than other high-profile events (like a little regatta called the America's Cup).
Are you a fan of the Volvo Ocean Race (or the former Whitbread)? Are you watching this year? Are you rooting for anyone in particular? We'd like to hear your thoughts.
Receive emails when 'Lectronic Latitude is updated.
SUBSCRIBE