Much of the Caribbean must feel like Michael Staudt.
After losing his boat Minx, a Lagoon 42 in St. Martin just over 10 days ago to Hurricane Irma, Michael, his wife Cynthia and their cat and dog evacuated to San Juan, Puerto Rico, only to have Hurricane Maria stalk them to the island where they'd sought refuge. Maria did not follow the exact path of Irma, but tracked close enough so that residents — still reeling from screaming winds and near-total devastation — anxiously watched the next Category 5 storm sweep toward them.
"We lost our boat in Irma, in St. Martin," Michael emailed us yesterday. "A cruise ship deposited us in San Juan on Saturday. We elected to stay and start a boat search. There are lots of boats repossessed [here], due to the economy."
Michael said that the hotel they were staying at evacuated them to "one of the upscale sections of San Juan." As Maria enveloped Puerto Rico in what is being called the island's worst storm in a century, Michael said he and Cynthia spent all day in second-floor meeting rooms. The couple had just returned to their 11th floor room when they wrote us yesterday, and snapped this picture: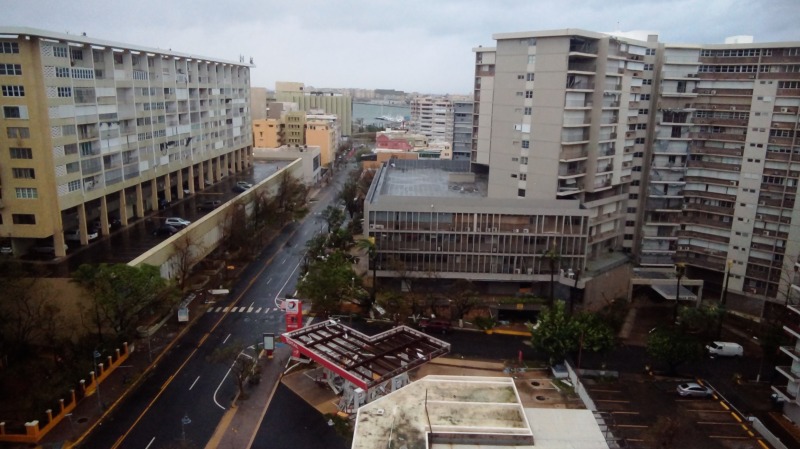 Michael said that he and Cynthia — who had lived full time on Minx and cruised the Eastern Caribbean continuously since 2006 — were in St. Martin longer than usual. "But we were confident the marina we were in was sufficient for survival in up to a Category 3 event. The quick ramp-up of wind speed the day prior to Irma hitting St. Martin left us with no options but to leave the boat and find a safe apartment on land." After losing their boat, the Staudts were stranded in St. Martin for days with dwindling supplies.
"Because we sailed with a dog and cat, we weren't evacuated until last Friday," Michael said. "We never saw any relief supplies in the area where we sheltered in an apartment, behind Palapa Marina. We were down to a six-pack of Perrier and a box of instant hash browns."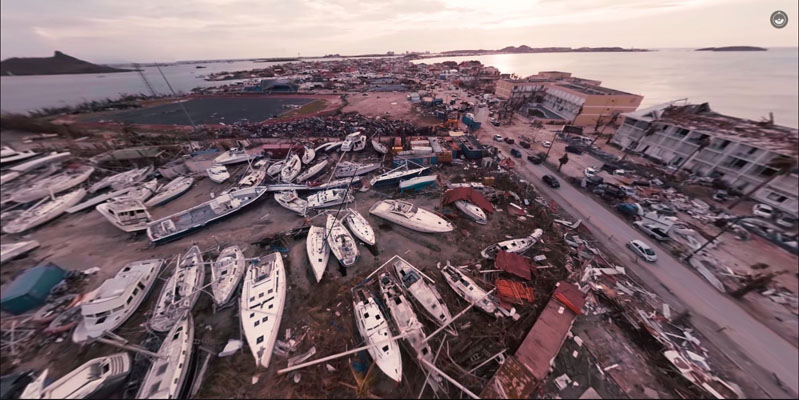 In Tortola, Barney Crook of TMM Yacht Charters said they dodged a bullet with Maria, but still faced strong winds and heavy rains, with St. Thomas suffering additional extreme flooding. With some clear weather ahead, they're beginning the long cleanup, sorting out what will be available for a more limited and simpler charter season ahead.
As Maria plunged Puerto Rico into an almost total blackout, the island's mountain ranges took some power out of the storm, reducing it from a category 4 to a 2. Maria — now off the northeast coast of Dominican Republic — has rebuilt to a Category 3, with steady 100-plus-knot winds and torrential rain.
The New York Times said Irma had killed at least three people on Puerto Rico and left nearly 70% of homes without power. After Maria, "officials predicted that it could take months to restore electricity as rescue brigades ventured out to assess the toll of death and injury," the Times said.
We reported yesterday that because of Puerto Rico's status as a US territory, and because the island is essentially bankrupt, they might qualify for federal aid from FEMA — which they do. But the Times said that the "strain on relief efforts by the Federal Emergency Management Agency and other groups is already spread thin in the wake of several recent storms," referring to Hurricanes Harvey and Irma.
Also potentially in Maria's path are the low-lying Turks and Caicos islands, which had been battered by Irma.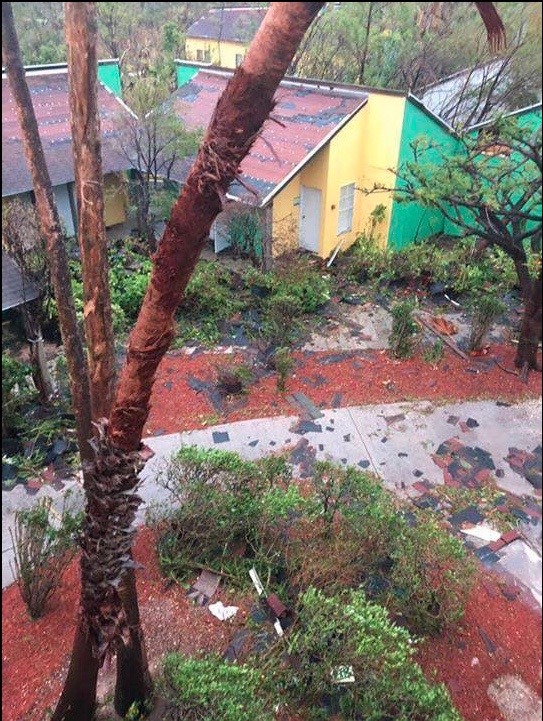 In the midst of all this fury, it's hard to keep the breadth, strength and — in the case of this year's hurricane season — mind-boggling frequency of these storms in perspective. But National Geographic has done its best to look back at recent hurricane history.
PHOTO
Both nature and human nature are resilient, but that won't make the recovery easy — 155-mph winds and torrential rains have absolutely decimated the islands and harbors. In hurricane-ravaged islands, the cruising season ahead will be quite different, with cruder facilities and limited supplies. But tropical waters and breezes will remain while the islands and people recover.
Receive emails when 'Lectronic Latitude is updated.
SUBSCRIBE