Puerto Rico has sustained a 'direct hit' by Hurricane Maria, now a Category 4 storm with winds up to 140 mph — and perhaps worse, unrelenting rain inundating the island, which had already sustained damage from Hurricane Irma.
The National Hurricane Center said that Maria may cause life-threatening flooding from storm surge and rainfall. As much as 15 inches is expected to fall on residents, many of whom have no roofs over their heads. An additional five to 10 inches of rain is expected to fall in the Virgin islands, according to the New York Times.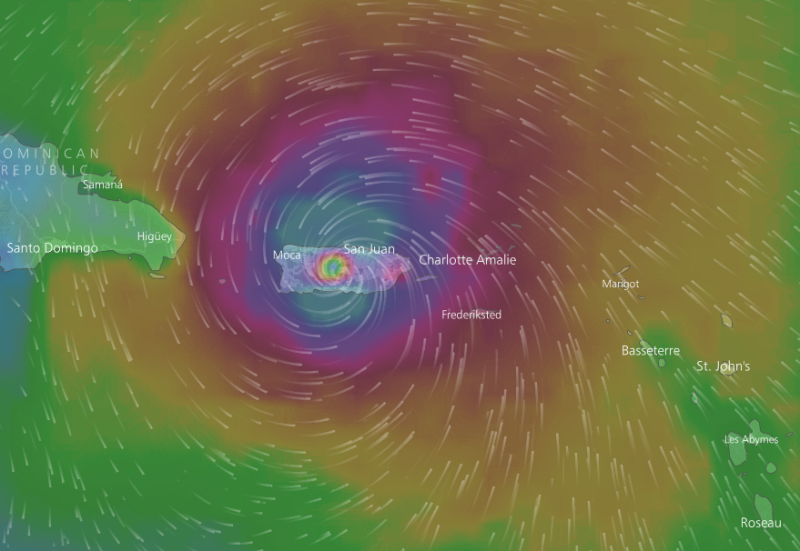 "A hurricane warning is also in effect for the north coast of the Dominican Republic, the Turks and Caicos Islands [which were battered by Irma], and the southeastern Bahamas," the National Hurricane Center said.
Puerto Rico has been a US territory since 1898, and in June held a non-binding referendum on statehood, with the majority of Puerto Ricans voting to become the 51st US state. We're not sure what implications this might have in terms of qualifying for assistance from FEMA, but we know the island, which effectively declared bankruptcy in May, is going to need all the help it can get.
Puerto Rican boaters were among the first to help the Virgin Islands in the wake of Hurricane Irma, with a flotilla bringing relief supplies to their neighbors to the east. But that same boating core — which is concentrated on the island's east end — has been exposed to the full force of Maria.
The eye of Hurricane Maria reportedly passed directly over Fajardo, Puerto Rico, home to a 1,000-boat marina and a huge offseason dry-storage facility, as well as several smaller marinas. While many said that Puerto Rico was largely spared the worst of Irma (but still sustained some damage and experienced widespread power outages), normally safe havens like Salinas and Ponce have reportedly been under assault by wind and storm surge.
As Maria has moved from east to west through the Caribbean, St. Croix took a direct hit. Not considered a yachting center like other US Virgin Islands such as St. Thomas and St. John, St. Croix is home to Gold Coast Yachts, the biggest builder of sailing charter cats in the States, and the buiilder of the Bieker 53 Fujin.
Maria's eye didn't hit St. Thomas or St. John as severely as the islands to the south, but those two islands still saw strong winds and big seas from the southeast, which surged right into the main harbors Charlottle Amalie, and Road Town, the capital of the British Virgin Islands.
We're still waiting for the dust to settle, and don't have a grasp of the human toll, both in terms of the number of people who have perished in these appalling storms, and in terms of how people will move forward and rebuild after having lost everything.
For the charter industry, it appears that the 2017 Atlantic hurricane season — which is only on the 'M' storm and doesn't officially end until November 30 — has caused unprecedented damage to recreational boat fleets.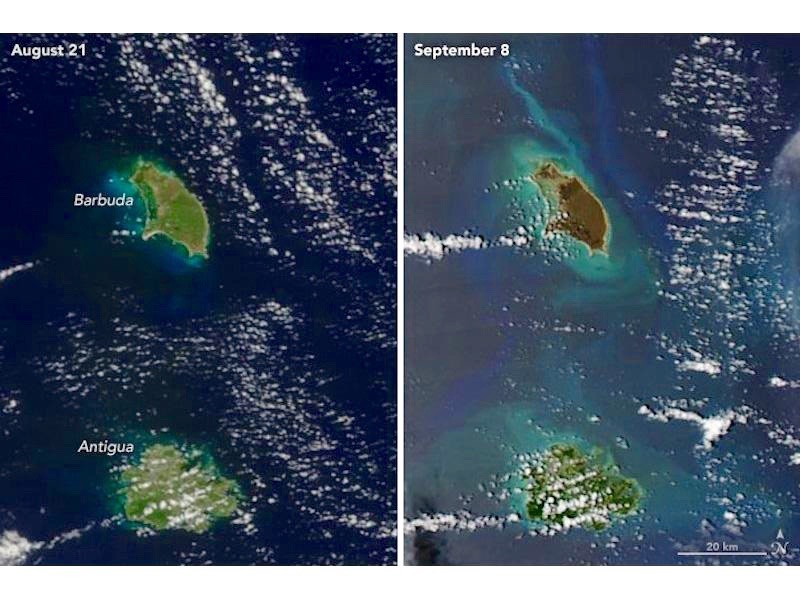 CORRECTION: This article originally and incorrectly stated that St. Thomas and St. John were part of the British Virgin Islands, when in fact (and of course) they are part of the US Virgin Islands.
Receive emails when 'Lectronic Latitude is updated.
SUBSCRIBE