Some stories you just can't make up. This week, we serendipitously found a message-in-a-bottle of sorts. Or rather, a message-in-a-boat.
Latitude's Mitch Perkins was taking an evening stroll on Rodeo Beach at Fort Cronkhite on Wednesday night when he spotted something in the water. "It looked like a small vessel being tossed about in the waves near the bottom end of Elephant Rock," Mitch said. "But I couldn't quite make out what it was in the twilight. As I got closer, it got smaller. The four-foot craft was complete with mast, sail, bulb keel, an engine, solar panels and a red flashing light. On the bow were the words 'Ocean Research' and on its transom was a plaque that read: Edgar; [email protected]"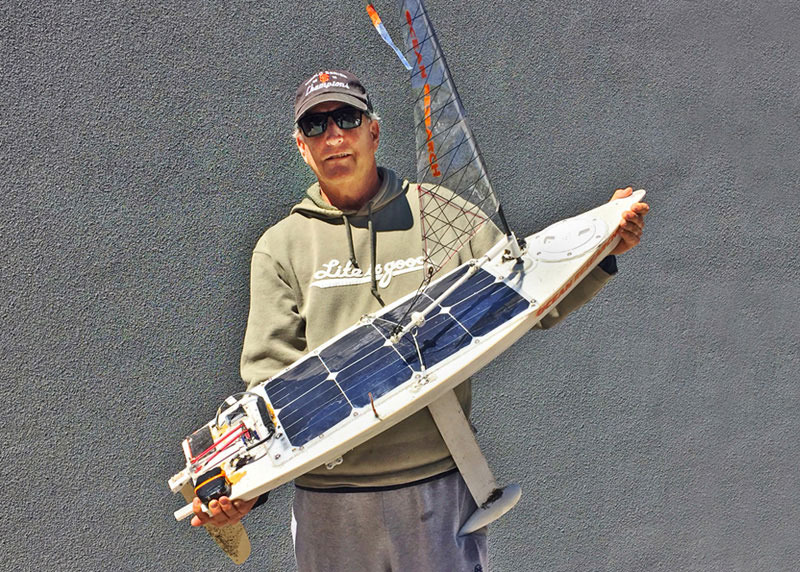 In fact, the boat was a customized RC Laser — they're about three and a half feet long and a foot wide, with a bulbous keel that draws just over a foot. This particular RC Laser had a short mast and small sail, and was not your average remote control boat. Edgar was custom built to take temperatures and pH levels.
"It was obvious that it was some kind of research vessel, and that it was being tracked. It was also clear that if it got into the wrong hands or remained on the beach, it might never serve its intended purpose. So in keeping with being a good sailing Samaritan, I lugged Edgar (which felt like it weighed 40 pounds) down the beach, plopped him on my Harley, and tried to tape him onto the back with electrical tape."
But the boat didn't exactly sit well on the back of a motorcycle (and electrical tape isn't necessarily the best lashing — we've got to get Mitch a roll of duct tape). Once the beach was empty, Mitch decided to stash the boat in the bushes, and return the next day with his car.
"Trying to find the owner of the mini-research vessel, my Internet research garnered zero results but put me into a wiki-coma for the night. At first light I went to rescue Edgar and brought him back to the Latitude 38 office in Mill Valley. We weren't back ten minutes when the phone rang . . . It was Edgar's rightful owner — M.J. Sanner. He tracked our exact coordinates. (Being the citizen scientist that he is, M.J. [or Matthew] was able to determine that Edgar was in our office as opposed to the 7 Eleven, or the 2 a.m. Club.)"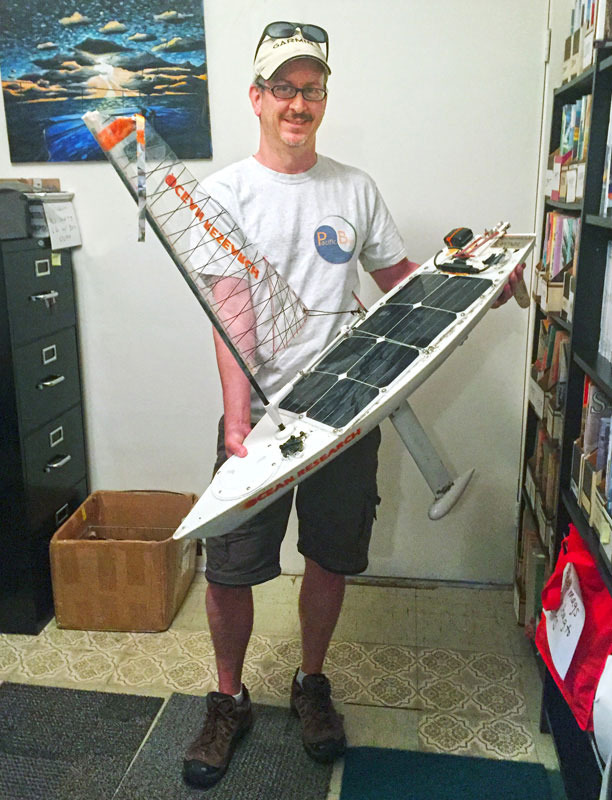 On Monday, we'll tell you more about the exciting work Matthew is doing with his small, custom built sailing drones.
Receive emails when 'Lectronic Latitude is updated.
SUBSCRIBE