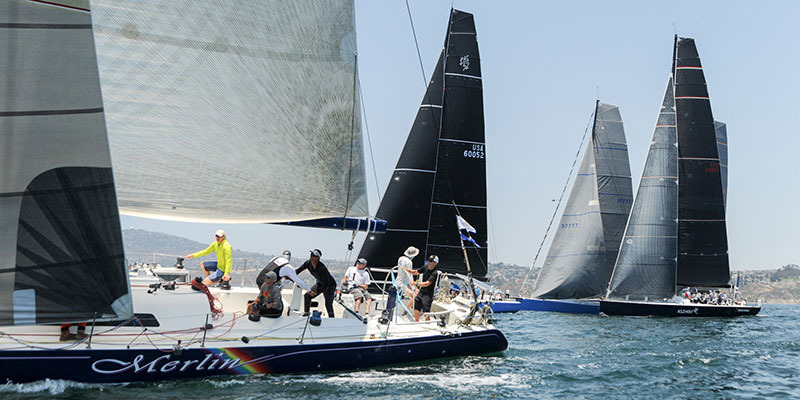 Zoom out on the tracker for the Transpac Race, underway from Los Angeles to Honolulu, and you'll see two clumps of boats. Out in front is a trio of fast trimarans, led by the ORMA 60 Mighty Merloe. Around the halfway point between the mainland and the islands is almost everyone else. In between the two groups is one lone monohull, the 100-ft speedster Comanche.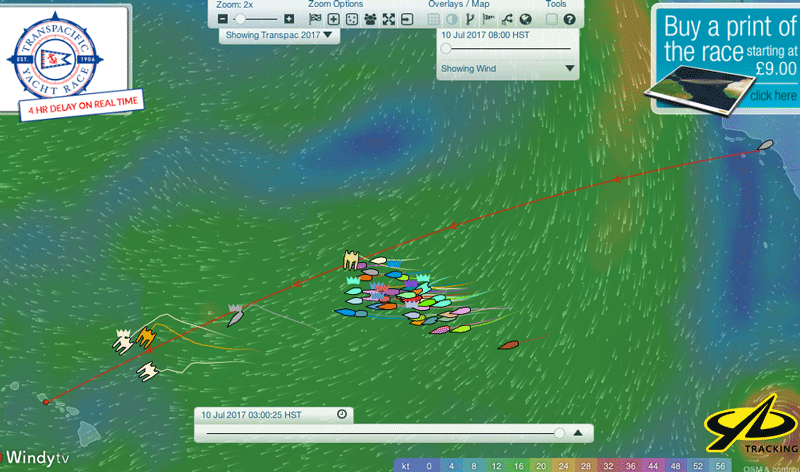 Skippered by Ken Read with navigation by the Bay Area's Stan Honey, Comanche set a 24-hour Transpac record on Friday. Comanche's 24-hour run (measured from the 8 a.m. roll call) was 484.1 miles, a 20.2-knot average. The previous record of 453 miles was set by Wild Oats XI in 2015. Prior to that, the 24-hour record was 431 miles, set by Alfa Romeo II in 2009 when they set the monohull course record that still stands.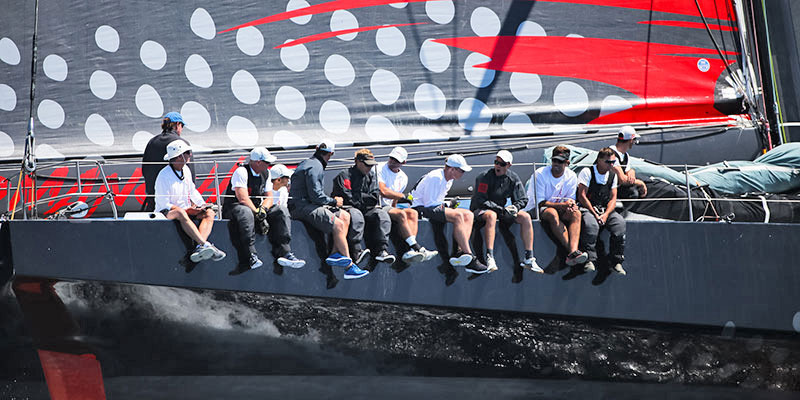 Alfa Romeo II's monohull course record time from 2009 was 5 days, 14 hours, 36 minutes, 20 seconds. Comanche will need to finish by 12:36:19 a.m. Hawaii time on Wednesday to break the record. Stan Honey is actually looking to break his own record, as he was also the navigator aboard Alfa Romeo II in 2009. Stan has said that what's key is not necessarily having a windy race (this one suffered from light air off California), but just having the wind be consistent.
Flotsam has definitely been an issue. For instance, at Sunday's roll call the monohull Rio100 reported that they'd hit an unidentified floating object and lost their port rudder. After a couple of hours of repairs they were back racing with starboard rudder only and no emergency rudder.
The MOD70 trimaran Maserati also broke a rudder in a collision with a UFO. "We were sailing fast at 28-30 knots when we heard a big bang," skipper Giovanni Soldini reported. "We immediately stopped the boat and managed to retrieve the rudder blade that was still attached by a retaining line. That was quite a difficult procedure because it was during the night, with lots of wind and waves." The port and central rudders were unaffected, and Maserati continued their course south of the rhumbline. "We wanted to avoid the areas with more debris," Soldini explained on Sunday. "But yesterday, during the day, we saw at least 15 floating objects, including a net, a very big rope line, a buoy with an iron pole, and many smaller buoys. At one point, we caught a large piece of plastic sheeting on one of the rudders."
Mark Dowdy's Bay Area-based Santa Cruz 50 Hana Ho dropped out on Thursday with mechanical problems. They turned back to Long Beach. For more news and to follow the race, see http://2017.transpacyc.com.
Receive emails when 'Lectronic Latitude is updated.
SUBSCRIBE