It's already 80°, the water is bluer than blue and 81°, and there are turtles all around. The sky is Caribbean blue with white tradewind puffskis, and the wind is blowing about 13 knots.
The Wanderer put on his favorite morning soundtrack: Mozart's Horn Concerto #4, Van Morrison and Them's Gloria, Laura Branigan's Gloria, and wrapping up with van Morrison's Baby Please Don't Go. Yep, there was a morning dance party on the back porch of 'ti Profligate.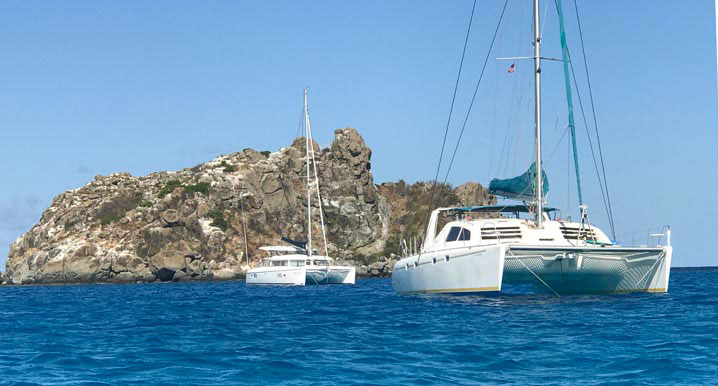 I've sorta become the crew boss for Steve Schmidt's Santa Cruz 70 Hotel California, Too for next week's Voiles de St. Barth, so I'm trying to firm up the crew. The boat's goal is to win the regatta's smiles contest, as we'll be sailing with white sails only. That said, Hotel hit 22 knots under white sails the last time she did the Voiles.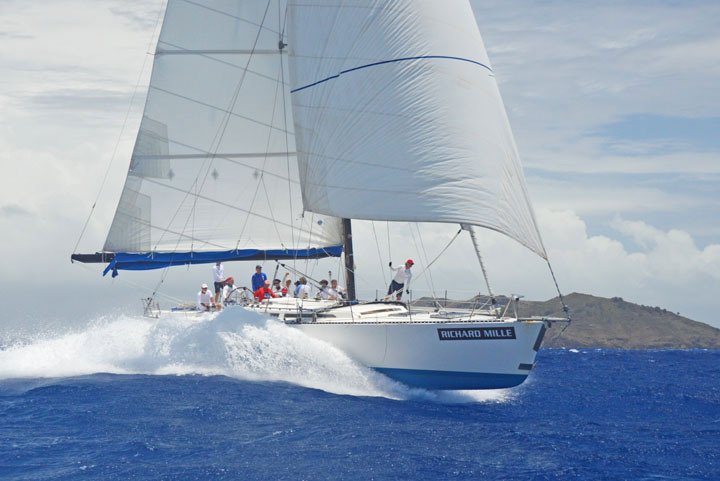 But maybe we have the crew of the canting-keel 88-ft Rambler quaking in their sea boots, because we've got Annie Gardner of the Catana 47 El Gato and Point Loma coming along. Annie might well be the only person in the regatta who has been the navigator on the winning boat in an America's Cup. We've also got her husband Eric Witt, who did a lot of work on the Hobie 33 and other Hobie boats.
Bill Lilly of the Newport Beach-based Lagoon 47 Moontide in St. Martin is thinking about showing up with a couple of gals, one of whom works the pit on a Santa Cruz 52. That could work.
But if you've got some sailing skills and are looking to have a good time, there's a good chance you can get on Hotel California. Men, women, black, white — who cares? You just have to love sailing and smiling. Just contact me, then get your butt to St. Barth for next Tuesday, Wednesday, Friday and Saturday's racing. And don't forget the epic crew parties at Nikki Beach and Shell Beach. Sorry, but I don't know where you can stay. And even though she's a Hotel, you can't stay on Steve's boat.
The 70-boat fleet for the regatta is going to be tremendous, with everything from Melges 24s to the Farr 115 Sojana, with lots of Volvo boats and other hot 70-footers. Perhaps of more interest to you single women, there will also be about 800 healthy, testosterone-infused male sailors and not very many women. The odds are greatly in your favor if you're looking for a little attention.
You can find me at Bar de L'Oubli between 2 and 3 p.m., and at Le Select between 6:30 and 7:30 p.m. I'm the tall guy in the long-sleeved coral shirt banging on the keyboard. Or you can email me.
Receive emails when 'Lectronic Latitude is updated.
SUBSCRIBE