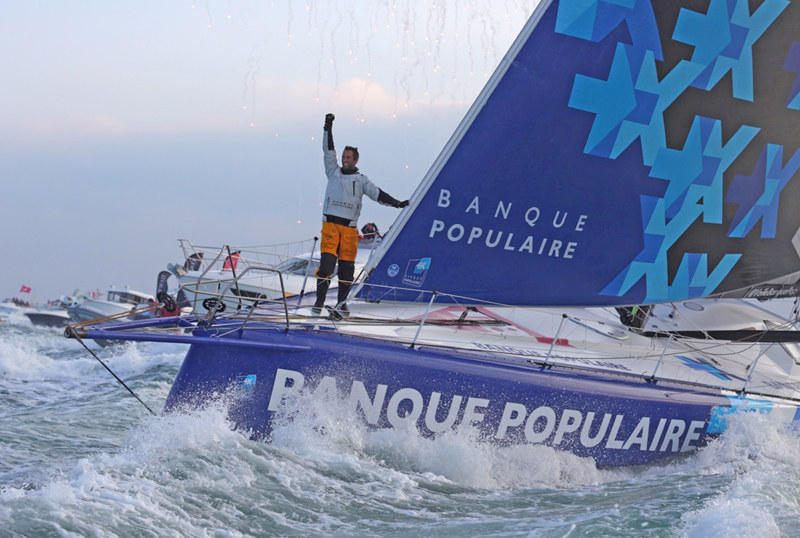 After just 74 days at sea, Armel Le Cléac'h has returned to Les Sables d'Olonne, France, aboard his IMOCA 60 Banque Populaire VIII, thus winning the eighth edition of the Vendée Globe, a solo nonstop sprint around the planet.
Known in racing circles as 'The Jackal' for relentlessly stalking his prey, Le Cléac'h found the shoe on the other foot for much of this race, as he was closely chased by Briton Alex Thomson onboard Hugo Boss, who has recently crossed the line to finish in second place. Between the two of them, they led virtually the entire race and broke every course record along the way, with Thomson only just recently breaking the official 24-hour solo monohull distance record with a single-day run of 536.8 nm. Compared to their efforts in the previous edition of this race, both Le Cléac'h and Thomson moved up one position on the podium, as Armel Le Cléac'h finished runner-up to François Gabart last time, while Alex Thomson finished third. Le Cléac'h in particular has now cemented his spot as one of the all-time greats of solo sailing, having won the Solitaire du Figaro twice and now finally winning the Vendée Globe after two previous second-place finishes.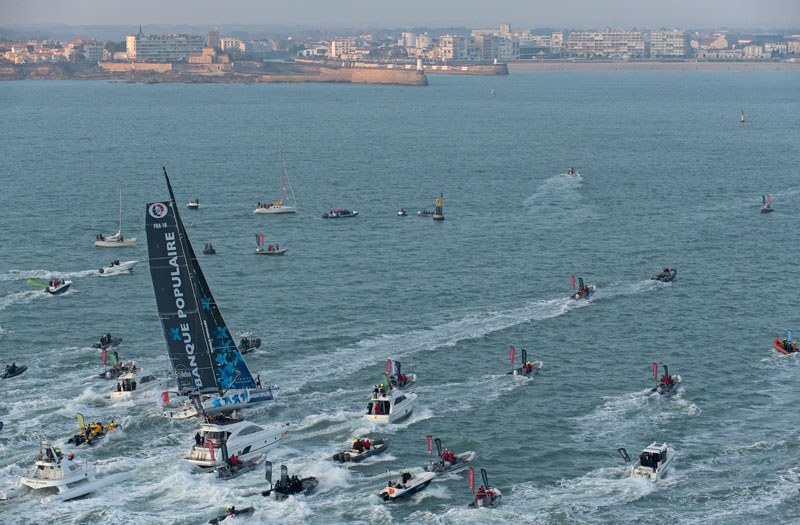 Ever since their November 6 departure from Les Sables d'Olonne under sunny skies and moderate breeze, Banque Populaire and Hugo Boss both figured as the favorites within the fleet of 29 boats. While nearly ten boats were thought to have had a realistic shot at claiming victory in the race, Le Cléac'h and Thomson quickly established themselves as the boats to beat. Thomson led down most of the Atlantic before Hugo Boss' starboard foil broke off. Crippled when sailing on a port tack, Thomson began slowly bleeding miles to Le Cleac'h, until being overtaken on December 3 in the South Indian Ocean. Building a lead of some 819 nm as the duo rounded Cape Horn, Armel Le Cléac'h would lead until the finish, though he saw a hard-charging Alex Thomson cut the lead to 50 nm at the equator and to as little as 30 nm when in the North Atlantic. Methodical in his routing and open-ocean match-racing tactics, Armel Le Cléac'h played his hand beautifully, never relinquishing the lead, and sailing into Les Sables d'Olonne as the new Vendée Globe champion — and finally achieving the goal he set out to accomplish more than a decade ago.
The new Vendée Globe reference time set by Armel Le Cléac'h is 74 days, 3 hours and 35 minutes at an average theoretical speed of 13.77 knots. This time is nearly four days faster than the record time set by François Gabart in the 2012-13 edition of the race onboard MACIF.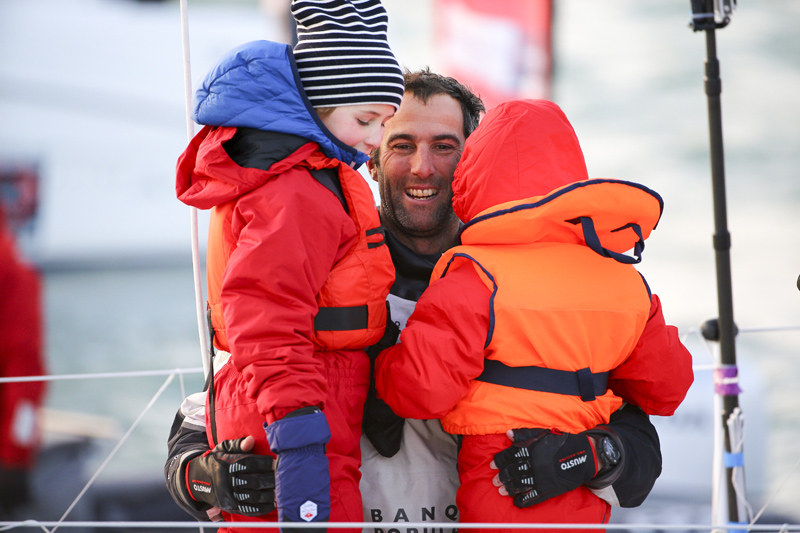 Elsewhere in the Atlantic, Jeremie Beyou maintains a solid third place just 500 miles from the finish, while the three-way battle for fourth place rages on between Yann Eliès, Jean Le Cam and Jean-Pierre Dick.
Meanwhile, maxi-trimaran IDEC Sport has just recently crossed the equator, nearly three days ahead of the reference time set by Banque Populaire V in her quest to break the Trophée Jules Verne record (fastest outright circumnavigation on any type of boat and any crew size).
Receive emails when 'Lectronic Latitude is updated.
SUBSCRIBE