Just as there are many ways to enjoy sailing — daysailing, racing, cruising — there are also a variety of ways by which you can learn to sail. Some neophytes take a battery of lessons from a sailing school or community sailing program, some learn from relatives or family friends, while others do their best to figure out the mechanics of the sport on their own, perhaps after leafing through a learn-to-sail book or watching a few YouTube videos.
Of course, there are advantages and disadvantages to each method, but with a little luck and fortitude, each of these approaches can produce a pretty decent sailor — even venturing out on your own in a small boat and figuring out how to get the boat moving via trial and error. (Not recommended.)
Having interviewed hundreds of successful cruisers and racers over the years, we've always found it fascinating to learn about how they were first introduced to the sport. And we'd like to extend that conversation to you, our readers: Please take a few minutes to tell us how you learned to sail:
• What inspired you to try sailing?
• Where did you learn?
• When?
• On what boat(s)?
• Who taught you?
• What were your first impressions after being introduced to the sport?
• How do you enjoy the sport of sailing today?
Please email us here and, if possible, send along a few photos from your early days on the water. Many thanks.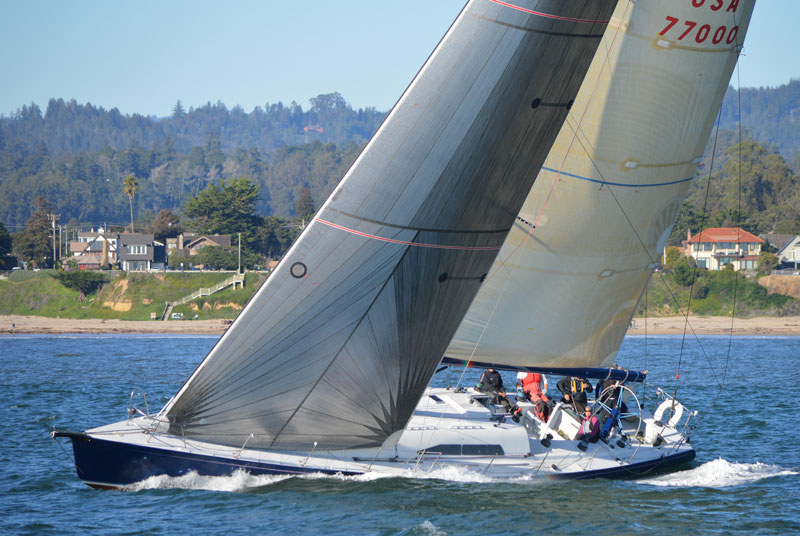 In October, when last we left the saga of Merlin's homecoming to Santa Cruz, she had just had her new keel attached and her rig stepped, and she'd been splashed. Since then, the legendary sled has been competing in the SCYC Midwinters and has taken some charter customers out for daysails. We caught up with her owner/designer Bill Lee over the New Year's holiday.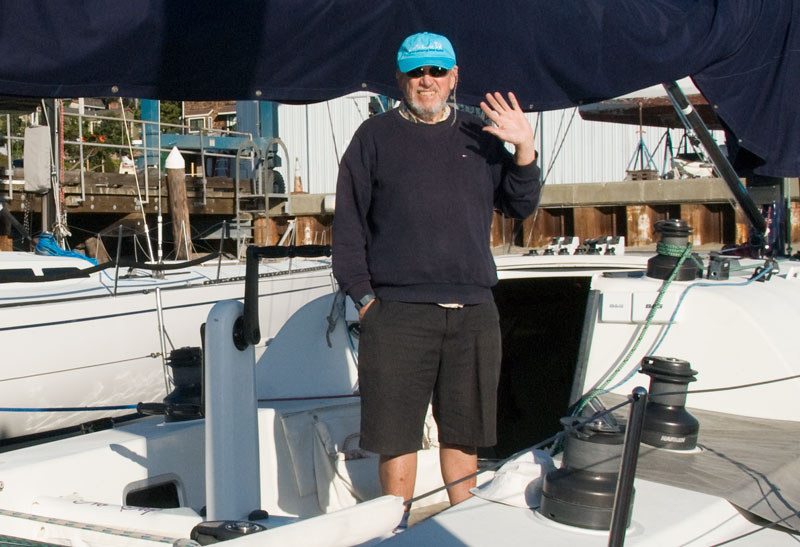 Merlin had her first sail back in Santa Cruz waters on a foggy, light-air, mid-November day. Yacht designer Alan Andrews had come north from SoCal to attend the Stanford vs. Cal Big Sail at St. Francis Yacht Club and took advantage of the opportunity to go for a sail on Merlin. The boat is certified for six-pack charters. The first two paid charters had three passengers each aboard, plus Bill, three volunteer crew and one paid professional, a USCG-licensed captain.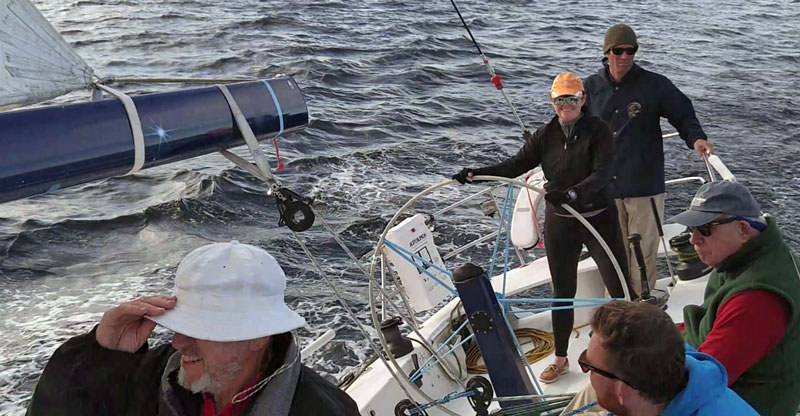 Regarding the work so far to restore Merlin to Pacific Ocean racing trim, Lee said that "The rig's come out super." They changed out the diagonal shrouds but didn't do much more. The rig was new before the 2005 Transpac, so it has one Transpac on it. "The next owner didn't use it much." Then Merlin had five seasons on the Great Lakes. "It was taken apart and stored indoors each winter."
About the rudder, Lee says, "It must have been ordered with the instructions 'I never want to round up again.'" Like her new keel, the rudder's a 7.5-foot long Alan Andrews design. "Lots of people say the rudder's too big, but that's okay."
When Bill bought the boat back in October 2015, a "huge number of sails" came with her, including 10 spinnakers. "We put away two good jibs. The main is from 2009 and has had very little use. I called Minney's Yacht Surplus and got Chuck Ullman on the phone. Chuck is Dave Ullman's son, and he's working at Minney's. He found an old TP52 main. I had the holes filled and adjustments made at Hodges' [Ullman Sails in Santa Cruz, ex-Santa Cruz Sails]. We're using that main for charters. It's four feet short on the boom but full hoist. We also have a small Dacron delivery main."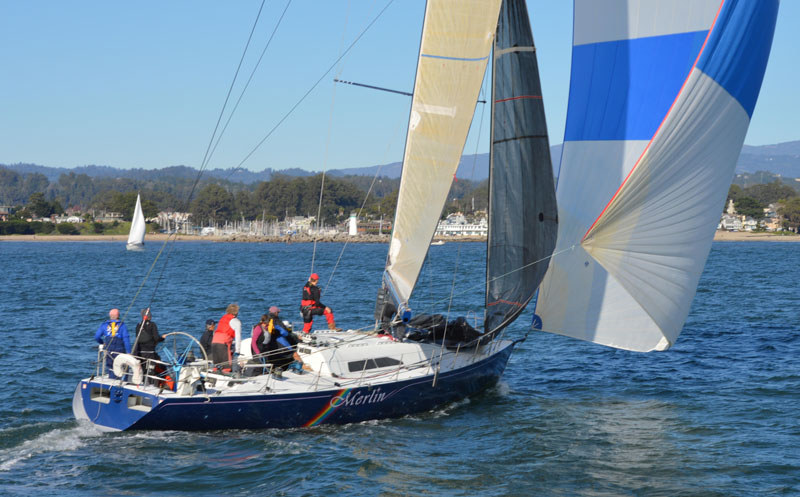 "We'll sail it to figure out a lot of deck gear to change," said Bill. "We haven't decided yet, so haven't started drilling holes yet. None of the winches are older than 2000. The winch pedestal is fine. The traveler's in the way, but we'll probably keep it because it's a big project."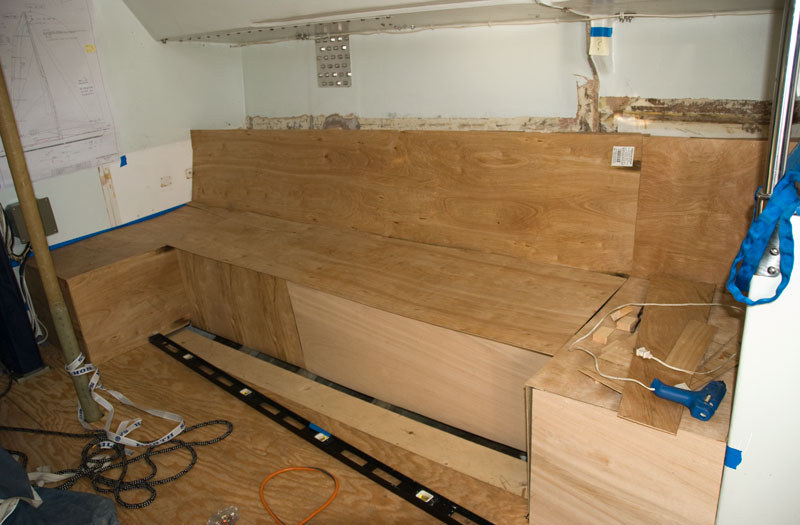 Merlin will sail in the Santa Cruz Wednesday night races once they start in March. Bill anticipates entering the Spinnaker Cup and Coastal Cup too, and the ultimate goal is the Los Angeles-Honolulu Transpac in July. In addition to daysails, race-training charters are available. See www.fastisfun.com.
Now that the holidays are over, the racing season is starting in earnest in the Eastern Caribbean. It doesn't matter if you're cruising or chartering in the area, regattas bring a lot of sailing spirit to wherever they happen. Sometimes it's fun just to watch, other times it might be even more fun if you enter your boat or become one of the crew on another boat.
While there are countless regattas in the Caribbean, here is a list of some of the biggest and most fun-focused events:
• Jan 31-Feb 4 — Grenada Sailing Week. Semi-serious but lots of fun. Decent chance to get a berth on a boat.
• Feb 9-12 — Jolly Harbour Antigua Valentine's Regatta. Mellow fun sailing in some of the best pleasure-sailing waters of the world, the lee of Antigua.
• Sometime In Feb at Soper's Hole, Tortola, British Virgins — The Sweethearts of the Caribbean Regatta. Schooners, classic yachts, and others make this low-key fun. Good chance to catch a ride on a boat.
• Feb 20-24 — Caribbean 600, starts and ends in Antigua. This is hardcore racing for hardcore sailors, and is often sailed in full-on Caribbean tradewind conditions. This is not an event for casual sailors, but watching the start from Antigua's Shirley Heights is fantastic.
• Feb 28 Mardi Gras — This is about partying, not sailing, and while Feb 28 is the main date, different islands in the Caribbean celebrate it at different times of year.
• March 2-4 — The Heineken St Maarten Regatta is one of the great regattas of the Eastern Caribbean. It attracts hard-core racing boats and racers, but also has a very large bareboat fleet. Good opportunity to be crew.
• March 17-20 — St. Barth's Bucket. The Bucket is for 100- to 200-ft-plus boats. If you act if you're a longtime sailor, you may get a ride. Personally, we think it's more fun to watch.
• March 27-Apr 2 — The BVI Spring Regatta & Sailing Festival. Good times for everyone in all kinds of boats. Good chance to get a berth.
• April 11-14 — Les Voiles de St Barth. The Wanderer's favorite regatta. Hard-core racing with equally hard-core partying as only the French know how. Decent chance to get on a boat.
• April 19-25 — Antigua Classic Regatta. Truly a one-of-a-kind regatta, so it's lucky that the Voiles de St. Barth and 'Classic' no longer overlap. You can do them both, as you get four days to make it 80 miles between islands.
• April 28-May 4 — Antigua Sailing Week. This is the 50th anniversary of the Caribbean Regatta that took the sailing world by storm in the 1980s. It's not what it once was, but it's still great, with lots of terrific boats and lots of charter boats sailing in ideal conditions.
• May 1 — The racing season is over. Done. Finished. Everyone's gone to the Med, the Northeast or Panama.
For additional Caribbean races click here and, for the Caribbean and all your Northern California racing opportunities, pick up a copy of Latitude 38's Northern California Sailing Calendar at your Bay Area marine outlet or check it out online here.
Receive emails when 'Lectronic Latitude is updated.
SUBSCRIBE