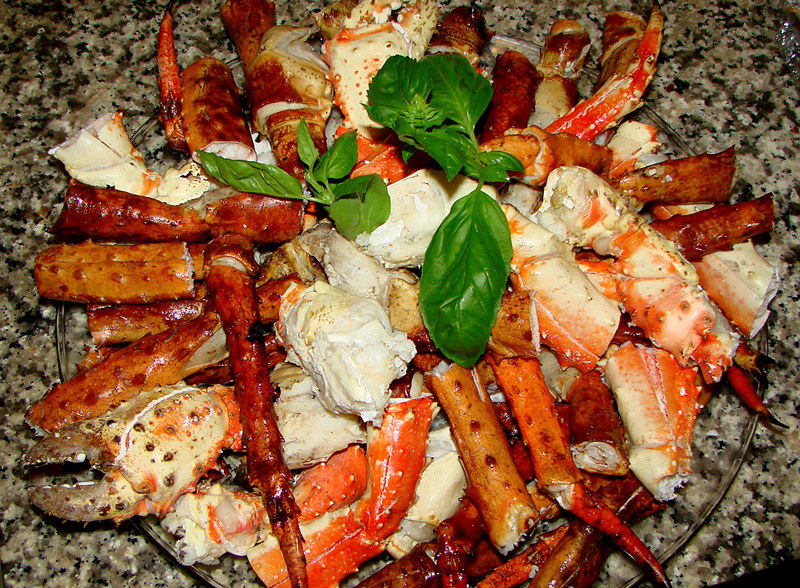 No, not Christmas. We're talking about crab season! With the Dungeness season in full swing, recreational crabbers might be surprised to learn that the tried-and-true method of dumping live crabs in a pot of boiling water is not the preferred method of dispatching those delectable crustaceans. There's kinder and slightly less disgusting way is to kill and clean the crab prior to cooking.
Warning: If you have a squeamish stomach, read no further.
The technique — known as spiking — is simple, if significantly more hands-on than the old method. The only tools you need are gloves, a large knife and a bucket of water. Simply flip the live crab on its back, stick the point of the knife in the shallow depression just behind its mouth area and quickly cut it down the middle, head to tail. The crab will die almost instantly.
Gather both sets of legs in your hands and push them together, which will break the underside shell along the cut line. The legs and body meat come away together, leaving you with a shell full of guts and goo which you can throw away. Rinse the remaining goo from the meat in the bucket of water, removing the feather-like gills, and you're ready to cook!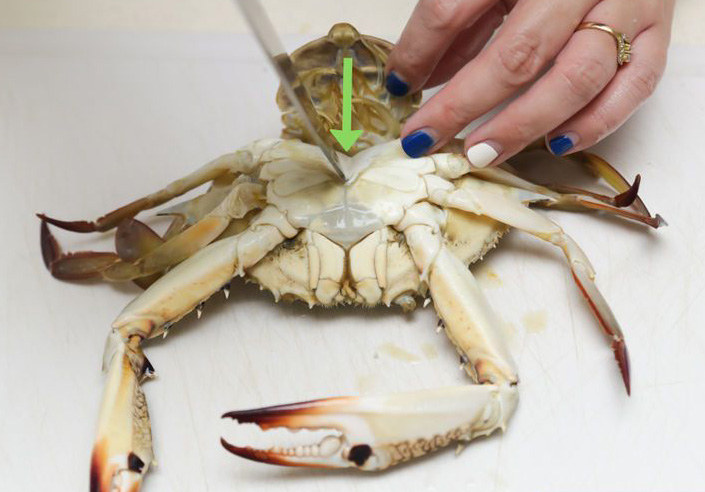 Much debate exists over the best cooking method: Boiling or steaming. We prefer steaming because 1) it uses less water, 2) the legs don't get waterlogged, and most importantly, 3) the meat has better flavor. Either method generally requires about 10-15 minutes of cooking before you can get to cracking.
You're probably wondering why this method is 'preferred'. First, humane societies around the world recommend spiking for the slaughter of crabs because it cuts the nerve centers quickly, minimizing suffering. Live-boiling or microwaving, immersing in fresh water, or pulling the shell off while the crab is alive are all considered inhumane killing methods.
Secondly, there's a reason restaurants give you a bib when you order a whole crab. Eating them is really messy! You'll still want to lay down a tablecloth when using my technique, but you won't need a shower afterward.
PHOTO
Lastly, and to some most importantly, the meat tastes better. We can't think of another animal that Westerners eat after cooking it in its own innards (oysters not withstanding). Those guts lend a slightly bitter flavor to the meat, and can potentially be toxic if the crab's hepatopancreas — a delicacy also known as 'crab butter' — carries high levels of PCBs or toxins that lead to paralytic shellfish poisoning. In fact, California Fish and Wildlife officials warn not to eat any part of the innards due to currently elevated levels of domoic acid, a naturally occurring neurotoxin.
Now that you have the knowledge, it's time to celebrate the season with a table full of Dunnies!
Humboldt Baykeeper offers a free PDF detailing the process. Also see the Department of Fish and Wildlife's Crab Regulations and Info here.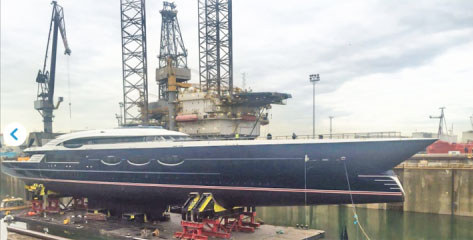 When the late Tom Perkins of Belvedere launched his 289-ft blue-hulled Maltese Falcon in 2007, she was the most talked-about sailing yacht of her time.
Obviously length was one big reason. Only Jim Clark's 292-ft Athena and Barry Diller's 310-ft Eos were longer, although in all other respects Falcon was bigger than both of them.
Then there was Falcon's unique Dynarig, which employed three unstayed masts and a unique way of setting 18 sails. The Dynarig had been proposed years before but never tried. Dykstra Naval Architects of Amsterdam refined the concept and tested a small-boat version of it on the canals of Amsterdam.
Falcon's builder Perini Navi wasn't willing to take the risk of building the masts and systems, so Perkins had to form his own company to do it. It was a very ballsy and expensive move by a guy who had a long history of taking successful risks in the world of venture capital.
In the years since, several other Dynarig yachts have been proposed, but to our knowledge none has been built — until now. A few months ago the 347-ft Solar, designed by Dykstra Naval Architects and built by Oceanco, came out of a shed near Rotterdam and is now being fitted out and getting sea trials. Falcon was big, but Solar is much larger than an additional 60 feet would suggest.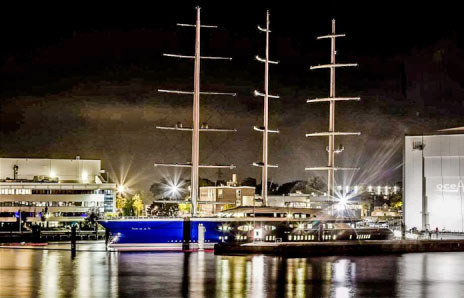 An unusual feature of Solar is her bow, which is indented for "wave slicing."
Depending on how you define the term, Solar is now the world's largest privately owned sailing yacht. The other contender is the 468-ft sailing yacht A. There are two differences between the two yachts. First, Solar is designed to travel under sail power, while A is classed as a 'sail assist' vessel. Secondly, and this has nothing to do with length, Solar is a beautiful yacht in the classic sense, while A is stone-cold ugly. As we've mentioned before, this is a shock because the owner's previous A is the most innovative and perhaps best-looking motoryacht we've ever seen.
The owner of Solar has not been identified, but it is supposed to be a very 'green' boat. As green, we suppose, as a 347-ft boat for the owner and 11 guests can be.
Perkins once told us that it had taken him seven years to have Falcon built. He would only own her for a couple of years before selling her to a woman from Cyprus, who charters Falcon to the likes of Tom Hanks and other actors.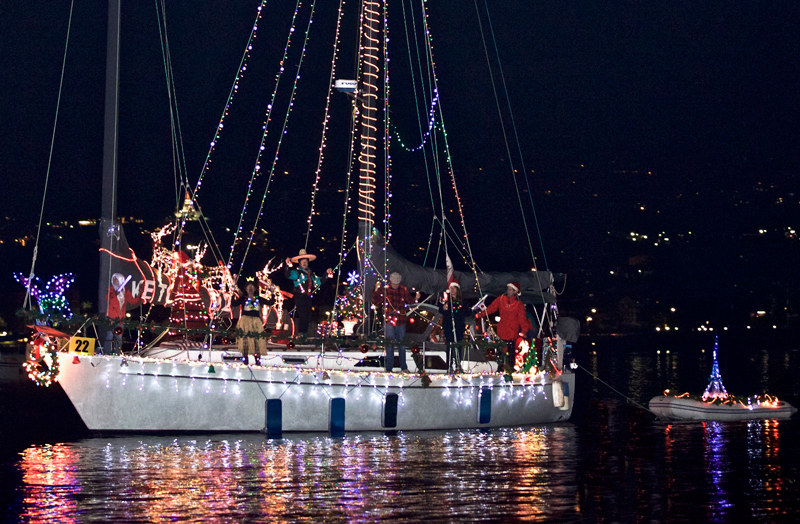 In observance of the winter solstice, the longest night of the year in the Northern Hemisphere, we're sharing some photos of sailors brightening up the darkness. Ketch 22 was the overall winner of the 40th Lighted Yacht Parade on the Oakland-Alameda Estuary. We think the lighted dinghy makes a nice finishing touch on their entry. See more of Fred Fago's photos at fredfago.smugmug.com/Oakland-Lighted-Yacht-Parade/2016-Lighted-Boat-Parade.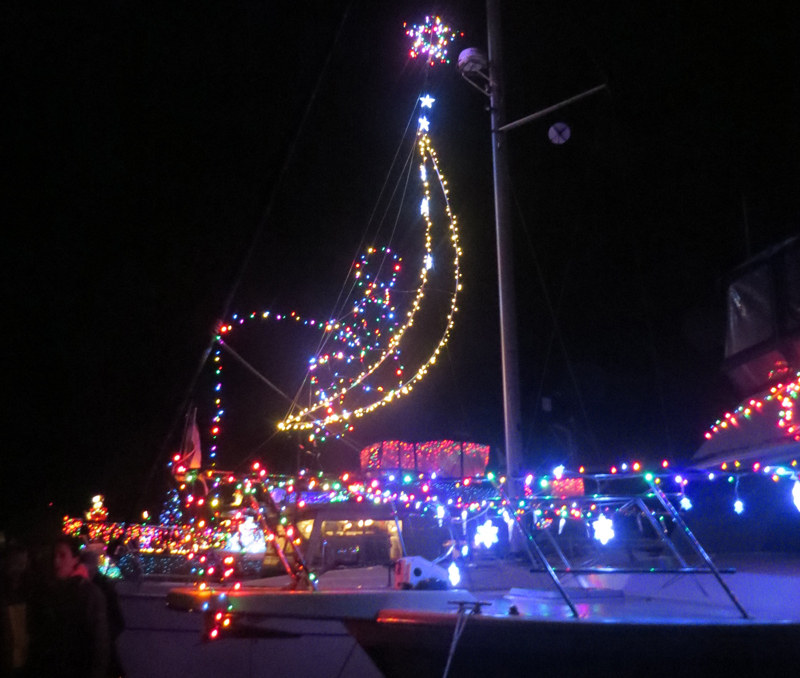 Our correspondent in Half Moon Bay, Kara Hugglestone, reports that Half Moon Bay Yacht Club's booth promoted youth sailing and other programs at the Pillar Point Lighted Boat Festival on December 10. "Ketch Joanne (a popular restaurant in Pillar Point Harbor) provided clam chowder, desserts and hot chocolate," she reports. "Boat owners shared hot chocolate and hot buttered rum in addition to nibbles. At one boat the kids said, 'Trick or treat,' while handing out bags of Famous Amos cookies — a fun turnabout on the usual!" The festival is a 29-year tradition.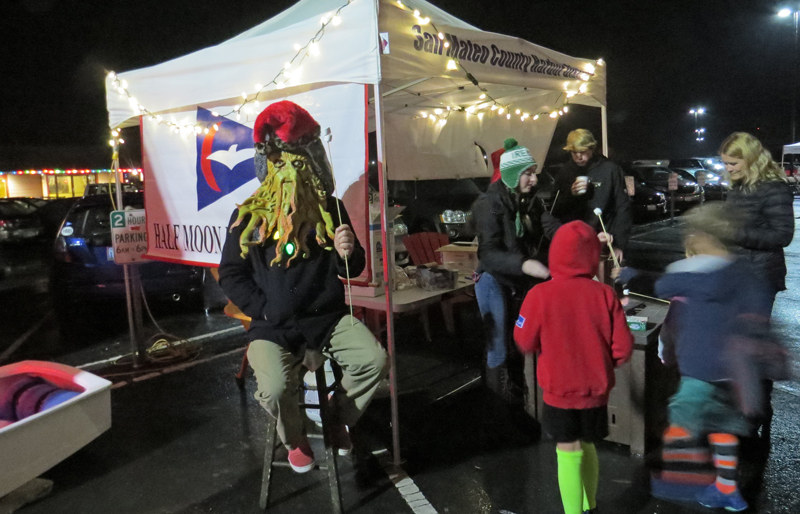 'Lectronic Latitude will take a holiday on this Friday. The Latitude 38 office will be closed from Monday, December 26, through Thursday, December 29, but we do plan to post our next 'Lectronic Latitude edition on Wednesday, December 28. The January issue of Latitude 38 and the 2017 Northern California Sailing Calendar and YRA Master Schedule will come out on Friday, December 30. Then, we get a day off again on Monday, January 2, for New Year's. From our crew to yours, Happy Holidays.
Receive emails when 'Lectronic Latitude is updated.
SUBSCRIBE