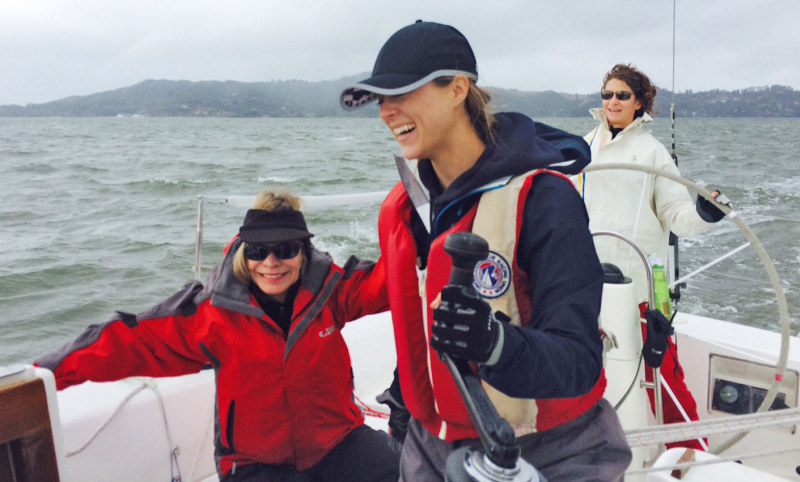 On stormy Saturday, October 15, only three boats finished Tiburon Yacht Club's Joan Storer Regatta. Neither of the Folkboats registered attempted to race. Of the entries remaining, one had engine trouble and never even left their dock across the Bay in Richmond. Another had a collision and damage while trying to sail out of her slip, putting a hole in her wooden hull. An Olson 25 crew had 200 gallons of water to pump out before they could get to the race course. Once they got out there, they found gusts to 30 knots and said to hell with it.
The Joan Storer Regatta is a memorial honoring a TYC member. In the past, it's been a women skippers regatta, with only one male allowed on each boat. This year, the requirements were loosened: 50% of the people onboard had to be female.
TYC race chair Cam Tuttle, who crewed on Joyride, reports that they sailed a 7.5-mile course with a lot of reaching legs. "We had 20-25-30° shifts all day. Don't walk away from the mainsheet!" The puffs were surprising and inconsistent.
Five minutes into the race one of the women on Richard and Lauren Selmeier's Hurricane Gulch was smacked in the face with the boom vang, breaking her nose. "There was blood all over the deck," reported the crew. The C&C 33 was nevertheless able to finish the race and placed second.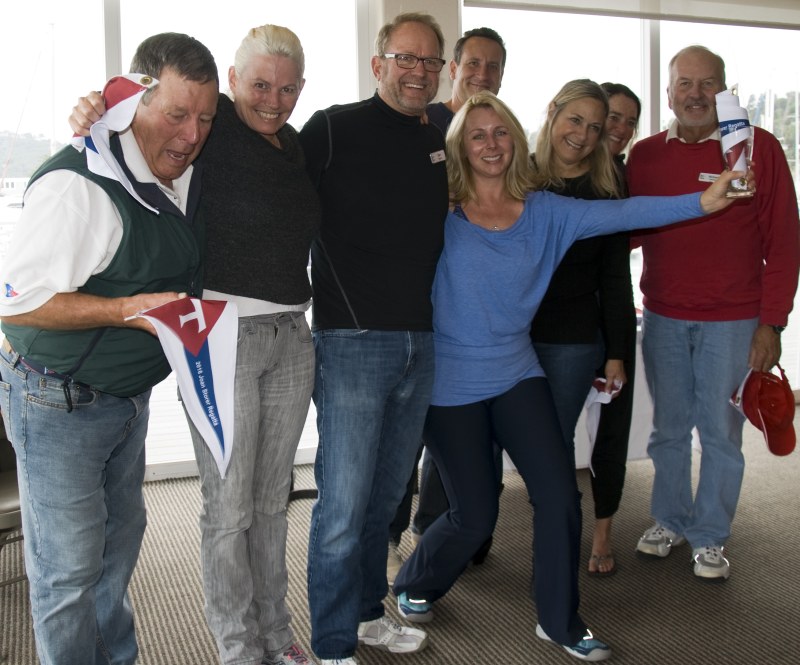 Crew from the third-place finisher, Pat Broderick's Wyliecat 30 Nancy, called the conditions "Really puffy. No one flew a spinnaker. We tacked once to get to the first mark, TYC. It was the last tack of the day." This was Jennifer McKenna's first time driving Nancy. She usually sails her own Santana 22, or an El Toro. "There's a lot of power in that sail," she said of the big cat-rig main.
Janet Wright of Truckee, Joan Storer's daughter, and Janet's daughter D'Arcy sailed aboard Joyride and participated in the post-race party and awards ceremony. Joan's son John lives in Manhattan Beach and couldn't make it to the event, but treated the sailors to a hosted bar, sandwiches and hors d'oeuvres. Event chair Mariellen Stern presented Joan's offspring, who include Shelley Sprenkle of Pennsylvania, with honorary TYC memberships. The Storer kids grew up in Paradise Cay, where TYC is located. "The yacht club has the best memories for me," said Janet. "I just wanted to hang out at the club. I would come home from college to go to these events."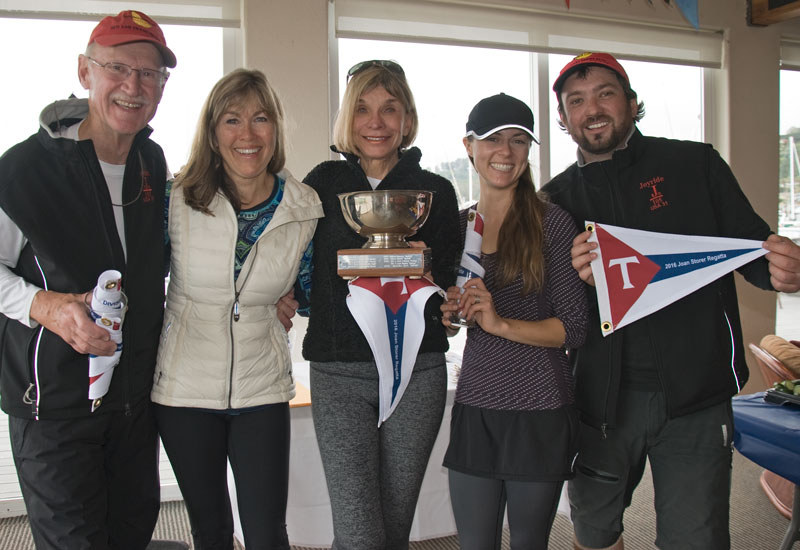 Joan Storer passed away from pancreatic cancer on October 17, 1989 (if the date rings a bell, it should: It's the day the Loma Prieta earthquake devastated the region). Half of the regatta's entry fee goes to fund cancer research and hospice.
Receive emails when 'Lectronic Latitude is updated.
SUBSCRIBE