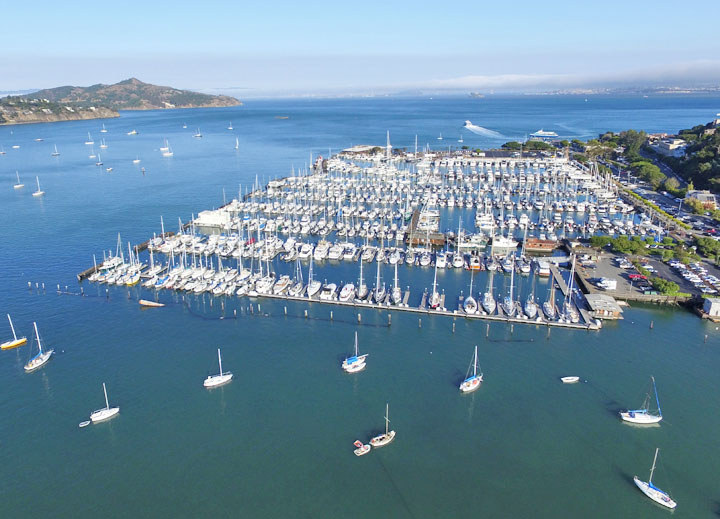 'Location, location, location' is the mantra of the real estate business. The same is true when it comes to boat berths. If you own a sailboat and your dream is to be able to get out into the wind of the Central Bay as soon as possible, the yacht harbors shown in this photo — Pelican Yacht Harbor in the foreground and Sausalito Yacht Harbor in the background — are two of the best choices.
It's true, there are a couple of marinas on the San Francisco waterfront that are even closer to The Slot, but they are often cold and windy in the afternoon. That is not to say these two Sausalito marinas don't get cold and windy in the afternoon, too; they just don't get as cold and windy as often. They do, however, offer perfect places from which to view the fog, which looks as thick as whipped cream and sometimes pours down from the hills, but for some reason never reaches ground level.
Sunny summer mornings at both these marinas is about as good as it gets, as it can be pleasantly warm and the hills of Sausalito look like something just down the road from Portofino.
Sausalito Yacht Harbor was founded ages ago by Herb Madden Sr., a colorful Irishman. The way the story goes, he bought the pilings for the perimeter of the harbor from privateers who collected them after they had rolled off a lumber schooner. Looked down upon literally and figuratively by residents who lived up on the hill, Madden was also a bootlegger. This is back in Sausalito's pre-tourist, T-shirt and ice cream days, when future mayor Sally Stanford ran a bordello in town.
Back when we got into sailing in the early 1970s, the Sausalito Yacht Harbor was run by Herb Madden Jr., one of our favorite figures along the Sausalito waterfront. It was Herb's way or the highway, but we always found him to be fair and always got along great with him. Back in those days there was also a boatyard on the premises, a yard in which we rigged more Islander yachts than we care to remember. For whatever reason Herb usually operated the Travelift himself, and did more manual labor than anyone.
Pelican Yacht Harbor came along in the 1970s thanks to the work of Ned Martin, another colorful figure, who dreamed of a stylish yacht harbor for classic wooden yachts only. That concept worked for a few years.
Owners of competitive businesses don't always get along, and we heard reports of an epic shouting match between Herb and Ned. We wish we could have been there.
Over the years, the Wanderer has kept three or four boats in Sausalito Yacht Harbor. Not only was the location great for the boat, but it also had the most convenient free parking in town. When the Wanderer met Doña de Mallorca 20 years ago, she was fresh from the Med and living aboard a leaky 30-ft wooden Chris-Craft powerboat in Pelican Harbor. If she were here, she could tell you a little bit about those days, but she's just pulling into Turtle Bay with Profligate on what must be about her 15th Baja Bash.
There are, of course, more reasons than location for liking a yacht harbor. If you'd like to sing the praises of your yacht harbor, we'd like to hear about it — particularly if the management doesn't mind if we come over and shoot a couple of aerial photos.
Receive emails when 'Lectronic Latitude is updated.
SUBSCRIBE