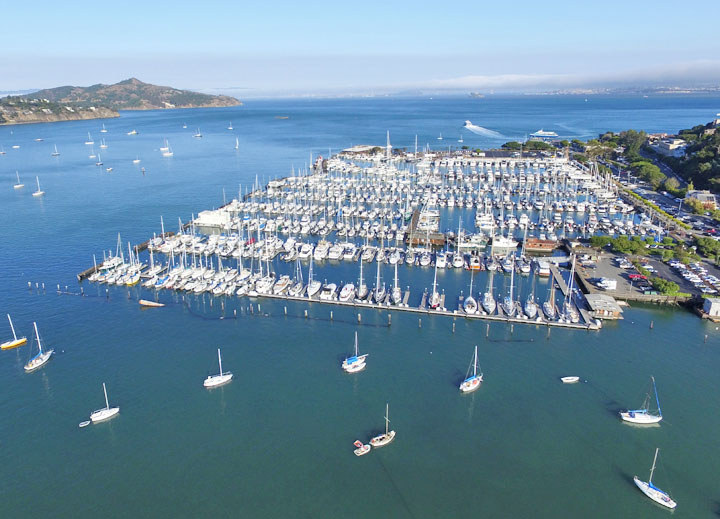 'Location, location, location' is the mantra of the real estate business. The same is true when it comes to boat berths. If you own a sailboat and your dream is to be able to get out into the wind of the Central Bay as soon as possible, the yacht harbors shown in this photo — Pelican Yacht Harbor in the foreground and Sausalito Yacht Harbor in the background — are two of the best choices.
It's true, there are a couple of marinas on the San Francisco waterfront that are even closer to The Slot, but they are often cold and windy in the afternoon. That is not to say these two Sausalito marinas don't get cold and windy in the afternoon, too; they just don't get as cold and windy as often. They do, however, offer perfect places from which to view the fog, which looks as thick as whipped cream and sometimes pours down from the hills, but for some reason never reaches ground level.
Sunny summer mornings at both these marinas is about as good as it gets, as it can be pleasantly warm and the hills of Sausalito look like something just down the road from Portofino.
Sausalito Yacht Harbor was founded ages ago by Herb Madden Sr., a colorful Irishman. The way the story goes, he bought the pilings for the perimeter of the harbor from privateers who collected them after they had rolled off a lumber schooner. Looked down upon literally and figuratively by residents who lived up on the hill, Madden was also a bootlegger. This is back in Sausalito's pre-tourist, T-shirt and ice cream days, when future mayor Sally Stanford ran a bordello in town.
Back when we got into sailing in the early 1970s, the Sausalito Yacht Harbor was run by Herb Madden Jr., one of our favorite figures along the Sausalito waterfront. It was Herb's way or the highway, but we always found him to be fair and always got along great with him. Back in those days there was also a boatyard on the premises, a yard in which we rigged more Islander yachts than we care to remember. For whatever reason Herb usually operated the Travelift himself, and did more manual labor than anyone.
Pelican Yacht Harbor came along in the 1970s thanks to the work of Ned Martin, another colorful figure, who dreamed of a stylish yacht harbor for classic wooden yachts only. That concept worked for a few years.
Owners of competitive businesses don't always get along, and we heard reports of an epic shouting match between Herb and Ned. We wish we could have been there.
Over the years, the Wanderer has kept three or four boats in Sausalito Yacht Harbor. Not only was the location great for the boat, but it also had the most convenient free parking in town. When the Wanderer met Doña de Mallorca 20 years ago, she was fresh from the Med and living aboard a leaky 30-ft wooden Chris-Craft powerboat in Pelican Harbor. If she were here, she could tell you a little bit about those days, but she's just pulling into Turtle Bay with Profligate on what must be about her 15th Baja Bash.
There are, of course, more reasons than location for liking a yacht harbor. If you'd like to sing the praises of your yacht harbor, we'd like to hear about it — particularly if the management doesn't mind if we come over and shoot a couple of aerial photos.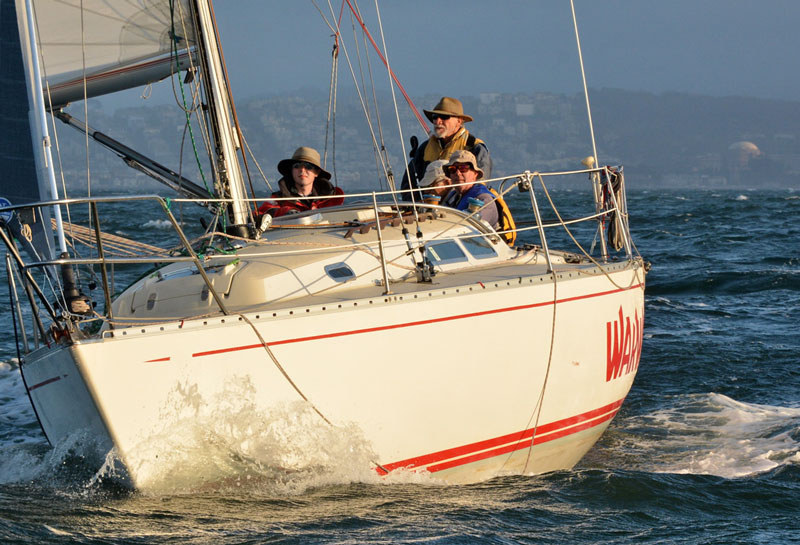 Back in 2012, Roger Ruud and Chuck Hooper conquered Latitude 38's Beer Can Challenge on Hooper's Contessa 33 Warwhoop. The duo, with help from additional crew, took the Benicia-based boat around to various Bay clubs for five consecutive beer can races, successfully competing on each weeknight, after which they were crowned the 'Kings of Beer Can Racing'. This year they threw down the gauntlet, challenging other boats to join them on the week of August 8-12, when it was logistically possible to make the grand tour and complete five evening races in a row. Surprisingly, no one took them up on it. "A lot of sailors are hitting retirement age," said Hooper, a retiree himself, who has been sailing Warwhoop for 27 years. "We ought to have 25-30 boats doing this."
Chuck and Roger were joined this year by Roger's son Robert Ruud, a 28-year-old video game designer who took a week's vacation and came up from Pasadena to join his elders for each race. Robert had only sailed twice previously, both times as a passenger on Warwhoop.
The three of them sleep on the boat every night. "No way you could go back and forth," said Hooper. They brought an inflatable dinghy, which they rowed onto and off the mooring in front of Sausalito Yacht Club, where we caught up with them on Tuesday night.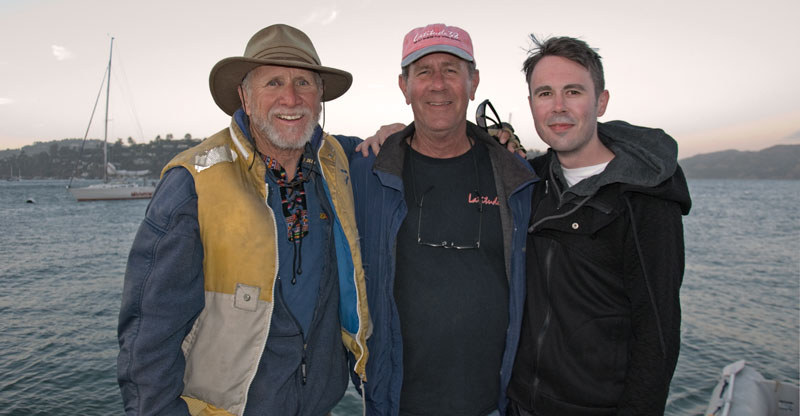 They had started their week on Sunday the 7th, when they left their slip in Benicia to deliver the boat to San Francisco for Bay View Boat Club's Monday Night Madness. "We thought we were going to have to reef, then the wind just died. But everyone finished." The SYC race on Tuesday was windy and choppy. They did reef, and sailed in the non-spinnaker division.
On Wednesday they went back upstream to Vallejo YC. "On Thursday we did horrible at our own club in Benicia. Friday we did the Corinthian." Their most challenging delivery day would be Friday, when they had to get the boat from Benicia to Tiburon. "We'll have to leave at 6 a.m.," Hooper had predicted. "The current is not favorable." Although the wind died on Friday night, they were able to complete the CYC race.
But wait — there's more: Warwhoop's week didn't end on Friday night. "We did seven!" announced Hooper. On Saturday they went back to San Francisco for BVBC's Round the Rock Race, a pursuit around Alcatraz in the skipper's choice of directions; then on Sunday they popped over to Berkeley YC for the Tri-Island Race, a pursuit around Angel Island.
"The biggest hassle was lack of local knowledge," said Hooper. "If we get out in the lead we don't know where to go. So we generally end up following people around the course. We had a great time and met a lot of old and new friends," he concluded. "All the clubs and their members were fantastic." Our congratulations (and Latitude 38 T-shirts) go out to Chuck, Roger and Robert.
Casual evening racing begins winding down in August, though some clubs will carry on as late as October. See our regional Beer Can Calendar at www.latitude38.com/calendar.html#BeerCans.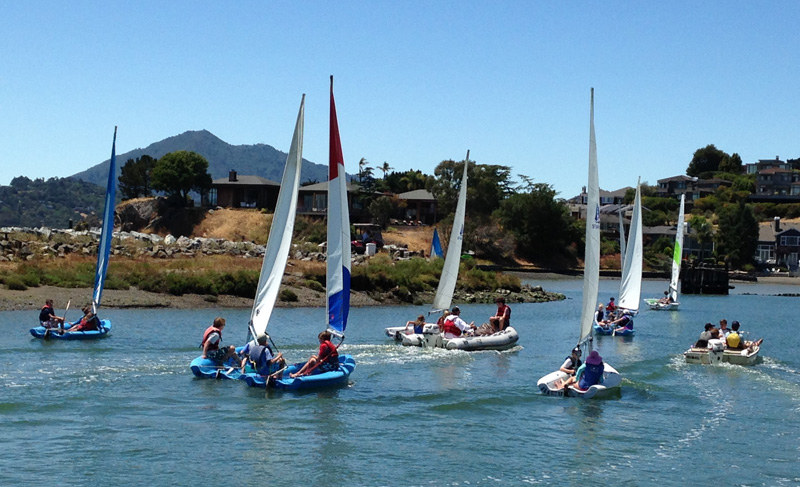 Some things in life are reliably predictable. At San Rafael's Loch Lomond Marina, for example, a new flock of ducklings is born every spring, and can be seen patrolling the fairways all summer long. Just as reliably, a new breed of young sailors takes to those waters aboard sailing dinghies, getting their first introduction to the joys of our sport.
The long-established community sailing organization Sailing Education Adventures, which is now based at Loch Lomond, is one of a long list of summer sailing opportunities for kids as young as eight — all of which are listed in the Northern California Sailing Calendar and YRA Master Calendar.
As you peruse those listings you'll see that many introductory youth programs operate all year, including those at the Treasure Island Sailing Center, Richmond YC and the Alameda Community Sailing Center.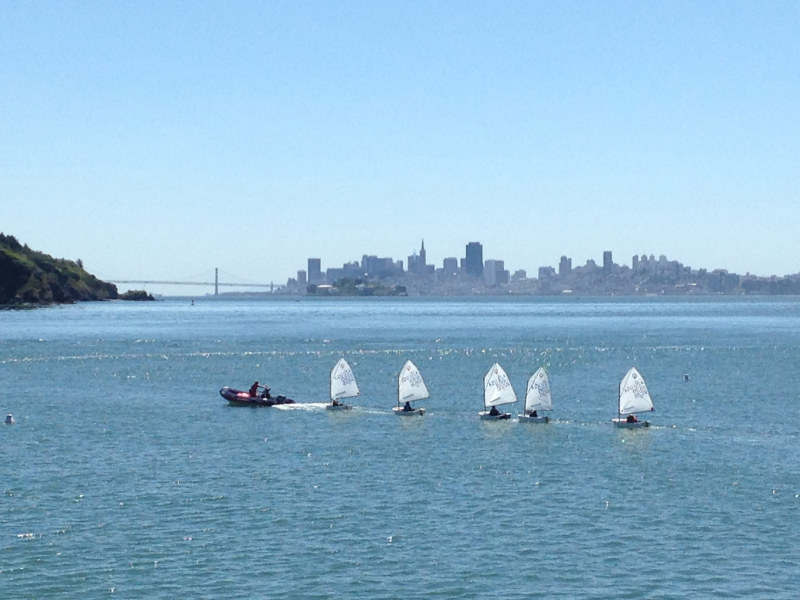 These days, many kids seem to have chosen to become couch potatoes rather than becoming active outdoor sports enthusiasts. But perhaps that's just because they haven't been introduced to truly engaging sports such as sailing. Check out all the programs listed in our annual Calendar (many of which offer scholarships), and we think you'll agree that access to sailing here in the Bay Area is relatively easy — for kids as well as adults. Also, if you or your kids have had an outstanding experience in a Bay Area sailing program, we'd love to hear about it.
Receive emails when 'Lectronic Latitude is updated.
SUBSCRIBE