According to British Virgin Islands tourism stats, visits by West Coast sailors contribute mightily to that British Overseas Territory's annual income. We suspect that many of those sailors will be shocked to learn that Legislative Representative Dr. Hubert O'Neal has proposed that a world-class container port be installed on remote Anegada Island. Fringed by coral reefs on three sides, that eight-and-a-half-mile-long island is not only the least-developed major isle in the British Virgins, but its underwater ecosystems are currently the most unspoiled.
According to a July 27 article in The Virgin Islands Platinum News, the proposal was offered as a remedy for the shrinking revenue from the BVI's once-booming offshore banking industry. Dr. O'Neal estimates that within 10 years after construction, the new port could add $200 million annually to the local economy, roughly the same as the waning financial-services industry generates today.
Dr. O'Neal envisions the BVI facility as a transshipment hub for goods from all over the world, as Singapore is today, with "upwards of a million containers a year" passing through Anegada.
At a recent meeting with island residents, some voiced concerns about potential environmental impacts of the project. Dr. O'Neal was quoted in the Platinum Press as saying, "We will ensure Anegada remain[s] pristine." Indeed. What could possibly go wrong? If you have thoughts on the plan, we'd love to hear them.
If you enjoy being on the ocean aboard a big catamaran, or perhaps need some sea miles for a license, you may want to contact Doña de Mallorca. She's looking for crew to help deliver the 63-ft Profligate 1,000 miles from Banderas Bay on mainland Mexico to San Diego. She's made the trip about 15 times herself.
It's important that you be in good health, and it helps if you have offshore experience.
Doña hopes to leave toward the end of next week, depending on the weather and other considerations.
This is strictly a delivery, and usually takes six to seven days, although it might take a little longer if there is some funky weather.
If you're interested, email her here.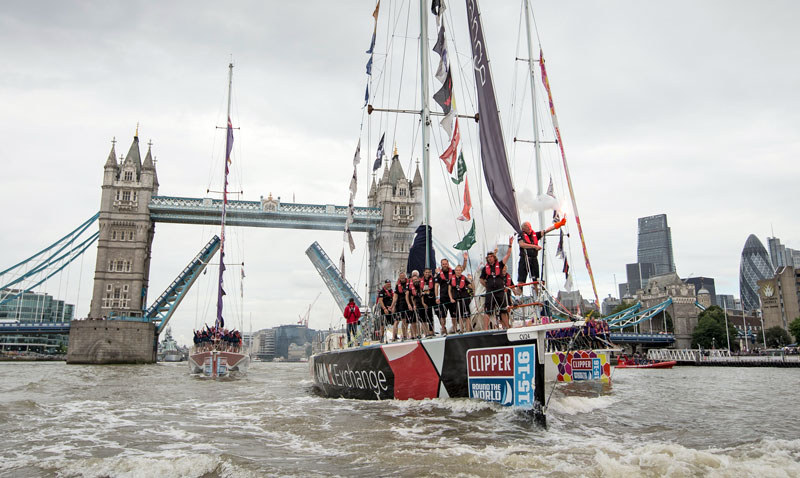 The 2015-16 Clipper Round the World Race has come full circle, returning to its port of departure on the Thames in London after its 40,000-mile, 11-month odyssey. Claiming the podium positions in the 12-boat fleet of Clipper 70 one-design monohulls were LMAX Exchange, Derry~Londonderry~Doire, and Great Britain, in that order. Visit Seattle finished eighth.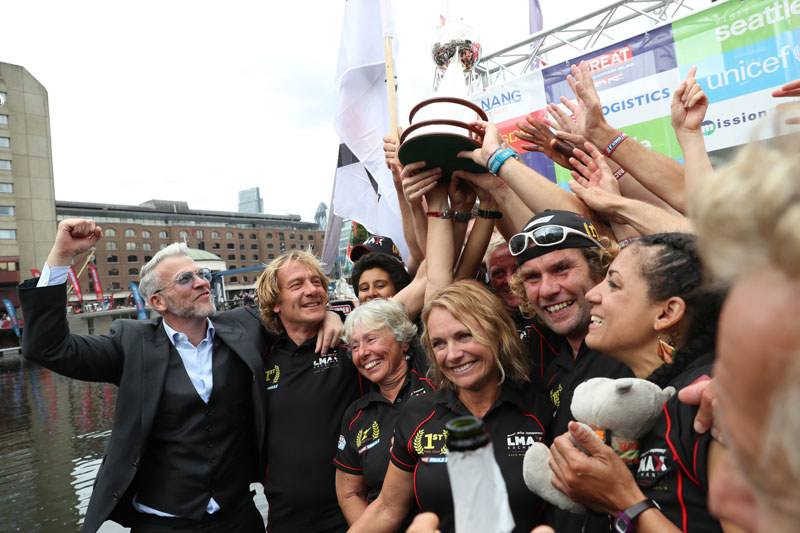 Beating out those awards for 'wow factor' was the announcement of the Henri Lloyd Clipper Race Seamanship Award. The public voted to honor Mission Performance crew member Gavin Reid and his team after they went to the assistance of a yacht in distress during Race 6, the Henri Lloyd Hobart to Whitsundays Race, in early January.
"We suspended racing, turned around and motored south for a couple hours to their position," said San Franciscan Mike Moore, a crewmember aboard Mission Performance. The team discovered M3, an Australian TP52, with a line wrapped around the propeller, a damaged mainsail, and a sailor stuck at the top of the mast.
"Gavin volunteered to transfer boats and go up their mast to help get the stuck crewman down," Moore wrote in his blog at the time. "Rather than a complicated boat-to-boat transfer, we got a line across to them, tied it to Gavin, and he jumped in and was pulled to the other boat — good thing he was in his drysuit!"
Reid climbed M3's mast and worked for two hours to free the yacht's crewman, who had been trapped aloft for nine hours, while the boat was buffeted by a heavy sea state. "The secured yacht would later lose their steering as well and ended up on a reef, but all crew were safely retrieved," added Moore.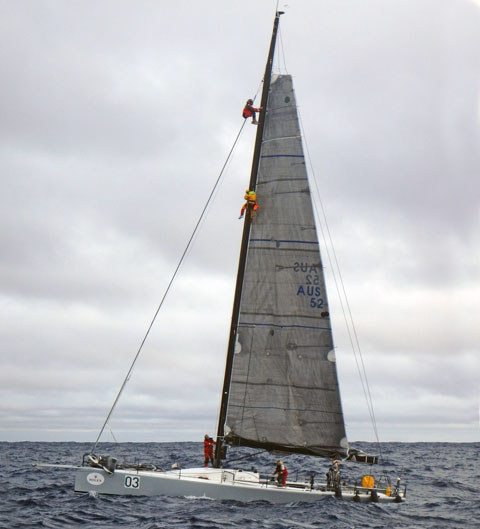 Receiving the award, Reid, who was born deaf, said: "It was just something I felt I had to do and am honoured to have been recognised for it. I can't believe I have completed my circumnavigation; it's a bit of a whirlwind."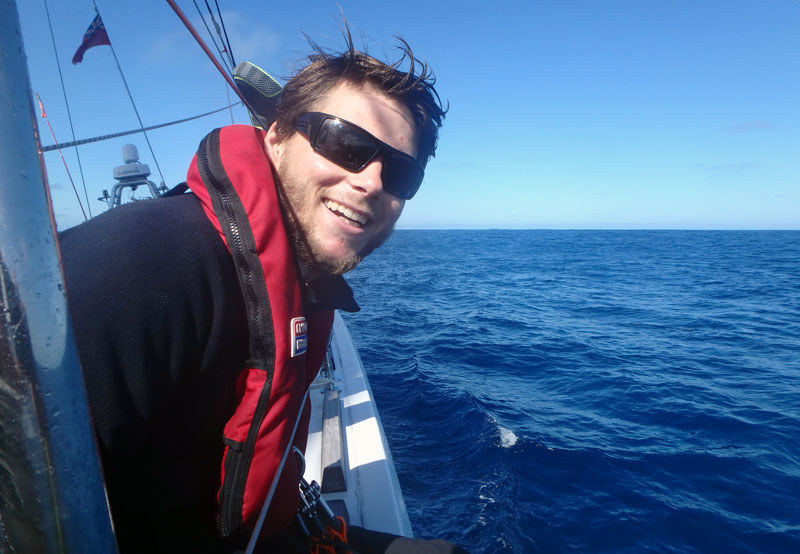 If you're like us, your phones are strangely silent when it comes to calls to crew on Volvo Ocean Race teams, but recruitment is already underway for pay-to-play amateur crew in the Clipper Race 2017-18 edition. For your chance to be a hero, or simply to dip deep into your bucket list, see www.clipperroundtheworld.com.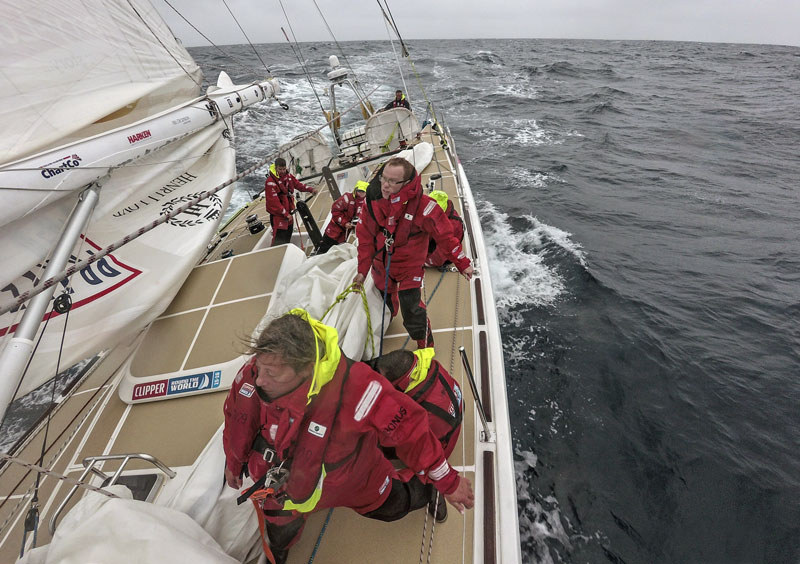 Receive emails when 'Lectronic Latitude is updated.
SUBSCRIBE