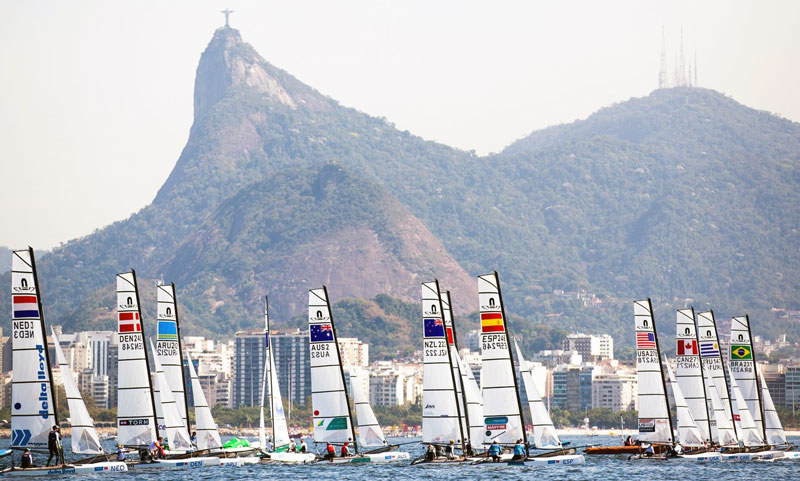 The 2016 Rio Olympic Games will begin on Wednesday, August 3, and run through August 21. Sailing is scheduled to start next Monday, August 8. Guanabara Bay — a spectacular venue if one doesn't look too closely at the water — will provide the setting for the sailing events. Troubles continued over the weekend, when a ramp at Marina da Gloria used to launch the boats collapsed in waves whipped up by a storm and high tides. The Olympic Committee insists that the damage won't affect the sailors, as another ramp is available.
Each of the 10 classes that sail at the Olympic Games will compete in a series of 10-12 qualifying races that use a low-point scoring system. Then the 10 lowest-scoring competitors will compete in Medal Races on August 14-18 near shore in view of spectators. Double points will be awarded and added to each competitor's cumulative score, the winner being the sailor with the lowest total points.
We'd guess that the majority of our readers will not be be able to watch in person, but will be able to follow the races via streaming online coverage. The boats will be fitted with satellite trackers. A smartphone app is available; NBC, including its family of cable channels, has the TV rights. If you are actually going to Rio to watch the Games, tickets are available online here. Crime, terror threats and Zika virus aside, good luck with the traffic!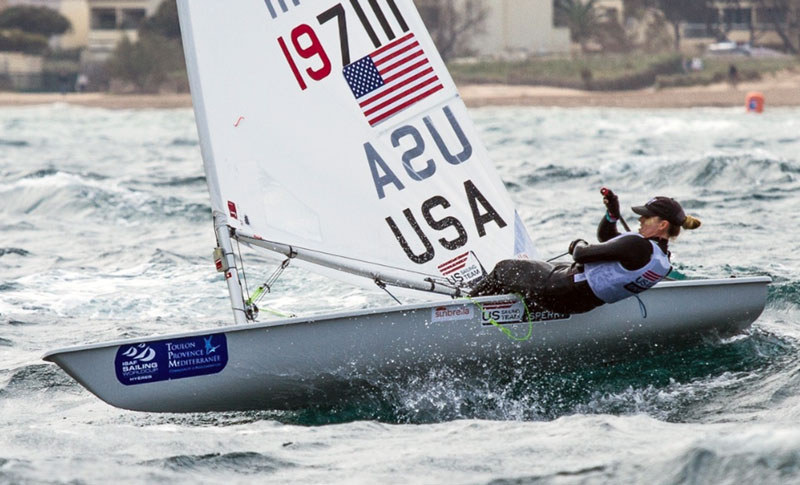 A total of 270 sailors from 62 countries will compete in the Olympics in five men's classes, four women's classes, and one coed class.
470 (men's and women's two-person dinghy): A 4.7-meter boat used for men's and women's competitions. Stu McNay and Dave Hughes will represent the USA in the men's 470; Annie Haeger and Briana Provancha in the women's.
49er (men's skiff): The twin-trapeze high-performance skiff is 5 meters long, very fast, and prone to capsizing in strong winds. Thomas Barrows and Joe Morris.
49erFX (women's skiff): The 49erFX carries a shorter mast and less sail area than the 49er. Paris Henken and Helena Scutt.
Finn (men's one-person dinghy, heavy): Used in Olympic competition since 1952. Caleb Paine.
Laser (men's one-person dinghy): The most popular one-person sailing dinghy in the world is relatively simple but requires great fitness and agility. Charlie Buckingham.
Laser Radial (women's one-person dinghy): The Laser Radial uses the same hull as the Laser, but sets its single sail on a shorter mast. Paige Railey.
Nacra 17 (mixed multihull): This catamaran, new for 2016, sports wave-piercing hulls and is the first class requiring that one of its crew be male and the other female. Bora Gulari and Louisa Chafee.
RS: X (men's and women's windsurfer): These boards have a carbon rig and centerboard and different sail sizes for men's and women's events.

Marion Lepert;

Pedro Pascual (at age 19, the youngest member of the team).
For more details about the sailors, see our May 25 story about the team roster.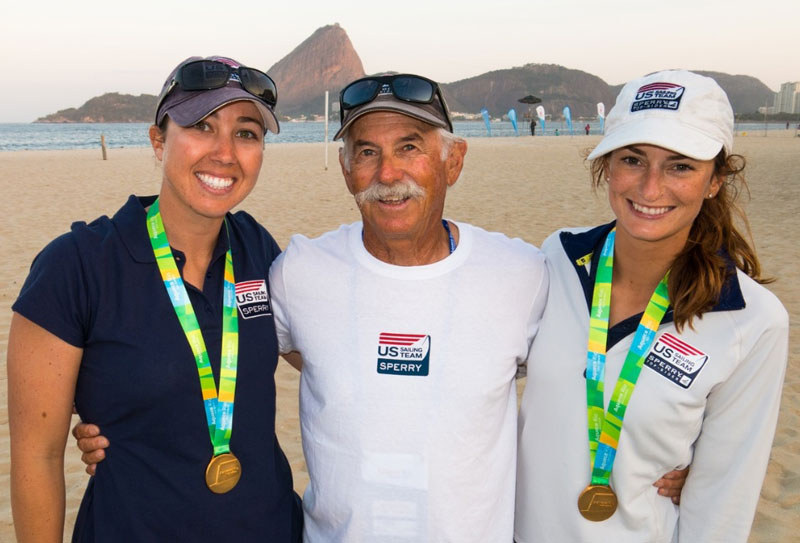 London 2012 marked the first time the United States did not win a single medal in Olympic sailing. However Jen French, 41, a quadriplegic, and her crew Jean-Paul Creignou, 57 who's legally blind, won the silver medal for the USA in the Skud 18 class at the Paralympic Games. The most Olympic sailing medals in the history of the sport were won by the United States (59), but the Brits hold the edge in the number of gold medals awarded (26).
Much of the information above is culled from a guide at www.boats.com/on-the-water/news-and-events. Also see www.sailing.org/olympics/rio2016. For a beautifully-produced streaming documentary/guide called Uncharted Waters, see http://uncharted.sunbrella.com.
Because some Pacific Cup entries were still finishing last week as we went to press with the August issue of Latitude 38, it was a high-stress scramble for us to put together the race overview that appears within the magazine.
We think it's a pretty good recap of the event. But due to time constraints, we weren't able to gather as many personal anecdotes from competitors as we might have, given more time. So, as a follow-up in our September issue, we'd like to revisit the event through the most memorable experiences of individual racers.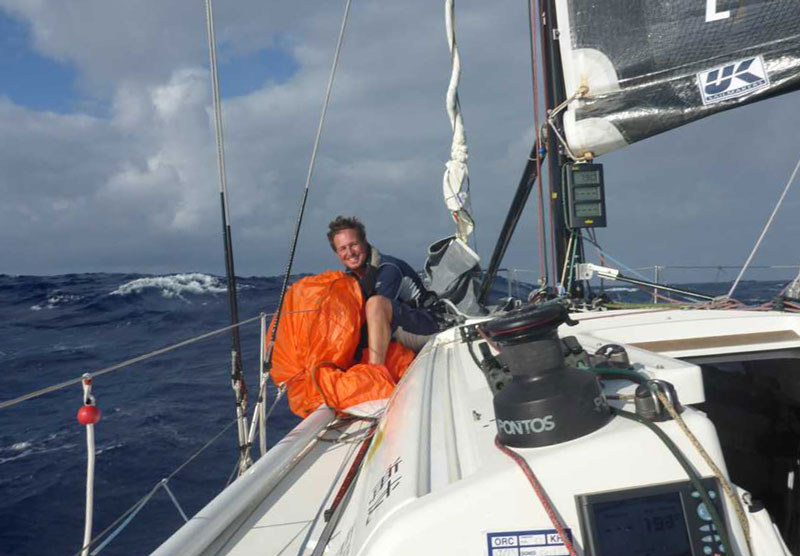 If you did the race, consider this an invitation to send us brief write-ups of either high or low points of your crossing experience, and a few of your favorite photos from the race (in medium to high resolution). We'd love to hear more of the details behind both winning and losing campaigns. Please email here.
With the Pacific Cup, Singlehanded TransPac and Vic-Maui races all going on at the same time, the focus of 'Lectronic has been acutely focused on offshore racing lately. Meanwhile, plenty of other notable nautical stories have been quietly taking place with little fanfare.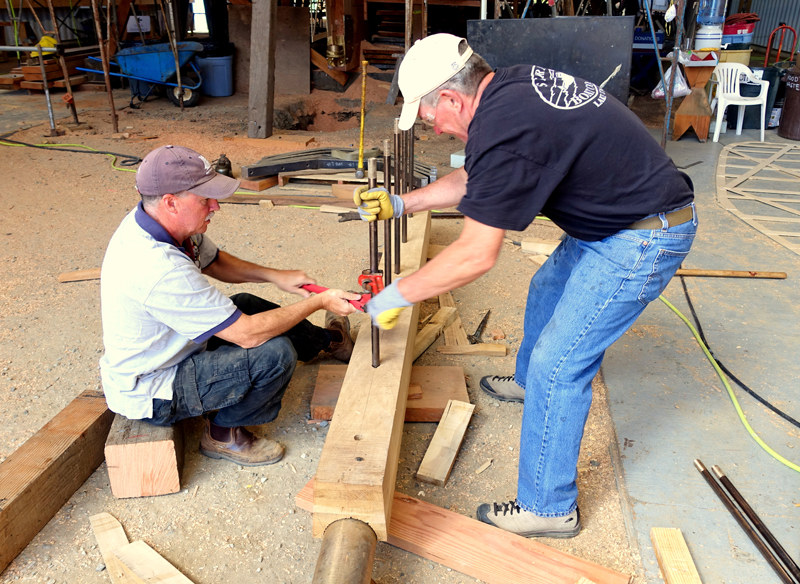 A case in point was the installation of the ultra-beefy rudder into the Matthew Turner tall ship, which is currently being built in Sausalito, largely by skilled volunteers.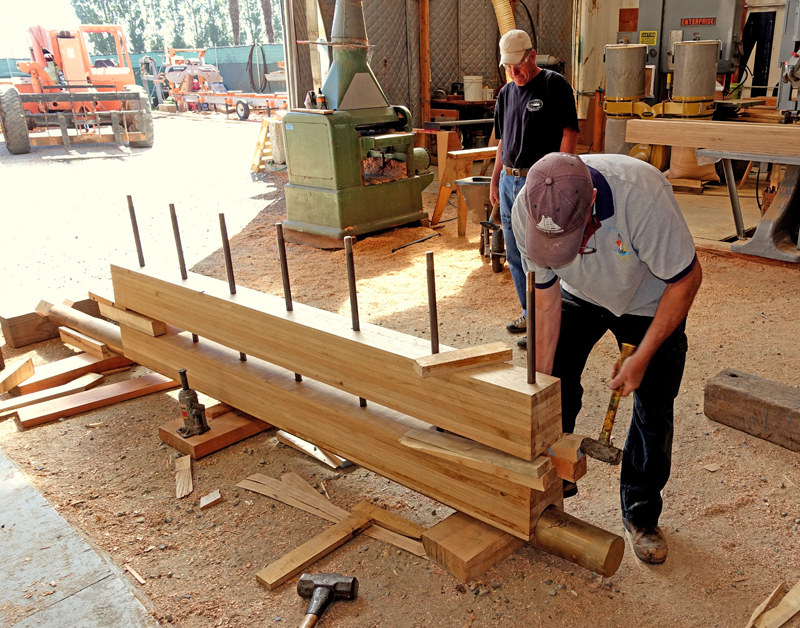 It's often said that the Turner should last at least 100 years. And judging by the way her rudder was constructed, it will probably endure that long as well. According to lead shipwright Franz Baichl, she is built from, "all solid oak planks, laminated together with a cold-molded skin, then three layers of 15-oz fiberglass cloth all around it."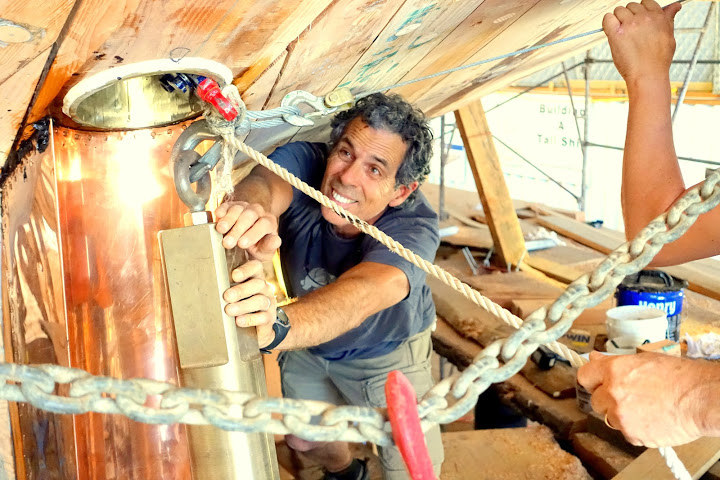 For more on the project, including how you can get involved, see this link.
Receive emails when 'Lectronic Latitude is updated.
SUBSCRIBE