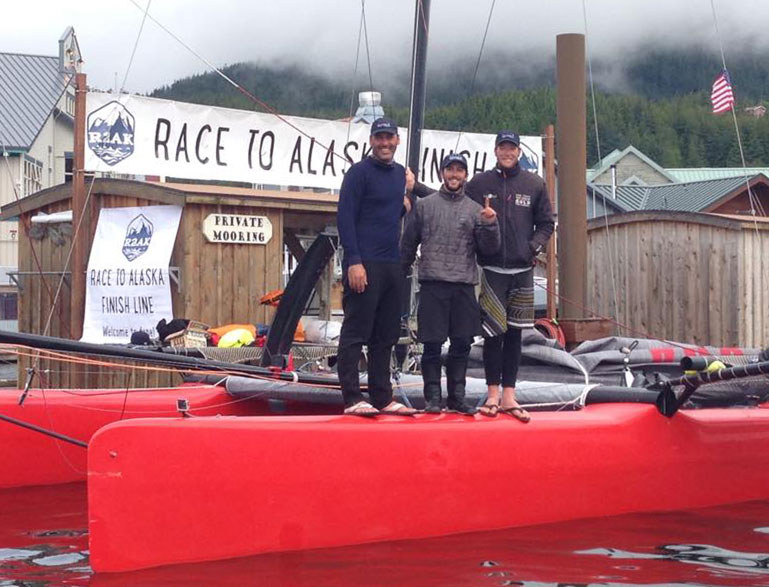 While much of the fleet is still on the Inside Passage between Vancouver Island and mainland Canada, Randy Miller and his small crew aboard the Bay Area-based Marstrom 32 catamaran MAD Dog Racing (aka Miller Racing) have been in Ketchikan for more than a day, having thoroughly crushed the fleet in the second Race to Alaska. Completing the sweep that saw them claim resounding wire-to-wire victories in both legs of this unique race, Team MAD Dog Racing kept their foot on the throttle until the bitter end to lower the course record to an incredible 3 days, 20 hours and 13 minutes. Without stopping for rest or even to take care of bodily functions, the team that consisted of owner Randy Miller and crew Colin Dunphy and Ian Andrewes sailed into Ketchikan and into the record books just after 7 a.m. local time Thursday morning, still clocking boat speeds well into the 20s upon their approach to the finish. Besides claiming the historic victory, the boys have also earned a cool 10 grand for their efforts.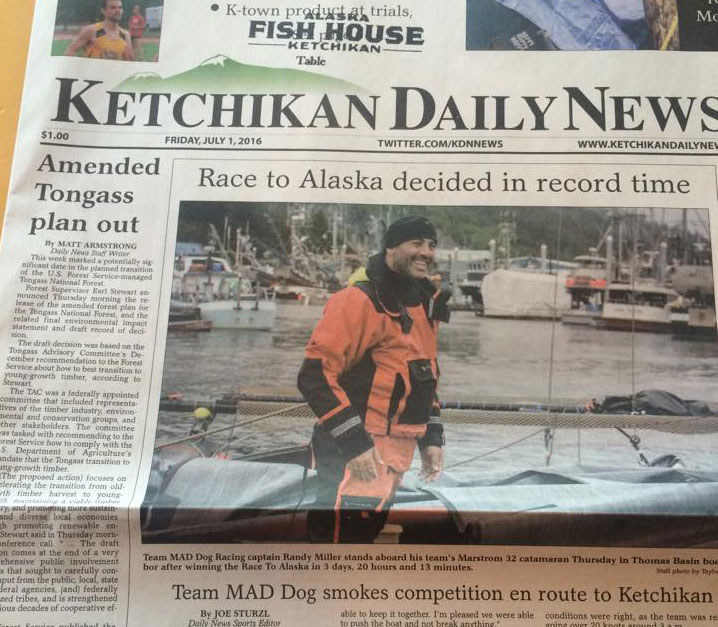 Winners of second place, top monohull bragging rights and a highly coveted set of R2AK steak knives is none other than Team Skiff Sailing Foundation Jungle Kitty. Sailing the one-off Fox 44 Ocelot — which was formerly based in Alameda — the team overcame many problems and nearly turned back to Seattle during a mainsail-reefing exercise gone awry, but persevered to claim the runner-up position. Behind the big, bad jungle kitty, the fleet is now sailing in fast downwind conditions with boats beginning to arrive in Ketchikan en masse. After seeing mostly light air on the nose that required boats to short-tack their way through narrow passages, anchor to wait out light airs and foul currents, and even resorting to rowing, boatspeeds and crews' morale have soared with the arrival of this weak summer-time low and the southerlies that come with it.
Another Bay Area entry, Mark Eastham's F-31 trimaran It Ain't Brain Surgery, aka Ma's Rover, is moving along well and is past the second waypoint and beginning to approach the finish. The team should manage to earn a top-10 place in this demanding race. There's still plenty of action to come, so continue to follow the Race to Alaska and their excellent tracker, news updates and entertaining writing as they continue to take a unique approach to creating and running a yacht race. Strictly speculation, but just like the Singlehanded Sailing Society's hugely successful and often-copied Three Bridge Fiasco, the Race to Alaska seems sure to inspire other similar races in different regions. Got a great idea for an R2AK-themed race? We'd love to hear about it.
Receive emails when 'Lectronic Latitude is updated.
SUBSCRIBE