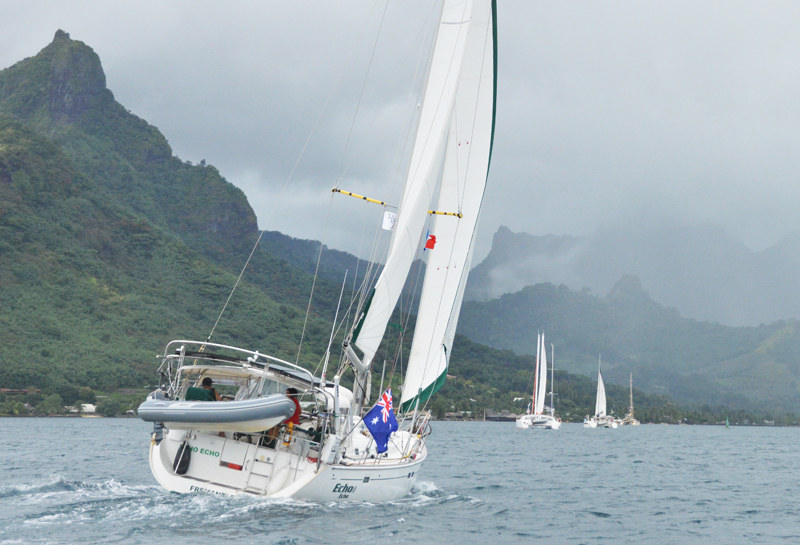 Roughly 200 sailors from a dozen countries are feeling a bit more connected to their Polynesian hosts this morning, after participating in the Tahiti-Moorea Sailing Rendez-vous. Now in its 11th year, the three-day event serves as a forum for visiting cruisers to celebrate their successful passages to the islands — 3,000 miles nonstop from Mexico or 4,000 miles from Panama — while being introduced to highly revered elements of Polynesian music, dance, sport and cuisine.
With 66 boats attending, this was the largest Rendez-vous fleet ever, and the event had the largest contingent yet of sponsoring partners who flew in from New Zealand, Fiji and Australia to share info on the services and attractions of their cruising destinations.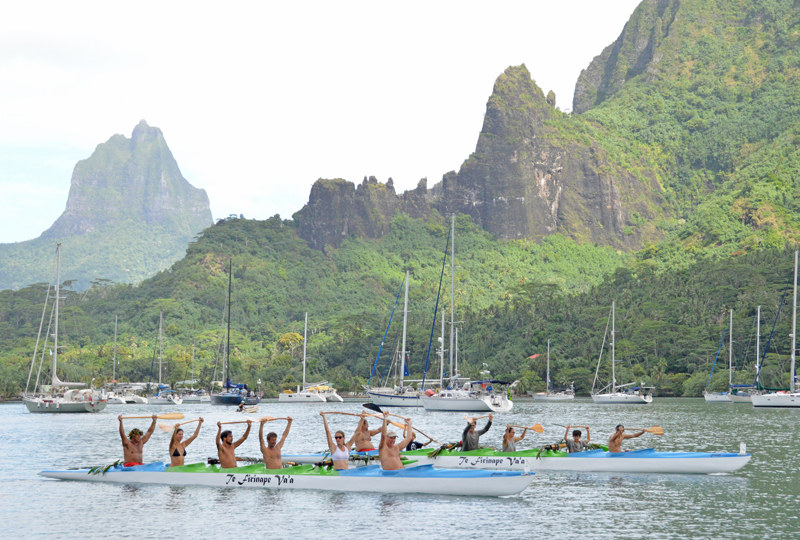 As in years past, the fun began with a detailed chart briefing on cruising Tahiti and her islands by our longtime partner Stephanie Betz — who organizes the entire event. A hearty welcome by Minister of Tourism Jean-Christophe Bouissou was followed by a blessing of the fleet, a high-energy dance performance by a troupe of heavily tattooed Marquesans, and a cocktail party where old friends and new acquaintances swapped cruising tales.
Sadly, winds were too light and fluky Saturday morning to run the usual race to Moorea, but the vagaries of wind and weather are well known to these sailors. Afternoon and evening activities included a cocktail schmooze and a brilliant music and dance show that included traditional fire dancers.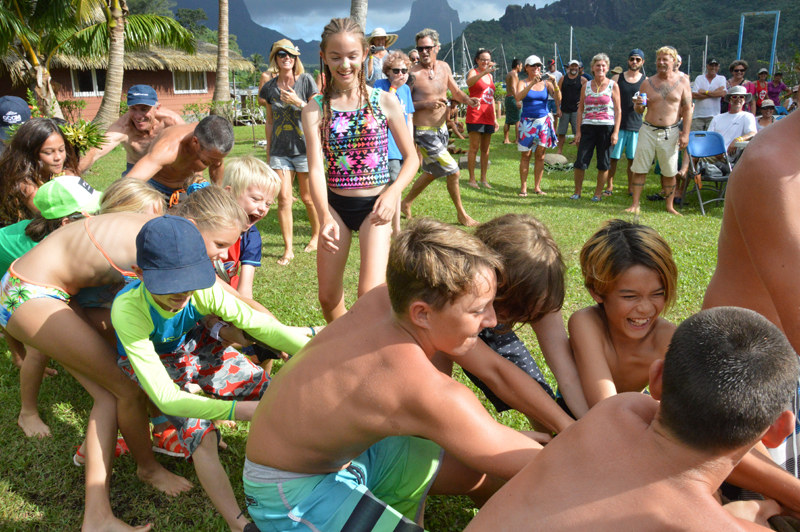 As always, the highlight of Sunday's activities was the six-person outrigger canoe racing on the lagoon for kids and adults alike. Other traditional sports contests included the fruit-carrier's race, tug-of-war, stone lifting and coconut husking.
A traditional 'ma'a' luncheon introduced the sailors to a wide assortment of island favorites such as sashimi, poisson cru (Polynesian ceviche), poi, taro, roast pork, and island-grown pineapple.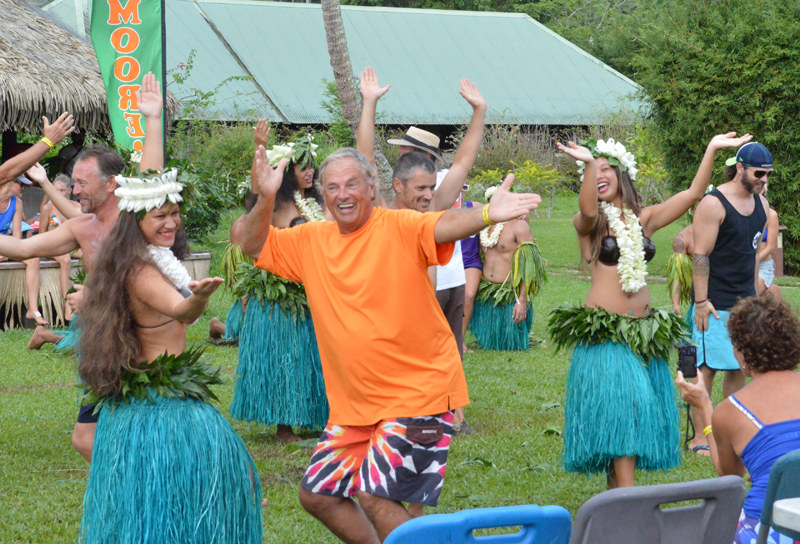 Needless to say, it was all big fun, while giving attending cruisers a greater appreciation and understanding of their island hosts. Read more about the Rendez-vous in the August edition of Latitude 38 magazine. And look for our Pacific Puddle Jump recap article in September, complete with crossing data and cruiser comments.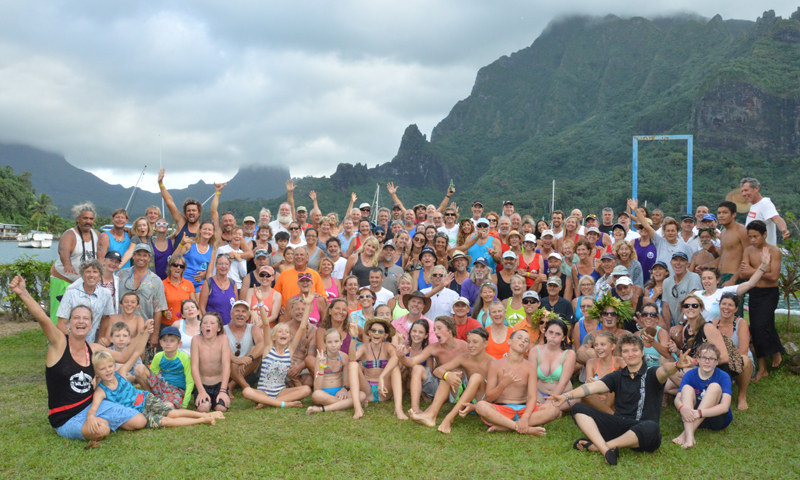 Developer Bay West hasn't submitted final plans to the City of Alameda for its vision for Alameda Marina, but has been discussing updated designs with community groups through community advisory meetings. "The news is not good. The multiple meetings that Bay West held with their stakeholders has resulted in a bubble concept that is not much of an improvement over their original pictures we saw on their website that showed houses throughout the property after they planned to bulldoze all of the buildings," says Nancy Hird, a leader of the Save Alameda's Working Waterfront community group.
Tenants report that Bay West has raised slip fees by 30% beginning July 1, and rates have also gone up for dry-docked boats. Many commercial tenants haven't received promised new short 18-month leases, in many cases for considerably less space than they currently have. Short leases are a particular concern for DOER Marine which needs a longer lease to bid grants for government and scientific projects.
The new designs that are being discussed show a commercial area (in purple on the designs) that allows for 150,000-sq-ft commercial space to house commercial, maritime, office and retail space. Space for dry-docked boats drops from 300 to 50-75. Bay West explained that it was allocating those for sailboats, with the priority going to Alameda-based owners. To conserve space, mules would replace vehicle access. "Bay West thinks the fact that only 24% of the boaters using slips and spaces are Alamedans is reason to classify the other 76% as second-class citizens even though they spend their money and pay sales taxes in Alameda like everyone who lives here — using fewer infrastructure resources in the process," says Hird. "To SAWW's way of thinking, this statistic illustrates the importance of Alameda Marina as a regional asset."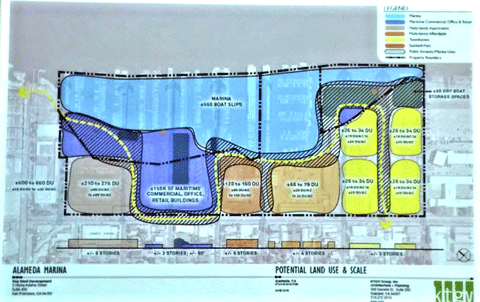 As expected, the bulk of the property would be housing – referred to in the designs as Dwelling Units. "The total number of units — 500-650 — indicates they expect to use Density Bonus Laws to inflate the 396 units that the city originally thought appropriate for the site," says Hird.
John Jourdane will address Bay Area racers at the Yacht Racing Association's first YRA Social of the year, to be hosted by Encinal Yacht Club in Alameda this Wednesday, June 29 at 7 p.m.
Over the past 50 years, Jourdane has sailed more than 300,000 miles. He has made the passage between the West Coast and Hawaii 53 times, crossed the Atlantic Ocean 12 times, and circumnavigated the earth three times, including twice in the Whitbread Round the World Race.
Voted Best Racing Navigator in the World by Yachting magazine in 1993, he is the author of two books, Icebergs, Port and Starboard and Sailing with Scoundrels and Kings. His books will be available for purchase at the event.
Tickets are $15 per person. Click here to register.
Receive emails when 'Lectronic Latitude is updated.
SUBSCRIBE