As regular readers know, in recent years Bahia de Caraquez, Ecuador, has become an important stopover point for international cruisers, many of whom leave their boats in the secure marina there while they enjoy a stint of inland touring to such 'bucket list' sites as Machu Picchu and Cuzco, Peru.
As reported earlier, the area of Ecuador where this well-protected bay lies was rocked by a devastating 7.8-magnitude earthquake on April 16, followed by at least two smaller quakes and an untold number of aftershocks, which left the whole region looking like a war zone, with many citizens so rattled they were reportedly afraid to be inside buildings for weeks after the temblors.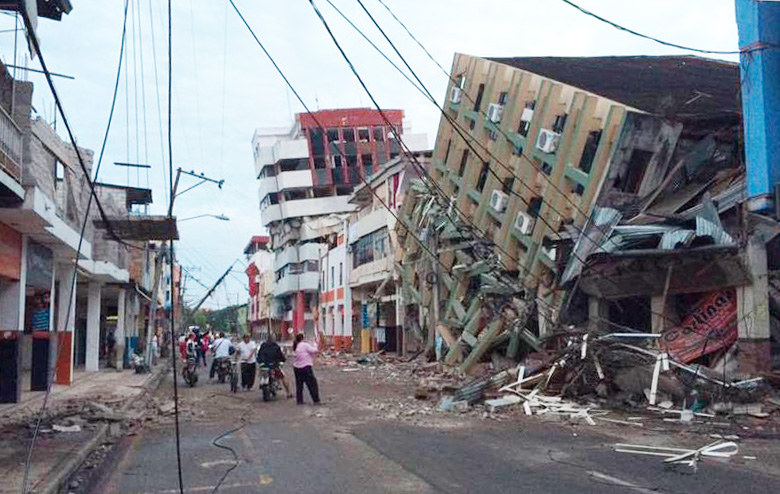 But today there's good news from Bahia Caraquez: Solo singlehander Jeff Hartjoy, who completed his nonstop lap around the planet there two weeks ago, reports: "We can already see the beginning of Bahia coming back with new construction occurring right behind the demolition of damaged buildings.
"Puerto Amistad [marina] has reopened with a new owner, yet most of the old staff whom we like very much are still here. The good news is the cost of moorage has been reduced by almost $100 [per month] … the dinner meal costs have been reduced by $2 each, and the cost of a 22-oz. beer is just $2.
"Of course, Bahia has a long way to go to get housing for everyone, yet we believe it will all happen over the next 5 years. We also want cruisers to be aware that we feel it is very safe here, and security for boats left here while you return to US or Canada, or travel inland, is very good."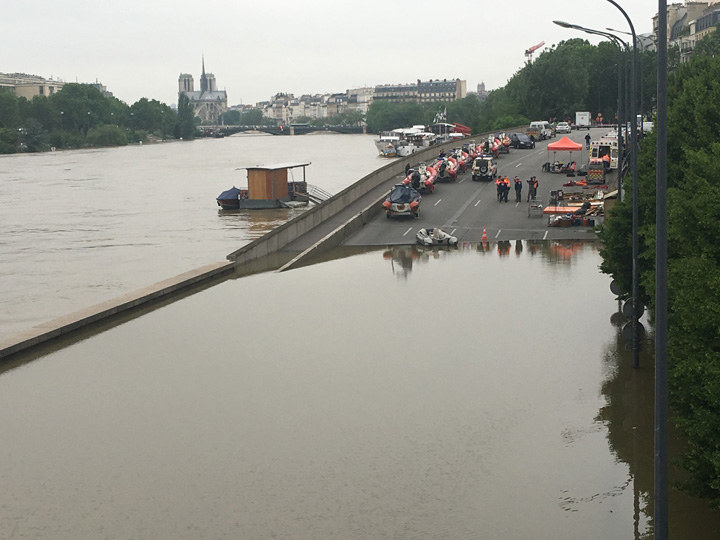 Normally you wouldn't worry about weather's being a factor in sticking to a boat schedule — commercial or private — on the canals and rivers of France. But as anybody with a boat or commercial barge on the Seine, Marne and other rivers that feed into the Seine can tell you, these aren't ordinary weather times.
After a brief spell of wonderfully warm weather, spring in Paris — and upriver — has consisted of either heavy rain and/or overcast. It seems as though the Wanderer and de Mallorca on Majestic Dalat haven't seen much more than three hours of sun in three weeks. And it's often been very cold — as in the low 40s at night and oftentimes not much warmer during the day.
But the continued heavy rain has been the devastating thing. As we write this on Friday afternoon, the Seine is running 20 feet over its normal height. This means the current flood conditions are tied for the fifth highest in recorded history, and not that many feet from the highest ever, which was back in 1910.
The result is the main thoroughfares that run along the Seine are up to 10 feet underwater. So are the lower embankments, used by so many for sitting in the sun, walking, biking, and making out. The many restaurant barges tied up along the Seine? All of them are inaccessible. You can't get to the many tour boats either, and even if you could, the river is so high that they wouldn't fit under the bridges.
Majestic Dalat is tied up to a floating dock in the Arsenal Marina just to the west of L'île Saint-Louis. Five days ago we took Greg Dorland and Debbie Macrorie of the Squaw Valley-based Catana 52 Escapade for a tour of Paris on our boat. In order to do that, we had to use the lock to lower our boat about 12 feet to the normal level of the Seine. And 12 feet up to get back into the Arsenal Marina.
Since then, the Seine has risen 20 feet, not only making it the same level as the water in the marina, but flooding it and then making it even higher.
As if that weren't bad enough, some numbskull at the helm of a big tour boat rammed one of the brand new gates on the lock, something that will apparently take weeks to fix.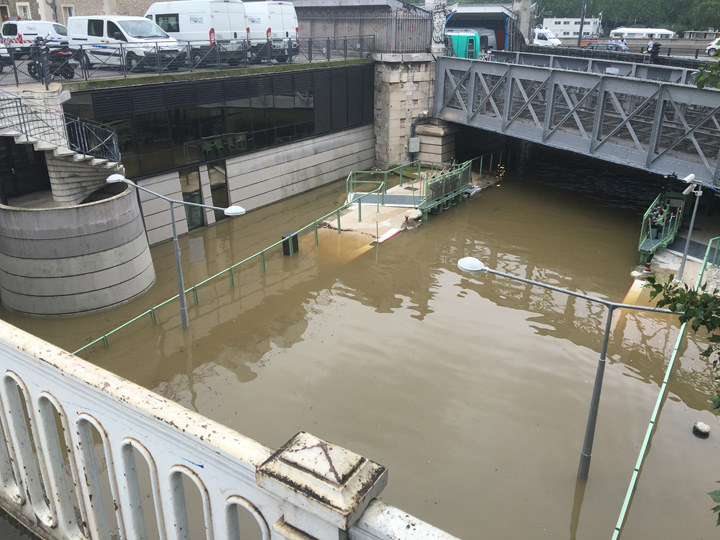 Majestic Dalat and the other 200 or so boats tied up to the floating docks in the Arsenal are fine — assuming that the river doesn't rise another four feet or so, which would have all the floating docks floating over the pilings. But the wide walkways around the marina are covered in three to six feet of water, so the terrific marina staff has had to build temporary bridges from the floating docks to the ladders that go up to street level. But the unisex bathrooms — male, female, transgender, whatever — on our side of the marina have been sealed in an attempt to keep the water from inundating them with about four feet of water.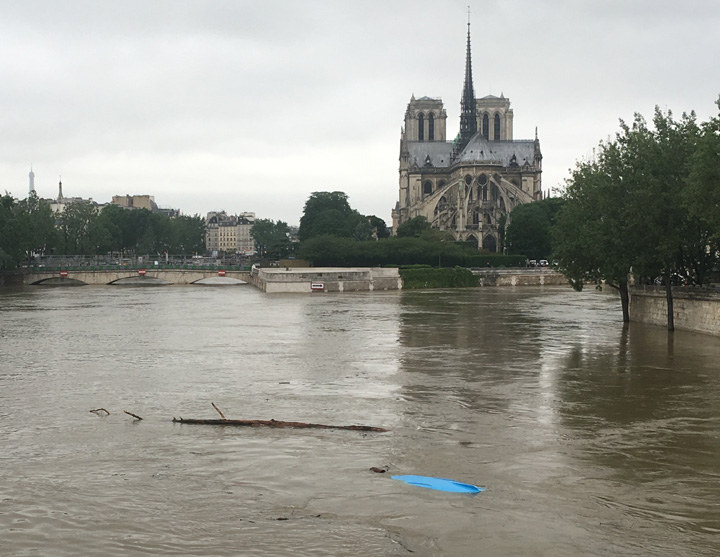 Even if the river starts going down fairly quickly, we don't imagine operations on the Seine and Marne are going to get back to normal anytime soon. Right now the current on the river is ferocious, and even if the Fluvial Police didn't prevent you from going on the river, it would be suicidal. Then there is the matter of all the debris coming downstream. All you need is a little bit of it to jam the lock doors and the lock is out of operation until a diver can come and clear it out. If that weren't enough, all the locks and lock motors are submerged, so it's unclear how long it's going to be before they are operational. And remember, it just takes one inoperable lock to clog up the whole canal/river system. Once the river system becomes operational, commercial traffic has absolute priority, and they are all way behind schedule.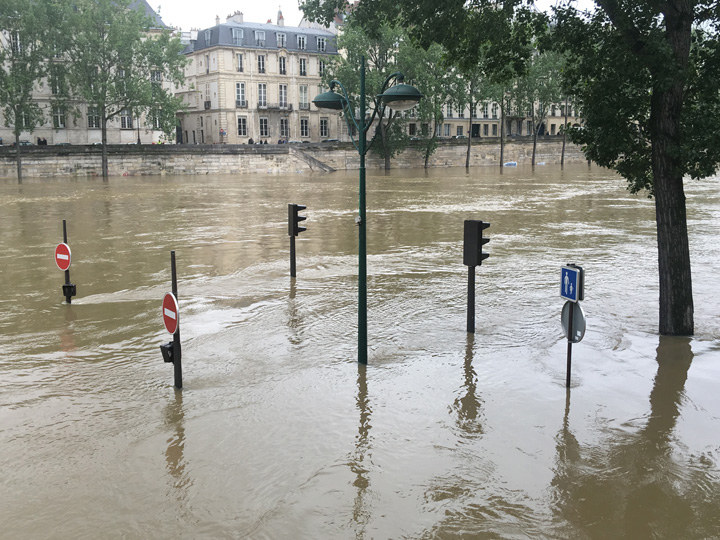 The bottom line is if you're coming over to your canal boat in northern France, or if you've booked one of those boat-and-bike tours, or a cruise on a big river boat, don't expect to be able to stick to any previous schedule. Whatever was planned isn't going to happen soon.
While the Wanderer and de Mallorca would prefer that it was sunny and we could be on our way to Switzerland, we're counting our blessings. After all, we're 'stuck' in Paris, as great a place as there is in the world to be stuck — provided ISIS doesn't start blowing up crowds of people when the Euro Cup starts on June 10.
Receive emails when 'Lectronic Latitude is updated.
SUBSCRIBE