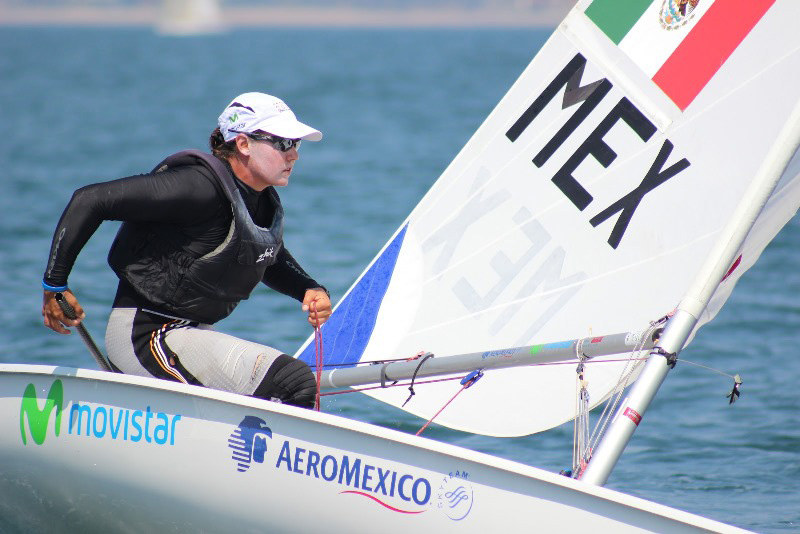 We agree that it's a very audacious goal to singlehand a 130-pound boat 2,500 miles from California to Hawaii. But perhaps just a little less audacious the more you know about it.
Sailing from California to Hawaii is the goal of 37-year-old Mexican sailor Tania Elias Calles, for whom sailing has been a passion since she was 10 years old. Her original dream was to win an Olympic medal. While she didn't win a medal, she participated in four Olympics and became ranked #1 in the world. She retired from Olympic competition four years ago. Tania does hold a Guinness World Record — for singlehanding a Laser the longest distance, from Cabo San Lucas to Puerto Vallarta in 2010.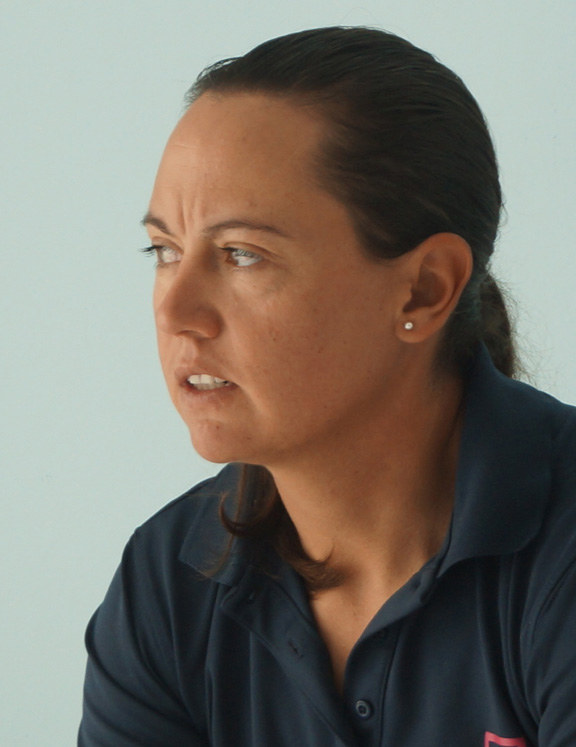 Her new goal is to participate in the Vendée Globe, a singlehanded around-the-world race, in 2020. "Participating in such a global event requires large fund sponsors," says Tania, "and in order to attract them I need to generate international media exposure and create a personal brand attractive to them. To achieve this, I decided to make history in the most dangerous and demanding adventure — sailing a 14-ft Laser from California to Hawaii, a distance eight times longer than when I established my current record in 2010."
Based on her previous experience, Tania figures it will take her about 20 days. How do you sleep on a Laser? See the accompanying photograph.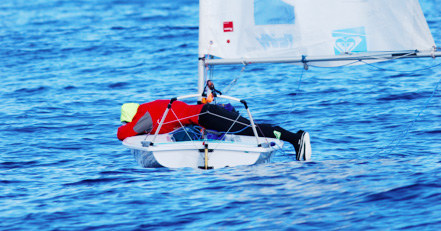 Perhaps to prove she's not completely crazy, Tania will have a boat follow her the entire way to monitor her health and provide medical assistance if necessary. She plans to set sail next summer (2017).
To put her proposed voyage in context, Carlos Aragon, also of Mexico, singlehanded from Mexico to the Marquesas, an even longer distance than from Mexico to Hawaii, in a Finn. That boat is 14 feet, 9 inches, and weighs 236 pounds. The Laser is 13 feet, 9 inches, and weighs a little more than half as much.
To further put things in context, sailors have made incredible voyages in boats smaller than a Laser. For example, in 1968 Hugo Vihlen sailed his 6-ft-long April Fool from Casablanca, Africa, to Miami. In 1989, Kenichi Horie sailed his 19-ft 6-in Mermaid from San Francisco to Japan. And from 1984 to 1987, Serge Testa, a former resident of Berkeley, sailed his 12-ft Acrohc Australis all the way around the world.
If we're not mistaken, the difference between those even smaller boats and Tania's Laser is that they offered at least a tiny bit of protection from the elements.
Tania believes that she needs $150,000 to achieve her goal, and to date has raised 29% of that. If you'd like to be a contributor, visit this site.
It goes without saying that risks to life and limb — as well as to boats — are inherent in yacht racing. That fact was clearly illustrated last Saturday during the annual Master Mariners Regatta, when the 82-ft stays'l schooner Seaward and the Lapworth 36 Papoose collided during the third leg of the race.
Seaward's bobstay reportedly struck the windward rail of Papoose's aft quarter and the schooner's bowsprit hooked the Lapworth's backstay, pulling its mast down and snapping Seaward's bowsprit. It was a miracle that no one got seriously injured — or worse.
Although the two boats were sailing in roughly the same direction, Papoose was sailing a higher angle. Skipper Allen Edwards assures us that he was not trying to cross in front of the big schooner, but was on an unaltering course to Blackaller buoy. Tragically, it was only seconds before impact when his crew saw the big schooner approaching.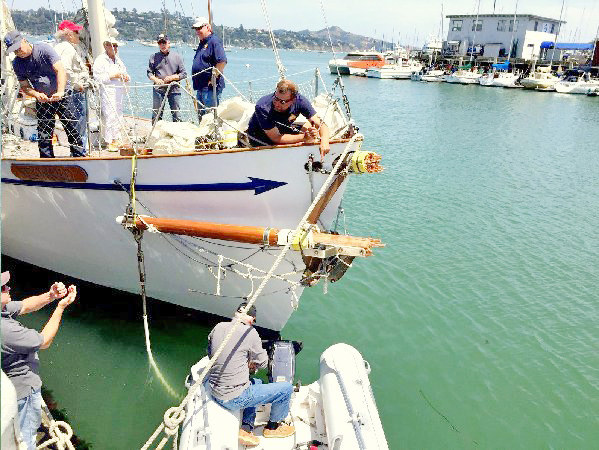 Of all the boats in this vintage fleet, Seaward is probably the last one you'd want to collide with, as her steel hull would surely be unforgiving. Thankfully, though, her wooden sprit took the brunt of the impact — one of the 'softer' parts of her structure and rigging.
As frequent crewman Woody Skoriak explains, once back at the dock skipper Alan Olson wasted no time in facilitating repairs. He took it straight to the build site of the 100-ft brigantine Matthew Turner (Olson's brainchild), where several construction volunteers were just about to close up shop for the day. "But they looked at the damaged remains, picked up some wood, cut and shaped it, and by 7 p.m. Saturday they had a new bowsprit glued up." By the time you read this it should be finished.
We don't know the status of Papoose's splintered mast, but we assume skipper Edwards will repair or replace it as soon as possible, as his classic woodie is one of a small fleet of L-36s that are highly prized on San Francisco Bay. We wish him the best of luck, and hope to see both boats out sailing the Bay again very soon.
Look for our complete recap of MMR in the July issue of Latitude 38 magazine.
Ad: Westwind Boat Detailing
Receive emails when 'Lectronic Latitude is updated.
SUBSCRIBE