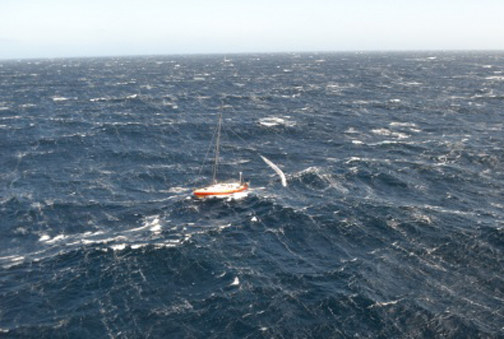 Conditions off the Central California coast Monday morning were rough and rowdy, with 40- to 50-knot winds reported, accompanied by 15- to 20-ft waves. Unfortunately, the Peterson-designed one-tonner Kentucky Woman was out in it, with only one as-yet-unidentified crew aboard.
After battling with incoming water for 16 hours, and coping with a shredded mainsail, the skipper called for rescue at 7 a.m. Monday via his SPOT Satellite Messenger, which sent a mayday message — similar to that of an EPIRB — to SAR (Search and Rescue) resources. Due to damage aboard, the sloop's radio had become unusable.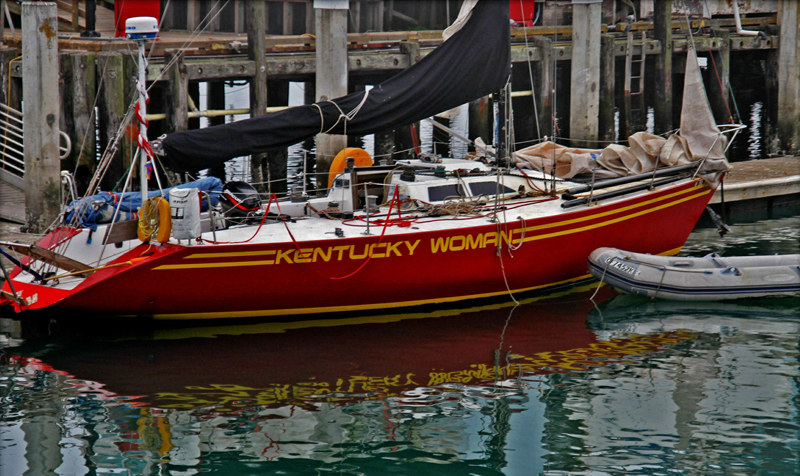 According to the Coast Guard, an air rescue helicopter was launched at 7:31 a.m. and its crew located the red-hulled vessel 40 minutes later, roughly 30 miles off Año Nuevo State Park (north of Santa Cruz), with the remnants of a sail flying from its masthead. A rescue swimmer was lowered near the hull and climbed aboard. But because the mast was intact, both the Guardsman and the solo sailor had to jump in the roiling water before they could be hoisted to safety. The boat was left to drift.

Precarious rescues like this are all in a day's work for Coast Guard rescue crew.
Video courtesy US Coast Guard.
Sixty-eight-year-old Canadian sailor John Ridsdel, who'd been held captive in the southern Philippines since September by Abu Sayyaf militants, was beheaded Monday after the deadline for his ransom had passed. Canada, like the US, has a policy of not giving in to ransom requests for its citizens.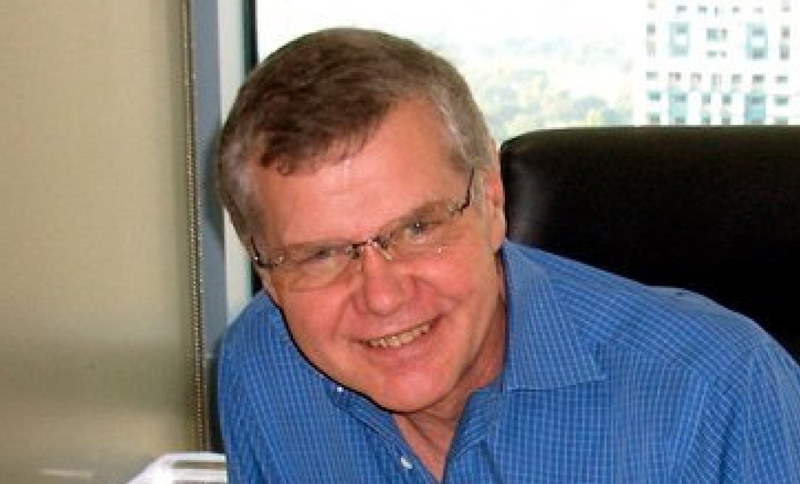 As reported last summer, Ridsdel was an avid sailor based in the Philippines, where he worked as a mining consultant for Calgary-based TVI Pacific. In his earlier life he had been an award-winning journalist.
Also kidnapped during the September 21, 2015 raid of the Holiday Oceanview Resort on Samal Island were Ridsdel's Filipina companion, Maritess Flor, 50-year-old Canadian sailor Robert Hall, and Norwegian sailor Kjartan Sekkingstad, who was reported to be a manager of the resort. It remains unclear if these individuals were specifically targeted, but that seems unlikely based on the descriptions of the chaotic nighttime incident.
Since the 1990s there have been occasional kidnappings for ransom by militants in the Southern Philippines. In 2014 the Philippine government signed a peace agreement with the Moro Islamic Liberation Front, the country's largest Muslim rebel group, but smaller groups in the southern portion of this 7,600-island nation, such as Abu Sayyaf, may be unaffiliated.
Monday night, two men on motorcycles dropped Ridsdel's head onto a town square on Jolo Island, shouting, "We will be back!"
Receive emails when 'Lectronic Latitude is updated.
SUBSCRIBE