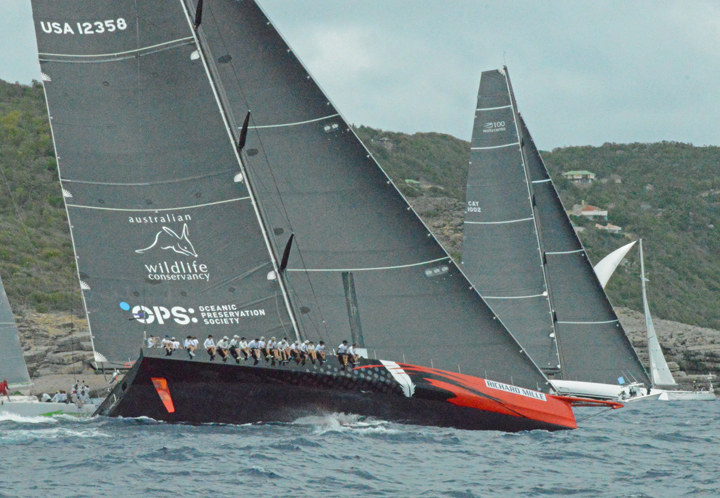 Although the wind was 8 knots short of the Caribbean norm of 20 knots, and there was a little more overcast than usual, the first race of the 7th annual Voiles de St. Barth started in competitive style.
The 60-boat fleet is a terrific mix that includes probably the fastest monohull in the world, the 100-ft VLVP Comanche, and perhaps the fastest non-America's Cup multihull in the world, the MOD70 Phaedo3. The entries in the two maxi divisions included a new Wally/Centro 100, a couple of big and nasty R/Ps, and a bunch of vets of the Volvo Ocean Race.
But the most competitive division of all was CSA 0, which featured a couple of completely black Ker designs and four TP52s. Thanks to the incredibly close racing, the TP Vesper, which is managed by Ken Keefe of KKMI in Sausalito, was named 'boat of the day'. After a course of something like 31 miles, Vesper nipped the TP52 Sorcha by less than a minute and the TP52 Spookie by only a few seconds more. Vesper had a little boat-to-boat contact at the leeward mark. "It was nothing serious and scared only the termites," said Keefe. It's hard to believe, but the eight-year-old, three-generations-old Vesper is made of wood. She's so old for a competitive racer that she collects Social Security.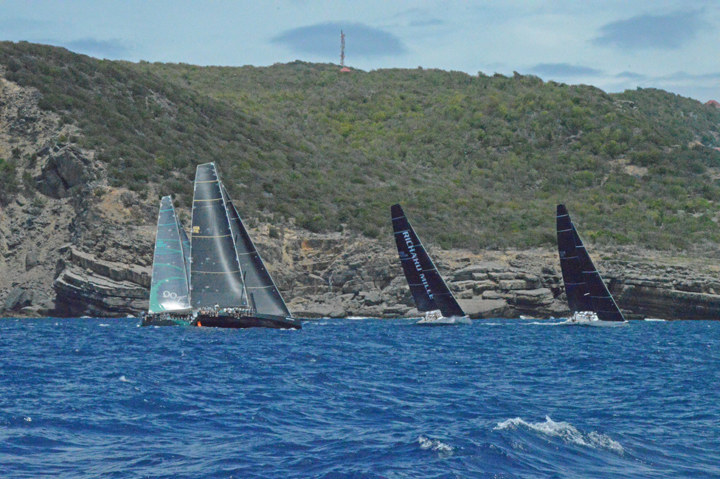 The lower divisions consist more of production boats; some carry spinnakers, some don't. One surprise was the second-place finish of Sir Bobby Velasquez's St. Martin-based Beneteau 45F5 L'Esperance. The boat almost always wins her non-spinnaker class. The boat actually consists of half hulls from two boats that were destroyed in a hurricane years ago and put together at Velasquez's marina to make a new boat.
Only four boats raced in the multihull class, but it was an interesting division. Lloyd Thornburg's Phaedo3, as expected, scorched the course and the class on elapsed time. However, corrected-time honors went to the ancient — 1970s — 35-ft trimaran Triple Jack, which beat the new Gunboat 60 Flow on elapsed time too.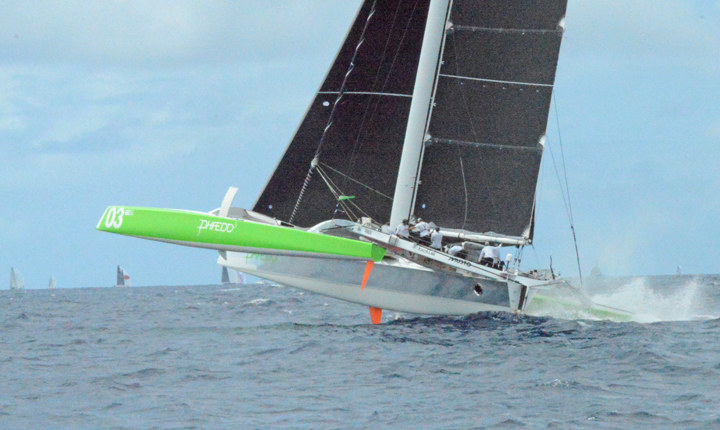 But the most interesting multihull was Greg Slyngstad's Bieker 53 cat Fujin. Sailing the day before in 22 knots of breeze, the 'fast cruiser' set a new speed record of 33 knots. Alas, the wind in the first race was a little too light to suit her.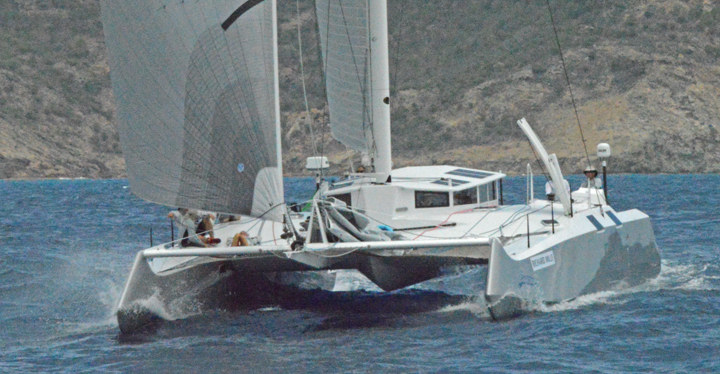 The wind could be a serious problem for the last three races. There is some breeze this morning, but the forecast for Friday and Saturday's race is for — this is unheard of in the Caribbean — 1-2 knots. Tonight is the wild crew party on Shell Beach, during which we expect there will be lots of 'wind dances' to conjure up the normal 20 knots.
Receive emails when 'Lectronic Latitude is updated.
SUBSCRIBE