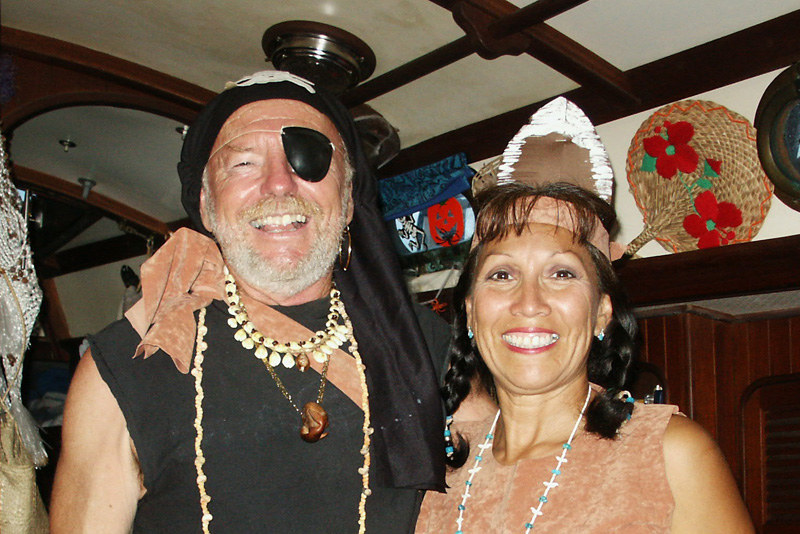 Think about the great variety of things you've done since last Halloween. Now picture 69-year-old sailor Jeff Hartjoy: He's spent the 164 days since that festive holiday offshore aboard his Washington state-based Baba 40 Sailors Run, singularly focused on singlehanding around the world nonstop and unassisted via the Five Great Capes.
Having begun his ambitious cruise from Bahia Caraquez, Ecuador, he's now less than 4,000 miles from crossing his track — coming down the home stretch, relative to the overall distance he's traveled already. Fortunately for Jeff, he possesses an upbeat, self-reliant disposition that leads him to jump in and confront every challenge with a 'get 'er done' attitude, rather than wasting time fretting belowdecks.
PHOTO
In addition to having to repair his genoa 'Patches' close to 50 times, and overcoming many other challenges, during the weekend he passed through a massive low with conditions that would scare the hell out of any typical fair-weather sailor.
"I'm waiting for the once-fast-moving low moving at 30 knots that is coming down from the NW, and it appears to be slowing down to 15 knots, and passing just above me, or on top of me," he wrote via HF radio email.
"Sailors Run has been my 'war horse' so many times on this voyage, and I feel my stomach muscles tense as she vaults off a huge wave and comes crashing down into the face of the next one; the mast shudders and the entire hull vibrates, and I wonder just how many times can she withstand this brutal punishment.
"I question myself: 'Is there not something I can do to ease Sailors Run's struggle? After two hours we are sailing due north and sometimes making 20-degrees of easting actually gaining some ground, but at what seems like a huge risk of catastrophic failure in the deteriorating circumstances. I run through the abandon ship drill in my mind: mayday call, get out quick bag, put on my Gumby suit [full immersion suit], deploy the life raft."
Yeah, not the sort of sailing that most of us would enjoy. Read more about Jeff's trip in the upcoming issue of Latitude 38. Jeff promises that he will eventually release a book on his trip.
Receive emails when 'Lectronic Latitude is updated.
SUBSCRIBE