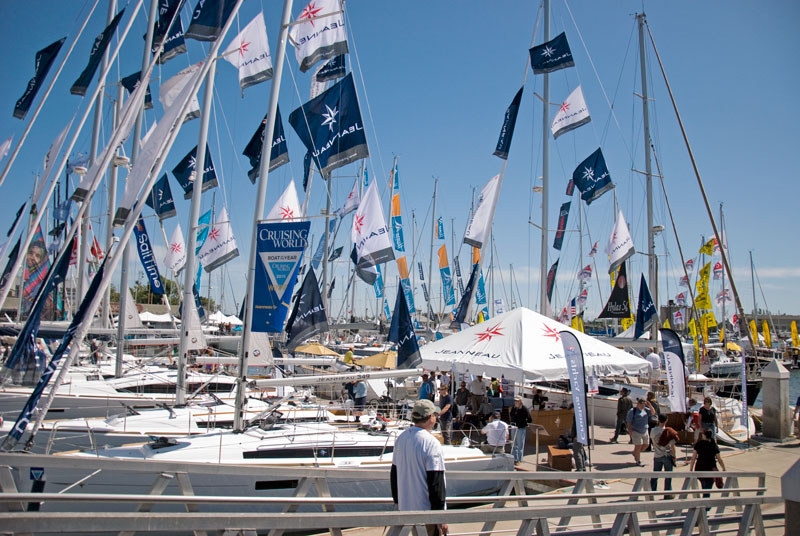 Even as we write this, a van full of Latitude 38 magazines, shirts and hats has just pulled out of our world headquarters in Mill Valley, destined for the Richmond Riviera. Latitude spokesmodel Crissy Fields is riding shotgun to supervise the set-up of our booth for Strictly Sail Pacific, which will start tomorrow and run through Sunday.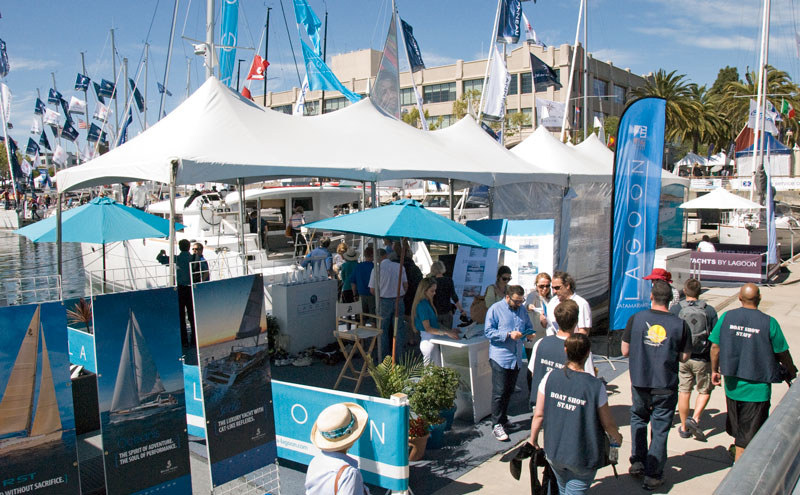 You'll find us in space #C1 in Richmond's Craneway Pavilion (the old Ford plant). Boats in the water will be on display in the neighboring Marina Bay Yacht Harbor. Andy Turpin, our managing editor, will present seminars on Baja Ha-Ha How-To (Friday the 8th at 1 p.m. and Saturday the 9th at 11:45 a.m.) and Cruising Tahiti and the Pacific Puddle Jump (Saturday at 1 p.m.). John Arndt, our associate publisher, will talk about Inspiring the Next Generation of Sailors, also on Saturday at 1 p.m. A complete seminar schedule can be found at www.strictlysailpacific.com.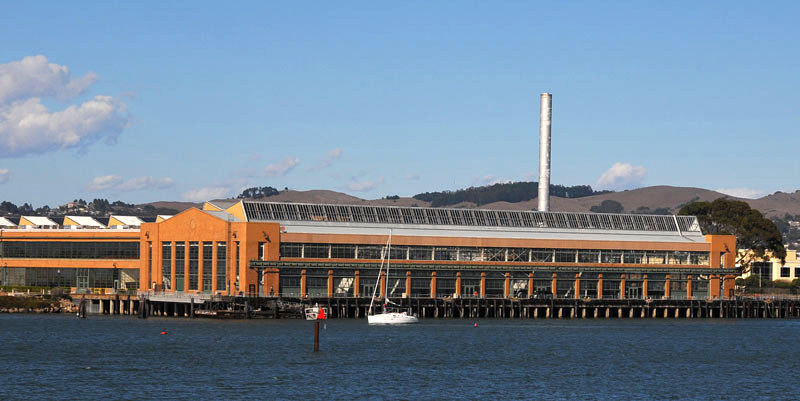 We hope you'll join us for party night on Friday from 6 to 8 p.m. We'll host a reunion for circumnavigators and veterans of the Baja Ha-Ha and Pacific Puddle Jump, but everyone's welcome to attend. We'll bring some light snacks and drinks.
One of the aspects of the show that we really like is that we can often meet the inventor of the product or the owner of the company that interests us. The show guide includes a full list of exhibitors.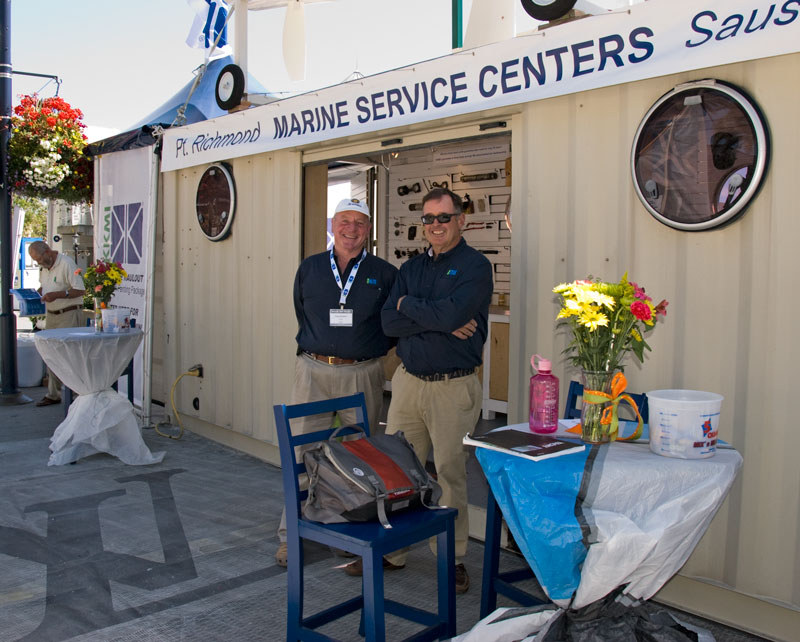 More show highlights include:
Gary Mull Celebration
Model boat racing
Stand-up paddleboard racing
View dinghy racing
Authors' Corner
Helly Hanson raffles
Life Jacket Exchange
All of the above and much more is free with your boat show ticket. Cough up some extra bucks and you can:
Enjoy a Taste of Sailing
Launch Your Sailing Life
Cast Off for Cruising
Attend intensive three-hour weather workshops
Join an all-day Couples Cruising Seminar
Get your US Sailing Coastal Safety at Sea Certification
Sign up for Discover Sailing clinics
Sail aboard the Derek M. Baylis
Go for a romantic sunset sail in the Lap of Luxury
You'll find all the details in the glossy insert conveniently bound right into the April issue of Latitude 38 magazine, or online here.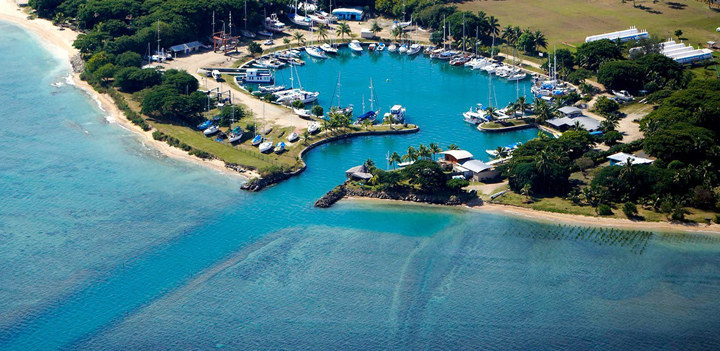 The South Pacific tropical cyclone season is supposed to end at the end of April, and that's still three weeks away, which is why cruisers in Fiji are having to batten down for the impending arrival of tropical cyclone Zena.
"Waiting for a hurricane to hit you is a funny feeling," writes Jerry Murphy of the San Diego-based 28-ft Bristol Cutter Destarte. "But that's what we are doing now in Fiji. The wonderful staff here at Vuda Marina on Viti Levu Island has been hauling smaller boats out of the water, tying bigger boats down, and has deployed the swell barrier at the entrance to the marina. We sailors have been moving everything below that can be removed from our decks, and tying down what's left as securely as we can. We've policed up the area to eliminate debris that could become airborne in high winds. Now we are waiting, listening to the gusting winds and watching the barometer drop. It's at 1004 millibars now at dinner time, down from 1006 at lunchtime.
"For 3.5 days we've been under a very active South Pacific Convergence Zone," continues Murphy. "A burst of northwest monsoon wind from New Guinea has been colliding with a resurgent southeast trade wind, creating a long line of thunderstorms, squalls and rain just over our heads. Two tropical depressions have already gone by, bringing rain and sustained winds in the 30s, with gusts to the 40s. But no real damage. Now we are told that tropical cyclone Zena has deepened and her winds have increased to 65+ knots with gusts likely in the 80-knot range. She's steaming from Vanuatu toward Fiji, and should pass just south of us tonight around midnight."
Zena shouldn't be anywhere near as destructive as very powerful tropical cyclone Winston, which tore up parts of Fiji just six weeks ago. But it could still cause a lot of damage, and is expected to pass over much of the area that was so recently devastated.
In other weather news, there was six inches of snow yesterday on the docks at places like Newport, Rhode Island and Martha's Vineyard. It's raining this morning in St. Barth. And San Francisco is expecting a ridiculous high of 82 — although rain is expected there on Friday and Saturday.
"Know anyone who might want to join me on a 'free' crossing of the Atlantic?" writes Rory Kremer. "I'll be taking the Gulfstar 63 Stargazer across. Launched in 1984, Stargazer is sloop-rigged, but has mainly been used as an engine-driven vacation boat for the last 10 years. Prior to that, she was used to run drugs from South America to European Union countries.
"I just soloed Stargazer from Toulon, France, to Menorca, Spain," continues Kremer. "We did 400 miles in 44 hours, so she's pretty fast for her size. From here we're heading to Gibraltar, the Canary Islands, and across the pond to St. Martin, Trinidad, Panama, Costa Rica, and through Mexico to Ensenada.
"Leaving Spain soon, so interested parties need to contact me ASAP here or here."
Latitude posts Kremer's crew-wanted announcement for information purposes only. We do not vouch for either him or Stargazer. If interested, do your own vetting, as it's your life. Find many additional crewing opportunities at Latitude 38's constantly updated Crew List on the Latitude website.
Receive emails when 'Lectronic Latitude is updated.
SUBSCRIBE