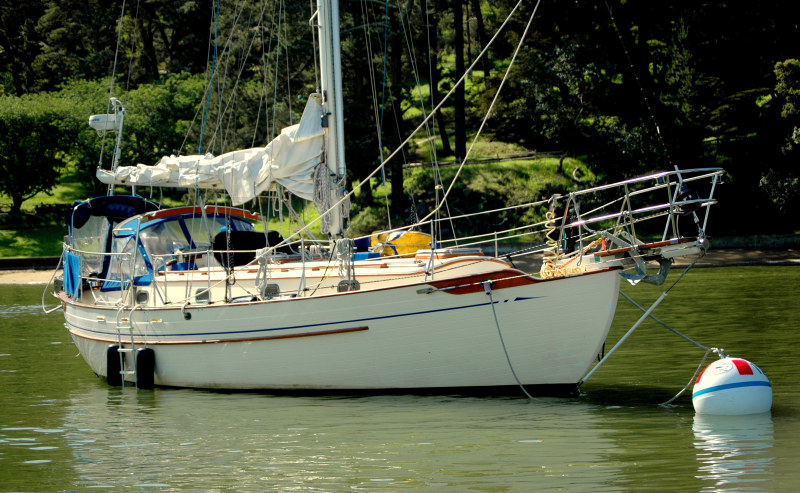 Here's some excellent news for Central Bay boaters: Just in time for Easter weekend, all 28 moorings in Angel Island's popular Ayala Cove anchorage have just been replaced with a new system that has a much cleaner look, and are rigged with ground tackle beefy enough to hold even big, heavy-displacement boats in a strong blow.
If you've never spent the night on a mooring here, you've missed out on one of the coolest resources the Central Bay has to offer. Even with every mooring ball utilized — which only happens on midsummer weekends — overnighting here is normally a peaceful experience that will have you feeling as if you're many miles from the hustle and bustle of urban living. And if you can get away for a midweek overnight, you may find yourself alone in the anchorage.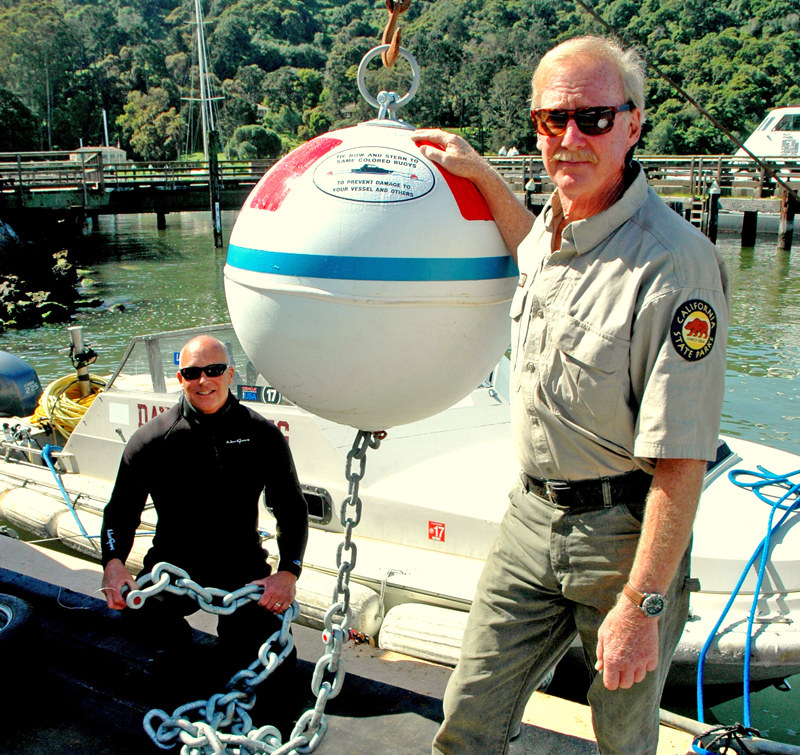 Moorings are available on a first-come, first-served basis, and cost $30 per day (or any portion of a day), with a seven-night max. Slips are available also ($15), but all boats must be off the docks by sunset. By contrast, visitors on moorings can access the island by dinghy until 10 p.m. Given that the last tourist ferry leaves at 3:30 p.m. (5:30 in midsummer), that gives overnighters loads of potential 'quality time' ashore. Make note that moored boats must tie up bow and stern to similarly colored buoys. (Rafting to a moored boat is allowed also.)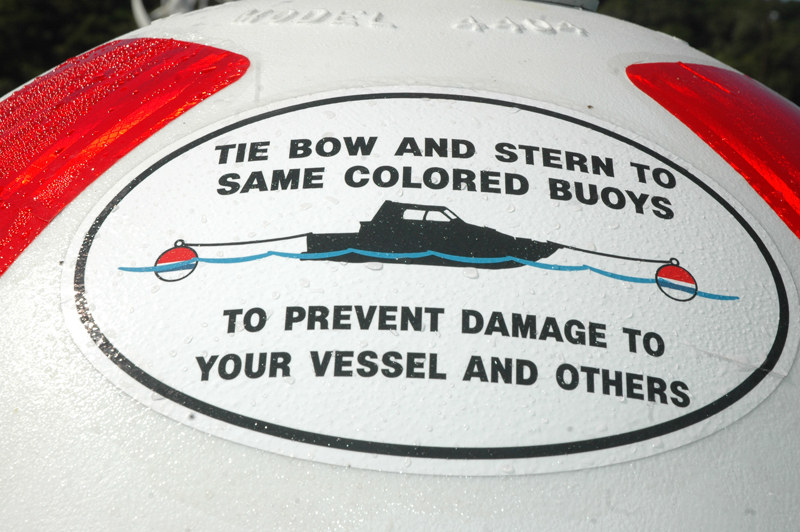 Longtime Latitude contributor Woody Skoriak helped Diver Dave Gissendaner and Angel Island State Park staffer Rick Haste with the installations yesterday, and was impressed by the ruggedness of the new system. "Each buoy is attached to a short piece of 5/8" chain, which is shackled to about a 20-foot length of 1" chain," he reports. Yeah, very beefy stuff. On the seafloor, the mooring chains are attached to Heli-Coil screws that extend down roughly 20 feet into the seabed. Although the anchorage could certainly stand to be dredged, this new buoy system is an enormous improvement. In fact, we can hardly wait to check it out ourselves.
Although California is still operating under drought-induced water restrictions, this season's El Niño has brought so much relief to lakes and reservoirs that some have been able to release water into formerly parched creeks and rivers. Today we heard some good news from Fresno Yacht Club, whose High Sierra Regatta and various class championships have been canceled for the last two years due to the dire condition of Huntington Lake.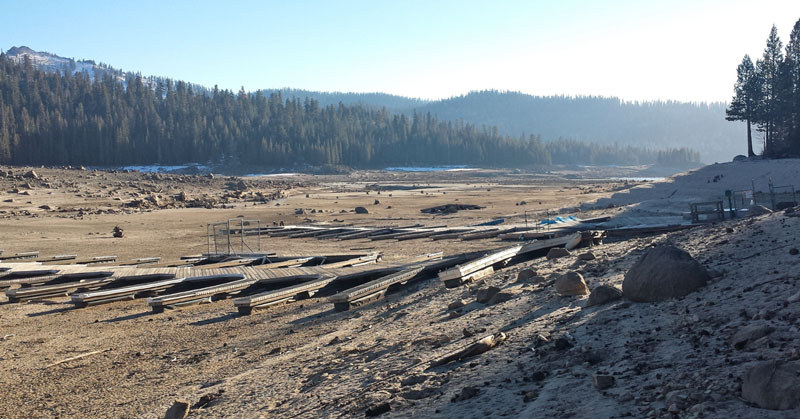 FYC says that the outlook for the 2016 High Sierra Regatta looks promising. "There has been steady snowfall in the Sierras. Hopefully, this will provide us a full lake to enjoy this summer." Huntington Lake is a reservoir located at 6,988 feet in the mountains northeast of Fresno. Hopefully, the thirsty Angelenos downstream will leave enough water behind this summer so that the lake's docks will float.
The High Sierra Regatta consists of two weekends. The first, July 9-10, will be for centerboard fleets and the San Juan 21 class. The second weekend, July 16-17, will welcome the keelboat classes and the Thistle fleet. Each weekend will consist of three races on Saturday and two on Sunday. Saturday night parties will be held both weekends at China Peak Mountain Resort and will include a buffet and video of the day's racing.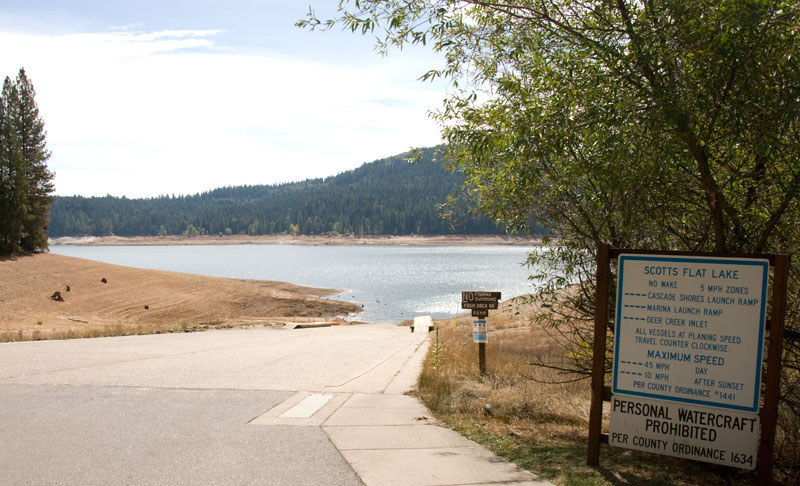 Meanwhile, the water in Scotts Flat Lake outside of Nevada City has been rising about a foot a week, and Gold Country YC's club series racing will resume there on April 3. GCYC hosts the Go for the Gold Regatta on the first weekend in June. The last couple of summers, GCYC has hosted a 'High Sierra Alternative Regatta'. Then the club's last two races of the 2015 season had to be canceled due to the inability to launch.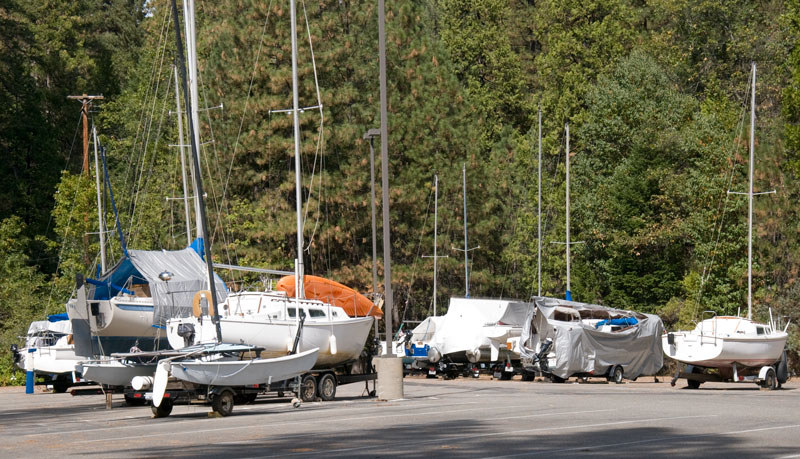 Folsom Lake, a reservoir east of Sacramento, has been so full that water has been released through the dam into the American River as a precaution against flooding, and racing resumed there in February. The Trans-Folsom Regatta is coming up on April 2, and the 50th Camellia Cup, which draws sailors from all over the state in boats ranging in size from El Toros to Hobie 33s, will be held on April 16-17.
Can somebody remind the Wanderer what the average monthly cost is for electricity and garbage for a four-bedroom house in California? He's trying to compare it with what he's paying to anchor off Gustavia, St. Barth.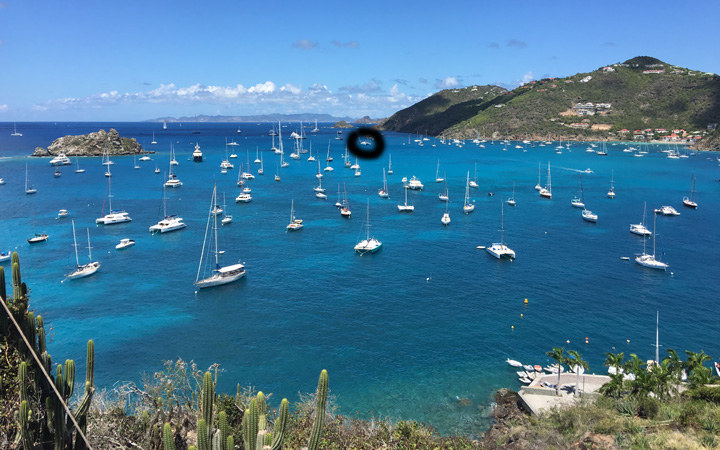 The Wanderer is paying about $225 a month for his 45-ft cat on a two-month contract. With that comes the use of the dinghy dock, garbage disposal, and showers and toilets. Although when he wants to use a really clean toilet, he hops on his motorcycle and rides over the hill to the airport. The super-clean blue water and the tradewind breezes are included in the monthly fee.
Normally the Wanderer would grouse at having to pay to anchor, but he's got no problem with paying to anchor at St. Barth. "It's a magical place," he says.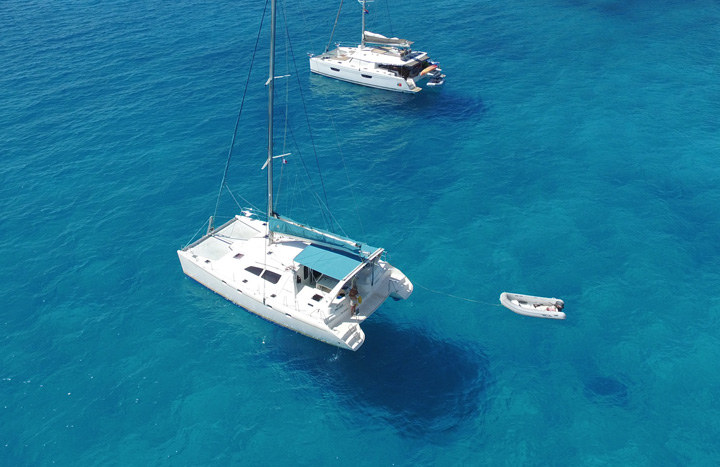 The location of 'ti Profligate has been circled in the top photo. It's about a mile from the dinghy dock. The Wanderer could get in closer, but he's made his peace with the one-mile dinghy ride each way. It's a little annoying getting salt spray going after a fresh-water shower in the morning, he says, but he usually enjoys the late-evening trips back to the boat, especially when the moon is full or close to full as it is now.
Receive emails when 'Lectronic Latitude is updated.
SUBSCRIBE