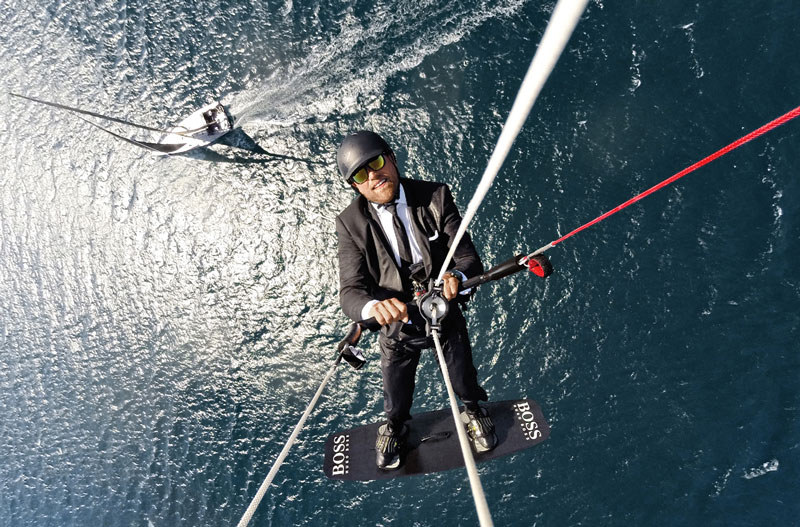 Video of British round-the-world sailor and daredevil Alex Thomson's latest stunt has been released. This one involves Thomson on a kiteboard, chasing his IMOCA Open 60 Hugo Boss upwind and attaching himself to the top of the boat's mast. The speed of the race boat propels him 280 feet into the air, sending him soaring above the Open 60, to twice the height of Hugo Boss's mast. When Thomson, 41, reaches the peak of his flight, he detaches himself from the boat and controls his descent, landing the kiteboard on the water in style.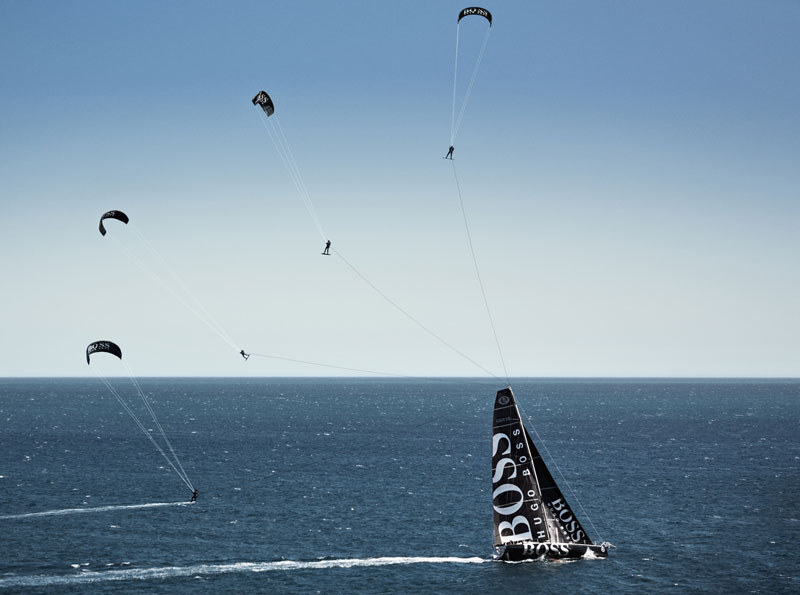 The apex of Thomson's flight took him to a height equivalent to a 25-story building.
Thomson also suited up for a Keel Walk in 2012 and a Mast Walk in 2014. "The previous two stunts that we carried out were so successful that, as a team, we just knew we couldn't stop there. We were all in agreement; we wanted to do something even bigger and better.
"I've always had a love for all things wind-powered, so naturally a stunt which involved kite surfing was the next step. The idea of combining two of my favourite sports and executing something which, to our knowledge, had never been done before was really exciting.
"The team and I have been planning the stunt for a long time. There were lots of things that could have gone wrong. Perhaps most concerning for the team was the prospect of an uncontrolled descent, causing me to come back down too fast. Water can be as hard as concrete if hit with enough velocity, so this was one of the most dangerous aspects of the stunt. But I had a brilliant team around me, and, with their help, we managed to pull it off. What's next? Who knows?"
Also see www.alexthomsonracing.com.
Receive emails when 'Lectronic Latitude is updated.
SUBSCRIBE