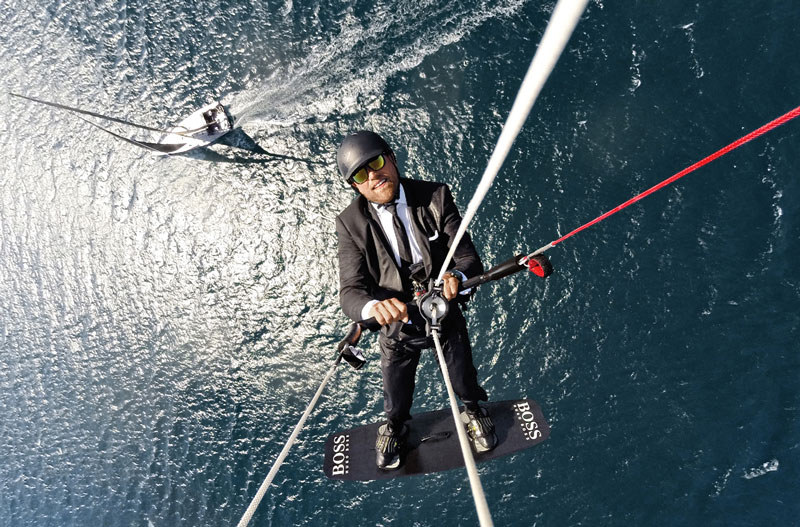 Video of British round-the-world sailor and daredevil Alex Thomson's latest stunt has been released. This one involves Thomson on a kiteboard, chasing his IMOCA Open 60 Hugo Boss upwind and attaching himself to the top of the boat's mast. The speed of the race boat propels him 280 feet into the air, sending him soaring above the Open 60, to twice the height of Hugo Boss's mast. When Thomson, 41, reaches the peak of his flight, he detaches himself from the boat and controls his descent, landing the kiteboard on the water in style.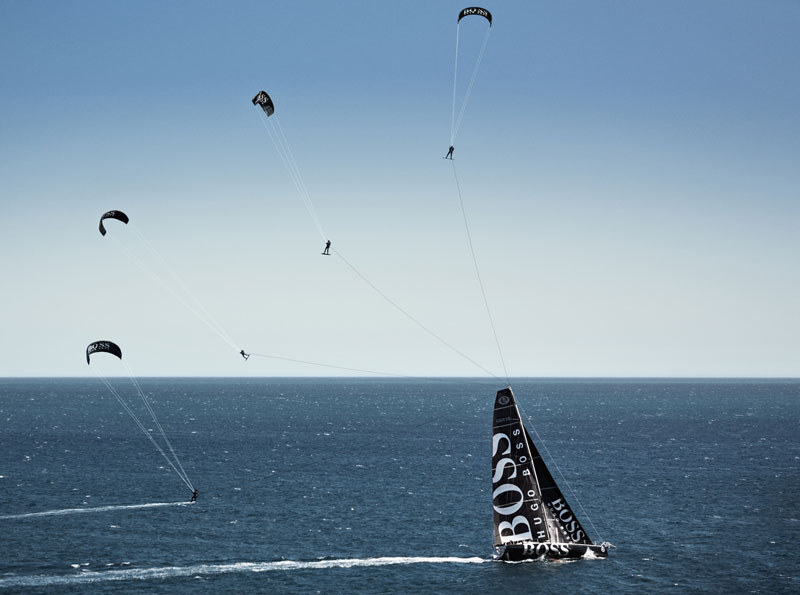 The apex of Thomson's flight took him to a height equivalent to a 25-story building.
Thomson also suited up for a Keel Walk in 2012 and a Mast Walk in 2014. "The previous two stunts that we carried out were so successful that, as a team, we just knew we couldn't stop there. We were all in agreement; we wanted to do something even bigger and better.
"I've always had a love for all things wind-powered, so naturally a stunt which involved kite surfing was the next step. The idea of combining two of my favourite sports and executing something which, to our knowledge, had never been done before was really exciting.
"The team and I have been planning the stunt for a long time. There were lots of things that could have gone wrong. Perhaps most concerning for the team was the prospect of an uncontrolled descent, causing me to come back down too fast. Water can be as hard as concrete if hit with enough velocity, so this was one of the most dangerous aspects of the stunt. But I had a brilliant team around me, and, with their help, we managed to pull it off. What's next? Who knows?"
Also see www.alexthomsonracing.com.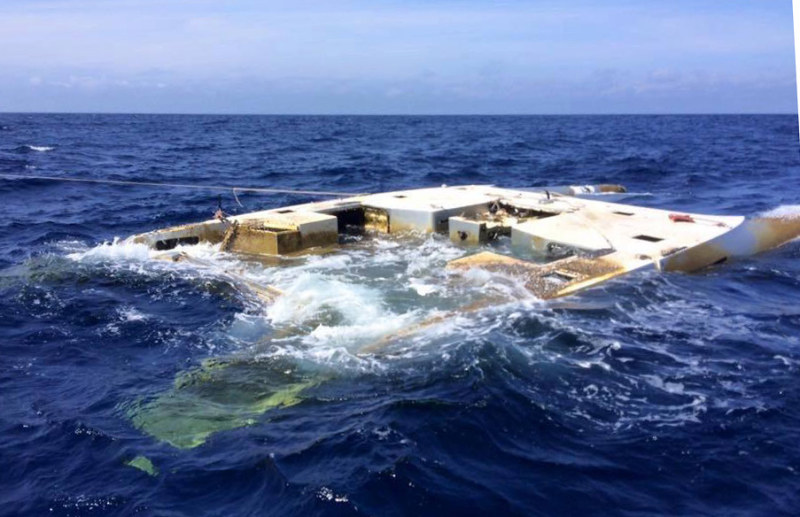 Rainmaker, the first of the Gunboat 55 catamarans, is a little wet but still floating — more or less — after two unaided winters in the North Atlantic. It will be remembered that the catamaran was abandoned during rough weather on a trip from the Northeast to the Caribbean. The cat has been spotted several times since, and each time seems to be just a little bit lower in the water. She is reportedly being towed to shore, but it's unclear where she was found, and that's got to be a tough tow.
The abandonment of hull #1 of the Gunboat 55s was one of the factors in Gunboat's visionary/owner Peter Johnstone's leaving the company in November and the company's going into Chapter 11 restructuring.
Interestingly enough, in recent times there seems to have been considerable interest in total refits of the of the earliest Gunboat cats.
Early last week, friends of 63-year-old Russian-born sailor Rimas Meleshyus became concerned, as no one seems to know what became of him or his vintage Rawson 30 Mimsy since departing a Schoonmaker Marina end-tie March 7 during a northerly rainstorm. He'd been towed there March 4 by the Coast Guard after his primary anchor rode chafed through in Sausalito's Richardson Bay anchorage.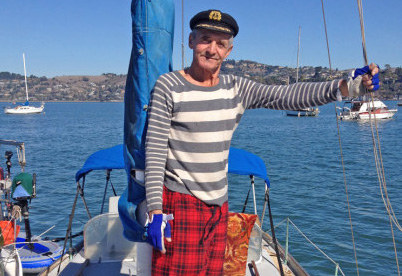 Ever since Rimas first made headlines in 2012 — then a complete novice — for grounding his San Juan 24 daysailer in the Aleutian Islands during an ill-conceived attempt to sail alone from Southeast Alaska to Japan, he's been a polarizing force within the West Coast sailing community: Some regard his ambitious dreams of soloing around the world in a spartan boat to be inspirational, while others consider him an irresponsible fool.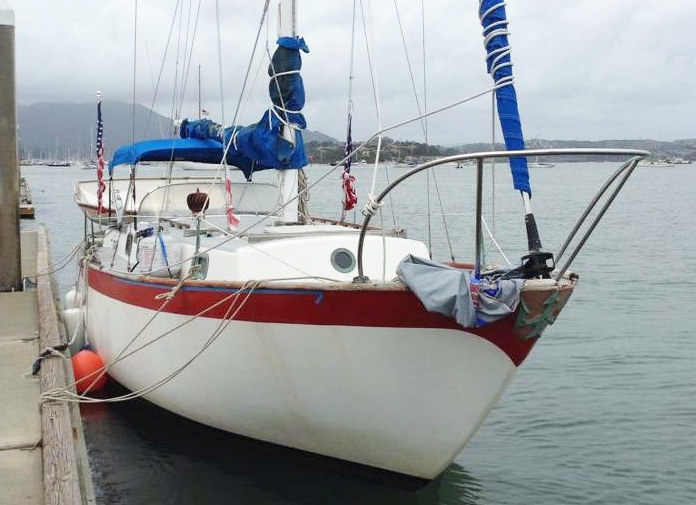 And some, such as Bay sailor Jean Mondeau, are ambivalent. Having given Rimas his current boat, as well as a wealth of gear for his previous boat, Jean has been Rimas' greatest patron. Nevertheless he tells us he gets frustrated when Rimas doesn't follow his well-meaning advice, or practice the seamanship skills that he's been taught.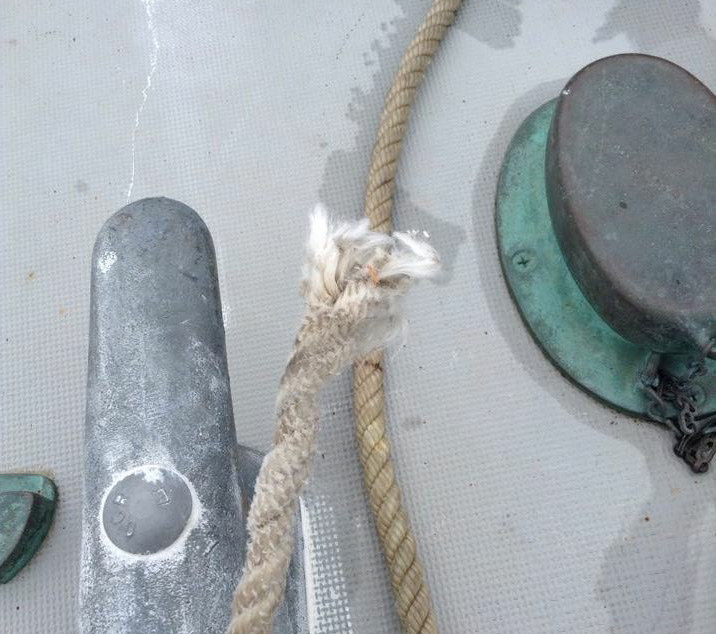 While Jean and others doubt that Mimsy was simply swept out the Golden Gate — she reportedly had a working diesel and radios — they are more than a bit curious to know "Where's Rimas?" And so are we. (Please email us if you have new info.)
Receive emails when 'Lectronic Latitude is updated.
SUBSCRIBE