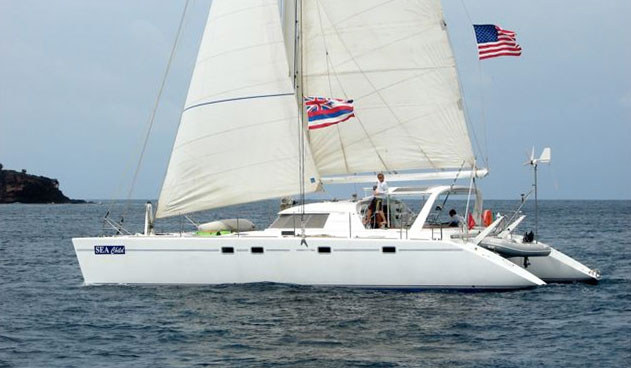 John and Geri Conser of Newport Beach report that they are joining Eric and Tamara Barto on the latter couple's Aikane 56 catamaran Sea Child for "the trip of a lifetime." Right about now they are joining Sea Child in Phuket, Thailand, for passages to the Maldives, the Red Sea, Port Sudan, the Suez Canal, and Corfu, Greece.
John Conser designed and built Warrior 29 and Conser 47 catamarans in Southern California. Geri has been a marine photographer for many years. The Bartos are from Maui, where they own Paragon Sailing Charters, a successful sailing/snorkeling company. Having owned Sea Child for six years, the Bartos have been breaking their circumnavigation into two to three months of cruising followed by two to three months back working on Maui. They started their trip in Trinidad, and have so far sailed throughout the Caribbean, through the Panama Canal, across the Pacific, and to Phuket.
As we recall, the Aikane was the first or second in what was to be a line of catamarans built in Trinidad for Catana. That idea never panned out, but Sea Child looks great.
Using the Indian Ocean and the Red Sea to get to the Med used to be the preferred way to go around the world until about 2000, when Somali pirates started hijacking private yachts as well as ships. Cruisers gave up the Red Sea route entirely for going around South Africa in 2011 after four West Coast sailors on the yacht Quest were kidnapped and then murdered by Somali pirates.
Although the Somali piracy has been almost eliminated, concerns about trouble at other places from Aden to the northern end of the Red Sea have almost eliminated private yacht traffic. A few boats are again taking that route, but it still sounds pretty risky to us. We wish the Consers and Bartos the safest of passages!
Receive emails when 'Lectronic Latitude is updated.
SUBSCRIBE