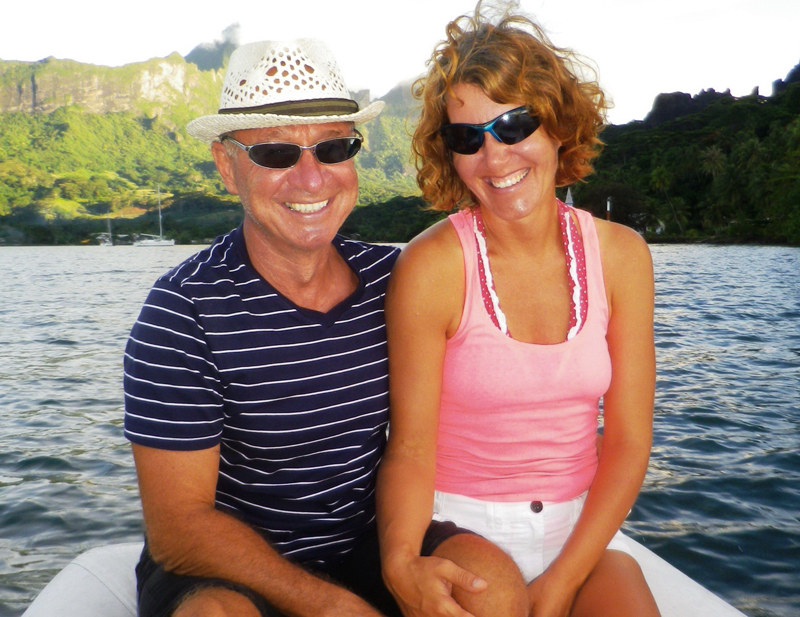 The 94-year-old Cruising Club of America has announced the winners of its five major achievement awards for 2015. We'll spotlight three of them here.
The Rod Stephens Award for Outstanding Seamanship: You may recall reading in 'Lec Lat about the heroics of Alberta, Canada-based cruisers George Juri and Grit Chiu of the Hunter 50 Escape, who rescued a 46-year-old Thai mariner from storm-tossed seas in Malaysia last summer and nursed him back to health. After falling off a barge, he had drifted for four days, while being battered by 15-ft waves and 30-knot winds, as fish nibbled away at his flesh. George and Grit put their lifesaving training to the test, and once they had the weary survivor aboard, Grit, a surgical nurse by profession, brought him back from the brink of death.
The Richard S. Nye Trophy: John E. Sanford of Tiburon, Calif., was cited for "meritorious service to the CCA and the San Francisco Station [one of 11 in the US, Canada and Bermuda] over a period of 34 years, continuously participating in CCA activities since becoming a member in 1981, including as Rear Commodore of CCA's San Francisco station."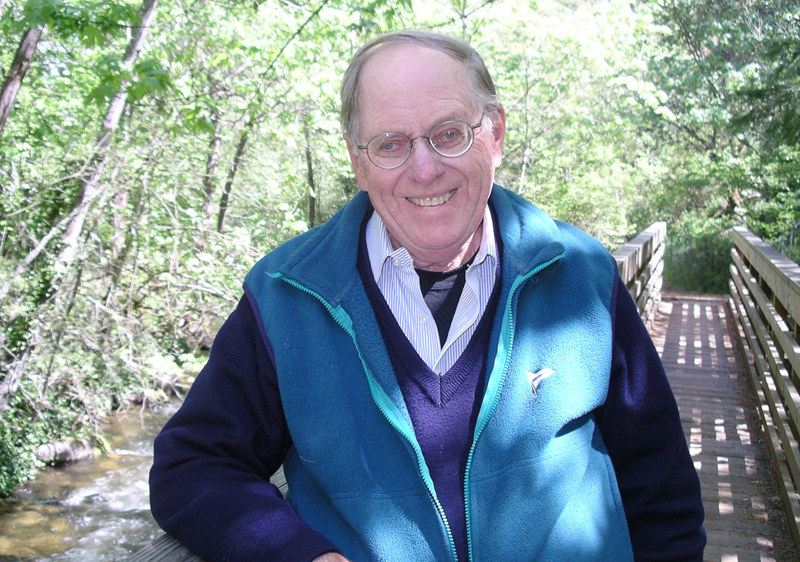 The Far Horizon Award: Kaspar and Trisha Schibli of Victoria, BC, were acknowledged for their extensive adventuring under sail aboard their 53-ft wooden yawl Starfire. Having already completed a five-year, 50,000-mile, westabout circumnavigation from 1993-1998 (via Suez and Panama), they set off again in 2005. This time, they dove down the Pacific Coast to Cape Horn, then up the Atlantic to Europe, where they have been exploring Northern Europe — including the far north — ever since.
In addition to its role co-hosting the Newport Bermuda Race (in even-numbered years), the Cruising Club of America "is dedicated to offshore cruising, voyaging and the 'adventurous use of the sea' through efforts to improve seamanship, the design of seaworthy yachts, safe yachting procedures and environmental awareness." Learn more about this highly respected organization here.
Ad: Sail Greece with Modern Sailing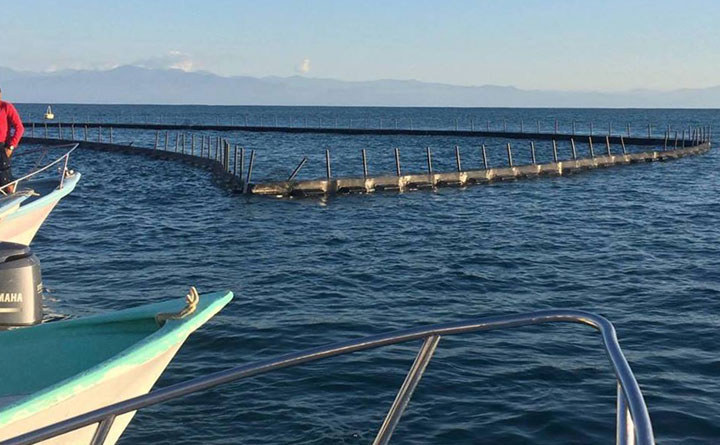 Those who believe that marine mammals should not be confined — and we're confident this would include most sailors — have been dismayed to learn that some organization is in the process of installing what looks to be the start of a dolphin pen just outside the Punta Mita anchorage. This location is just inside the northwest corner of Banderas Bay. The structure is marked by red lights at night, and, while not a severe navigation hazard, must be circumvented. Many of the locals, including the panga fishermen, aren't very happy about the structure. A few, however, shrug and say, "You can't stop progress."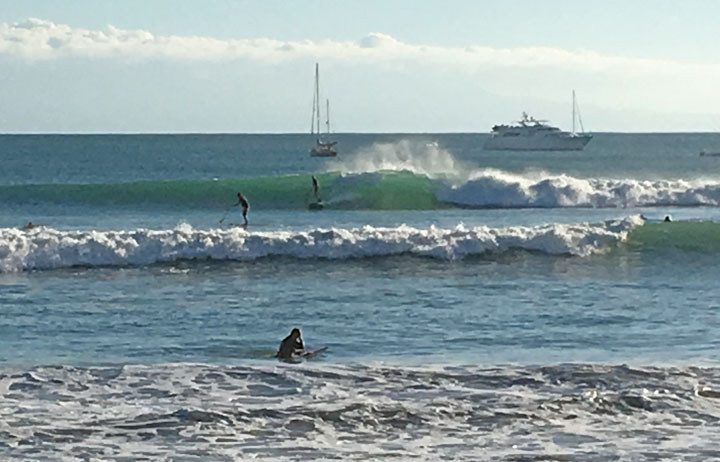 While we haven't been able to get confirmation, it's widely believed that the pen is being built for Vallarta Adventures, a large and very successful tourist adventure activity outfit based out of Puerto Vallarta. The company has 1,700 employees spread out over about five tourist centers in Mexico, and offers just about every tourist attraction imaginable, from sailing to zip-lining to snorkeling, surfing, jungle rides, SUPing, and more. For many years they have operated a swim-with-dolphins program in Nuevo Vallarta and, we believe, another in Cabo San Lucas. Sources also tell us they've imported 21 camels for camel rides in Cabo, and that's been yet another hit.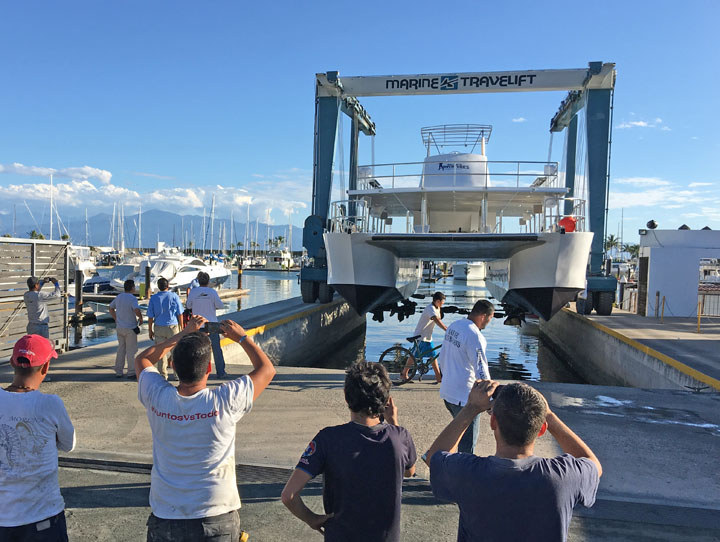 Based on generally very good reviews in Yelp! and other places and our limited observations, Vallarta Adventures is a more professional operation than many others. That said, we are greatly dismayed by the possibility of a dolphin pen and additional swimming-with-dolphins programs. We're strongly against that kind of thing.
The Puerto Vallarta area is currently booming as a tourist area. The local tourist board reports there was 100% occupancy for the hotel rooms over the holidays, and the number of visitors was up by about 15% over last year. Little Sayulita? It looked like a tropical Coney Island on the hottest day in August, and is going upscale faster than the nearby water temperature has been rising.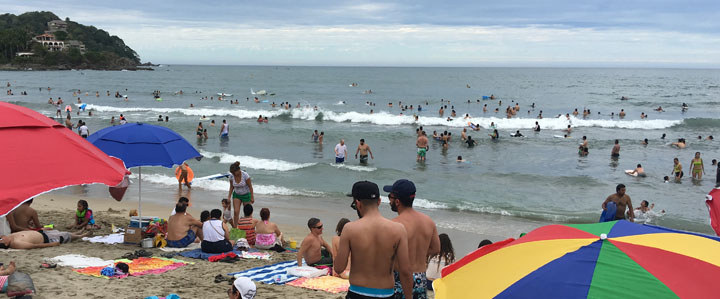 One of the 'victims' of this surge in visitors is the Marieta Islands, home to the allegedly and suddenly wildly popular 'world's number one hidden beach'. Marine Park officials told Latitude that the roughly 200-ft by 200-ft beach, which you have to enter by swimming through a limited-headroom tunnel, is getting 4,000 visitors a day during the high season. You can only imagine what that's like. You have to wear a permit bracelet and PFD to enter, and sometimes you have to wait 90 minutes for your turn to to get in. More than a few people have paid to get in but then passed because it was too crowded.
The good news for owners of private yachts is that after getting a permit in Puerto Vallarta, they can overnight at the Marietas for up to four nights a month.
Other than the Marieta Islands, and immigration and baggage pickup at the airport, the Vallarta area seems to be handling the growing crowds extremely well. For example, it's been a very consistent winter for good surf, yet we've seen thousands of excellent waves go unridden directly in front of Doña de Mallorca's condos, to say nothing of the other spots. And when it comes to ideal spots for SUPing, they are legion on the 60-mile coastline of the bay. Sailing? Banderas Bay offers perhaps the best afternoon pleasure sailing conditions we've seen almost anywhere, as the water is always flat and the winds moderate. As for the service people, the Mexicans are incredibly nice and genuinely happy to serve you. If you want a kicker, you can get very decent Italian and other-style dinner for $6 in many places, as the peso's exchange to the dollar nearly hit 19 to 1 the other day.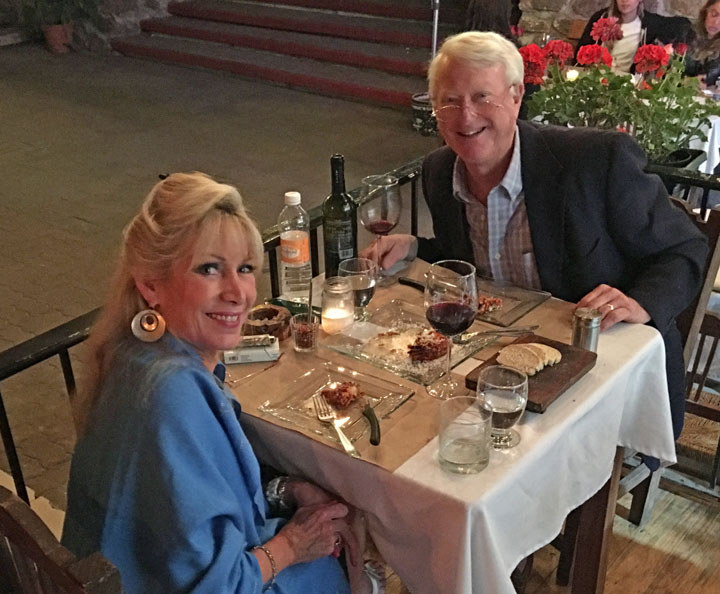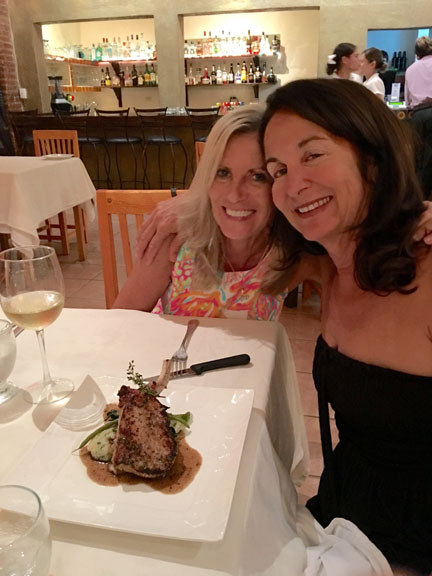 Our only hope is that the dolphins can continue to run as freely as the dogs in the area.
GREAT NEWS UPDATE: As we typed the final line of this report, we received news that, thanks to community uproar, the pen is being towed away. It's rumored that even Mexico President Peña Nieto got involved. He, like the past four or five presidents of Mexico, has a home in the immediate Punta Mita area. The only thing we care about is that there won't be another dolphin pen.
Receive emails when 'Lectronic Latitude is updated.
SUBSCRIBE