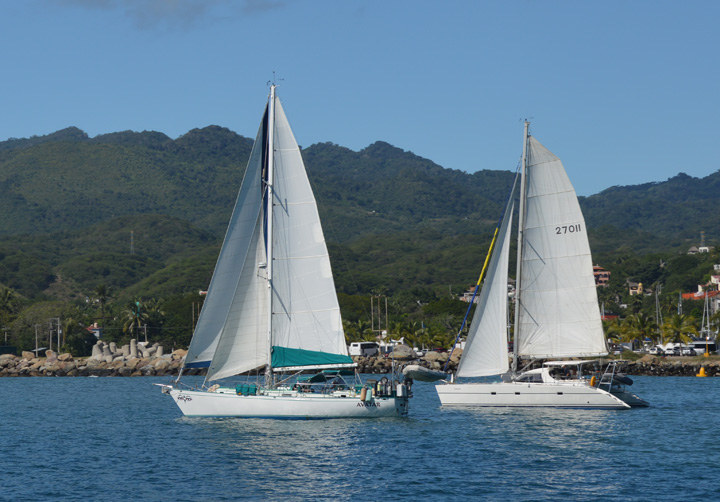 Finishing first overall among the 21 boats that participated in the three-race 'nothing that serious' racing for cruisers that is the Banderas Bay Blast was Fred Roswold and Judy Jensens's Serendipity 43 Wings. No one could accuse the couple, originally from Seattle, of sailing a ringer, for they spent the last 18 years sailing the Doug Peterson design around the world and still live aboard.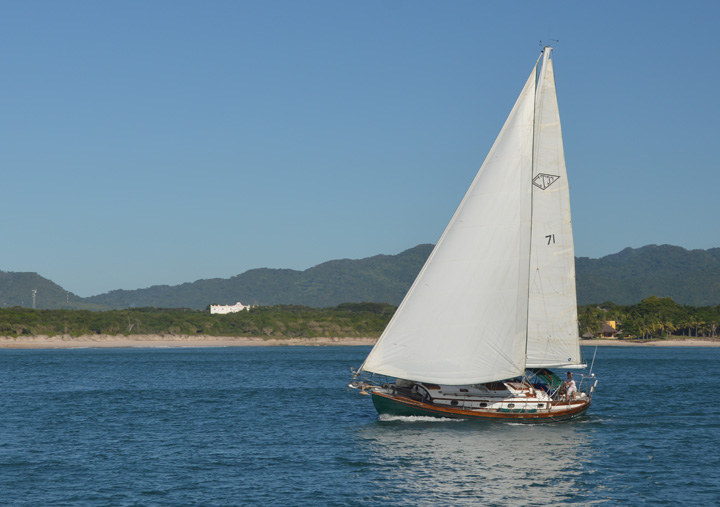 They weren't quite able to catch Patsy 'La Reina del Mar' Verhoeven's Gulfstar 50 Talion in the final race, the 12-mile Pirates for Pupils Spinnaker Run from Punta Mita to Paradise Marina. That was a popular single-race victory, as Patsy had sailed nearly 400 miles from La Paz just to get to the Blast and will leave in three days on another 400-mile sail back to her home base. Like Fred and Judy, Patsy has been living aboard for ages and will be doing the Puddle Jump to the South Pacific this spring. Not only that, she's one of the few sailors who has taken her boat up the Columbia River to Lewiston, Idaho. Yeah, potato land.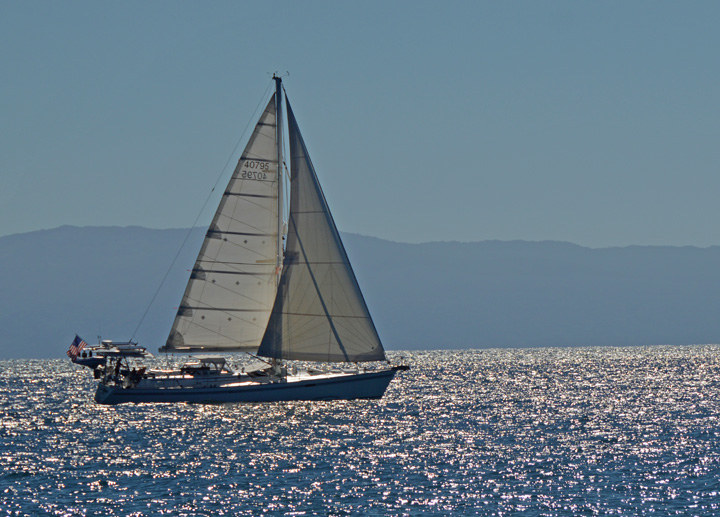 The Banderas Bay Blast/Pirates for Pupils is both fun racing for cruisers and a fundraiser, and more than $1,500 has been raised to date to help buy educational supplies for the young children of the area. Just before the last race the kids put on a little performance for the fleet.
The Blast is normally preceded by Riviera Nayarit Tourism's Sailors' Splash, which welcomes Baja Ha-Ha and other cruising boats to the area. That gig, with free T-shirts, hats, food and beverages, had to be postponed when the tent under which it was to be held was inundated with six inches of rain in 48 hours. The party was simply rescheduled for after the first Blast race at the Marina Riviera Nayarit amphitheater.
Winds for all three races were in the 5- to 12-knot range, typical of sailing conditions found on Banderas Bay in November and December. The stronger winds are in March and April. While sometimes frustrating, it was nonetheless very pleasant racing on the always-flat waters of Banderas Bay. Warm? You bet. Sunny? More than anyone needed.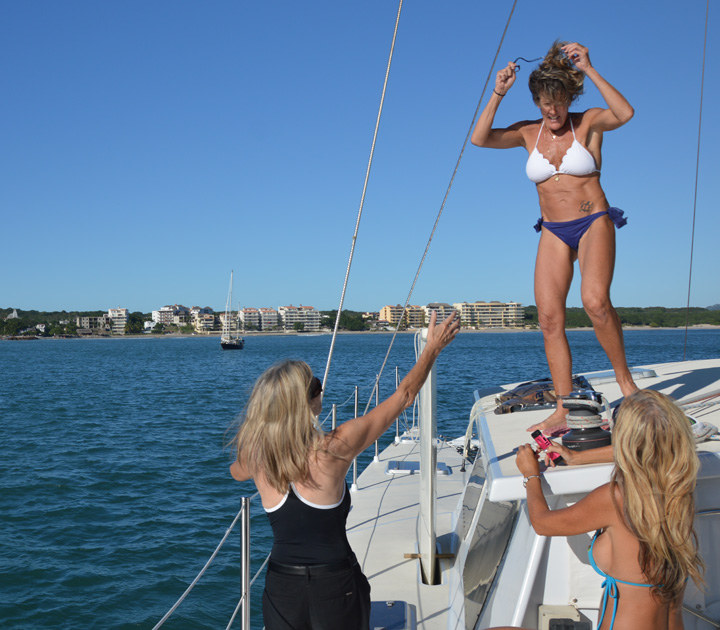 The second race of the Blast is always followed by the annual opening of the Punta Mita Yacht & Surf Club. And what a hit that was, as Commodore Lisa used her carbon fiber SUP paddle to really lay into members getting initiated into limited lifetime memberships.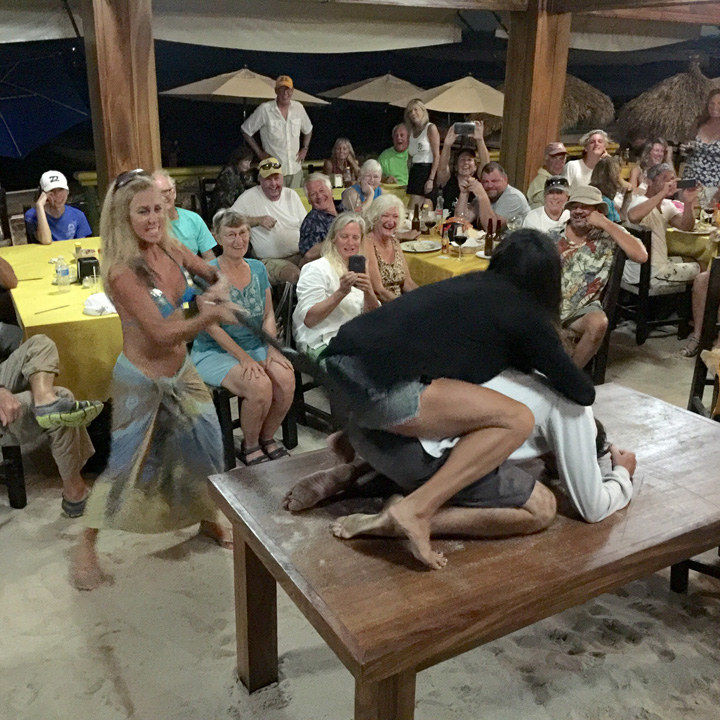 Despite its location right on the beach in front of the great 'Mexican Malibu' surf spot — it was going off great, too — and the Punta Mita anchorage, the yacht club's delicious mahi dinner was less than $7.50 and margaritas were less than $2.75.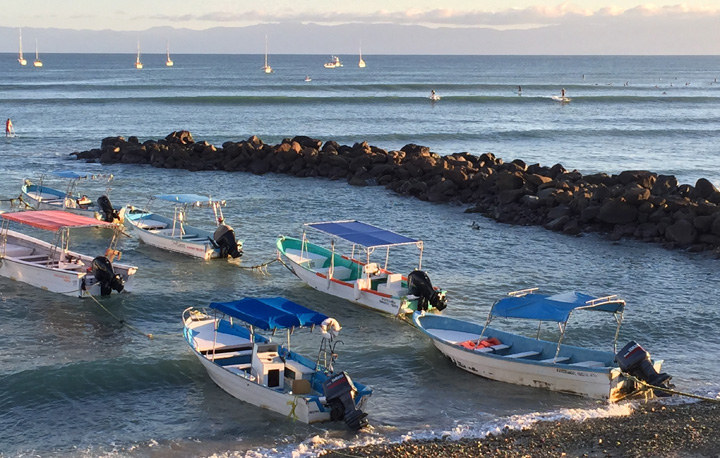 The Blast wrapped up with a great party at Vallarta YC at Paradise Village Resort. It's unclear what was slipped into the drinks, but before long everyone was dancing and the band had to continue to play on for its own safety.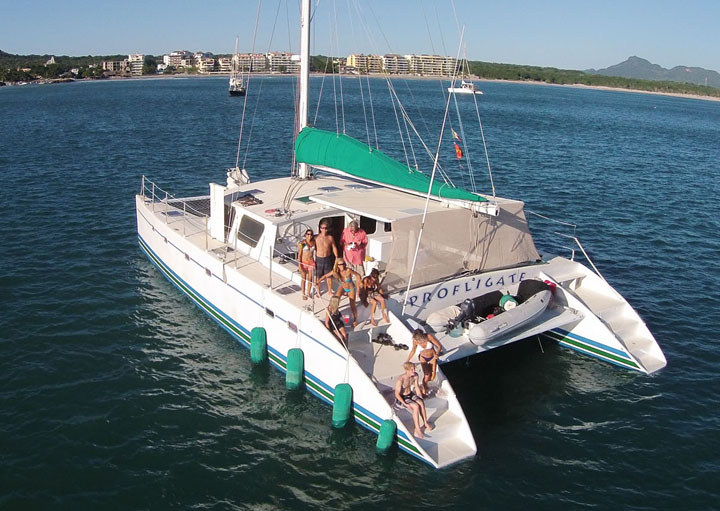 Given the venue, the Blast ought to draw at least 50 boats, but people tend to be hesitant about racing their homes. We understand. The one benefit of a small fleet is that by the last party at the Vallarta YC, just about everybody knew — or had become good friends with — everyone else. And life is all about making friends, isn't it?
The Blast is a collective effort of the Vallarta YC, Latitude 38, PV Sailing and others, with free berthing provided by Paradise Village Marina and Marina Riviera Nayarit. Have a little fun racing with, not against, friends, raise some money for charity, enjoy nature at its finest, have a few parties… we wish you all could have been there with us.
US Sailing has teamed up with Old Pulteney Single Malt Scotch Whisky to offer a newly conceived Maritime Heroes Award, aimed at recognizing "men and women who are making significant contributions to educate, volunteer, advocate or simply encourage participation in sailing within their community or beyond." We're proud to report that longtime Latitude 38 staffer John Arndt is among the six finalists.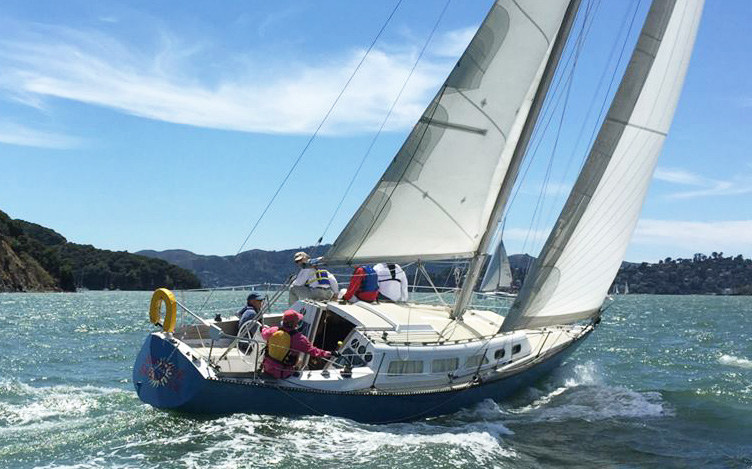 In addition to his dual roles as the magazine's chief ad salesman and associate publisher, in 2001 John conceived and implemented the annual celebration of sailing called Summer Sailstice, which now has a worldwide following. He was also instrumental in starting the SailSFBay organization, which is dedicated to growing participation in sailing at all levels here in Northern California.
You can view John's bio here, but in short, we can tell you he is a tireless advocate for sailing, and his influence has been felt far beyond the Northern California sailing scene. Thus, we'd encourage you to cast a vote in his favor here, before December 22. If he wins the $5,000 prize, he will donate it to SailSFBay to further that organization's outreach efforts. So, "Cheers, John. Here's to you!"
(John's efforts to promote our sport won him the 2015 Distinguished Service Award at October's Annapolis Boat Show.)
Ad: The Gift of Sailing from Modern
Receive emails when 'Lectronic Latitude is updated.
SUBSCRIBE