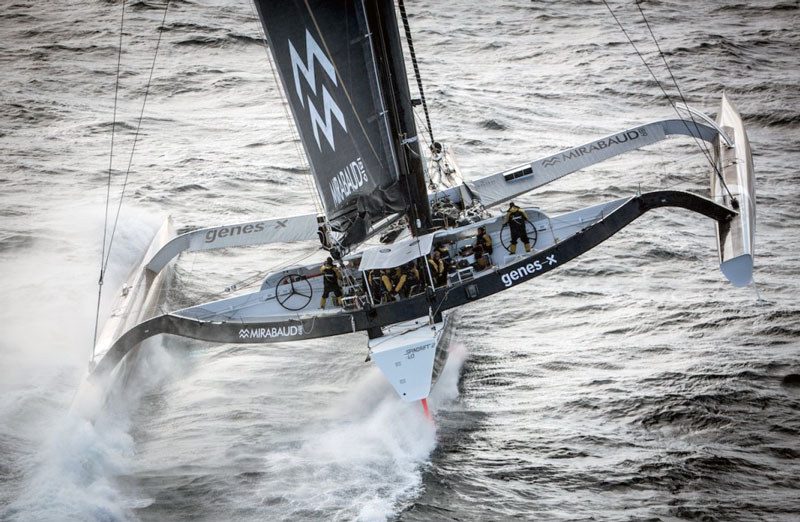 As a thrilling and dramatic TJV — Transat Jacques Vabre — draws to a close, an entirely new TJV has begun and immediately been kicked into high gear. Enter the Trophy Jules Verne. Created in the late '80s and first awarded in 1993 to Frenchman Bruno Peyron and his legendary catamaran Commodore Explorer, the award was presented to the first yacht that sailed around the world in less than 80 days, inspired by Jules Verne's book Around the World in Eighty Days. In the 22 years since Peyron and company won the award with a time of 79 days and 6.25 hours, the reference time has been nearly cut in half, with the current benchmark a remarkable 45 days 13 hours 42 minutes set by Bruno's younger brother, the legendary Loïck Peyron, and his behemoth trimaran Banque Populaire V in January, 2012.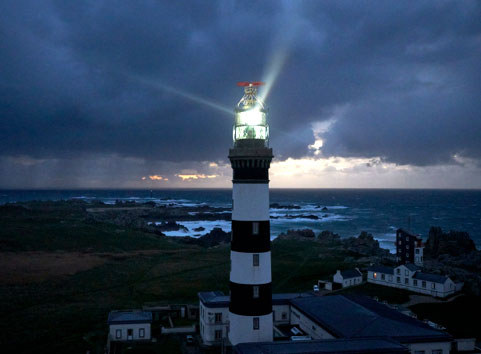 Maxi-trimarans IDEC Sport, skippered by Francis Joyon, and Spindrift 2, skippered by Yann Guichard, went on standby in the Breton port of Brest on November 17. When a weather window began to present itself just a few days later, the not-quite-unthinkable-but-surely-unexpected happened: the two teams left within two hours of each other to take a crack at Banque Pop V's record. With both maxi trimarans virtually racing down the Atlantic and presumably around the world, sailing fans have been logging onto both teams' sites and trackers to follow the progress in this impromptu race, with more than 13,200 'skippers' registering for Spindrift 2's Virtual Regatta alone.
Bay Area sailors and Latitude 38 readers know IDEC Sport, as the big VPLP tri spent the better part of six weeks ripping up San Francisco Bay this summer as Lending Club 2. The famous yacht took more than 1,000 Lending Club guests, local sailors and VIPs sailing. Skippered by American Ryan Breymaier with Bay Area sailors such as Skip McCormack aboard, the trimaran recorded a 'hat trick' this season in which she set three world records: Cowes-Dinard, Newport-Bermuda and Los Angeles-Honolulu. Before being named Lending Club 2 and more recently IDEC Sport, the 105-footer was known as Groupama 3 and Banque Populaire VII, and she's won the Trophy Jules Verne once and the Route du Rhum twice, among other accomplishments.
Likewise, Spindrift 2 has earned quite a reputation in her former blue and white colors of 'the sailing bank', Banque Populaire. As Banque Pop V, the 130-ft VPLP-designed trimaran set both Transatlantic records and the outright 24-hour record (907 miles), and is the current holder of the Trophy Jules Verne record.
The start date and the Trophy Jules Verne record attempts aren't the only things that these two big trimarans have in common. Both yachts have significantly shorter masts and smaller sails than when they went around last time, hoping to prove once and for all that bigger isn't always better. With less weight aloft, greatly reduced loads, and a significantly smaller crew in the case of IDEC Sport, the theory is that both skippers can push the boats much harder in the big stuff with less fear of breaking and/or capsizing. Since crossing the starting line between France and England in the wee hours of Sunday morning, both yachts have already sailed well over 1,000 miles, yet are both trailing Banque Pop V's reference time. While BP V had to jibe several times to get to the equator, in the current scenario it looks as if both boats may benefit from more direct routing on the way to the equator, requiring just one jibe, with both crews looking to jump onto the leading edge of a depression forecast to form off the South American continent and propel them to the depths of the Southern Ocean by the middle of next week.
Stay tuned for more on this thrilling double record attempt.
Ad: Bottom Painting Packages at KKMI
For routine maintenance like bottom painting, KKMI has streamlined the service by providing an inclusive package. Please call, email or complete an Online Inquiry and we will send you details for your boat to have a high quality paint job at an exceptionally competitive price.
~ Comprehensive Packages ~
~ Top-Quality Materials ~
~ Most Experienced Team in the Bay Area ~
~ Professional Service ~
~ Environmentally Conscious ~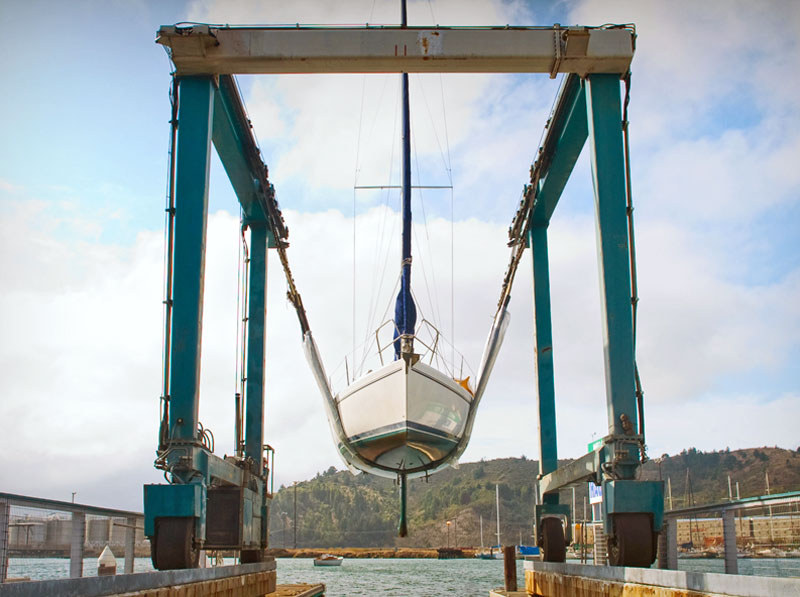 KKMI Pt. Richmond (510) 235-5564
KKMI Sausalito (415) 332-5564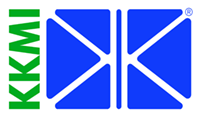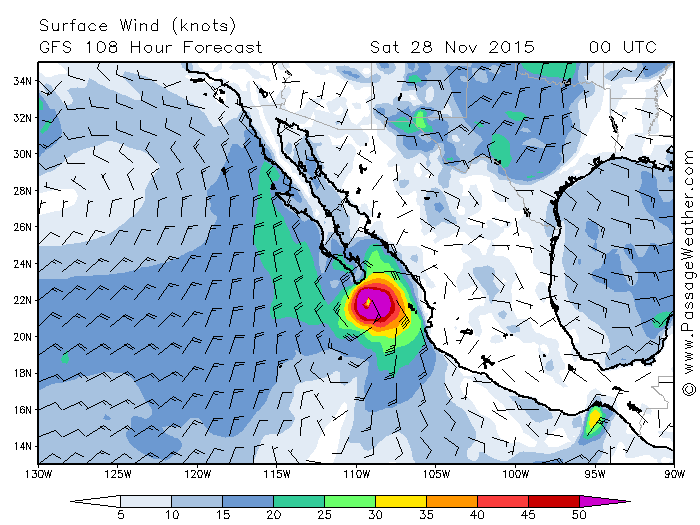 By this time of year tropical storm season has usually ended in Mexico, not only from Cabo north, but also off mainland Mexico. Currently the National Hurricane Center isn't showing anything, nor is eebmike.com, but both passageweather.com and windyty.com are predicting yet another tropical storm.
Much of the energy for it seems to be making its way through the Gulf of Tehuantepec about now, with circulation starting tomorrow and increasing over the next several days. We're not experts, but it seems they are predicting a very fast-moving storm, one that heads very far to the west, and then almost due north.
Long-range forecasts tend to be unreliable, but as you can see, Passage Weather forecasts a tropical storm to be northwest of Banderas Bay and just south of Cabo on Friday about 6 p.m. So it's something we recommend everyone with a boat in the area — such as ourselves — monitor closely.
The interesting thing is that 12 hours later than the forecast shown, Passage Weather and windyty show nothing left at all.
Yesterday and today the weather has been spectacular on Banderas Bay. Here's hoping it stays that way for Turkey Day and beyond.
Receive emails when 'Lectronic Latitude is updated.
SUBSCRIBE