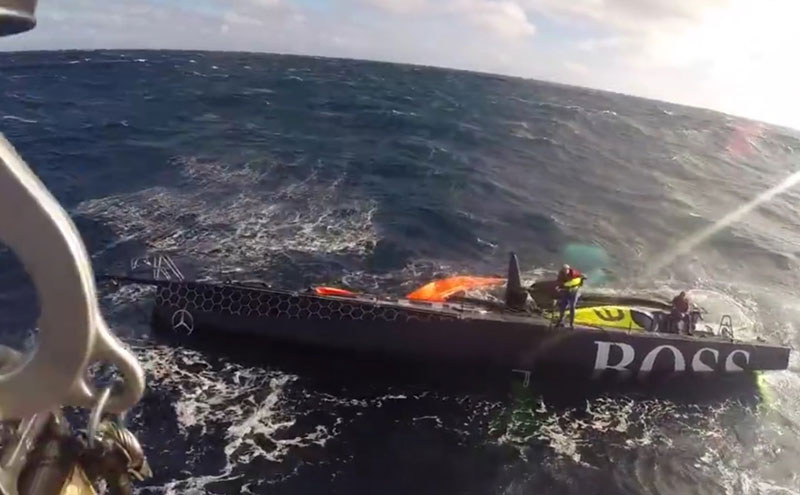 Taking place in the fall and sailing through the often-treacherous Bay of Biscay and across the Atlantic Ocean, the doublehanded Transat Jacques Vabre has long been known as one of ocean racing's most challenging — and sometimes destructive — races. This twelfth edition of the TJV has become an instant classic. Two nasty depressions thoroughly wreaked havoc on the fleet to a degree well beyond predictions. Before the race and during the early stages, much of the sailing world watched with great anticipation as the five brand-new 'foiling' IMOCA 60s — by far the most advanced ocean racing monohulls ever built — made their debuts. With a race track that clears Cap Finisterre and then heads roughly due south for the Brazilian coast, the course is very reaching-intensive, and in theory should have benefited the new foiling monsters, which begin to achieve liftoff when the breeze is on the beam.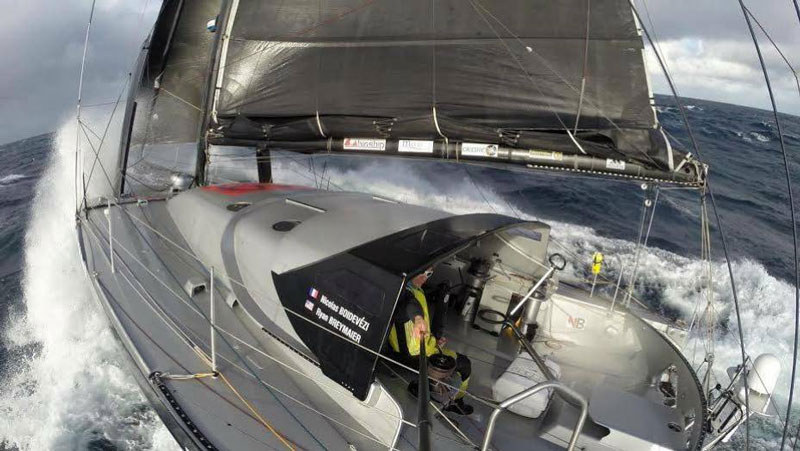 One by one however, these brand-new machines began to suffer catastrophic failures. First, it was SAFRAN, which headed back to port with skipper Morgan Lagraviere explaining that they were taking on water near the daggerboard trunks that house the foils. Next was Edmond de Rothschild which returned with unspecified damage. Next up was a disheartened Jean Pierre Dick on St. Michel-Virbac, who reported significant structural damage and multiple broken stringers before putting into Madeira and retiring from the race.
Last and by far the most dramatic was Alex Thomson and Guillermo Altadill's new Hugo Boss, which also sustained major structural damage and hove-to in hopes of carrying out repairs good enough to either continue racing or head to Spain. After Hugo Boss was rolled by a rogue wave, Thomson canted the keel to right the boat, which came back up without a mast. Hours later, the duo was rescued by the Spanish coast guard and delivered by helicopter to Spain, where the team is attempting to salvage the stricken yacht.
Less than a week in, four of five new-generation VPLP-designed Open 60s have been knocked out of the race, while the fifth — Armel le Le Cléac'h's Banque Populaire VIII — leads by a small margin as the IMOCAs approach the equator. Surely, the new side-mounted 'mustache' foils will be anything but an advantage in light air. Vincent Riou's previous-generation PRB, the lightest Open 60 ever built and defending champion in this race, is currently breathing down Banque Pop's neck, trailing by less than 7 miles as of this writing. Sailing an absolutely incredible race in third place are Yann Elies and Mini Transat ace Charlie Dalin on the two-generation-old Queguiner-Leucemie Espoir (Leukemia Hope), in Elies' return to the IMOCA class after breaking his femur in the Southern Ocean during the 2008-09 Vendée Globe and being rescued by the Australian navy.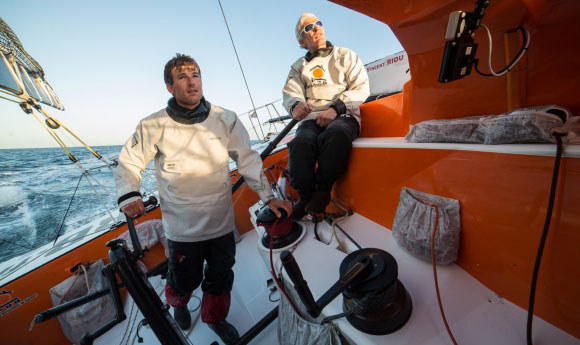 The new headline-grabbing Open 60s aren't the only boats to sustain mass carnage in this brutal TJV. Ten of the 20 starters have retired with damage, and that number is sure to grow as at least one more boat should drop out soon. The Class 40 fleet has seen just three retirements among its 14 starters, though two major contenders — Team Concise and Bretagne Credit Mutuel Elite — are among those three. La Conservateur and her legendary skipper Yannick Bestaven have a commanding lead in the Class 40s, while François Gabart's revolutionary new maxi-multihull MACIF has been engaged in a thrilling battle with Thomas Coville's Sodebo Ultim' since the start.

Receive emails when 'Lectronic Latitude is updated.
SUBSCRIBE