Remember our recent story (September Sightings, p.74) about the Coast Guard capturing a self-propelled semi-submersible on July 17, somewhere off the coast of Mexico, that was filled with bales of cocaine? Well, this week they released a report on nabbing another one on August 31, off the same coast.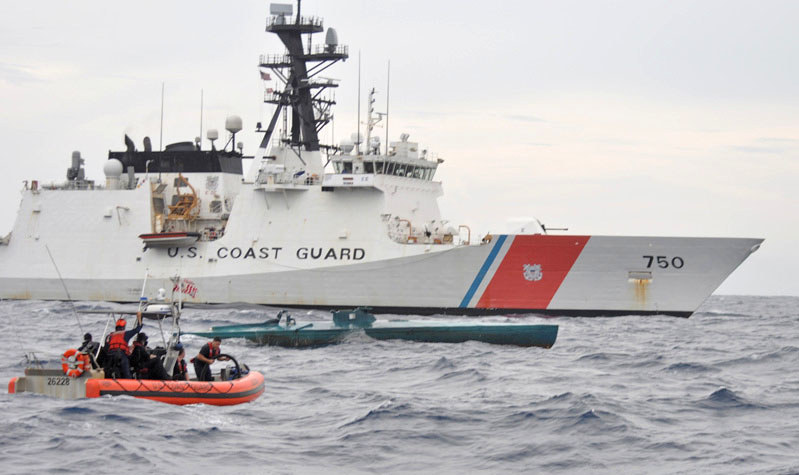 Information released by the USCG does not state how far offshore this 50-ft camouflaged sub was traveling, but we would assume it was farther offshore than most sailors go during coastal transits — the sub caught in July was 200 miles offshore. Nevertheless, smuggling subs, off both the Pacific and Atlantic coasts, appear to be a preferred tool of coke barons these days, adding to the potential hazards — such as migrating whales, wayward shipping containers and floating debris — that offshore sailors have to look out for.
The late-August apprehension began with a long-range P-3 aircraft spotting the sub; then the San Francisco Bay-based CG cutter Bertholf was called into play. The cutter launched two Over-the-Horizon Long-Range Interceptor boats, whose crews apprehended four suspected smugglers from the sub. Inside were approximately 15,000 lbs of coke. Unfortunately, as in the previous incident, the curious craft had to be scuttled — these subs are too unstable for towing with their unusual 'ballast' removed. Otherwise, we're certain that forensics experts would love to take a stab at determining how and where they're constructed.
Another popular smuggling method that frequently makes news on the West Coast is the use of large, open fishing-style boats called pangas, which simply take their chances roaring up the coast, packed to the gunwales with bales of pot.
If you happen to see a semi-sub or cargo-carrying panga offshore we would strongly suggest you get the heck away from it as quickly as you can, no matter how strong the temptation is to sail closer to get a better look. Also, no matter how far offshore you are, remember that it is both illegal and unwise to maneuver without someone on watch every minute of every day.
Receive emails when 'Lectronic Latitude is updated.
SUBSCRIBE