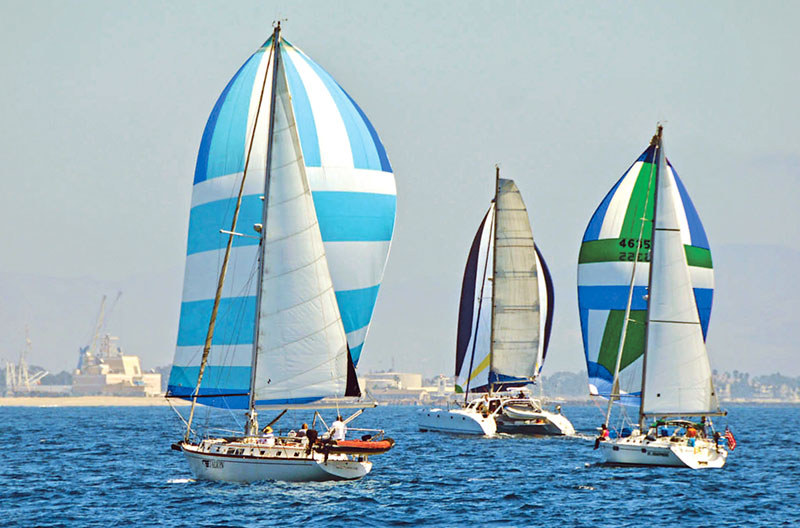 Because of space limitations, there are only 50 slots available for SoCal Ta-Ta III, aka 'Reggae 'Pon Da Ocean', the Baja Ha-Ha style cruising rally from Santa Barbara to Catalina with stops at Santa Cruz Island, Channel Islands Harbor and Paradise Cove. The event starts with a kickoff meal/party on the sand at the Santa Barbara YC on Sunday, September 13 — wear your best reggae gear — and ends with the wrap-up party at Two Harbors on Saturday, September 19 — once again, wear your best reggae gear.
Since registration opened up at noon on May 1, half of the available slots have already been snapped up , so if you want to be a part of Ta-Ta sailing history, don't procrastinate. Visit the website, get all the details, and if you want to participate, enter very soon or forever hold your peace.
Who will be participating? Check out the list of entries-to-date at the bottom of this report. We're always chuffed to see return entries, and there are a bunch of them, including Pat McCormick with his Alamitos Bay-based Beneteau 440 St. Somewhere, who will be three for three. We at the Ta-Ta are also proud to have attracted at least one couple — Kurt and Katie Braun of the Alameda/South Carolina/New Zealand-based Deerfoot 74 Interlude — who have not only done tens of thousands of bluewater miles, but who have also circumnavigated.
This third running of the SoCal Ta-Ta is open to boats 27 feet and longer — unless special dispensation is given — that were designed, built, and have been maintained for open-ocean sailing. We've sailed all the legs of this event many times — the longest is about 30 miles — and it's usually light-to-moderate winds in reaching or running conditions. While we've rarely encountered headwinds or winds over 25 knots on the course, all skippers have to be prepared for such possibilities. All entries will have to carry the appropriate safety gear, and be capable of motoring at a minimum of five knots. Since the shipping lanes will be crossed several times, all boats must be equipped with a functioning radar or AIS receiver, and all must be equipped with a radar reflector. All entries will need to provide proof of liability insurance.
The Ta-Ta is intended for fun-loving but responsible sailors who don't anticipate any trouble in letting their 'inner reggae' out, for the Ta-Ta is all about love. If you're a person who looks to be entertained by others, or who is inclined to whine, this event is not for you, mon. The event will be run by the same folks who have put on the Baja Ha-Ha for the last 21 years, and there will be a daily net.
'Wake up and live!" was the exortation of Bob Marley. Here's your chance.
Aegea / Sabre 38 / John & Michelle Zeratsky / Sausalito
Always / Seawind 1160 / Steven & Julie McShea / Lihue, HI
Beach Access / Lagoon 380 / Glenn Twitchell & Debbie Jahn / Long Beach
Big Sweetie / Hunter 450 Passage / Charles & Carolyn Moyer / Channel Islands
Boomerang / Corsair/31UC / Charles & Elaine VanderBoom / Lake Havasu City, AZ
Delphis / Pearson Vanguard 32 / Bruce & Janet Dart / Channel Islands
Dream Maker / Hunter Legend 38 / Jack & Karen Cronk / Oceanside
Exodus / Catalina 350 / William & Elizabeth Wendt / Long Beach
Full Glass / Beneteau 47.3 / Alessandro & Kristen Mercurio / Channel Islands
Grace / Traveller 32 / Robert Walker / Alameda
Gypsy Soul / Bruce Roberts Offshore 44 / Danny Webb / Emeryville
Insula / Island Packet 460 / Troy & Michele Stone / Saugatuck, MI
Interlude / Deerfoot 74 PH / Kurt & Katie Braun / Georgetown, SC
Latitudes / Ericson 32 / Marc Marois & Joe Barrett / Newport Beach
Looking Forward / Balboa 26 / Michael Kinney & Deborah Froessel / Benicia
Ojo Rojo / Columbia 36 / Keith & Terry Albrecht / Alamitos Bay
Pegasus / Formosa 51 / Bob Mathews / San Diego
Running Free / Ericson 38 / Alamitos Bay / Don Taugher
Sabbatical / Valiant 40 / Phil Kumpis / Hermosa Beach
Sea Wolf / Hunter 376 / Christopher Mendonca / Vallejo
Shadow / Islander 36 / Greg & Kathy Kircher / Ventura
St. Somewhere / Beneteau 440 / Pat McCormick / Alamitos Bay
Volare / Catalina Morgan 440 / Adam & Jessica Heinicke / San Diego
Receive emails when 'Lectronic Latitude is updated.
SUBSCRIBE