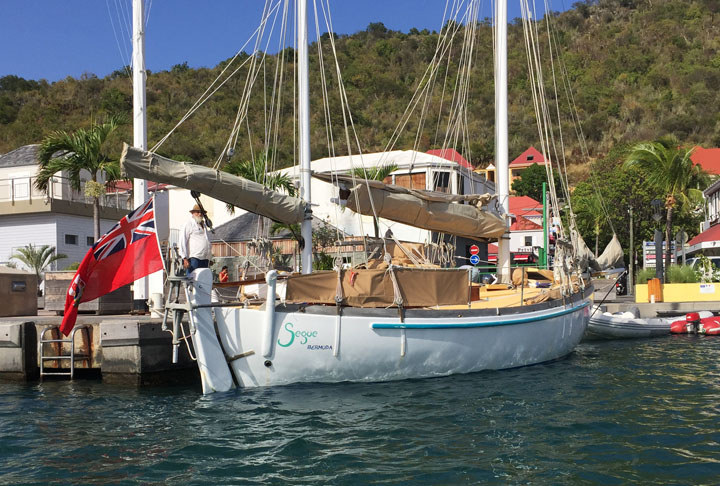 We're big fans of simplicity, so when we saw the 'autopilot' on Sequel, Stevie Hollis' Bermuda-based 34-ft Venus ketch, at the water dock in St. Barth, it tickled our fancy. We're pretty sure that Hollis, a very successful restaurateur and sailmaker in Bermuda, had the same autopilot on his 28-ft Venus ketch, a wood boat he'd sailed all over the Caribbean some 35 years ago.
The family of Venus gaff ketches, 28, 34 and 42 feet, are generally similar to Colin Archer ketches. It's not surprising, as Paul Johnson, their designer, grew up aboard a Colin Archer ketch.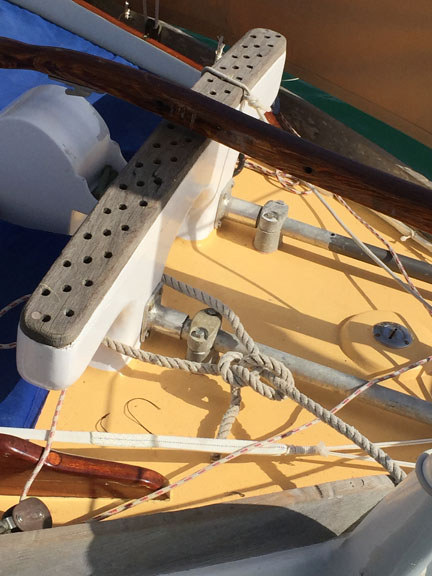 Johnson, a Brit, is closely associated with Bermuda because he crossed the Atlantic and arrived there aboard his 18-ft ketch in the mid-1960s. Not many folks were doing things like that then. He hooked up with John Frith to build what would be the first of 13 Johnson-designed boats in Bermuda. Other famous sailors who own or have owned Venus ketches are Lulu Magras and the artist Bruce Smith. The latter built his from timber knocked down by the eruption of Mt. St. Helens.
Frith is a direct descendent of Hezekiah Frith, the famed 'Gentleman Privateer' of Bermuda. One night in the late 1790s Hezekiah sailed into the harbor at Santo Domingo, then the center of the Spanish fleet in the Atlantic/Caribbean. He brazenly stole one of the Spanish ships and towed her, under sail, back to Bermuda.
Sequel arrived in St. Barth in early March, having been sailed there from Bermuda by Hollis, his wife Suzanne, Suzanne's son Austin Ross, and William Tucker, all of Bermuda. They had a fast passage for such a heavy and relatively under-canvased boat, covering the 869 miles in 6.5 days.
About that autopilot. It's merely an athwartships board with scores of holes in which pegs can be put to hold the tiller in place. The position of the pegs is determined by the amount of weather helm. Using such an autopilot requires proper sail trim, but with a heavy, full-keel ketch such as the Venus designs, it's not that hard. Such autopilots don't need electricity, and if they 'break', one only needs to replace a peg or drill a new hole. Ah, simplicity!
Do you have anything super simple on your boat that you love? (Email us here.)
Receive emails when 'Lectronic Latitude is updated.
SUBSCRIBE