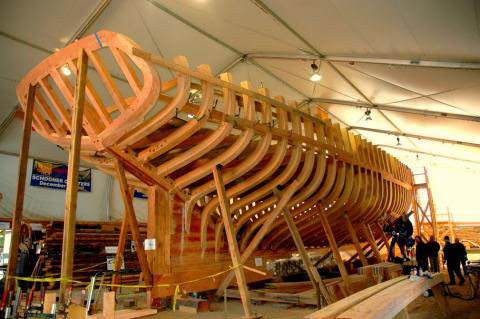 Ratty, the resident boat expert in Wind in the Willows, said it best: "There is absolutely nothing half so much worth doing as simply messing around in boats."
So how do sailors mess around in boats when they're not sailing? Well, one way for upwards of 150 folks in the Bay Area is to join the volunteer crew building the 100-ft (LOD) tallship Matthew Turner, currently under construction in Sausalito.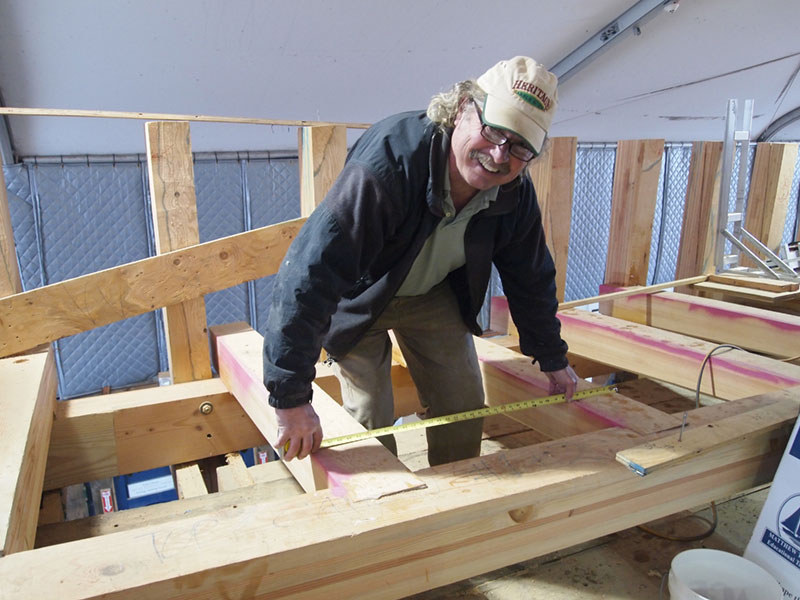 "I'm really surprised at the amount of interest," said Alan Olson, executive director of Educational Tall Ship, which is building the ship, and founder of Call of the Sea, which will sail it. "We realized during the planning that we wouldn't have enough to hire a team of professional builders. But I'd seen the success of the volunteer program that the San Diego Maritime Museum had on the building of the San Salvador (a re-creation of Cabrillo's ship). So we borrowed some of their ideas and it has worked out better than any of us had imagined."
Of course, not all 150 volunteers who have signed up so far work at the same time. Some come several times a week; others only once or twice a month. A typical day will see 8-15 people making the sawdust fly. Volunteers can sign up online or, more commonly, just walk into the big tent where the ship is being built in a well-trafficked area along the Sausalito waterfront. Interested parties are asked to come by for a day of orientation, and if they're still interested — as most are — they'll fill out some paperwork and firm up what day or days they can show up, which helps organizers tailor the workflow. Keeping track of who's doing what and when will also be used to award sailing days when the ship is finally launched in 2016. The main mission for the 135-ft LOA brigantine will be what Alan Olson's 50 years of sailing, shipbuilding and education has always been about — experiential education for students of all ages, with particular emphasis on marine ecology, sustainability, teamwork, leadership and the rich maritime history of the Bay Area.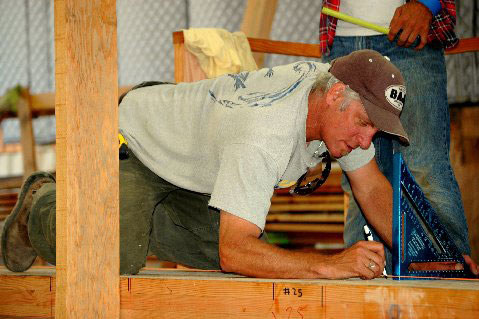 There is no formal apprenticeship for the volunteers. The work just flows down from the five salaried crew to John Glossinger, the volunteer who runs the volunteers. He helps integrate newbies with widely varying backgrounds and skill-sets into the process. A typical entry-level job is cutting bungs — the round 'pegs' that fill fastener holes. "We need about 10,000 of those for the hull planking alone," says Olson. "It's not the most glamorous job, but it's important."
Not all volunteers work directly on the ship. A number of people currently help in the office or in fundraising. The bottom line is that a place can be found for pretty much anyone interested in donating their time.
Volunteers range in age from 16 to 80, include both men and women, and come from backgrounds as diverse as carpentry, contracting, engineering, architecture, winemaking and the medical field. Most are current or former sailors, but not all. Most are retired, like Dr. Don Rushford, a former surgeon. He's the spry 80-year-old. Others, like his son, Mark, make time around their careers to come help. Dr. Don plans his workdays to coincide with Mark's, and the two really enjoy working on the ship together. Jamie Meves is a typical volunteer. A 60-year-old retired winemaker living in Novato, he was down in Sausalito one day a month on other business, "when I drove by this huge tent with the flaps open and saw this big wooden ship." He stopped, talked to one of the crew, and signed up then and there. He spends two days a week working on everything from helping saw the large Douglas fir logs (donated by an organization helping to reclaim forestland) into planks to getting down, dirty and sticky gluing and clamping laminated deck beams.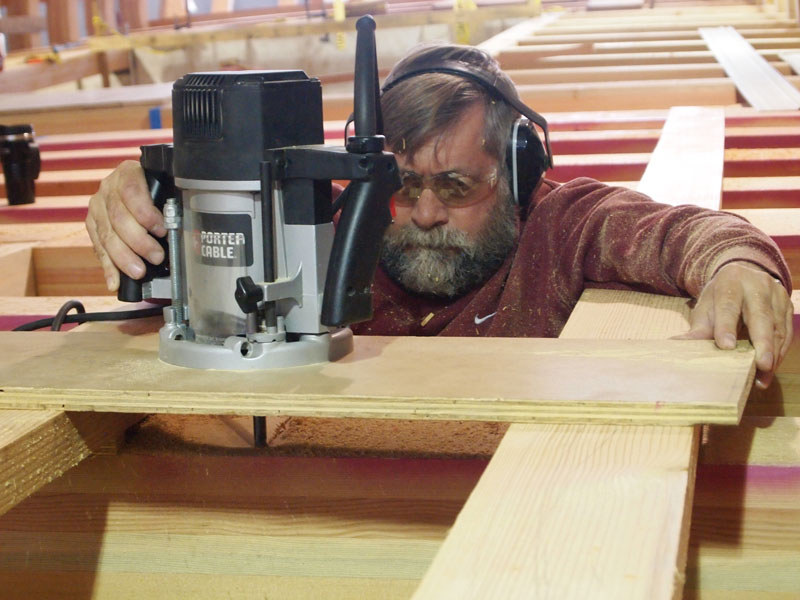 "Helping build a wooden ship is something I've always wanted to do," he said of his reasons for signing on. "And it's a good feeling to be working on something that will have so much positive impact for so long. With the right care, this ship could last 100 years or more. Think of all the kids that will walk these decks that I helped build."
For more on the Matthew Turner, including the volunteer program (and a cool real-time "work-cam"), see educationaltallship.org.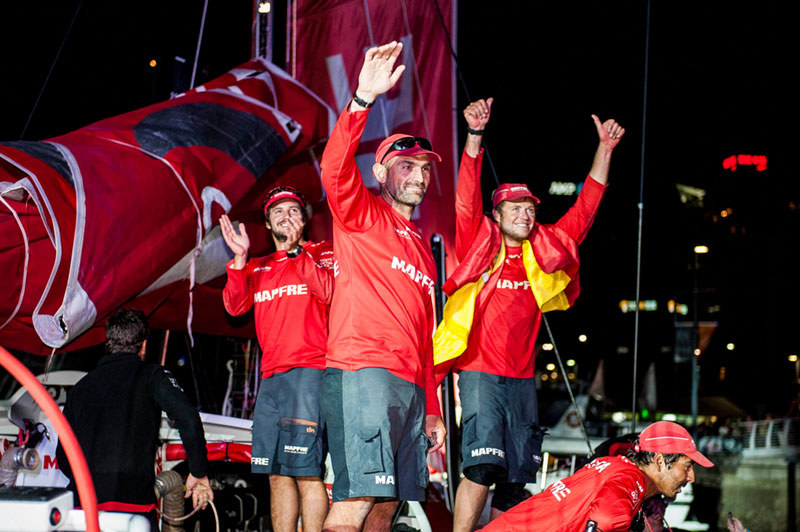 Despite arriving in Auckland, New Zealand, in the dark, the Spanish Volvo Ocean Race team, Desafío MAPFRE is taking their turn in the sun, having just won Leg 4 of the around-the-world odyssey.
Xabi Fernández has been standing in as skipper of the Spanish entry for his sailing partner and best friend, Iker Martínez, for the last two legs while the latter concentrated on his 2016 Rio Olympics preparations in the Nacra 17. Fernández told reporters that he's looking forward to Martínez's return for Leg 5 to Itajaí, Brazil, which will start on March 15.
The Spanish team sails for the Real Club Naútico de Sanxenxo in Pontevedra, just north of Portugal. Sponsor MAPFRE is a Spanish insurance company.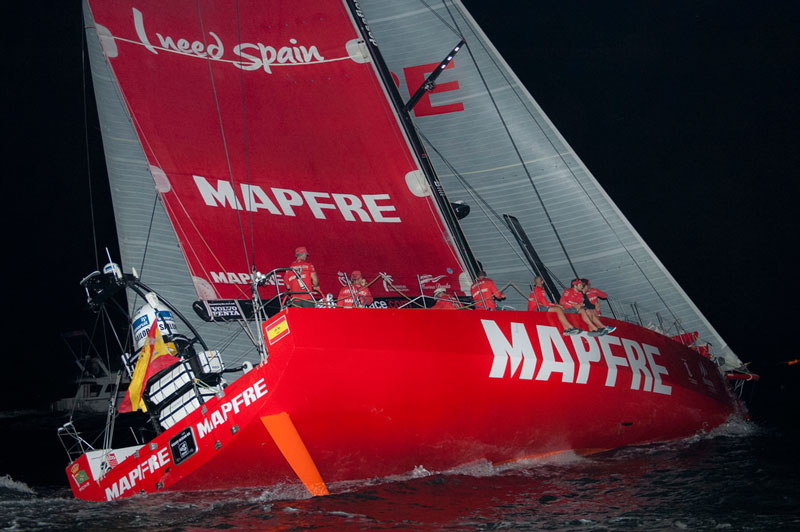 Although Leg 4 from Sanya, China, to Auckland was 5,264 miles long, just eight minutes separated the first three finishers. Coming in second, Abu Dhabi Ocean Racing has taken over the overall lead from Chinese team Dongfeng, which finished third. So far, no one team has dominated the event, which is sailed in 65-ft one-design monohulls, and no boats have been lost to serious equipment failures, two very good points in favor of the switch to one-designs for this edition. Four different teams have won the four legs, and four different teams have won the in-port races. For more on the Volvo Ocean Race, see www.volvooceanrace.com.
Have you ever had to absolutely throw away a piece of sailing gear because it was so useless? We're not the most sentimental types, but recently it was hard for us to throw away a bit of terribly frayed 3/4-inch three-strand because . . . well because it had been with Profligate for nearly 20 years, through rough times and calm times, too. It was like saying goodbye to an old friend.
There have even been cases where we continued to use misshapen, frayed and slightly torn sails even though we had a shiny new replacement. We didn't want to say goodbye.
Receive emails when 'Lectronic Latitude is updated.
SUBSCRIBE