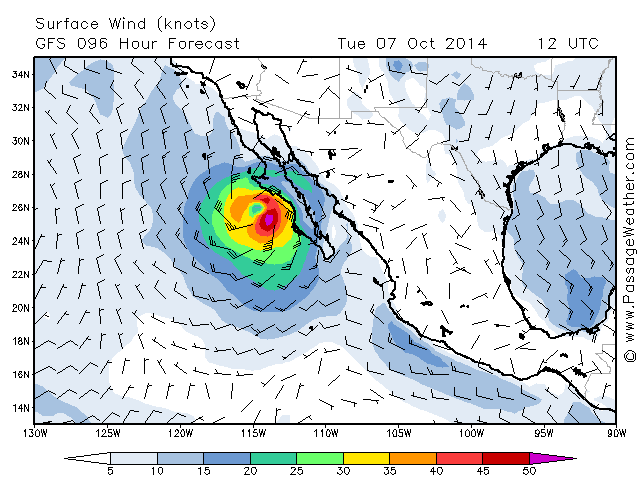 Depending on whose long-range forecast you want to believe, Simon, another tropical storm about to become a hurricane, is circuitously headed toward Baja California Sur, which has already been ravaged by hurricane Odile. It would appear, however, that Cabo San Lucas, which had been hit the hardest, is not really in danger, nor is La Paz, where three cruisers lost their lives to Odile.
If the storm, currently headed WNW but expected to make a gradual turn of nearly 180 degrees, makes landfall, for the moment it looks as though it would be in the Middle Reach area between Turtle Bay and Mag Bay. If it does hit land that far north, it would certainly be down to tropical storm strength, probably mild tropical storm strength, and would be further weakened in the tall mountains of Baja before it could make it to the west coast of the Sea of Cortez. The storm isn't expected to make landfall until Tuesday or Wednesday, if at all. There is a good chance this will be a non-event, but everyone needs to be prepared — even in Cabo and La Paz.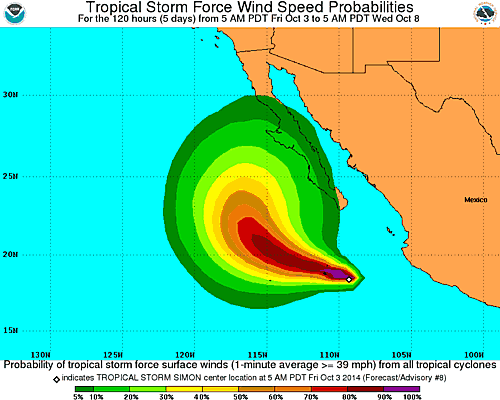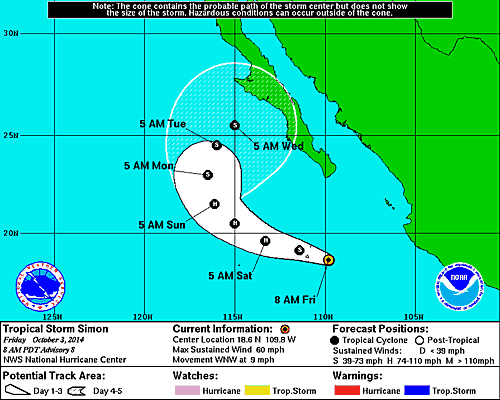 Given the busy Mexican hurricane season, participants in the upcoming Baja Ha-Ha are no doubt concerned about tropical storms and hurricanes that might threaten Baja. We can assure everyone that nobody is more concerned than the Grand Poobah. Based on his research going back to 1948, no tropical storm or hurricane has crossed, or even come close to crossing, the Ha-Ha course during the Ha-Ha dates.
If anyone is getting jumpy, they should remember that hurricanes off Mexico are common as dirt through the third week in October — then they plummet. One of the reasons they plummet is that the days have gotten shorter, which means less sun, which means the ocean tends to cool, robbing storms of their fuel.
A second thing to remember is that while the Ha-Ha fleet heads south on October 27, it stops at Turtle until Saturday, November 1. Because of the cooler water farther north, it would be extremely unlikely for any late-season storm to survive that far north. If it did, it would surely be greatly weakened to a very mild tropical storm. Turtle Bay is a great all-weather anchorage, the best on the coast. In the very unlikely event that something threatened the route of the Ha-Ha fleet, it could hold there 'until the coast was clear'.
Lastly, the fleet heads south to Bahia Santa Maria, which it doesn't leave until November 4. While Bahia Santa Maria is not protected from all directions, it's only a few miles to Mag Bay, which offers good protection from the open ocean. While not perfect shelter, it would be quite good. We know boats that have ridden out 100-knot hurricanes there.
The Ha-Ha fleet doesn't arrive in Cabo until November 6, more than a month from now, when days are shorter and temperatures have dropped.
Tropical storms in Mexico just don't pop out of nowhere. Forecasters are able to tell: 1) When conditions are conducive to the formation of tropical storms, and 2) As soon as those conditions have actually resulted in the imminent development of a tropical storm. Even in the August-to-October height of the hurricane season, Cabo typically gets four to seven day's warning of the approach of a tropical storm.
A few Ha-Ha entries have asked if it would be best if the event were held off, giving Cabo and La Paz a chance to recover. The answer is an emphatic no, no, no! The very best thing anyone can do to help Cabo in particular is to sail down there and spend a lot of money. Cabo lives off tourism. Without business, it dies. Without you, the waiters, cooks, cleaning ladies, taxi drivers, business owners and such would be in even deeper financial trouble than they are now.
How many 'kid boats' are doing the Ha-Ha? At last count, 20 folks under the age of 20 were signed up. We'll have a list of them in next week's 'Lectronic.
We had huge response for three crew openings aboard Profligate. So please, no more.
Ad: DryBunks from Seaworthy Goods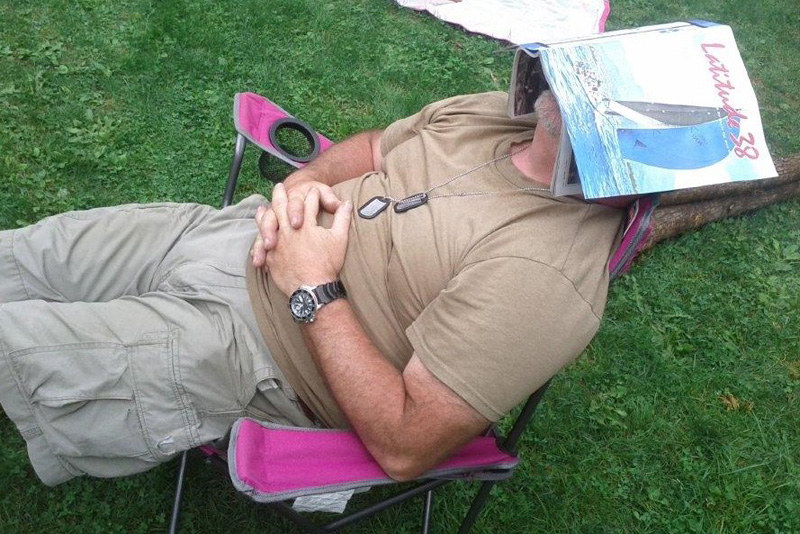 When Latitude 38 readers tell us that we produce a great product, it's a nice payback for all the hard work involved in producing it. Over the years we've been told that in addition to spreading sailing news, Latitudes make excellent fly swatters when tightly rolled, and their pages can serve as backup resources for wrapping fish and getting campfires going. Gary Esterly of Washington recently shared this additional use:
"We were camping near the Dosewallips River in the Hood Canal area of Puget sound, Washington. I got so comfortable that I took a little snooze. Your magazine makes an excellent sun shade!
"I look forward to the 10th of every month because that's when new issues of Latitude 38 are usually available at the local West Marine. When I'm not deeply involved in reading the latest issue, I enjoy sailing my Hobie 18 or working on my Coronado 25. Keep up the great work!"
Well, thanks Gary. Anyone else out there have a novel use for our magazines? Email us here.
Receive emails when 'Lectronic Latitude is updated.
SUBSCRIBE